Kunming - a picturesque city that four seasons are like spring
Kunming, the capital of Yunnan Province, is located in southwestern China and serves as China's gateway to Southeast Asia and South Asia. It is also an important tourism and trade city in China and one of the important central cities in the western region.
With its perpetual spring-like weather, Kunming is known as the "City of Eternal Spring". As the annual average temperature stays around 16 °C, the city is rich with blossoms and lush vegetation all year round. Kunming's livability index ranks second among 40 cities in China. In addition, Kunming is a historical and cultural city. Its urban construction dates back to 2,000 years ago. It was once the center of the "bronze culture" in the Dianchi Basin.
Basic Facts
English Name: Kunming
Chinese Name: 昆明 Kūn Míng
Government: Prefectural-Level city, the capital of Yunnan
Location: Southwest China (102°72'E, 25°05'N)
Area Code & Zip Code:
Area Code:0871;Zip Code:650000
Airports: Kunming Changshui International Airport
Railway Stations:
Kunming Railway Station, Kunming South Railway Station
Suburban Districts:
Wuhua, Panlong, Guandu, Xishan, Chenggong, Jinning, Dongchuan
Population: about 6.72 million
Best time to visit:
March to October is the best time to travel to Kunming. During this time, the average record high temperature is around 25 °C (77° F). When it comes to summer, the temperature basically stays the same, only moister. The National Day (October 1st to October 7th) Golden Week marks the peak period for travel to Kunming. Try to avoid this time because of crowds.
What to see: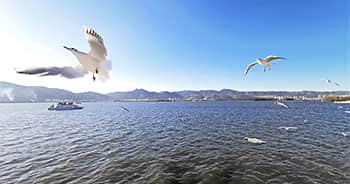 Dian Lake-Dian Lake is the largest freshwater lake in Yunnan Province and the sixth largest freshwater lake in the country. Dian Lake offers magnificent views and has an expansive water surface. Standing on the Dragon Gate of Western Hill, you can have a panoramic view of this "Pearl of the Plateau".
The Store Forest-The Store Forest is a typical karst landform. It is known as the "a top wonder of China", and its mountains and waters all enjoy their own characteristics. Shilin exhibits a variety of karst forms, probably all of the karst forms in the world. This is where you can learn more about karst geological features.
Cuihu Park-As one of the most beautiful parks in downtown Kunming, it is also known as "Jade of the City". When November comes, thousands of red-billed gulls will migrate from the north to settle through the winter. The scene is fantastic.
Natural landscapes:
| | | |
| --- | --- | --- |
| Black Dragon Pool Park | Western Hill National Scenic Spot | Jiaozi Snow Mountain Scenic Area |
| Jiuxiang County | Shi Lin Scenic Area | Dongchuan Red Land |
Historical attractions:
| | | |
| --- | --- | --- |
| Site of Yunnan Military Academy | Anti-Japanese War Memorial Hall | The former site of National Southwestern Associated University |
| Guandu Ancient Town | Former Residence of Wen Yiduo | Former Residence of Zhu De (one of the founding fathers of China, probably next only to Mao Zedong and Zhou En'lai) |
How to get there
Kunming Changshui International Airport is connected to more than 130 cities across the country. You can take a flight to Kunming. Or, you can take a train to Kunming Station or South Kunming station.
How far is Kunming from Major Cities
| Cities | Distance from Kunming (km) | By Air to Kunming | By High-Speed Railway to Kunming |
| --- | --- | --- | --- |
| Beijing | 2,602 | 2hrs 55m | 10hrs 49m |
| Shanghai | 2,319 | 4hrs | 10hrs 39m |
| Guangzhou | 1,330 | 2hrs 30m | 6hrs 23m |
| Shenzhen | 1,468 | 2hrs 35m | 7hrs 4m |
| Hangzhou | 2,174 | 3hrs 20m | 9hrs 48m |
| Nanjing | 2,109 | 3hrs 25m | 10hrs 35m |
| Hong Kong | 1,485 | 2hrs 45m | 7hrs 41m |
| Xian | 1,563 | 2hrs 25m | 10hrs 26m |
| Wuhan | 1,575 | 2hrs 30m | 6hrs 29m |
| Tianjin | 2,580 | 4hrs | 45hrs 5m |
| Lhasa | 2,210 | 2hrs 30m | No direct train. |
Gourmet Food Recommendation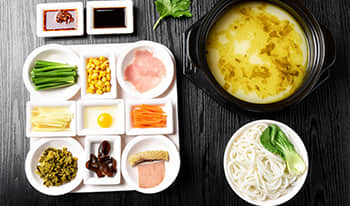 Crossing Bridge Rice Noodle: the special noodle in south Yunnan was invented about 100 years ago. The rice noodles are smooth, the ingredients are rich, and the soup is delicious. The rice noodle shop can be seen everywhere in Kunming streets. The rice noodle much-favored by locals is also the most popular food for breakfast.
Steam Pot Chicken: one of the three most renowned dishes in Yunnan. The chicken pieces are put into the steamer, allowing the steam to cook the chicken. In this way, the original flavor is preserved and the chicken is tender and fragrant.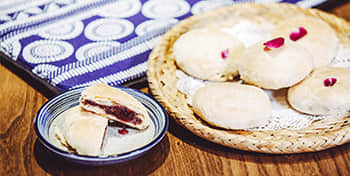 Flower Cake: it is a puff pastry with added unique edible roses grown in Yunnan. It is one of the classical local pastries. It is also one of the classic representatives of the four mooncake genres of China.
Shopping Recommendations:
Tea in Yunnan: Yunnan is the hometown of Pu'er tea. Many years ago, Pu'er tea was transported along the Ancient Tea Horse Road to the whole country and the world. As the place of origin, there are many sales outlets, and the high-quality varieties offered are comprehensive. You can go to Daguan Commercial City to buy some.
Xuanwei Ham: this is one of Yunnan's specialties and one of China's top three famous hams. It has a thin skin and rich meat. As it is a representative of Yunnan, people call it Yun Tui (Ham of Yunnan).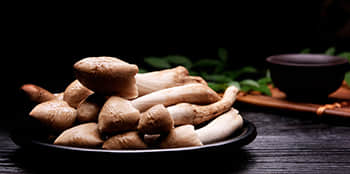 Wild mushrooms: Yunnan is the kingdom of wild mushrooms. There are a wide variety of mushrooms in terms of tastes and textures. Well packed dried mushrooms are especially easy to carry.
Wutong Zouyin: This traditional Yunnan bronzeware craftsmanship is to engrave with various patterns on the oxidized bronze body. Or a craftsman might inlay the body with gold or silver. The overall color is extremely elegant.