Kunming Cuisine is also called Dian Cuisine, and features foraged ingredients and seafood. The food is tender, aromatic, sour and just a little spicy and is mostly civilized.
The natural taste is well retained. For tourists from certain provinces in China where they are accustomed to food with less salt, Yunnan cuisine can be just a little too spicy. However, for those who are used to chili, salt and seasoning, Yunnan cuisine is not hot enough. Yunnan cuisine's features rely much on the ethnic groups' cooking and those from local citizens.
1. Steam Pot Chicken (Qi Guo Ji)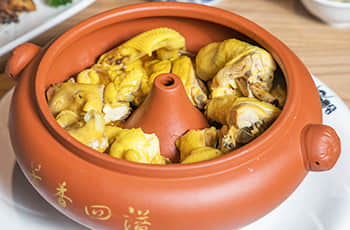 Steam Pot Chicken is one of the top dishes in Yunnan. The soup pot is filled with water and placed under the steam pot. The chopped chicken in the steam pot will be cooked completely by the steam. San Qi (San-Chi Ginseng) and Chong Cao (cordyceps fungus) are added into the pot to provide a more nourishing dish.
Characteristics: the natural taste is preserved. The tender chicken is immersed in a delicious soup.
Recommendation: Fuzhao (Blessed) Restaurant (Jinjiang Branch)
Address: 1F, Jinjiang Hotel, No. 98, Beijing Road, Kunming, Yunnan Province, China
2. Laonai (Grandma) Yangyu (Yam)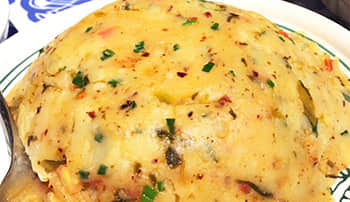 The soft, tender yam is believed to be especially good to serve to aged people and is one of the nicest dishes in Yunnan. It is easy to cook as the cooked yam is mashed and fried with a little animal oil, along with sliced shallots and other seasonings.
Characteristics: it has a golden appearance and soft texture.
Recommendation: Zui Yunnan Folk Flavor Hotel (Wanda Plaza Branch)
Address: 3F, Wanda Plaza, No. 688, Qianxing Road, Xishan District, Kunming, Yunnan Province, China
3. Broad Bean Rice (Dou Men Fan)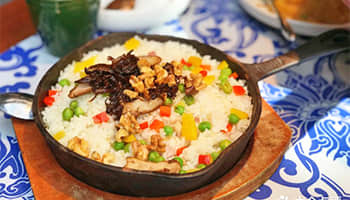 The rice is cooked with newly picked fresh broad beans, sliced fried ham and quality rice. The dry rice is spread over the fried ham and beans, and then the pot is simmered until the soup is absorbed.
Characteristics: it has the mixed aroma from all ingredients.
Recommendation: Shiping Mansion
Address: No. 24, Zhonghe Lane, South Cuihu Road, Wuhua District, Kunming, Yunnan Province, China
4. Rice Stewed with Boletus Edulis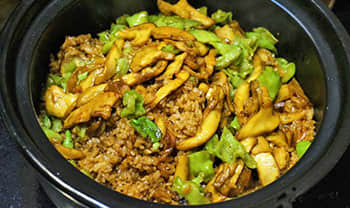 This meaty, mild-tasting wild mushroom is a rare and expensive ingredient. The mushroom is first sliced and then cooked in the dish with green pepper, red pepper and rice.
Characteristics: it is delicious with a velvety texture.
Recommendation: Cook Mr. Zhu
Address: No.1, Buildin 1, Chunshuihefeng Complex, No. 22, West Hongta Road, Xishan District, Kunming, Yunnan Province, China
5. Wild Mushrooms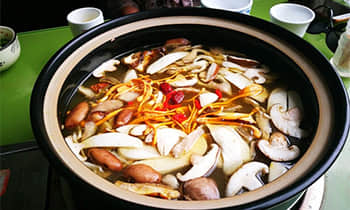 In the kingdom of mushrooms, thousands of wild varieties can be found. Mushrooms are rich in amino acids and delicious in taste. 'Wild Fungi', 'Fried Chicken with Matsutake', and 'Cooked Pork with Fungi' are the top dishes on the menus of Yunnan restaurants and inns.
Characteristics: wild mushrooms taste deliciously sweet.
Recommendation: Yimen Congshan Wild Fungi Restaurant
Address: 100 m south of the crossing of Qingxiang Lane and Jinwan Road, Panlong District, Kunming, Yunnan Province, China
6. Black Rice Eight-treasure Rice Pudding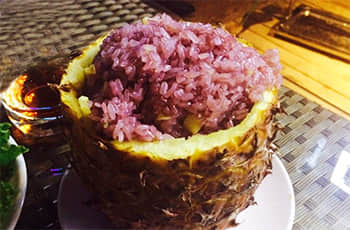 This rice pudding is considered a special pudding for its beauty. Almonds, walnuts, lilies, red dates, raisins, hawthorn cakes, lotus seeds and rock sugar juice are all used in cooking the black rice pudding.
Characteristics: With a tender texture, it is glutinous and aromatic.
Recommendation: Shiping Mansion
Address: No. 24, Zhonghe Lane, South Cuihu Road, Wuhua District, Kunming, Yunnan Province, China