Top Hangzhou Delicacies

There are appropriate snacks in Hangzhou for all seasons. Most of the ingredients are the local products of Hangzhou. They are used when they are fresh.
Salty and spicy delicacies
1. Cong Bao Hui (Cut-up Shallots in a Fried Pancake, Hui indicating the people's hatred for a treacherous court official Qin Hui in Song Dynasty as he framed the loyal general Yue Fei.)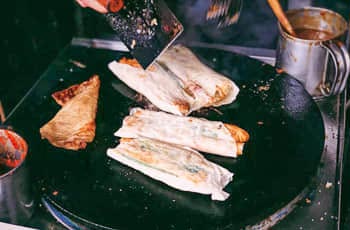 Cong Bao Hui
Cong Bao Hui is a famous traditional snack in Hangzhou. Its main ingredients are a deep-fried dough stick and shallots wrapped in a flour wrapper. They are baked or fried until they are crunchy and yellow. Cong Bao Hui is then dipped with sweet noodle sauce and chili sauce.
Characteristics: the fragrance of shallots is alluring and the sweet, spicy taste is delectable.
Recommendation: Grandma Sun's Cong Bao Hui
Address: No. 391, South Zhongshan Road, Shangcheng District, Hangzhou, Zhejiang Province, China
2. You Dun Er (Oily Chunk)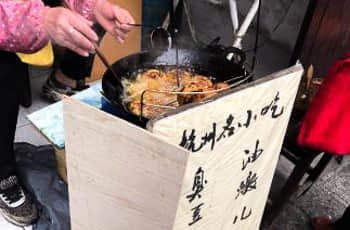 You Dun Er
This authentic snack is embedded in the memories of many local residents. You Dun Er is made with fried pickles and radish in a flour wrapper.
Characteristics: crispy and savory
Recommendation: roadside stalls
Address: No. 247, South Zhongshan Road, Shangcheng District, Hangzhou, Zhejiang Province, China
3. Shengjian Bao (Pan-fried Bun)
Shengjian Bao is a large bun with a crispy bottom. The bun juice flows out when you bite into it. Dipped in vinegar, it tastes a little bit sweet. This traditional flavor is favored by many people in Hangzhou. Characteristics: The upper part is soft and the lower part is crispy. The meat stuffing is flavorful.
Recommendation: Master Ge' Hangzhou Style Fried Bun & Wonton Address: No. 6, Huimin Road, Qingbo Community, Shangcheng District, Hangzhou, Zhejiang Province, China
4. Crispy fish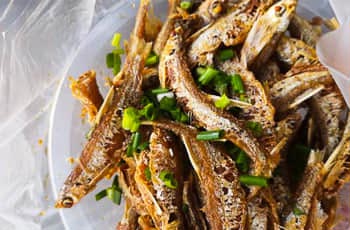 Crispy fish
Fry marinated fish in the pot. Scatter chopped shallots and sauce over the fish and the delicacy is instantly ready to eat.
Characteristics: it has crispy fish bone and aromatic fish meat.
Recommendation: Li's Fish
Address: Fengqi Market, No. 286, North Jianguo Road, Xiacheng District, Hangzhou, Zhejiang Province, China
5. Pianer Chuan Noodle
This delicacy was first made about 100 years ago and was listed among "China's Top Ten Famous Noodles" in 2013. The toppings of the noodles are mainly composed of Hangzhou style brassica juncea, or leaf mustard, (Daodu Cai), bamboo shoots and sliced lean pork. The noodles are made from flour mixed with eggs. The noodles which are rolled out from the machine are resilient enough for long, slow cooking. The noodle soup is prepared with more than ten kinds of seasonings and eight hours' simmering. The taste is rich and mellow. The nutritional Pianer Chuan Noodle is inexpensive and is favored by many Hangzhou citizens.
Characteristics: it is delicious and has a great aftertaste
Recommendation: White Cooking (chef work in China is divided into Red Cooking and White Cooking, separately indicating the cooking of flour category and the cooking of various dishes) Noodle Restaurant
Address: No. 122, Building 3, Zhongying Kangkang Valley Commercial Center, No. 61 Chunxiao Road (near Starbucks, Fang Huichun Tang and Huanglong Hotel), Changhe Subdistrict, Binjiang District, Hangzhou, Zhejiang Province, China
6. Cat Ears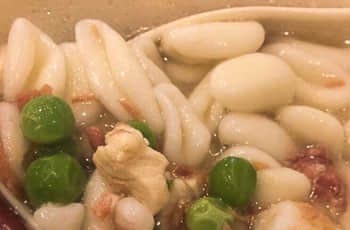 Cat Ears
This Hangzhou delicacy is actually a cat's ear shaped noodle. The cute cat ears are chewy and attractive after being dressed with fish and shrimp marinade.
Characteristics: It is chewy and the broth is rich.
Sweet delicacies:
1. Dingsheng Pastry
The pastry is made of rice, glutinous rice, red yeast and white granulated sugar; it has a reddish color and a sweet bean paste flavor. This is an appropriate snack for spring and good for those who have undergone an operation. The legend goes that the pastries were made for the heroic General Han Shizhong's soldiers to defend the country in South Song Dynasty. 'Dingsheng' printed on pastries means 'triumph'. It was later a delicacy in Hangzhou.
Characteristics: it is soft and fragrant and tastes sweet.
Recommendation: Jiang Shunfa Dingsheng Pastry
Address: No. 236, Hefang Street, Shangcheng District, Hangzhou, Zhejiang Province, China (the old Hangzhou downtown area, near Wushan Square)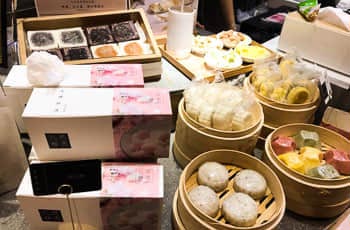 Pastries in Hangzhou
2. Sugar Pastry
The sugar pastry is a traditional snack made from flour, white sugar and brown sugar. The newly-baked sugar pastry is in an oval shape. The crispy outer layer becomes soft for a while, but if offers a distinctive taste.
Characteristics: the sweet and delicious pastry is crispy and attractive
Recommendation: Xinfeng Snacks
Address: 1-2F, Tianyang·Mingzhu Commercial Center, No. 209 Qingchun Road, Shangcheng District, Hangzhou, Zhejiang Province, China
3. Qian Tang (a major river in Zhejiang Province) Su (crispy pastry)
Qiantang Crisp is a typical snack in Hangzhou and has a golden outer layer. The three Chinese words are printed on the body of the pastry. People can immediately recognize the snack even when the wrapper is removed.
Characteristics: it has a milky fragrance and tastes soft and sweet
Recommendation: Caizhi Zhai (a time-honored Chinese confectionery)
Address: No. 217 Yan'an Road (near Renhe Road), Xiacheng District, Hangzhou, Zhejiang Province, China
4. Mi (Honey ) Ou (Lotus Root)
Mi Ou is mainly made from lotus root and glutinous rice (sometimes mung beans are used). The glutinous rice is stuffed into the lotus root and then it is boiled in the well-prepared sauce. Use maltose juice in the last step to complete the snack.
Characteristics: The sweetness of Mi Ou is very proper
Recommendation: Ru Dudu Mi Zhi Ou
Address: Fengqi Market, No. 286, North Jianguo Road, Xiacheng District, Hangzhou, Zhejiang Province, China