10 Pre-wedding Photography Places in Shanghai

Nowadays, pre-wedding photography has become one of the must-do procedures for couples in China. As the largest and the most developed city in China, Shanghai gives an impression of having fast-paced and stressful daily life. You might think it is hard to find a good place to shoot an album of outdoor pre-wedding photos in this concrete jungle. In fact, Shanghai is a place where eastern culture meets western culture. It holds many amazing places for pre-wedding photography. Here we have listed some recommended destinations for pre-wedding photography in Shanghai.
1. The Bund
Location: East Zhongshan No.1 Rd., Huangpu District
Photography Styles: Urban, Modern fashion, Vintage
Features: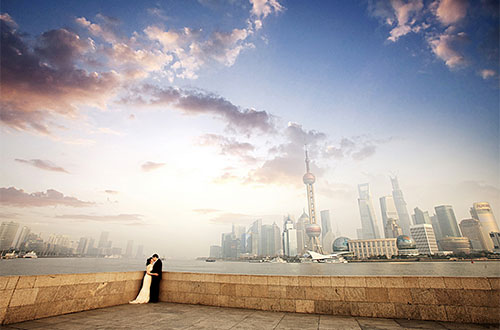 If you ask a Shanghainese person to recommend a place for your pre-wedding photography, the first place they suggest to you must be the Bund. Located on the west bank of the Huangpu River, there are 52 historical buildings facing the modern skyscrapers on the other side of the river. Taking wedding photos in the Bund, you can feel both the vicissitudes of history and the modern fashion sense of this city. You can try for modern fashion photography in the street of the Bund, or shoot some vintage style photos near one of the historical buildings. Night photos can be amazing as well, if you have a professional photographer and backup.
2. Shanghai Film Park
Location: No. 4915 Beisong Rd., Chedun Town, Songjiang District
Photography Styles: Vintage, Traditional, Artistic
Features:
If you want to take more vintage style photos of the old Shanghai, you should go for the Shanghai Film Park. It is one of the top-10 Film Shooting Bases in China. The old style trolley cars, the imitation Shikumen alleyways and the old streets will take you back to the old Shanghai in the 1930s. Fine photos can be shot at every corner in this film park. Compared with the most well-known sites in Shanghai, this place is usually not that busy and is less crowded. This is also good news for your pre-wedding photography.
3. Disney Town
Location: Shanghai Disney Resort, No. 310, Huangzhao Rd., Pudong New Area
Photography Styles: Cute, Dramatic
Features: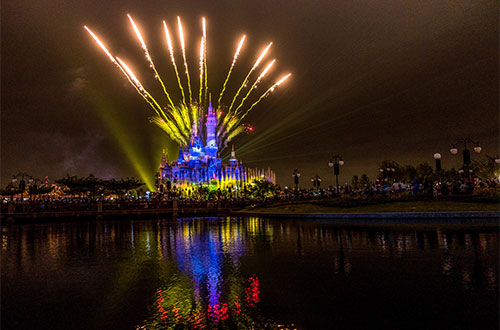 Maybe you have never thought that you could have an album of wedding photos with Mickey Mouse and Donald Duck. In Shanghai, it could be real. Disney Town is a shopping, dining and entertainment district and right next door to Shanghai Disneyland. Compared with the overcrowded Disneyland, Disney Town seems more friendly for photo taking. No matter whether you go for the charming pedestrian streets or the shore of the Wishing Star Lake, you can easily find many amazing backdrops there. As for dressing, you don't have to be in formal dress, casual could be better. It is your big day, you're allowed to be a little cute and dramatic in this "cartoon world".
4. Lujiazui Central Green Space
Location: Pudong New Area, near Jinmao Tower
Photography Styles: Urban, Modern fashion
Features:
Located in the center of Pudong New District, Lujiazui Central Green Space is like an oasis of peace among the skyscrapers. It is the largest green space in downtown Shanghai and covers an area of 100,000 square meters. The lawn and the skyscrapers intermingle with each other. The scene here has a combination of modern and natural sense. You can choose the central lake, the fountain and the sculptures as the backdrop of your pre-wedding photo. And the iconic skyscrapers (the Oriental Pearl Tower, the Shanghai World Financial Tower, the Jinmao Tower and the Shanghai Tower) will make your photos more powerful.
5. Garden Bridge of Shanghai
Location: North of Zhongshan Rd. (E-1), the junction of Suzhou River and Huangpu River
Photography Styles: Vintage, Night scene
Features: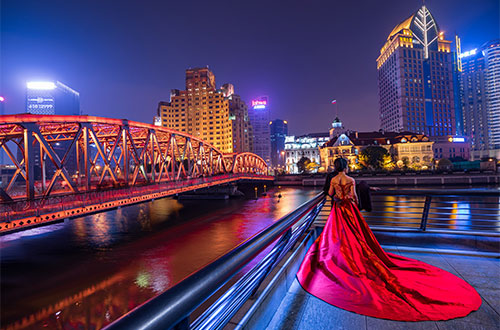 Located at the junction of the Suzhou River and the Huangpu River, the Garden Bridge is one of the most iconic historical sites in Shanghai. It was built in 1907C.E and was the first all-steel riveted bridge in China. Meanwhile, it is the only remaining bridge with unequal height truss structure in China. With the vintage appearance and its historical background, the bridge has become one of the most popular pre-wedding photography destinations for local Shanghainese. By the way, the bridge will be lit up with LED lights at night. Coupled with the magnificent skyscrapers on the east side of the Huangpu River, night photos at the Garden Bridge may surprise you as well.
6. Shanghai Botanical Garden
Location: No. 1111, Wulong Rd., Xuhui District
Photography Styles: Natural, Classic
Features:
If you are a nature lover, you should go for the Shanghai Botanical Garden. Covering an area of over 600,000 square meters, this place is green all year round, and you can easily find a variety of trees and flowers in the area. It is reputed as the "green lung" of Shanghai. The park has been divided into many small gardens which are planted with different plants. You can choose your favorite one to explore. Dotted with colorful flowers, your pre-wedding photos will be even more attractive. Choose a sunny day and put on your favorite clothing, and the Shanghai Botanical Garden won't let you down.
7. Zhujiajiao Ancient Town
Location: Zhujiajiao Town, Qingpu District
Photography Styles: Chinese traditional, Vintage
Features: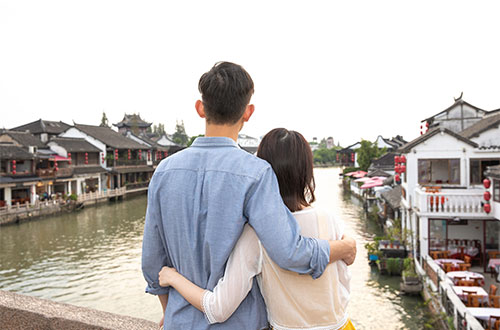 As the nearest water town to Shanghai, Zhujiajiao Town has a history of over 1700 years. You can still find the historic temples, the ancient folk houses, gardens and bridges. Rivers and canals crisscross the whole town, so it is reputed as the "Oriental Venice". The white walls, gray tiles and the reflections will make you feel like you are in a Chinese ink painting. If you are tired of the skyscrapers in the big cities, Zhujiajiao Ancient Town is a perfect place to shoot unique Chinese traditional style pre-wedding photos.
8. Shanghai Yuehu Sculpture Park
Location: No.1158, Linyinxin Rd., Sheshan Town, Songjiang District
Photography Styles: Modern fashion, Artistic, Natural
Features:
Shanghai Yuehu Sculpture Park is located in the suburban area of Shanghai. It is a place that combines natural scenery and modern sculptures. Surrounded by the lake and green lands, there are many powerful and beautiful sculptures in the park. It is quite a large area and those amazing sculptures have been elaborately designed and constructed. You don't need to worry about looking for beautiful scenes and backdrops in this place. If you like the modern art and the natural scenery, this is the best place for your pre-wedding photos.
9. Tianzifang Area
Location: No.211, Tai Kang Rd., Huangpu District
Photography Styles: Artistic, Vintage
Features: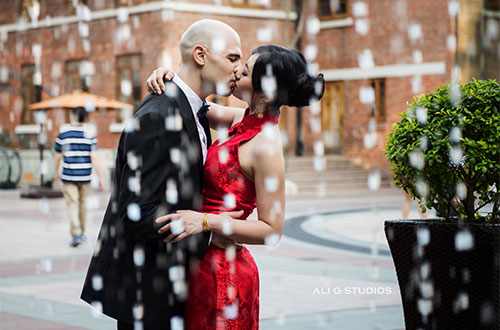 Photo Credit: ALI G Studioes
Shooting pre-wedding photos does not always need to have magnificent scenes or full-dress. It can be a record of your daily life. Walking in Tianzifang Area in downtown Shanghai, you may feel the humanistic and artistic atmosphere in the street. Every shop, cafe, or old alley can be the scene of your photo. You just need a professional photographer to go with you. With guidance, even an unremarkable window can be the frame of your photo. You can spend a whole day and take many interesting photos with your great ideas and imagination.
10. Jinshan City Beach
Location: No. 7555, Huhang Rd., Jinshan District
Photography Styles: Natural
Features:
Driving for about 2 hours from downtown Shanghai, you will arrive at Jinshan City Beach. Known as the Oriental Hawaii, Jinshan Urban Beach is the only urban scenic coastline of Shanghai. With its clear water, golden sands and beautiful coastal scenery, Jinshan City Beach becomes one of the best beaches for pre-wedding photography in Shanghai. If you are tired of taking photos in the "concrete jungle", go for this place and you will gain many nice photos which are totally different from those urban style photos.
Overall, there are still many other nice places for pre-wedding photography in Shanghai. No matter which one you go for, we suggest that you go with a local photographer. They always have some great ideas or professional suggestions which can save your time and make your pre-wedding photos amazing.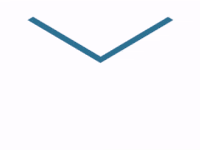 Have a question?
OR
Are you eager to begin your Chinese cultural journey?
Drop us a line and we will promptly connect you with our leading China expert!