What is the Best Time for Student Tours to China?

The country of China, as it spans 5500km from both east to west and south to north, is good to visit all year round. It is difficult to suggest one best time due to its diversity. But generally speaking, the best times to visit China are from April to June and September to November. The weather tends to be warm and dry during these periods, in contrast to the bitterly cold winters and hot, humid summers experienced in much of the country.
April to June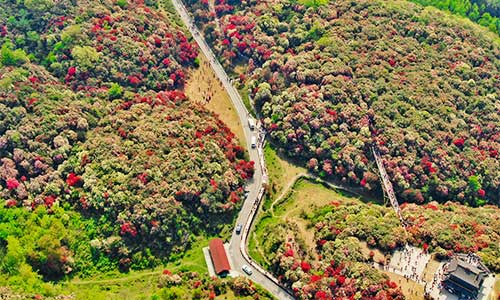 It is spring to early summer from April to June in China. Flowers come out and the weather gets warmer. This is an excellent time to travel to China. It is good for all the popular cities like Beijing, Xi'an and Shanghai. As we don't have spring break in China, you can also visit one of the local schools during weekdays.
April is the season of flowers and festivals. You can attend the Sister's Meal festival or visit Baili Dujuan (Hundred Miles of Rhododendrons) in southwest Guizhou Province or see peony flowers in Luoyang in northern central China.
Packing tips: Bringing plenty of layers is the key: As the weather warms up during the day, you can remove layers until the temperature cools down in the evening. Pack your rain-resistant shoes; umbrellas and rain jackets if you plan to travel to the southern part of China, such as Guilin and Guangzhou.
September to November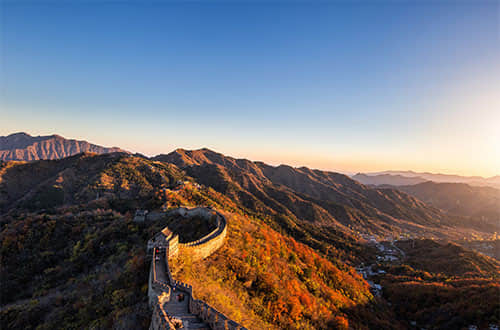 This is autumn to early winter in most parts of China. It is a delightful period, with pleasantly mild temperatures, little rain and beautiful foliage.
You can see red foliage on the Great Wall in Beijing or visit the terraced fields full of golden rice plants in Guilin in southern China.
The Chinese people will celebrate the Mid-Autumn Festival (15th day of the 8th lunar month, which occurs in mid-September or early October), you can have a piece of moon cake with them. It is also the best time to see the Qiantang River Tide Bore – the world's largest tidal bore.
Packing tips: If your tour focuses on northern part like Beijing and Xi'an, it will be cool during the day and chilly at night. A light daytime base layer with a fleece or sweater layer at night is a good option. If your tour also includes southern parts like Guilin, Guangzhou and Hong Kong, it will still be quite warm. Late summer dressing is fine but bring something light weight for the occasional cool evening or heavily air-conditioned room.
No matter what season of the year it may be, there is always a place in China that is worth visiting. If your school cannot arrange a tour during the above mentioned periods, you can also consider another time of the year.
July to August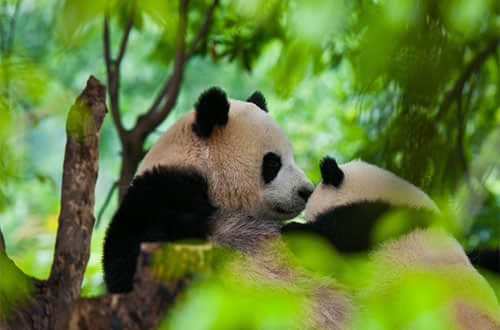 This is summer in China, so it will be hot and humid. Chinese schools are out and many people will be taking summer vacations. In popular cities like Beijing, Xi'an and Shanghai, you'll find that many hotels are fully booked and attractions are overflowing with camera touting tourists. We recommend that you consider Tibet, Yunnan and Guizhou provinces; they are in the southwest of China where temperature are mild. Another place we recommend is Chengdu in southwestern Sichuan province. It is the giant panda's hometown. Giant panda mothers usually give birth to panda cubs in August.
Packing tips: Quick-Dry T-shirts and shorts! Sunscreen and sun glasses. Insect repellent is also a good idea if you will be spending time outside during the evening hours when mosquitoes are rampant.
December to March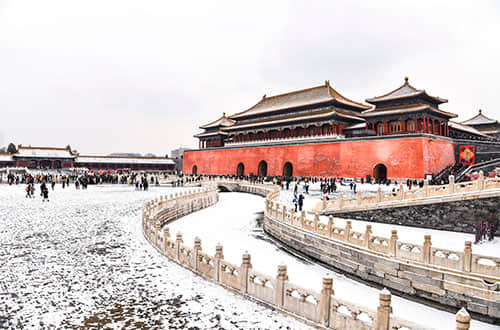 This is winter in China. The cold air from Siberia makes the northern part of China very cold at this time of the year. The ski resorts in Beijing and Harbin are all open. It will be a unique experience to visit Beijing when snow blankets the Great Wall and the Forbidden City.
Harbin Ice & Snow Festival, Set in Heilongjiang Province in northern China, is the world's biggest snow and ice festival and features plenty of spectacular installations and activities. The festival is held annually in early January to late February. You can see huge sculptures made from ice and snow in the Harbin 'Ice and Snow World'.
If you're not into cold temperatures, you can go to southern part of China where the weather is far milder. Xiamen, Guangzhou, Hong Kong, Macau and Hainan are still warm.
Xiamen is a beautiful city with long stretches of beach, right off the coast of Taiwan. The highlight of Xiamen is the Tulou (Hakka Earth Dwellings) that were built hundreds of years ago. Disney's live-action "Mulan" was shot here.
Guangzhou in Guangdong Province was also a foreign outpost, formerly known as Canton. It played a central role in the West's opium trade and now serves as a factory base for China's booming manufacturing industry.
Hong Kong in winter is lovely because you can explore the area without the summer humidity weighing down on you.
Macau is easily combined for a day (or two, depending on your inclination to gamble) with Hong Kong. Check out the captivating cultural center that has maintained its Portuguese heritage.
Hainan is China's largest island in the South China Sea. It enjoys very mild temperatures and while it might be too chilly to swim in the sea, you can enjoy nice walks on beautiful stretches of beach.
Packing tips: Puffy/padded coat, gloves, hat and scarf are needed. For the north of China, we have central heating, and a thin sweater will be OK indoors.
Chinese holiday period that you should avoid when you plan a student tour to China
Chinese New Year, also known as Lunar New Year or Spring Festival – occurs on the 1st of day of the 1st month of the lunar calendar. It can fall in January or early February. It is the most important and the most popular holiday for Chinese people and in the Chinese culture. People travel home and from far away.
China's National Day Holiday is from 1st to 7th of October. Most Chinese choose to have a tour during the holiday, that makes everywhere crowded. In 2019, about 782 million people travelled during the National Day holiday, with 30.5% doing so by car, according to the Ministry of Culture and Tourism of China.
China Public Holiday Calendar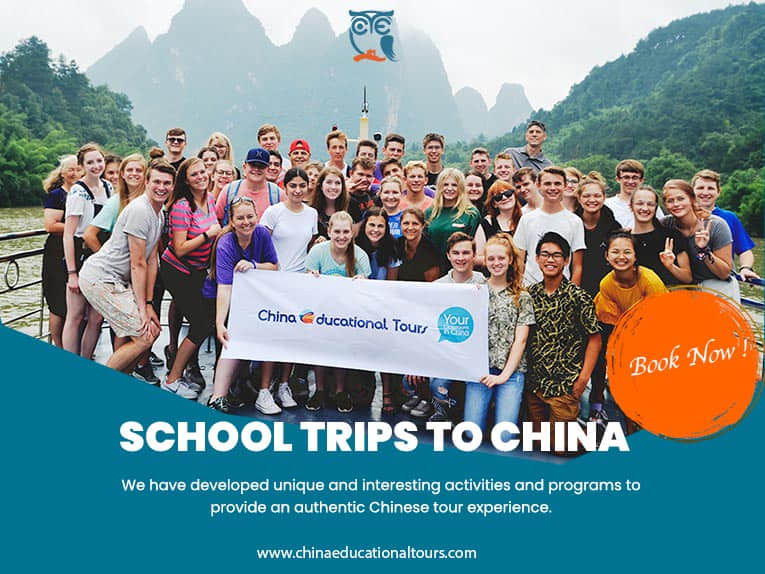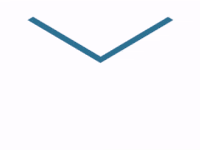 Have a question? Or can't wait to immerse yourself in the engaging journey of Chinese culture? Send us a message! Our top China specialist is ready to assist and connect with you without delay!