ZJJ-03:

5 Days Zhangjiajie Adventure Tour

Explore the impressive Zhangjiajie National Forest Park. You will be enraptured by this natural wonderland. It will feel like you are breathing in all of the freshness provided by the surrounding vegetation. Enjoy the pure beauty, gaze at the emerald lake. Have an awesome experience in Zhangjiajie Grand Canyon that will fire your imagination and saturate your mind with brilliant memories.
CET Advantages
Spend active and relaxed moments in nature
Discover flora and fauna and dynamic landscapes
Enjoy the Sea of Clouds Tianzi Mountain
Experience the longest cableway in the world

Quality
No Shopping Traps

Group Type
Private

Tour Focus
Nature & Landscape

Accommodation
Nights:4

Best Season
Spring, Summer, Autumn, Winter
Suitable For: Travel Buffs
Full Itinerary
Day 1
Zhangjiajie Arrival
Welcome to Zhangjiajie, the metropolis in the south of China. On arrival, your guide will meet you and then transfer you to your hotel.
Day 2
Zhangjiajie National Forest Park: Yangjiajie and Golden Whip Brook (B,L)
It is about 1 hour from the city center to Zhangjiajie Scenic Area. Take a shuttle bus and cable car up to Yangjiajie Scenic Area to visit the Natural Great Wall, Tianbo Mansion, and Corridor in The Air.
In this scenic area, pristine natural scenery consists of velvety hillsides, clear water with plunging waterfalls and cute creatures. It will take about 3 hours to visit most of the attractions on the top of the mountain in Yangjiajie.
Stroll alongside the valley of Golden Whip Brook, and after taking a shuttle bus, go down the hill. The 90-minute-walk is very easy and a great enjoyment. It is a worthwhile walk to see the great stones of various shapes from different angles.
Take a shuttle bus to the exit, and continue to Wulinyuan District.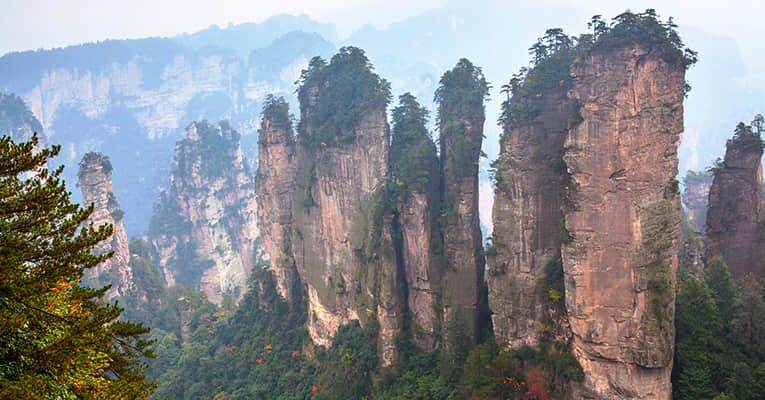 Overnight in Wulinyuan.
Day 3
Zhangjiajie National Forest Park: Tianzi Mountain and Yuanjiajie (B,L)
We pick you up from your hotel to go to Zhangjiajie Scenic Area. Take a cable car to Tianzi Mountain. It is one of the scenic highlights in the scenic area of Wulingyuan.
Tianzi Mountain presents you with a view overlooking mountains and valleys from a distance. It is famous for four spectacles, namely the sea of clouds, moonlight, sunset and snow scenery.
It is about 30 minutes' drive to Yuanjiajie. All of the sites form a veritable wonderland. The scenery that it offers is beyond what words can describe. That's why the director of the Avatar movies chose this place. This is the ideal place to take an attractive photo.
And then walk to the Upper Station of Bailong Elevator; take the highest elevator in the world to go down the hill.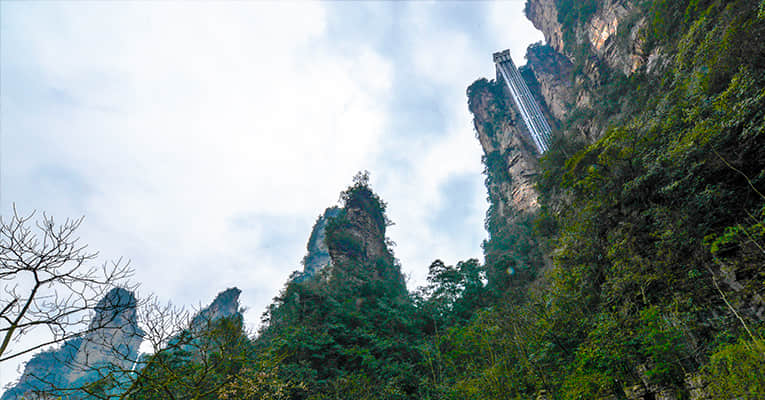 Overnight in Wulingyuan.
Day 4
Baofeng Lake and Zhangjiajie Grand Canyon (B,L)
Transfer to Baofeng Lake after breakfast.
The lake is located in the hills with endless water flow. Elegant mountains and sheer peaks are mirrored in the calm and emerald green surface of the lake. It looks like a landscape painting of longitudinal symmetry right in front of you.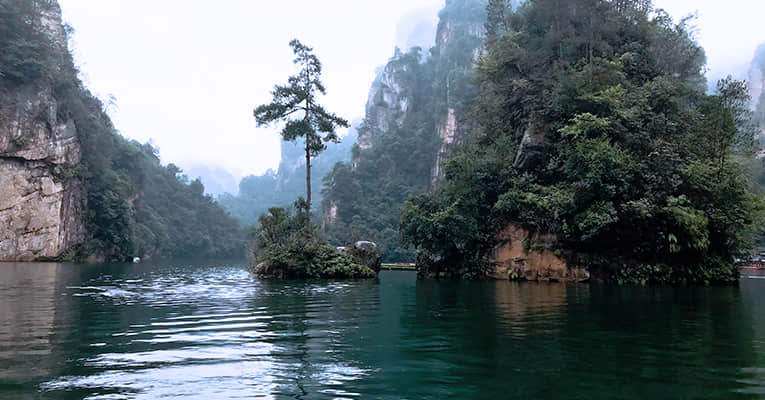 It will take you about 2 to 3 hours to visit, and about 40 minutes' drive take you to Zhangjiajie Grand Canyon. As you cross an incredible bridge allowing you to see all of the typical Karst Mountain Area, you will indulge in the pleasure of the chatter of monkeys, singing birds, clear waters, wind blowing and fresh air. This natural wonder has attracted millions of travelers from afar.
Overnight downtown.
Day 5
Tianmen Mountain: Tianmen Mountain Cable Way, Plank Road of Guigu Cliffs, Glass Trail and Tianmen Cave (B,L)
Cable Way of the Tianmen Mountain is 7,455 meters long and the longest cable way in the world. You will be exhilarated by its terrific speed. At the same time, you can enjoy the splendid view of Tongtian Avenue from the cable car. After arriving on the top of mountain, you will continue to take a small cable way to Tianmen Mountain Temple, and go across the Guigu Plank Road.
The Glass Trail is not far from Guigu Cliff, which is 60 meters long. When you step on the trail, you will have a bird's-eye view of a range of mountains with mist and cloud. Across the Glass Trail, you will arrive at the Tianmen Cave after 30-minutes' walk. Here you will explore the unique culture of Tujia Folk and experience the true masterpiece of Nature.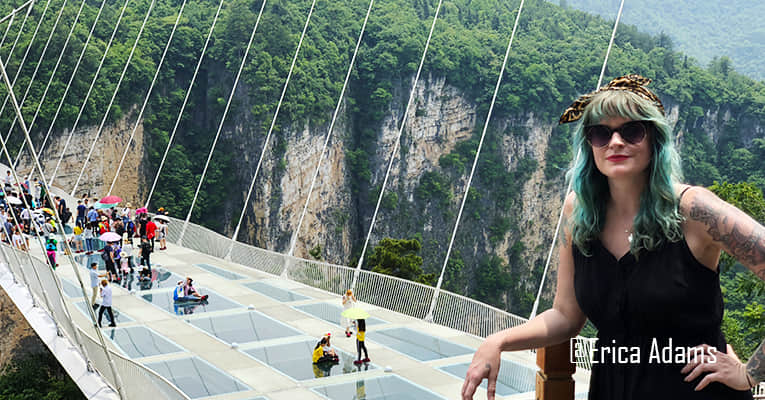 Go down the hill by a shuttle bus, and return downtown. You will be transferred to the airport later today.
What's Included
Private Transportation between hotels and the scenic areas
Personal tour guide with excellent English
4 nights at selected hotel accommodation
Entrance fee, shuttle bus and cable car as listed
China Life Tourist Accident/Casualty Insurance
Hotel Options
| | Comfort | Deluxe |
| --- | --- | --- |
| In City Center | Zhangjiajie International Hotel | Sunshine Hotel & Resort Zhangjiajie |
| Wulingyuan Hotel | Santo Domingo International Hotel Zhangjiajie | Pullman Zhangjiajie |