ST-09:

8 Days Guangzhou - Gongcheng - Yangshuo - Longsheng - Guilin Tour

To know about the development in China and experience countryside life, you will go to one of the big cities - Guangzhou - and then a world famous scenic city - Guilin. Guangzhou is the southern gate to the world and you can visit some factories and see magnificent high-rise buildings. On the other hand, you will get closer to nature and the local people in the countryside around Guilin. You can try your hand at a lot of different outdoor activities such as: farming, bamboo rafting, kayaking, playing football and hiking. This will be a story you can share with your classmates, friends and families.
Trip Highlights
Tour of factories in Guangzhou
Taste Guangzhou morning tea as brunch
Learn how to draw minority drama facial makeup
Appreciate the landscape along the Li River
Play a football match with a local club
Admire the spectacular terraced rice fields
Suitable For: School, Family, Team Building
Full itinerary for People and Geography Tour
Day 1
Guangzhou Arrival
Welcome to Guangzhou, the metropolis in the south of China. On arrival, your guide will meet you and then transfer you to your hotel. You can explore the busy city on your own after check-in.
Day 2
Guangzhou: Factories Visit and Architectures (breakfast & lunch)
Morning
After breakfast, your guide will meet you at the hotel lobby for the trip of Factories Visit. You are going to visit two of the most famous factories in Guangzhou today. Start with exploring the factories, and then follow up with the Q&A session to get to know more about industry development in China. You also have a chance to understand how the local workers earn a living. Have Cantonese cuisine for lunch.
Afternoon
After lunch, you will head to Guangzhou Tower. This was the third highest observation tower in the world when it was built, completed by Dutch architects in 2009. It looks like the shape of a lady twisting her waist and looking back. There are 108 floors, and even a bubble train circling around the very top of the building. That is very impressive. Next you will visit Chen Clan Ancestral Hall. The buildings have been carefully restored, presenting the visitor with the ability to admire the architecture, fittings and sheer beauty of the Qing era in China's rich history. Ondisplay is the famous Shiwan pottery, enameled porcelain, embroidery, ivory carving and wood carving. You can observe the huge difference between the Guangzhou Tower and Chen Clan Ancestral Hall.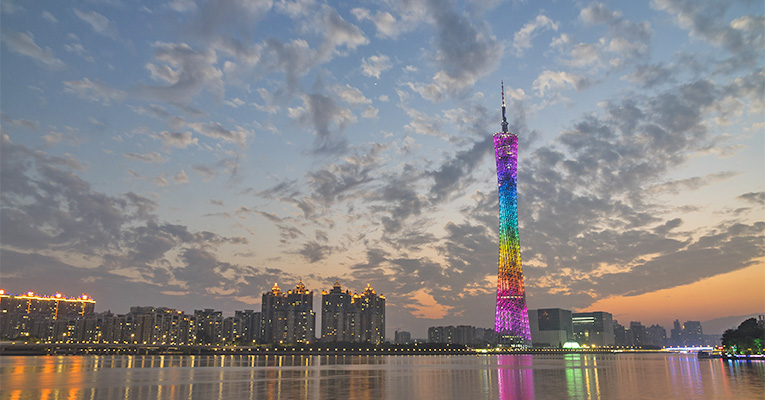 Guangzhou Tower
Day 3
Guangzhou – Gongcheng by Speed Train: Village Life (dinner)
Morning
You can explore Guangzhou city on your own. Brunch (Guangzhou morning tea) is quite popular in Guangzhou. Cantonese food is also a key reason for traveling to Guangzhou. Find a good restaurant and enjoy your brunch like a local. After that, you will take a high speed train to Guilin.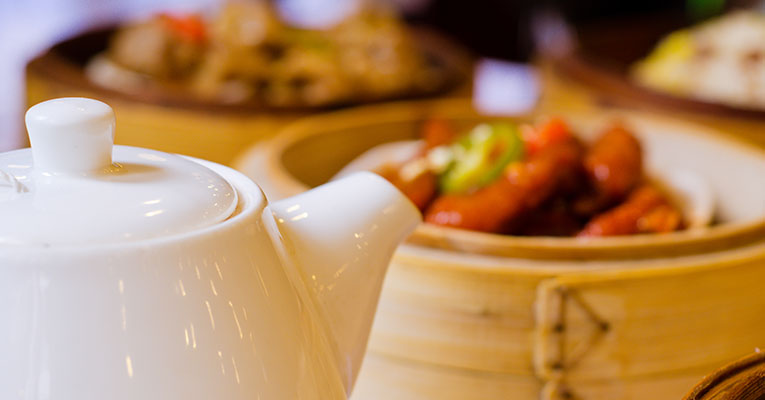 Enjoy Guangzhou Brunch Like a Local
Afternoon
On arrival at the train station, you will be met by your English speaking guide who will accompany you to Hongyan Village (Red Crag Village). The locals will hold a welcome ceremony for your group. Meet your local host and check in for your home stay. Enjoy your dinner with the local family.
Evening
The locals will prepare a minority night show for you. You can also prepare a performance to surprise them.
Day 4
Gongcheng/Yangshuo by Road: Village Life (breakfast & lunch)
Morning
After breakfast with your home stay family, the host will take you out to start their routine. Different seasons have different farm work. You may need to help them to transplant rice seedlings, weed grasses in the garden, pick fruits, or even build their houses etc. After work, you will enjoy lunch at home.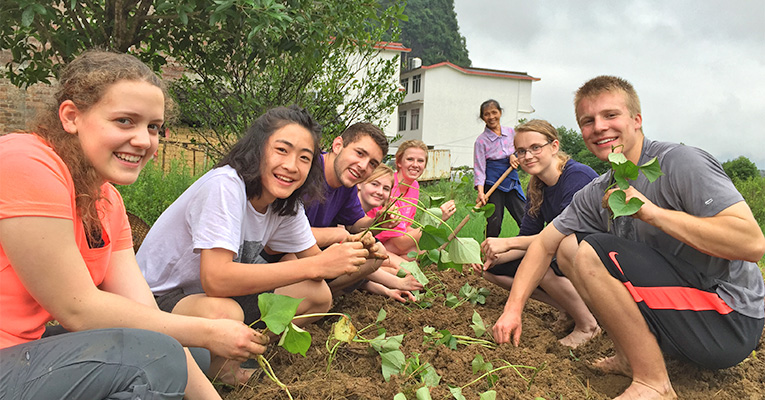 Farm Work
Afternoon
After lunch, you will get packing and be sent to Gongcheng, where you can see how the local people worship Confucius in the Confucian Temple. In this ancient temple, you can learn how to do facial makeup for the minority theater actors and learn about the minority culture from the teachers. Finally, your guide and driver will take you to your hotel in Yangshuo and check in.
Day 5
Yangshuo: Outdoor Adventure (breakfast & lunch)
Morning
After breakfast, you will meet your tour guide at your hotel and be transferred to Xingping Ancient Town. Board the bamboo raft and admire the solitary limestone peaks along the Li River. You can stop off along the river if you want to take pictures. This activity is followed by a visit to this ancient town which has a history of more than 1,700 years. The local people back in the day would go fishing for a living. Have lunch in town.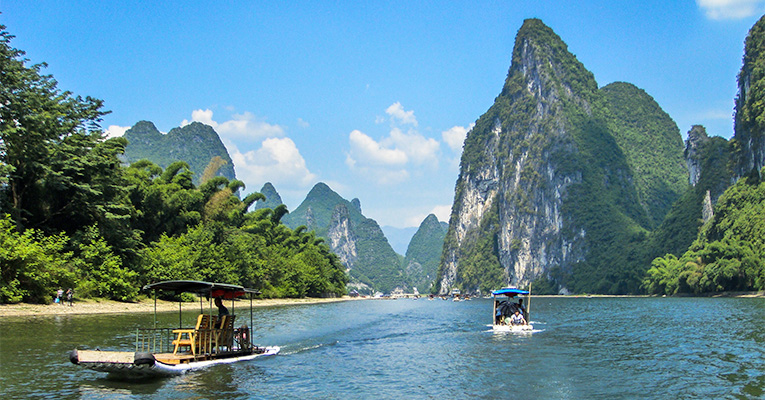 Bamboo Rafting on the Li River
Afternoon
After lunch, you will return to Yangshuo and jump on a bicycle to explore the countryside. This is an easy way to get close to the local people. And the view is beautiful. En-route you can pay a visit to a local family. Talk with them and get to know about their life style.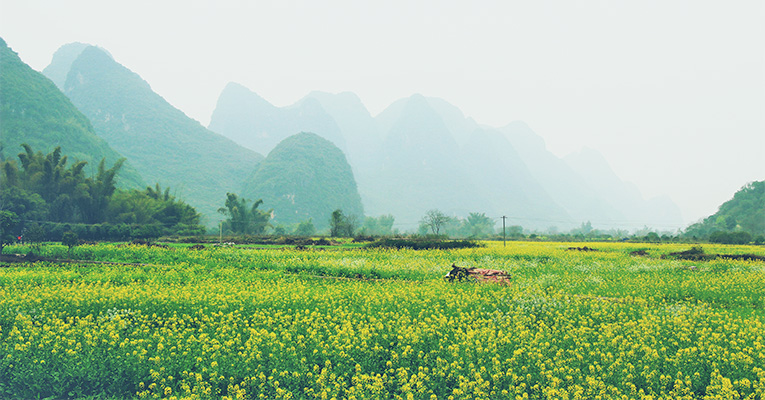 Yangshuo Countryside
Evening
Recommended activity:
1. Impression Sanjie Liu Show uses the Li River as the stage and the mountains as the backdrop to give audiences a visual feast performed by more than 600 actors.
2. Yangshuo West Street is the oldest street, with a history of more than 1,400 years, which is attractive to a lot of foreigners. It comes alive with pubs and clubs open at night.
Day 6
Yangshuo/Guilin by Road: Outdoor Adventure (breakfast & lunch)
Morning
Meet your guide for the exciting Kayaking tour. Kayaking is a popular outdoor activity in Yangshuo. The trip starts from an ancient town, and continues down the Li River to Liugong Village. You will enjoy the stunning scenery with its different shaped peaks and bamboo forests. Have lunch in the village.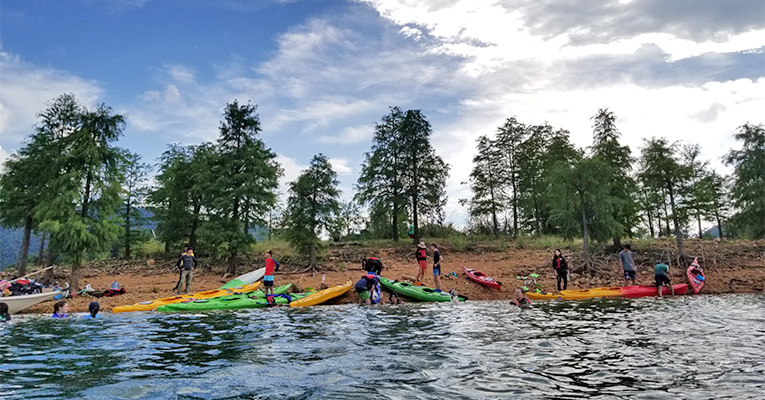 Afternoon
You will head off to a local football club and play a match with the local players. You also can learn how they run their club in this town. After that, your guide and driver will drive you to Guilin city. Have a good rest after a day of exercise.
Day 7
Guilin/Longsheng by Road: Terraced Rice Fields (breakfast & lunch)
Morning
Longsheng is located in the north of Guilin for about 2.5-hour drive. Firstly you will arrive in Pingan Village to see the marvelous terraced rice fields and take another 40 minutes to walk all the way to the mountain top. Then you will have a once in a lifetime sight of rice terraced fields cut out of 45 degree slopes. The time of year that you visit these rice terraces will determine the kind of landscape view you will get to see. The rice fields are full of water in May. At the end of September, just before harvest, the fields are golden brown with ripe rice. Go down from the top and have lunch in the village.
Afternoon
You will hike, starting from Ping'an Village to Ancient Zhuang Village for around 2 hours. En-route you will see locals' routine and visit the Zhuang Culture Museum. Ancient Zhuang Village is the most well-preserved, oldest and largest stilted wooden building complex of the Zhuang nationality in Guangxi province and even the whole country. We will drive you back to Guilin in the late afternoon.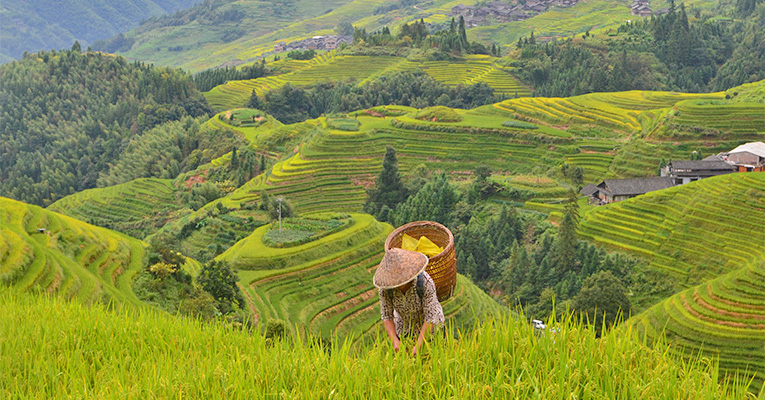 Day 8
Guilin Departure (breakfast)
Enjoy free time after breakfast, until your guide takes you to Guilin airport/station for your flight/train to your next destination.
Featured Hotel
| | Comfortable | Deluxe |
| --- | --- | --- |
| Guangzhou | Ocean Hotel Guangzhou | Dong Fang Hotel Guangzhou |
| Hongyan Village | Home stay | Home stay |
| Yangshuo | Green Lotus Hotel Yangshuo | Yangshuo Resort |
| Guilin | Guilin Bravo Hotel | Shangri La Hotel Guilin |
What's Included
Speed train ticket from Guangzhou to Gongcheng
Hotel accommodation and home stay with daily breakfast
Meals mentioned in the itinerary
Entrance to the attractions
Cost for all the outdoor programs in the itinerary
Overland transportation with a private driver
Student-friendly English speaking tour guide