ST-17:

10 Days Middle School Students Trip to China: Beijing, Xi'an, Chengdu, Shanghai

Travelling is a novel way of learning outside the classroom. This tour is specially designed for international middle school students. It includes historical sites, museums, the panda base, and Chinese culture learning. Your students will enjoy participating in the immersive activities and will discover learning beyond their textbooks.
Trip Highlights
Student friendly activities
Taste popular food
Experience Chinese traditional culture
Get close to the Pandas
Basic Chinese Mandarin learning
Suitable For: Middle School Students
Full itinerary for Grade 8 and 9 Educational Tour to China
Day 1
Beijing Arrival (dinner)
Upon arrival in Beijing (PEK or PKX), you will be met by your local English-speaking guide at the arrival hall of the airport. Then you will be transferred to your hotel in downtown Beijing. Take the rest of the day at your leisure.
A welcome dinner will be arranged in a local restaurant along with the tour orientation.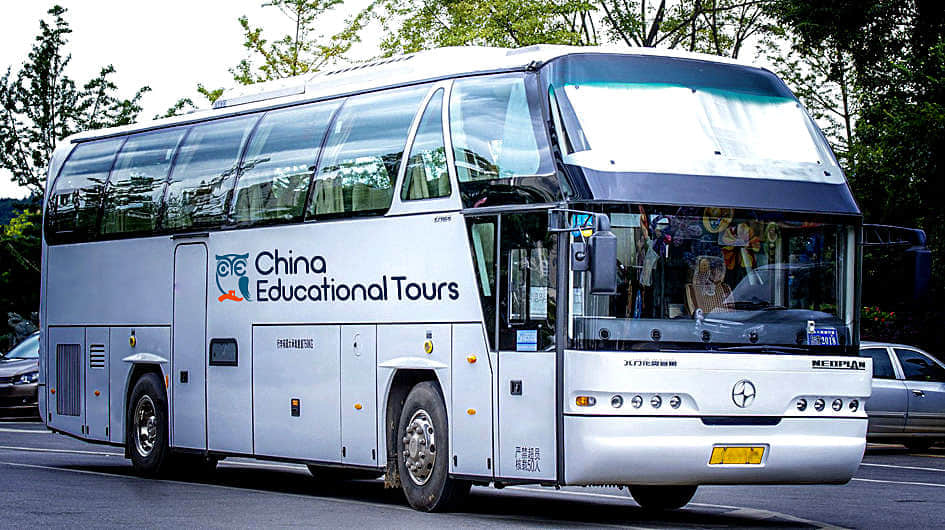 Pick You up and Transfer to Hotel
Day 2
Beijing: History and Culture Learning (breakfast, lunch & dinner)
Morning
Meet your guide and go for a visit to Tiananmen Square after breakfast. This place means a lot to Chinese people for its political significance and is the must-go place before your visit to the Forbidden City.
Then we will organize a Treasure Hunt activity for students in the Forbidden City. You need to gather all the clues about the Forbidden City that the guide gives you to finish the game. It's a special way to acquire knowledge and have fun at the same time in the largest imperial palace in the world. We will have souvenirs for the winners in this Treasure Hunt.
Lunch will be arranged at a local restaurant nearby.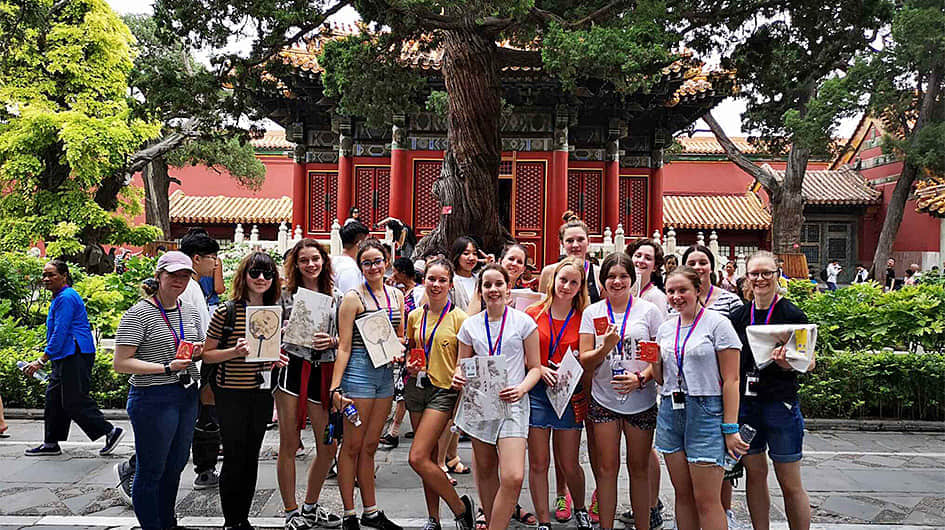 Receive Award after the Treasure Hunt
Afternoon
We will arrange a Chinese Calligraphy Lesson for you. You will learn some basic skills of Chinese Calligraphy and try to write some easy Chinese characters under the guidance of your teacher. And your teacher will introduce some of the history and classification of calligraphy as well. Writing tools like brush, ink, rice-paper, and ink-stone will be provided.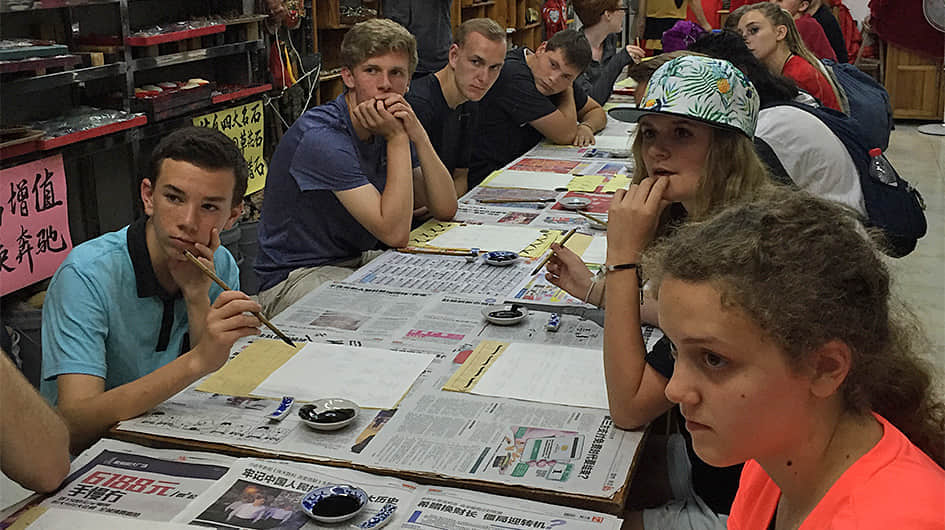 Listen to the Teacher Carefully
Evening
Enjoy a Peking Duck dinner in a local restaurant.
Recommended optional activities:
1. 'The Legend of Kungfu' premiered in 2004. In contrast to the traditional Kungfu show, it demonstrates Kungfu through dramatic stories. The group also tours abroad and has a good reputation.
2. 'Acrobatics at Chaoyang Theatre' was founded in 1984. Their performances have won more than 30 awards at home and abroad. "Blue And White Porcelain" (balancing a stack of bowls on the head), which is one of them, was on the stage of the Spring Festival Gala in 2015.
Day 3
Beijing: The World Heritage Sites Visit (breakfast, lunch & dinner)
Morning
This morning, we are going to visit the Temple of Heaven and play Taiji as morning exercise. The Temple of Heaven was a royal temple where the emperors worshiped heaven in the Ming and Qing dynasties (1368-1912 CE). Nowadays, it's a popular place for the residents nearby to do morning exercise and dance. You will learn the history of Taiji and play Taiji with a Taiji Master inside the park. Then your guide will show you around this UNESCO World Heritage Site.
Have lunch in a restaurant on the way to the Great Wall.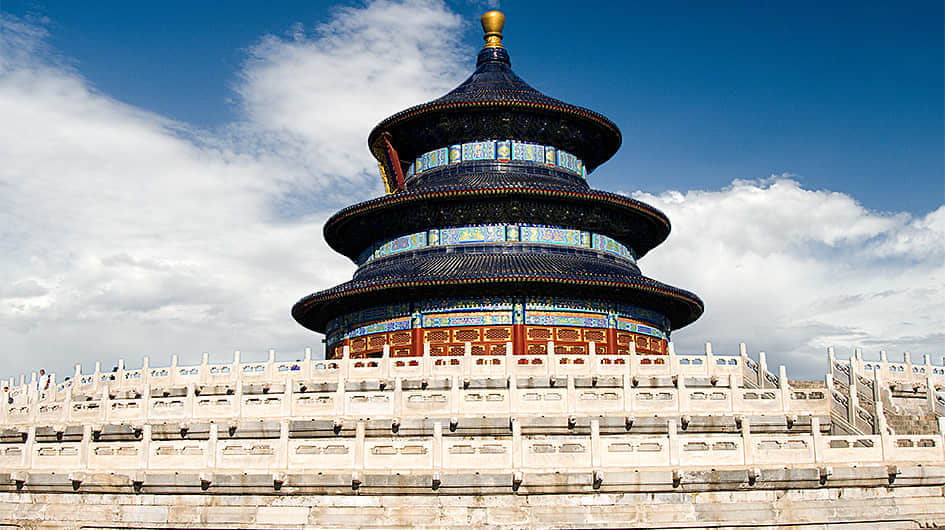 The Hall of Prayer for Good Harvest in the Temple of Heaven
Afternoon
The Great Wall is always on the bucket list of those who want to travel to China. You will arrive at the Mutianyu Section of the Great Wall after lunch. Taking the cable car up to the wall will be much easier than walking up there. And after you have visited this world famous relic, taking the toboggan down the hill will be faster than the cable car. Have fun!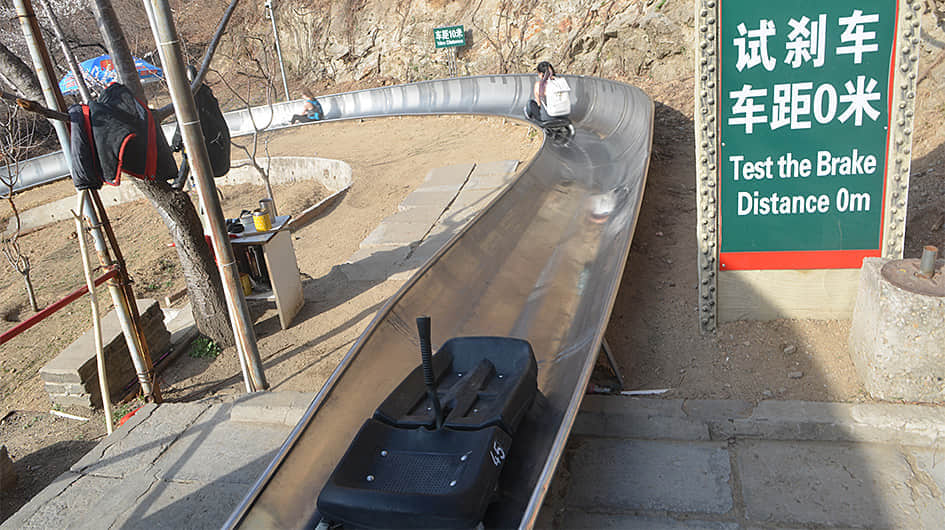 So Exciting to Take the Toboggan Down from the Hill
Evening
Have dinner in a restaurant near your hotel.
Day 4
Beijing – Xi'an by Bullet Train: Summer Palace (breakfast, lunch)
Morning
After breakfast, the Summer Palace is the last attraction to visit before you leave Beijing for Xi'an. Follow your guide to explore this world's largest imperial garden; you will see the most famous Kunming Lake, Longevity Hill, Long Corridor and the Garden of Virtue and Harmony.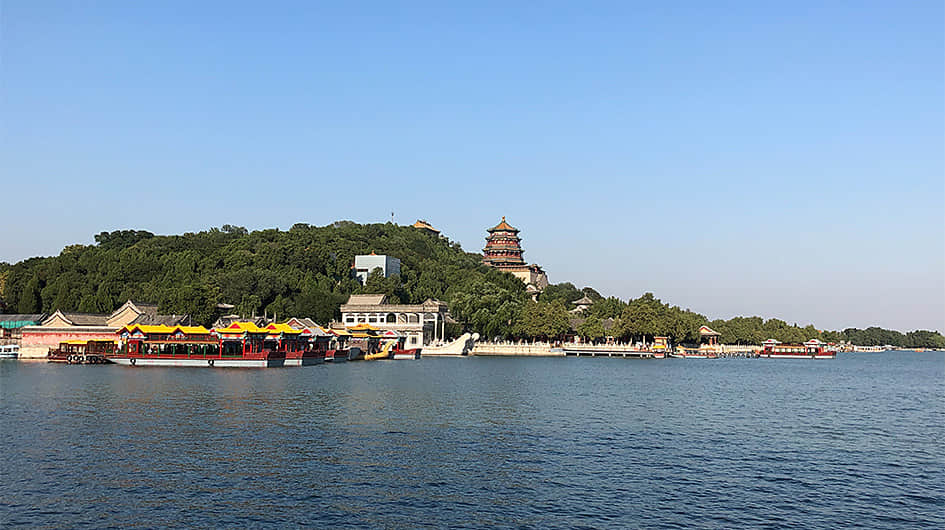 Kunming Lake and Longevity Hill as the Base of the Summer Palace
Afternoon
As the fastest bullet train from Beijing to Xi'an is normally the one that leaves at 14:00, we will arrange a lunch box for each student.
Then you will take the bullet train from Beijing to Xi'an for about 4.5 hours.
Evening
Your guide in Xi'an will wait for you at the exit of Xi'an North Railway Station. You will be picked up and transferred to your hotel.
Day 5
Xi'an: Visit the Ancient Capital of China (breakfast & dinner)
Morning
Meet your guide in the morning and drive for about 1 hour to visit the most important World Heritage Site in Xi'an, the Terracotta Army. You will be amazed by the great works from 2000 years ago.
After seeing the Terracotta Army, you have a chance to make your own terracotta figurines in a pottery factory. You will have a better understanding of this World Heritage site after learning how to make them. Lunch will be in a restaurant nearby.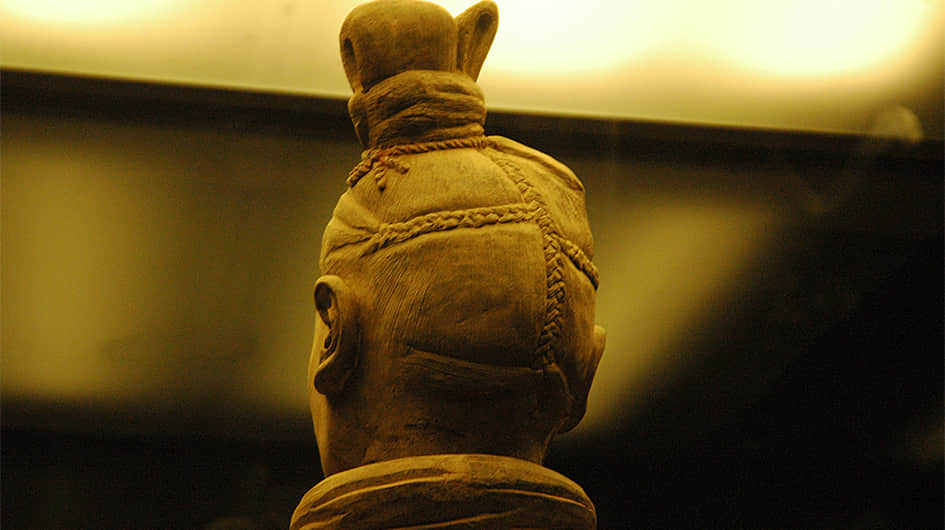 Details of the Terracotta Warriors' Hair Style
Afternoon
Transfer back to downtown Xi'an after lunch. We will have a visit to the Small Wild Goose Pagoda. It is a famous brick pagoda with compact eaves and was built in the Tang Dynasty (684 CE). The Xi'an Museum is also located in this scenic area. You will learn more about the history of this ancient capital of China. And then you may watch a traditional Shadow Puppets Show. China's Shadow Puppets were inscribed on the UNESCO's Intangible Cultural Heritage list in 2011.
The last stop today is the Muslim Quarter. You may take a stroll around this area and find some local snacks and handicrafts.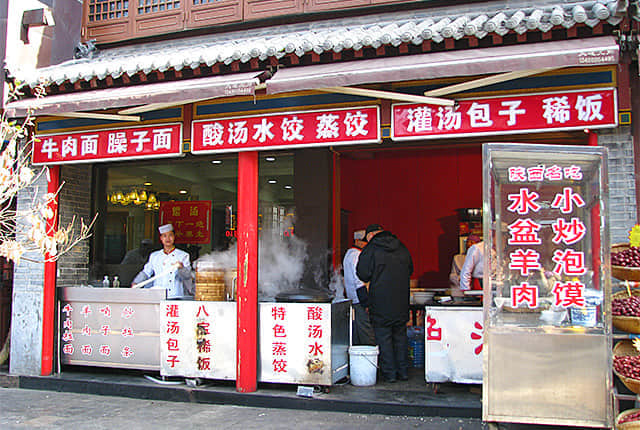 A Noodle Shop in the Muslim Quarter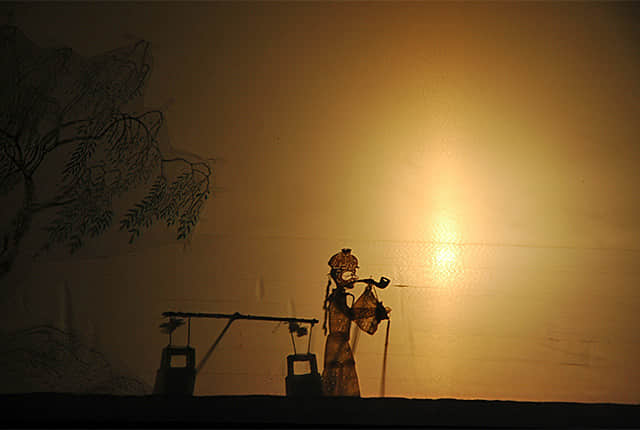 Shadow Puppets Show
Evening
Dinner will be arranged in a local restaurant.
Recommended optional activities:
1. The music fountain at the north square of the Big Wild Goose Pagoda is free to the public. You can stroll around it after dinner to experience local life.
2. 'Tang-Dynasty Palace Music and Dances' is a performance that was re-created by many famous artists in Shaanxi province, displaying the essence of music, rhythm, and dance art in the Tang Dynasty.
Day 6
Xi'an – Chengdu by Bullet Train: Biking on Xi'an City Wall (breakfast, lunch & dinner)
Morning
We will go for a bicycle ride on the Ancient City Wall of Xi'an. The Ancient City Wall in Xi'an was built in the Ming Dynasty and is the best preserved city wall in China. The total length is 13.7 km (8.5 miles). Your guide will assist you to choose bicycles and biking on the wall.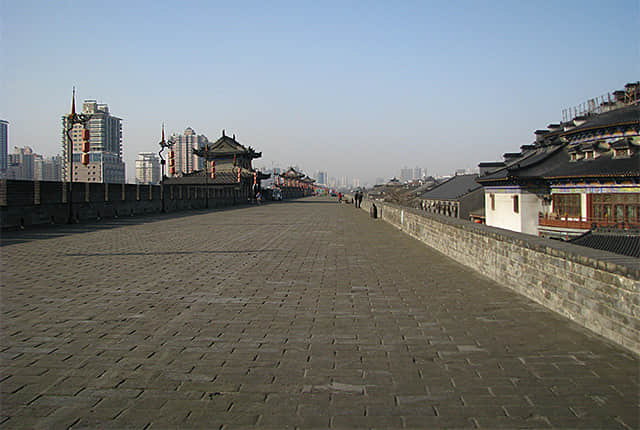 The Platform of the Ancient City Wall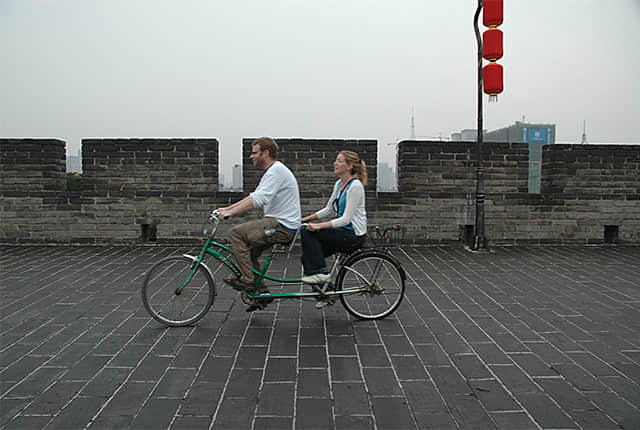 Ride a Bike on the Ancient City Wall
Afternoon
After lunch, we will head to Xi'an North Railway Station and take the bullet train to Chengdu for about 4 hours.
Evening
Your guide in Chengdu will pick you up at Chengdu Railway Station Then go for a dinner and hotel check in.
Day 7
Chengdu: Panda Keeper Tour (breakfast & lunch)
Morning
Get up early and take the bus to Dujiangyan Panda Base. Today you will have an opportunity to be a Panda Keeper and get very close to this lovely creature.
You will get your panda keeper card, working uniform and gloves. With the guidance of professional staff member, you are going to clean a panda enclosure, visit around the base, learn about pandas, make food for pandas, and feed pandas.
Have lunch in the panda keepers' canteen with staff.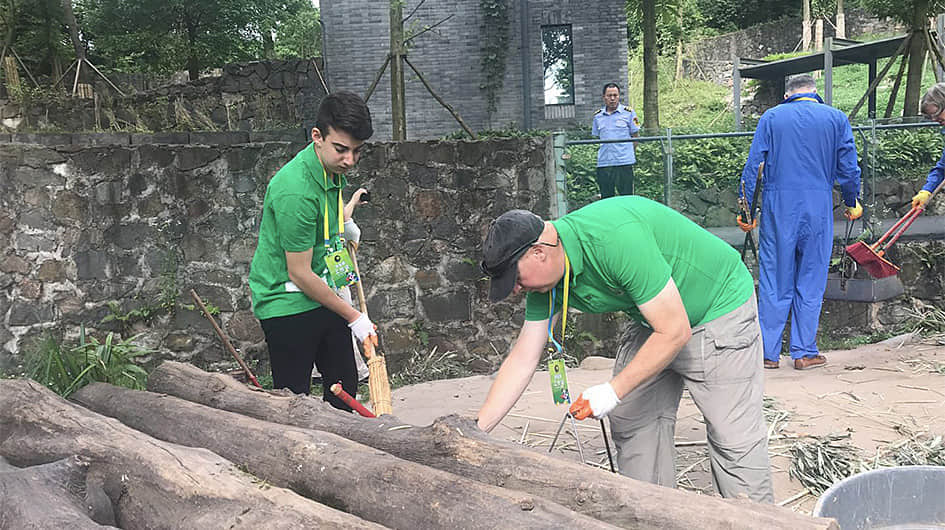 Clean the Panda's Enclosure
Afternoon
After a memorable experience in Dujiangyan Panda Base, you will receive a 'Panda Keeper Certificate' and say 'good bye' to the pandas. Then return to your hotel in the late afternoon.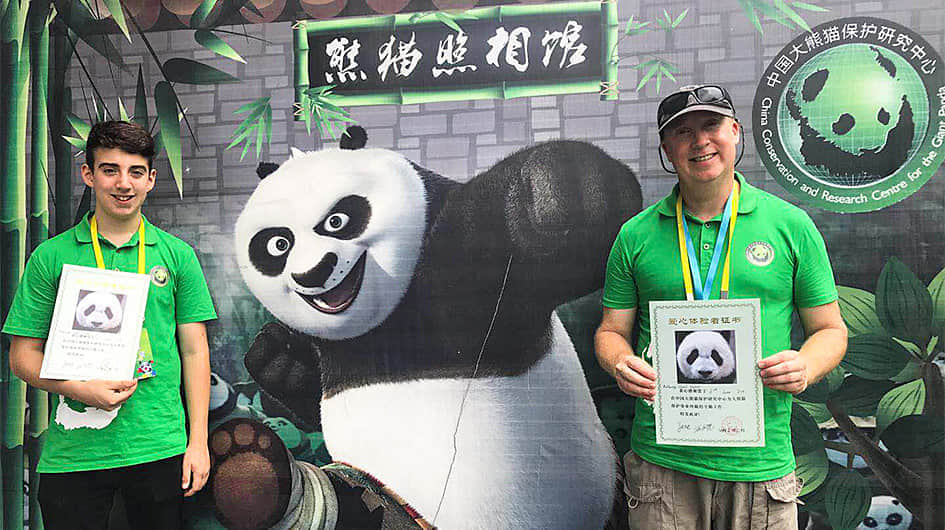 Receive Panda Keeper Certificates
Evening
Taste the authentic Sichuan Hotpot and cuisine at dinner time.
Recommended activity:
Shu Feng Ya Yun Sichuan Opera offers the wondrous authentic west Sichuan folk classical opera, presented in a large-scale multi-functional Liyuan theater which integrates a traditional Chinese art performance, unique folk performance, opera, and drama supplies. The programs are Sichuan opera, stick-puppet shows, hand shadow plays, Chinese Acrobatics, and face changing shows.
Day 8
Chengdu – Shanghai by Plane: Jinsha Site Museum and Kuanzhai Alley (breakfast, lunch & dinner)
Morning
Check out from your hotel and today's tour starts from Jinsha Site Museum. There are more than 2000 pieces of historic relics in this Museum. Among them, the "Sun and Immortal Birds Gold Ornament" and the "Golden Mask" are the most important treasures in China. Visitors will learn a lot about the local culture from 3000 years ago.
We will leave Jinsha Site Museum for the last stop in Chengdu, Kuanzhai Alley. It's an ancient pedestrian street with original architectural style located in downtown Chengdu. There are lots of gift stores and local snacks to be explored. We will arrange to have the local snacks in this area as your lunch today.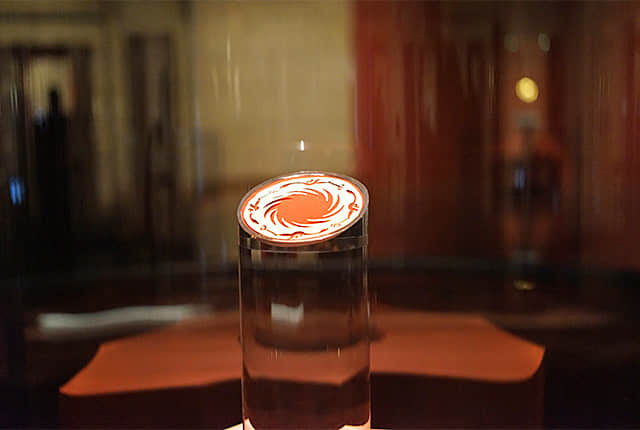 "Sun and Immortal Birds Gold Ornament"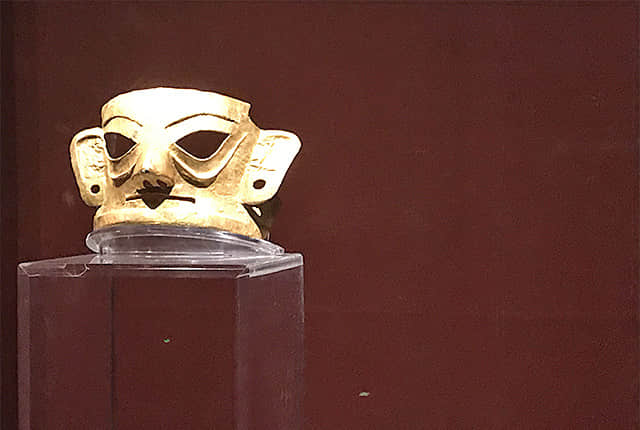 "Golden Mask"
Afternoon
Your guide and driver will send you to Chengdu Airport. You will take a flight from Chengdu to Shanghai in the afternoon.
Evening
Arrive at Shanghai Airport, your guide in Shanghai will be waiting for you at the arrival hall. Then you will go for dinner in downtown Shanghai and check in at your hotel.
Day 9
Shanghai: City Highlight Tour (breakfast, lunch & dinner)
Morning
Meet your guide and take a visit to the Bund near the Huangpu River. Here you can enjoy the skyline of Shanghai and learn the stories of the historical buildings along the Bund.
Then we are going to visit one of the skyscrapers on the eastern bank of Huangpu River, Shanghai World Financial Center. You can take a photo of the panoramic view of Shanghai from the 100th floor of this skyscraper. It's a great place to see the most developed city in China.
Have lunch at a local restaurant.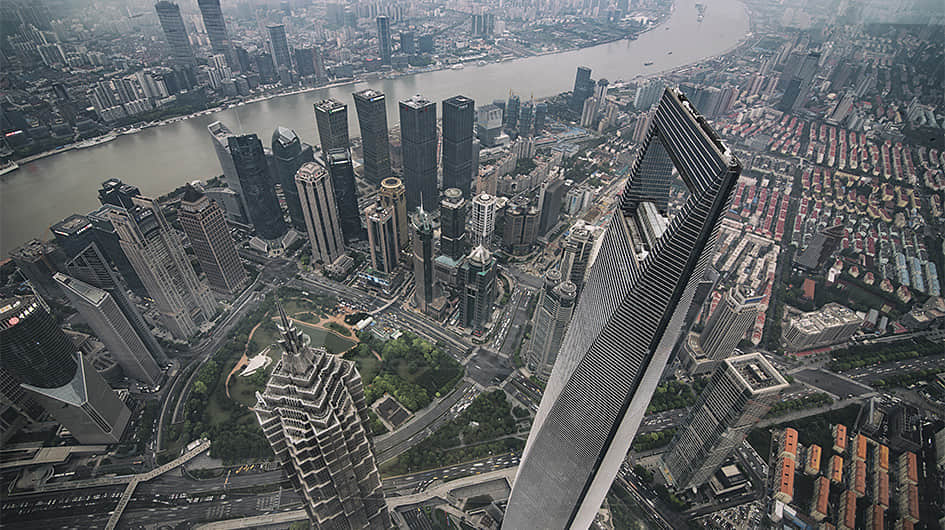 Have a Panoramic View from Shanghai World Financial Center
Afternoon
Then we will visit the Yuyuan Garden. It is one of the most famous classical gardens in China and has a history of more than 400 years. The layout of the traditional architecture, ponds, rocks and plants makes the garden even more charming.
The next stop is the Shanghai Natural History Museum. There is a collection of more than 290,000 specimens of animals and plants in this museum and it's one of the biggest natural museums in China. You will learn a lot about ancient animal history, human history, environmental protection, and the evolutionary history of animals and plants.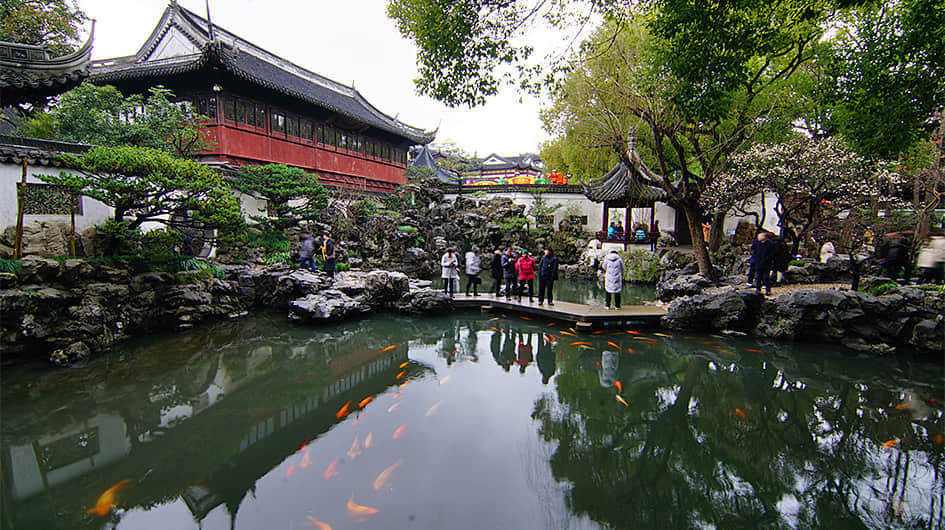 The Layout of Yuyuan Garden
Evening
Have a farewell dinner at a local restaurant and enjoy the local cuisine.
Recommended activity:
1. A live acrobatic show named 'ERA, Intersection of Time'. It represents the highest level of acrobats.
2. 'Night cruise along Huangpu River' to see the beautiful city lights on both sides.
Day 10
Depart Shanghai (breakfast)
After breakfast, our guide and driver will send you off at Shanghai Pudong Airport (PVG). You will take flight back home or to the next destination. Have a good trip!
Hotels for your reference
| | |
| --- | --- |
| Beijing | Sunworld Hotel Beijing |
| Xi'an | Grand Noble Hotel |
| Chengdu | Mingyoun Central Hotel |
| Shanghai | Narada Boutique Hotel Shanghai Bund |
What's Included
Experienced English-speaking guides, drivers and fine condition coaches
Domestic flight and bullet trains tickets in the itinerary
Centrally located hotels
Admission to all attractions as listed
Meals as listed in the itinerary