ST-18:

10 Days Private Tour: Beijing - Shanghai

China has become one of the world's fast-developing countries in recent years, whether in manufacturing or advanced technology. This tour experience blends ancient history and modern life in Beijing and Shanghai. You may have heard of the Forbidden City, the Great Wall, the Summer Palace, and Yuyuan Garden. Now you are going to see these historical sites in person to better understand Chinese culture and history. Visit some successful companies where you will get insight into China's working environment, the process and some practical information, which cannot be displayed in lectures.
Trip Highlights
Go on a treasure hunt activity in the Forbidden City
Visit companies and factories of various industries
Take the toboggan down from Mutianyu Great Wall
Attend a lecture about the development of China's industry
Appreciate an art zone in Beijing
Suitable For: School Students
Full itinerary for China Academic Tour
Day 1
Beijing Arrival
We warmly welcome you to Beijing, the capital of China. From ancient walled capital to modern metropolis, Beijing went through tragedy, endurance, triumph, and innovation. It has stood the test of time, waiting for you to explore its essence.
Day 2
Beijing: In-depth Knowledge of History and China's Industry (breakfast, lunch & dinner)
Morning
As the world's largest city square, Tiananmen Square is a site of many important events, enjoying a great cultural significance. Hundreds of Chinese visitors go to see the flag-raising ceremony every morning as it is the symbol of China's national pride.
Enter the Forbidden City from the Heavenly Gate, and take part in a fun and educational activity. Students will be divided into small groups to go Treasure Hunting. Listen carefully to the clues given by the tour guide, race through the Forbidden City to find the answers. Will you be the first team to uncover all locations of the assigned symbols?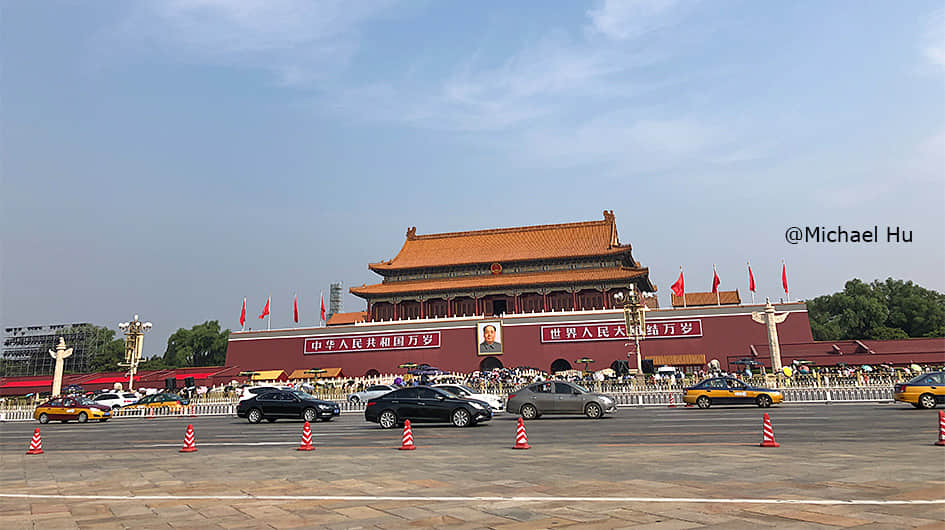 Tiananmen Square
Afternoon
After a lunch break, an expert will give students a professional lecture about the development of China's industry. How did China transform from a traditional agricultural society to be a modern industrial society? Nowadays China has auto-industry, information technology industry, manufacturing industry, and even high-tech industry.
Day 3
Beijing: Companies Visit (breakfast & dinner)
Morning
Today you are going to tour Beijing Yanjing Brewery. Yanjing Beer keeps 89% market share in Beijing and 50% in northern China. This tour takes you to visit the whole workshop including brewhouse, fermenting cellar, filter room, and filling room. You will learn the history and development of Chinese beer and how advanced Chinese factories can be. At the end of the tour, enjoy a glass of refreshing beer as a compliment for those over 18.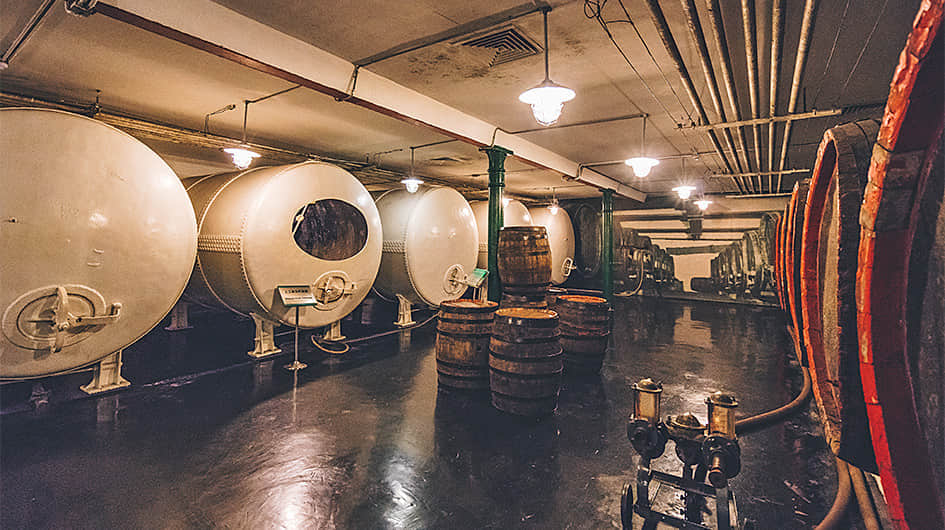 One of Workshops in Brewery
Afternoon
Information Technology is fast developing in China in recent years. Tencent, one of the most successful IT companies, provides online news, social media, games, entertainment, server and programs. The tour lasts for about 1 hour, including a briefing about the company, a short tour around, and a Q&A session.
You will enjoy dinner at Haidilao Hot Pot Restaurant.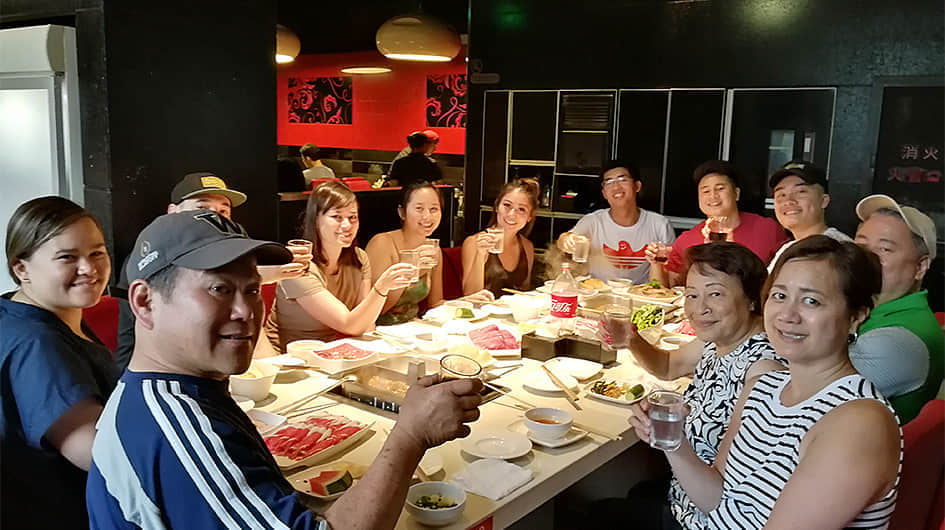 Have dinner at Haidilao Hot Pot Restaurant
Day 4
Beijing: Historical Sites (breakfast & dinner)
Morning
The Temple of Heaven is the largest religious complex among China's ancient buildings. It was built following the ancient Chinese belief that heaven is round and earth square. It is considered the highest achievement of traditional Chinese architecture. The Hall of Prayer for Good Harvests (Qiniandian) is considered remarkable.
You will be learn Tai Chi there under the guidance of a master.
1. Full illustration of Tai Chi
2. Demonstration of Yang Style Tai Chi
3. Learn Tai Chi Chuan
4. See who is the best learner
From there you will travel out of the city for 1.5 hours' drive, to Mutianyu Great Wall.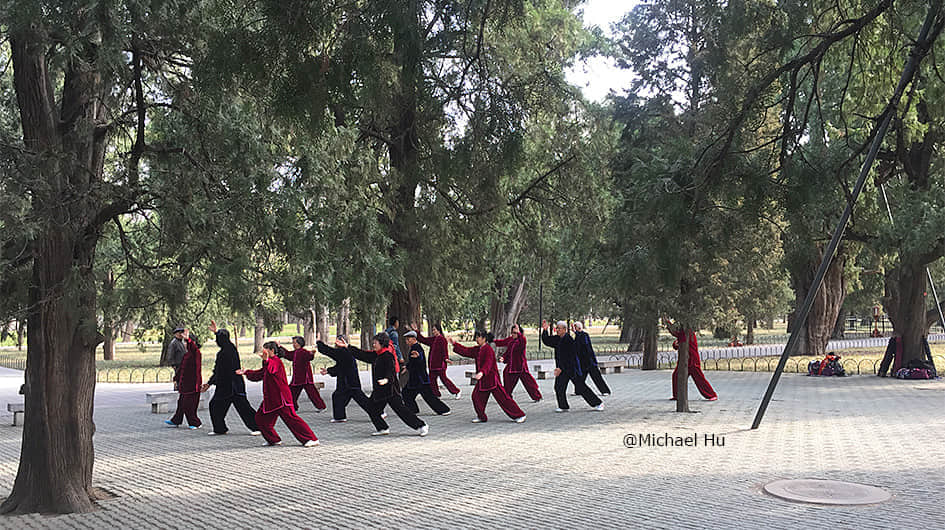 The Local People Playing Tai Chi in the Park
Afternoon
Take a cable car ride to Tower 14, where you will enjoy stunning sceneries going across to Tower 23. Please wear comfortable shoes for some walking and climbing. Take a thrilling ride on the toboggan slide down is popular for the adventurous. You will be back to Beijing city to have dinner.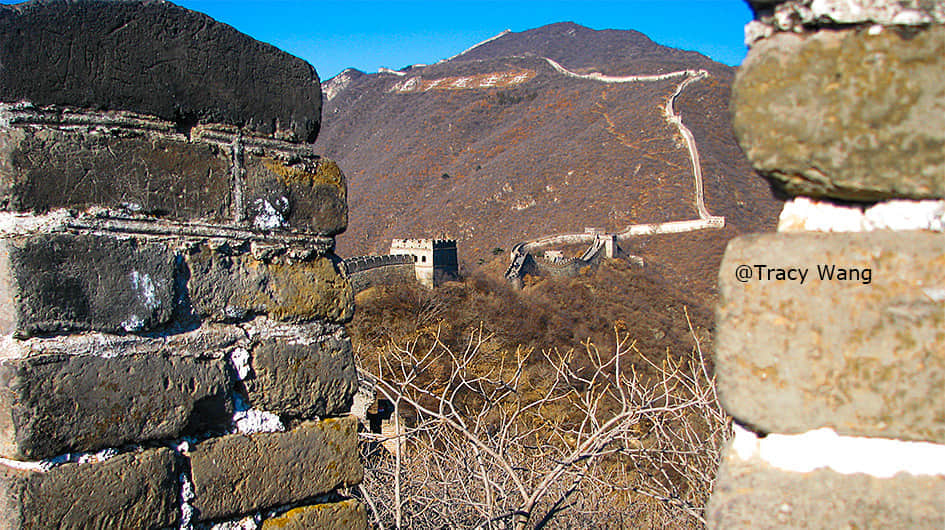 Mutianyu Great Wall in Winter Time
Day 5
Beijing: A Collision of New and Old (breakfast, lunch & dinner)
Morning
The drone use for recreation only took off recently and has become very popular. How fancy and exciting to visit a drone company and learn to operate one! DJI Innovations is the current leading company in manufacturing civilian drones. You can find much cool innovative items in the store.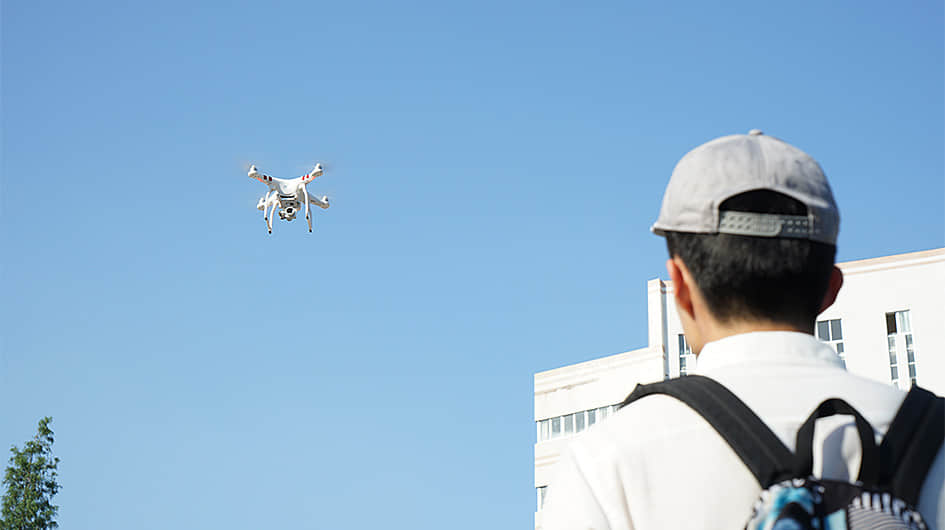 Operate a Drone
Afternoon
Head into a very inspirational area where it was once the site of North China Wireless Joint Equipment Factory. This old factory now converted and named 798 Art Zone is home to many art galleries, exhibitions, and independent artists. Admire contemporary art to inspire your creativity.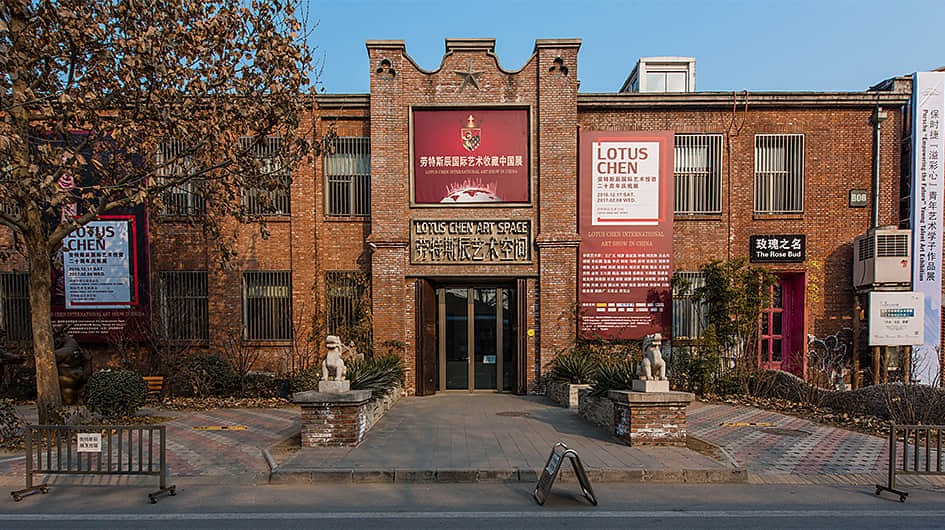 Lotus Chen Art Space in 798 Art Zone
Day 6
Beijing – Shanghai by Speed Train: The Summer Palace (breakfast)
Morning
As a suburban escape for the emperors, the Summer Palace demonstrates the grandeur of royal gardens and natural beauty. Among many buildings in it, the Garden of Virtue & Harmony cannot be missed. Glimpse into the extravagances of the past, appreciate the intricate designs of the buildings, fantastical gardens and gorgeous scenery.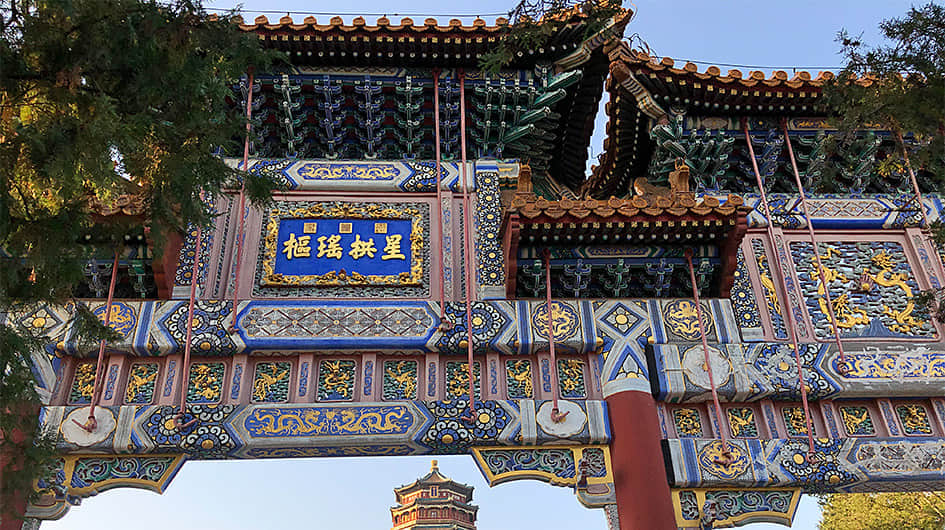 The Beautiful Decoration and Fine Craftsmanship of Archway "Xing Gong Yao Shu", Meaning the Land of the Gods
Afternoon
After lunch, you will take a high speed train to Shanghai. The advanced train facility makes the 4.5 hours' journey comfortable.
Evening
On arrival at Shanghai train station, you will be picked up by the tour guide and driver and taken to your hotel. Have a good rest.
Day 7
Shanghai: City Tour (breakfast, lunch & dinner)
Morning
Yu Garden is a historical gem hidden in this trading city. The Summer Palace borrowed the style of the Yu Garden complex, from which you can tell how significant it was in history. Yuyuan Bazar is just next to the garden. There are various shops selling street food, souvenirs, jewelry, and gold. Worth the walk to soak up the atmosphere and view the buzz of old Shanghai.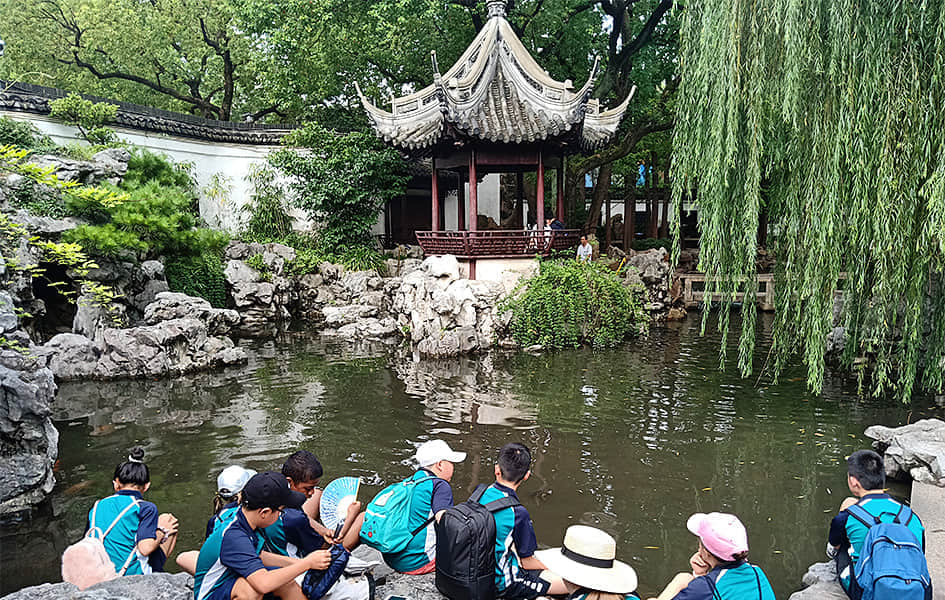 The Pond, the Rockery, the Pavilion in Yu Garden
Afternoon
You will visit a long-established Baogang Steel Group Corporation with iron and steel as its main business. It, manufactures premium steel products with high technologies and a high added value. The three major product categories are carbon steel, stainless steel, and special steel. Through our worldwide marketing network, these premium products not only satisfy the demand on the domestic market but also are exported to more than forty countries and regions in Asia.
Enjoy an authentic Shanghai cuisine for dinner.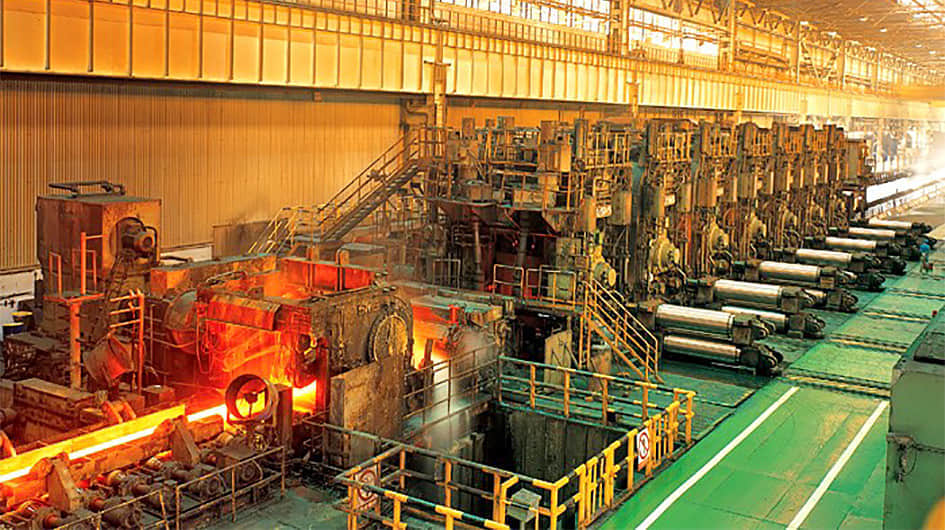 A Workshop of Baogang Steel Group Corporation
Day 8
Shanghai: Sightseeing and Company Visit (breakfast, lunch & dinner)
Morning
Recognized as the symbol of Shanghai, Oriental Pearl Tower is popular with Chinese and foreign travelers. Stepping on the glass observation deck allows you to have an overview of the city. The Shanghai Urban History and Development Museum in the Tower offers excellent historical knowledge of this city.
Another must-see site is the Bund. It provides some of the most spectacular views of the Lujiazui District and the Huangpu River. What makes it more interesting is that the guide will tell you about the history of the buildings along the way.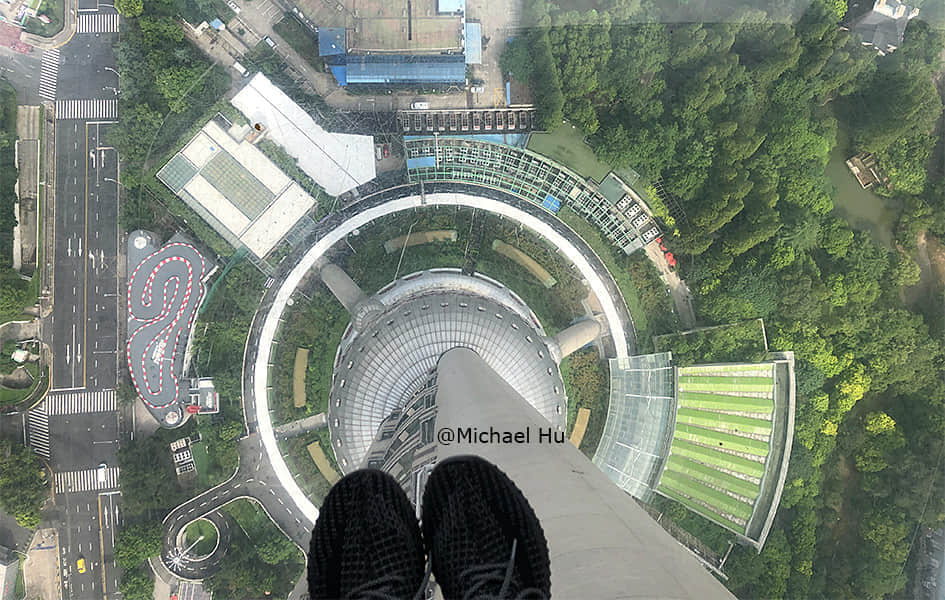 Look Straight down from the Glass Observation of Oriental Pearl Tower
Afternoon
Shanghai VW, leader of the top 500 foreign-invested enterprises in China, is leading its way to higher development. The visit to Shanghai VW District is about 1 hour. Visitors can learn about its 20 years' developments by watching the video, seeing automobiles exhibited in the hall, and visiting the automatic product line controlled by robots.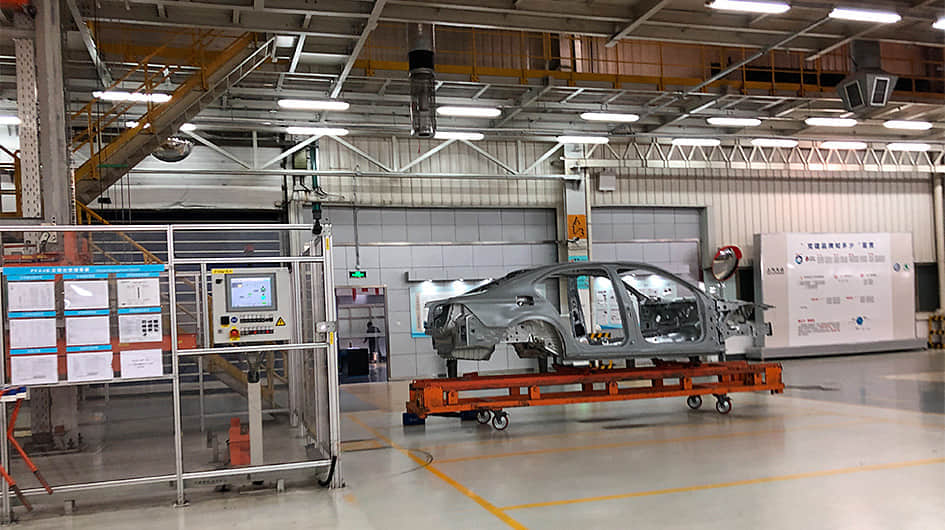 One of Car Plants in Shanghai VW
Day 9
Shanghai: Chinese Business Learning (breakfast, lunch & dinner)
Morning
You will visit the Canadian Chamber of Commerce in Shanghai today. There will be a 1.5 hours' briefing with open dialogue format, which would help students better understand the China/Shanghai market and provide them first–hand knowledge in doing business in China. The session typically includes a Q&A by one of the senior representative from the Shanghai business community.
Afternoon
Next, you will visit the Yakult Factory. Founded in 1935, Yakult is the leading company producing Lactobacillus Drinks in China. By setting its first factory outside of mainland China, Taiwan in 1964, Yakult has become an international enterprise with more than 30 factories globally. The tour shows you how a China-based company is developing and how to do business in China.
Day 10
Shanghai Departure (breakfast)
Your academic tour in China comes to end. You will be taken to the airport for your international flight home. Thank you for visiting and we wish you a pleasant journey!
Hotels for your reference
| | |
| --- | --- |
| Beijing | Penta Hotel Beijing |
| Shanghai | Kingtown Hotel Plaza Shanghai |
What's Included
Professional English speaking tour guide
Entrance fee to all spots listed in the itinerary
Well-selected hotel accommodation
Meals mentioned in the itinerary
Excellent driver and comfortable vehicle with air-conditioning
High Speed train ticket from Beijing to Shanghai