ST-16:

11 Days Guilin - Lijiang - Zhangjiajie Adventures

Fond of adventures? Join us to experience the best adventure tour China can provide. This adventure route includes some famous outdoor destinations and unique landscapes.
CET Advantages
Well-selected adventure destinations
Hiking on the highest terraces and in the deepest gorges
Discover the most breathtaking landscapes in National Forest Park
Flexible itinerary and caring service
Expert guides for outdoor activities
24*7 backup

Quality
No Shopping Traps

Group Type
Private

Tour Focus
Nature, Outdoor, Adventure, Hiking

Accommodation
Nights:10

Best Season
Spring, Summer, Autumn, Winter
Full Itinerary
Day 1
Guilin Arrival
Your guide in Guilin will be waiting for you with your name sign at the arrival hall of Guilin airport (KWL). Then check in at your hotel after a 1 hour drive from the airport and the rest of the day will be on your own for relaxing.
Day 2
Guilin - Longsheng - Guilin: Hiking at Longji Rice Terraced Fields (breakfast & lunch)
Morning
We will take a 2-hour drive to Longji Ancient Zhuang Village in the morning. The rice terraces winding around the mountains from the bottom to the top look like the backbones of a dragon in the Chinese imagination. Minority Zhuang people have been living here for thousands of years and their ancestors developed the continuous terraced rice fields.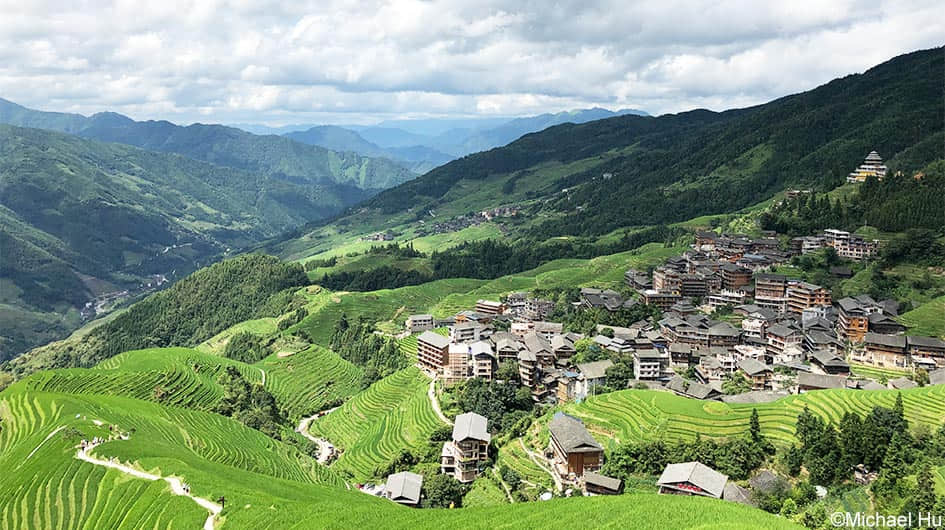 We will take a leisurely walk from Longji Ancient Zhuang Village to Ping'an Village (2 hours). You will acquire some farming skills and learn about the minority's culture.
Have lunch and taste the local dishes in Ping'an Village.
Afternoon
Keep hiking around Ping'an village and go up to the top spot to have a bird's eye view of "Seven Stars with Moon".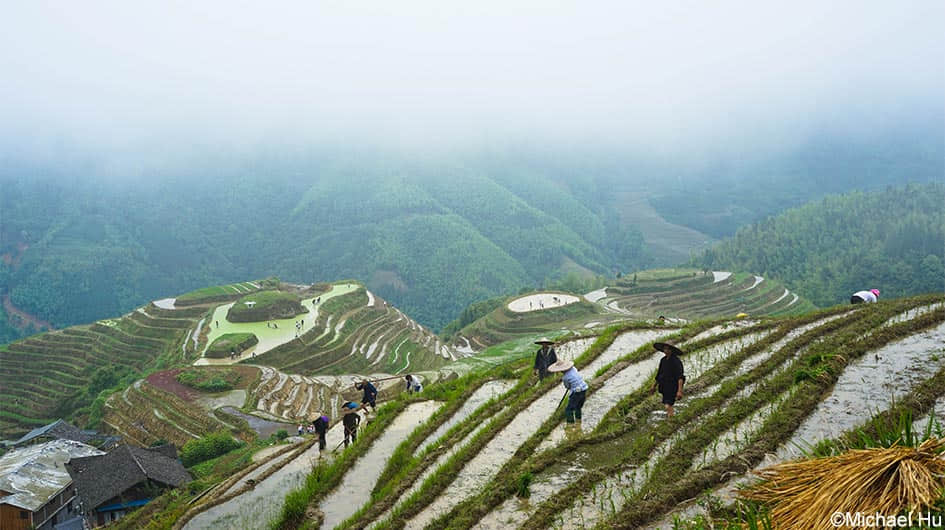 We will return to your hotel in Guilin in the late afternoon.
Evening
Recommended optional activity:
Night walk around the four lakes in downtown Guilin is highly recommended. The lakeside will be illuminated at night and the Sun and Moon pagodas will be glowing with lights.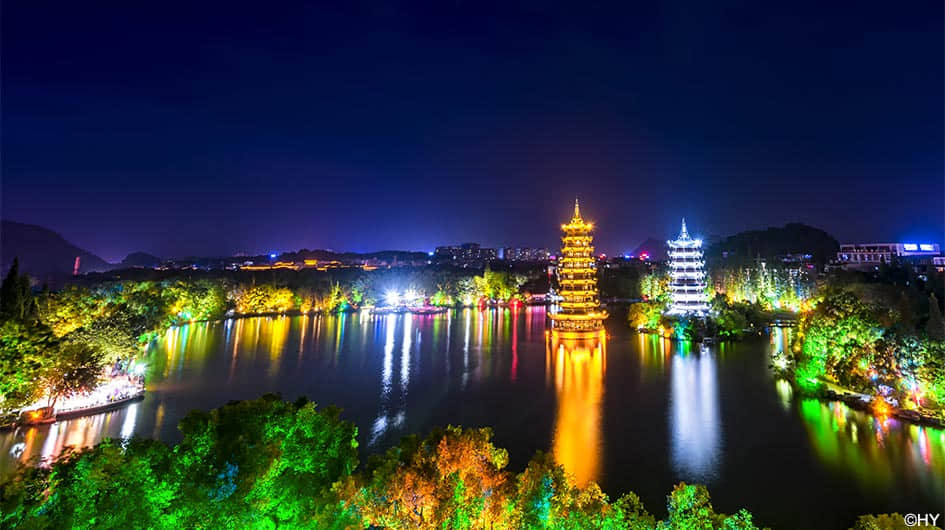 Day 3
Guilin - Yangshuo: Enjoy the Li River Cruise (breakfast & lunch)
Morning
Please check out and meet your guide on time, we will take the Li River Cruise from Guilin to Yangshuo for about 4 hours. The Li River is the most beautiful Karst resort in the world. With thousands of Karst Mountains surrounding, the scenery along the Li River is just like a Chinese traditional ink painting.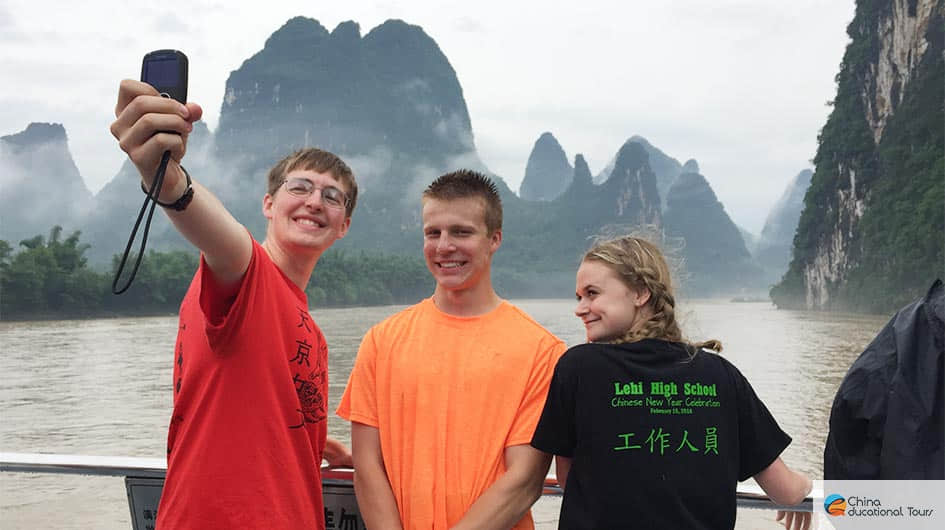 Afternoon
After arrival in Yangshuo, we will take a bicycle ride in the countryside area. You will see the ancient villages, rice paddies, fruit farms, and local farming life.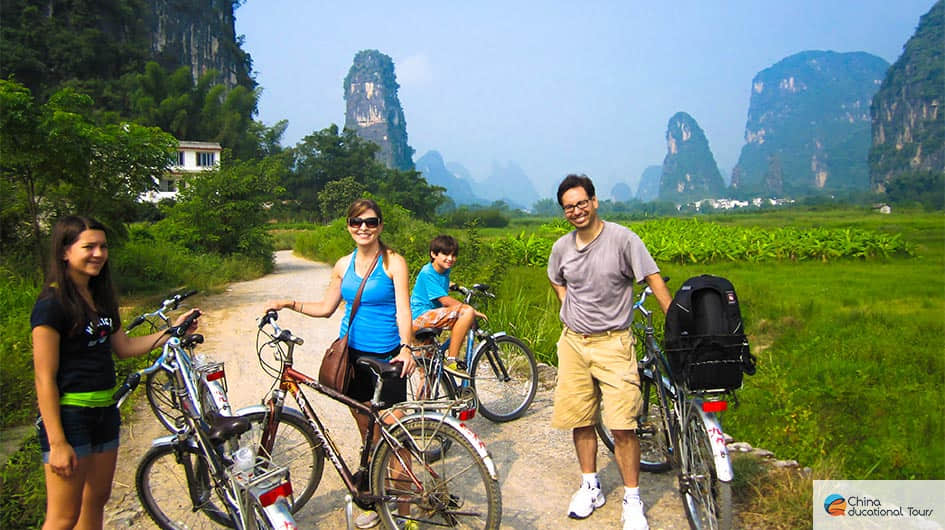 Evening
Stay overnight in Yangshuo.
Recommended activities at night:
'Impression Sanjie Liu Show' is a live show using the Li River as the stage and the mountains as the backdrop to give audiences a visual feast performed by more than 600 actors.
Day 4
Yangshuo: Outdoor Activities in the Countryside (breakfast & lunch)
Morning
In the morning, we are going to have a half-day Rock Climbing experience. It's a great opportunity to challenge yourself. There will be two or more coaches who go with us and provide climbing knowledge, equipment and safety information.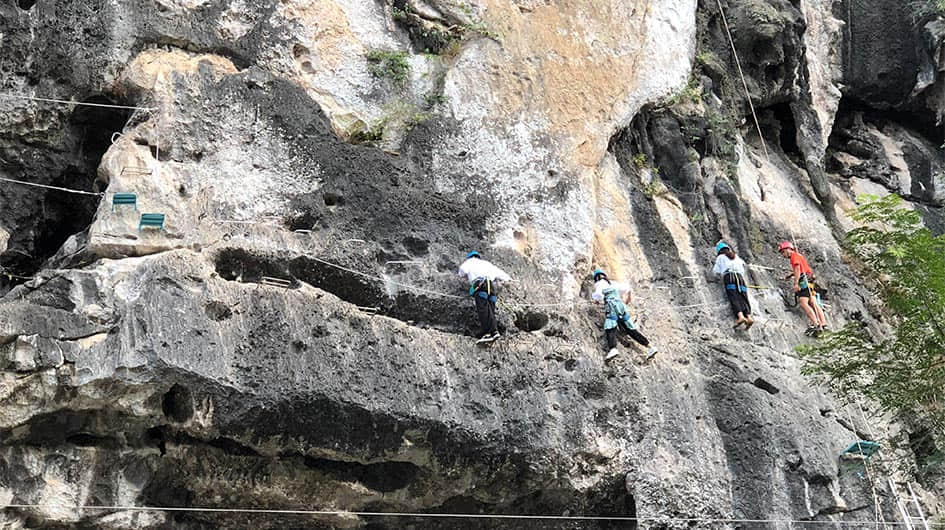 Then we will have a lunch at a local village.
Afternoon
We will explore the Moon Water Cave after lunch. It is a typical limestone cave with spectacular stalactites and stalagmites.
You can also experience the mud-bath in the cave if you want and the minerals in the mud are good for human skin.
Evening
Free time in the evening. You may explore West Street in downtown Yangshuo.
Day 5
Yangshuo - Guilin - Lijiang: Lijiang Ancient Town (breakfast)
Morning
After breakfast, you will be transferred from Yangshuo for the flight to Lijiang.
Afternoon
Your local guide will greet you at Lijiang airport (LJG). Hotel check in and then go for the tour to Lijiang Ancient Town in the afternoon. You will be able to taste the local snacks in the town and take a panoramic view of the ancient town area at the Wangu Pavilion on Lion Hill.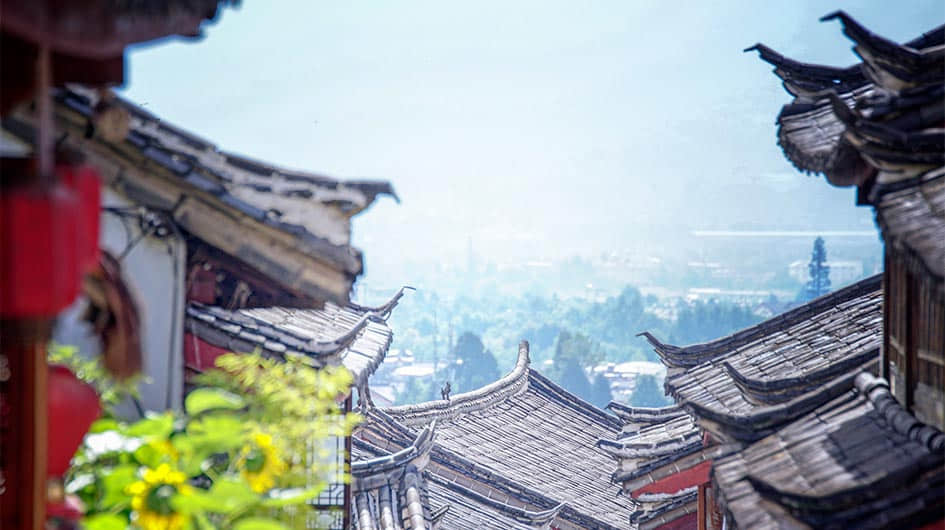 Evening
Spend your free time at night and get ready for the hike tomorrow.
Day 6
Tiger Leaping Gorge: Two days Hiking (breakfast & dinner)
Morning
The Tiger Leaping Gorge is one of the deepest gorges in the world with the Jinsha River running through it.
This route was once a part of the ancient Tea-Horse Road. And now it's one of the most famous hiking destinations in China. The first day hike will start from Qiaotou Town to Tea-Horse Guesthouse, where we will stay overnight. It takes about 5-6 hours. Lunch today will be simply packed snacks prepared by yourself.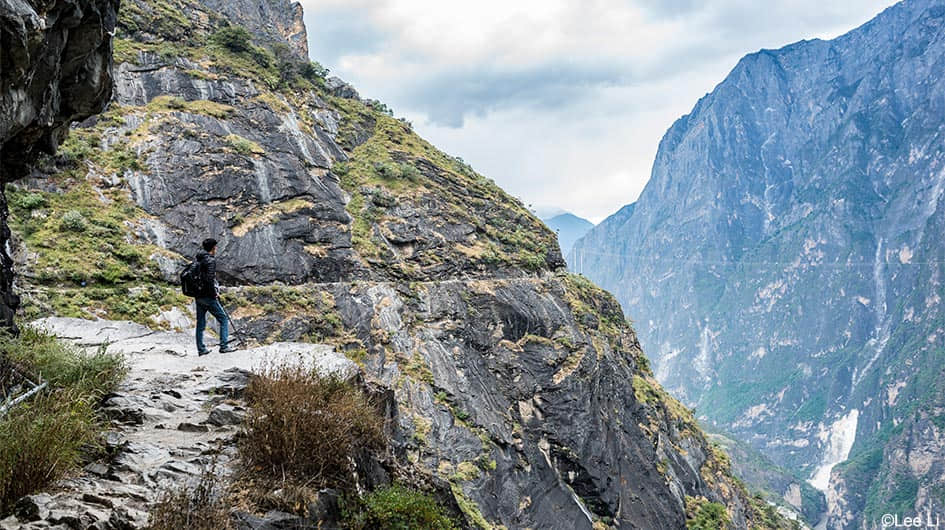 Afternoon
Arrive at the Tea-Horse Guesthouse in the late afternoon. Check in and relax. You can enjoy a stunning mountain view from the balcony and rooftop of the guesthouse.
Evening
Dinner is included today at the guesthouse.
Day 7
Tiger Leaping Gorge - Lijiang (breakfast & lunch)
Morning
After breakfast, we will continue our hike from the Tea-Horse Guesthouse to Tina's Youth Hostel, which will take about 4 hours. The hike today is mainly flat and going downhill. You can enjoy nature and see the local life of some villages. Lunch will be arranged at Tina's Youth Hostel.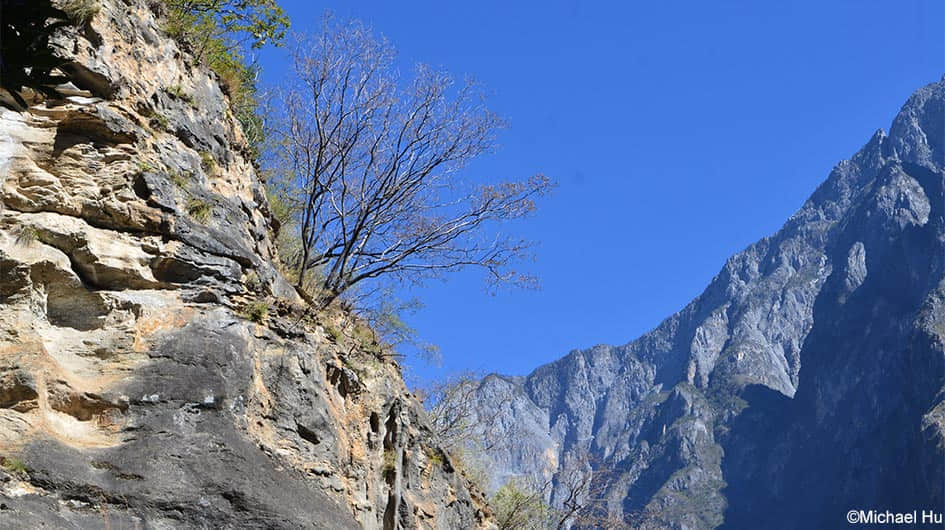 Afternoon
If time allows, we can hike for two more hours from Tina's Youth Hostel down to the Jinsha Riverside, and you will see the roaring Jinsha River slapping against both sides of the gorge.
Hike back to the main road and take your bus back to your hotel in Lijiang.
Evening
Relax or explore Lijiang Ancient Town by yourselves in the evening.
Day 8
Lijiang - Zhangjiajie: Up-close to the Jade Dragon Snow Mountain (breakfast & lunch)
Morning
We will admire the holy mountain, Jade Dragon Snow Mountain. In order to avoid the crowds, we choose to visit the Spruce Meadow. Taking a 10mins cable car to the Spruce Meadow Area at an altitude of 3,240 meters (10630 ft), we can enjoy a leisurely walk around to appreciate the landscape.
Afternoon
After lunch, we are heading to Lijiang Airport and take a flight to Zhangjiajie.
Evening
You will be picked up by your guide in Zhangjiajie and transported to your hotel downtown.
Day 9
Zhangjiajie: Wonders of Zhangjiajie National Forest Park (breakfast & lunch)
Morning
This morning, we will check out after breakfast and drive to Zhangjiajie National Forest Park in Wulingyuan District. The National Park is massive with a lot to discover. We will take the cable car to visit the Tianzi Mountain first. There are lots of strange-shaped mountains in this area. Those huge and solitary peaks look like stone giants guarding the park. You will never forget the imposing scenery of Tianzi Mountain.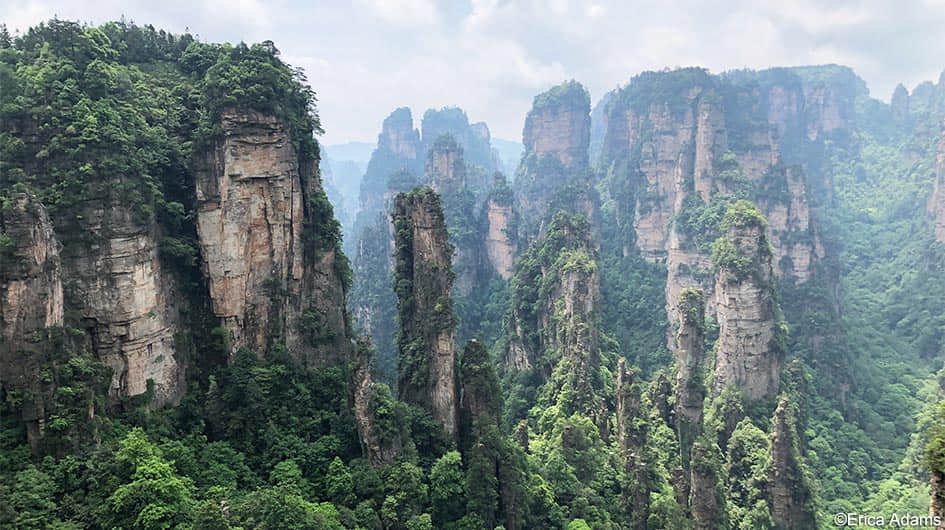 Have lunch at a local restaurant.
Afternoon
We will then take the shuttle bus to Yuanjiajie Area, where the most famous Hallelujah Mountain is located. And then experience the Bailong Elevator down, which is 335 meters(1099 ft) high. It's the world's highest outdoor elevator in the Guinness World Records.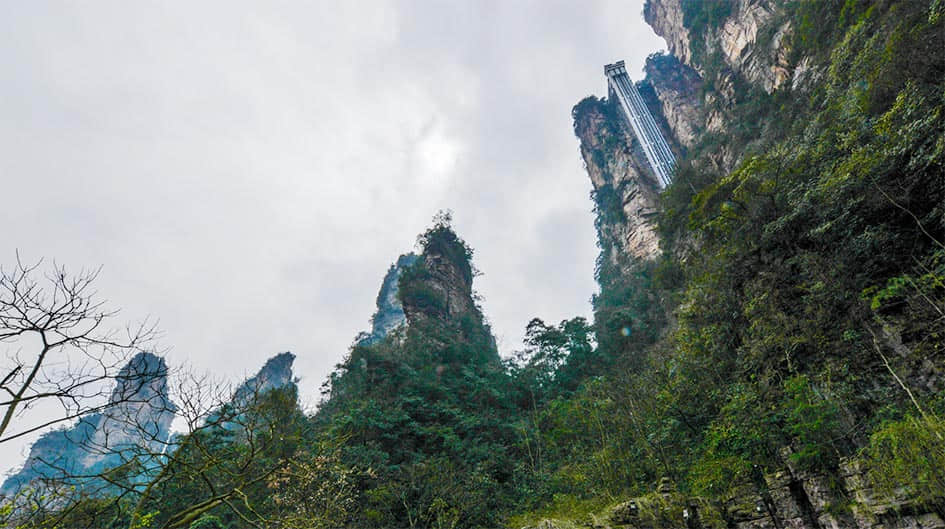 Evening
Stay overnight at a hotel near the National Park.
Day 10
Zhangjiajie Grand Canyon and Glass Bridge (breakfast & lunch)
Morning
After breakfast, we will enter the Zhangjiajie National Forest Park again and have a leisurely walk along the Golden Whip Brook for about 2.5 hours. It's a wonderful route for relaxing, sightseeing and getting fresh air in the morning.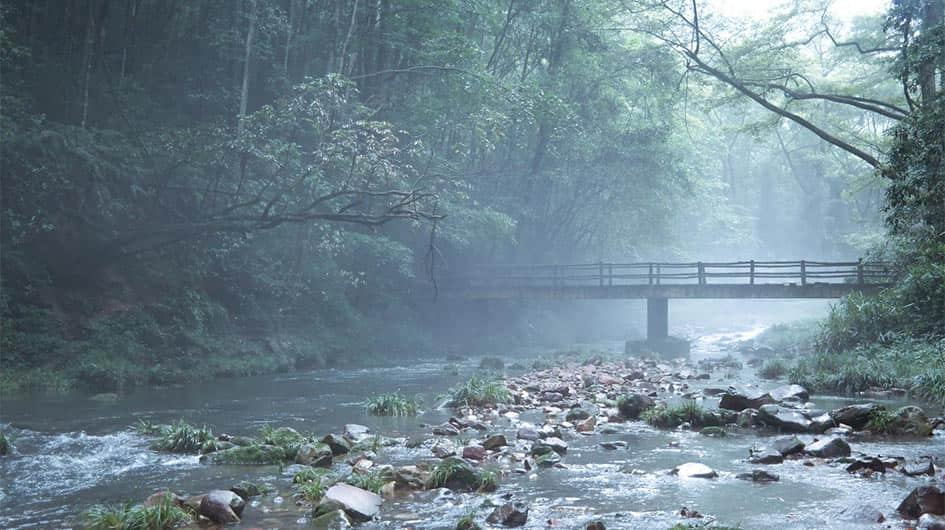 Have lunch and taste the local dishes at a local restaurant.
Afternoon
Zhangjiajie Grand Canyon Scenic Area has become more and more popular in the last few years because of the 375 meter(1230 ft) long Glass Bridge. It's about 300 meters(984 ft) high from the bottom of the valley, which makes it a wonderful and interesting experience to walk on it.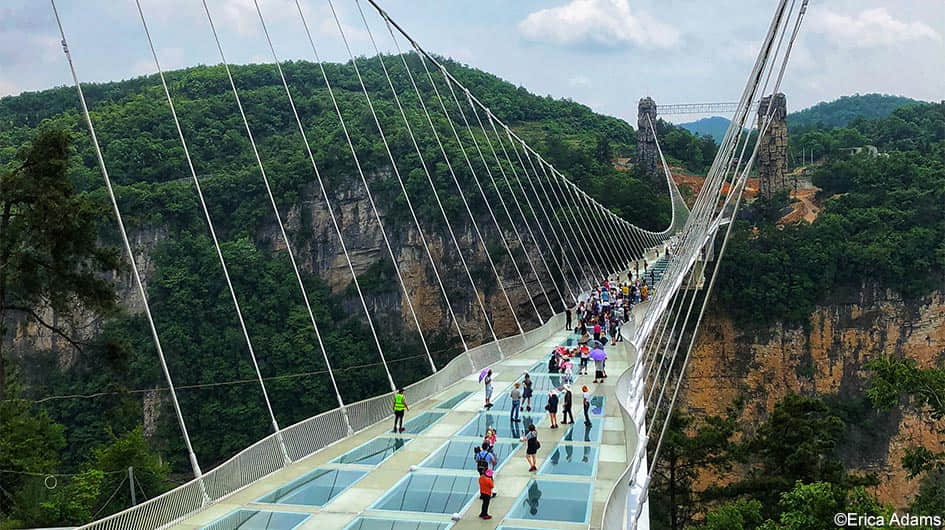 Evening
Free time in the evening.
Day 11
Zhangjiajie: Tianmen Mountain and Departure (breakfast & lunch)
Morning
After breakfast, we are going to take the longest cable car ride in Asia to Tianmen Mountain. It is exciting to take the cable car and shuttle bus down the hill though the zigzagging road.
"Tianmen" means Heaven's Gate. There is a natural arch on the mountain which looks like the gate to heaven, hence the name.
The cliff-hanging glass walk-way on Tianmen Mountain is also a great challenge for most people. Forget the height and just do it!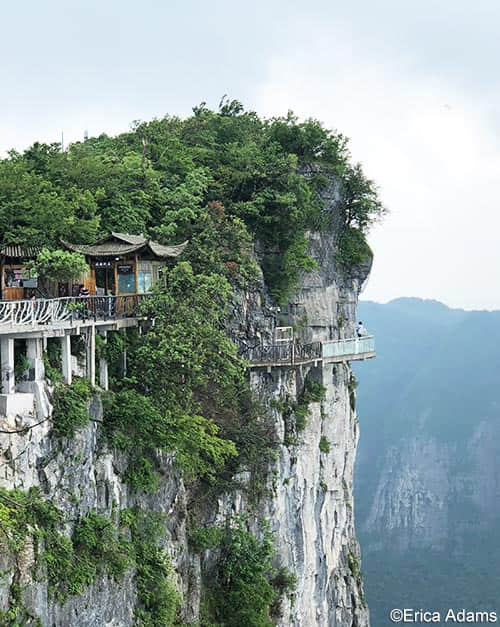 Afternoon
We will head to Zhangjiajie Airport according to your flight schedule. You will take your flight to the next destination and depart China.
Note:
1, Normally travelers will take domestic flights from Zhangjiajie to Shanghai or Guangzhou and then take international flights back home.
2, This itinerary can be adjusted according to your requests or the flights schedule. Please contact your travel specialist to adjust the itinerary to meet your needs.
What's Included in the Tour Price
Experienced guides, drivers and fine condition coaches
Domestic flight tickets in the itinerary
All accommodations
Admission to all tourist sites as listed
Meals as listed in the itinerary
Bottled water every day