PY-01:

4-Day Historical and Cultural Tour to the Yungang Grottoes of Datong and the Ancient City of Pingyao

Both of these beautiful, ancient locations are on UNESCO's World Heritage list. The Yungang grottoes are one of the best preserved Buddhist caves in the world and today still holds an important spot in Buddhist culture and history. The ancient city of Pingyao, which dates back to 800 BC, is one of China's best examples of an ancient city center, complete with a massive fortress wall and watchtowers, and gives visitors a wonderful example of what Chinese life was like over 1,000 years ago.
Trip Highlights
Admire the well-preserved, 1500-year-old Buddhist art of the Yungang Grottoes
Be mesmerized by a Buddhist monastery built midway into the side of a sheer cliff
Visit an ancient Chinese castle with underground labyrinth
See a rare, 20-armed statue of Buddha
Step inside an ancient Chinese prison, interrogation room, and courthouse
Suitable For: School, Family or Friends, Solo
Full itinerary for 4-Day Tour of Two Ancient Cities in China
Day 1
Explore Datong including the Yungang Grottoes (L)
We will pick you up from "Datong Yungang airport" early in the morning. (Note: Datong has 2 airports. Dongwangzhang airport is NOT the one you want.) Our guide and driver will escort you from the airport directly to the Yungang Grottoes. The caves are one of the largest and oldest Buddhist grottoes in China, of equal cultural and historic importance as China's three other large Buddhist caves: Mogao, Longmen, and Maijishan. You can leave your luggage securely locked in our vehicle and spend the morning exploring the caves. We return to the city at noon for lunch (lunch is included). Hotel check-in is 14:00 where you'll have a few moments to freshen up before we head out to visit the Huayan Temple, a wonderfully preserved, ancient Liaojin temple with a spectacular, golden Buddha-filled interior. After spending a couple of hours at the temple, we'll have dinner (dinner is not included) at a local restaurant before returning to the hotel for the evening.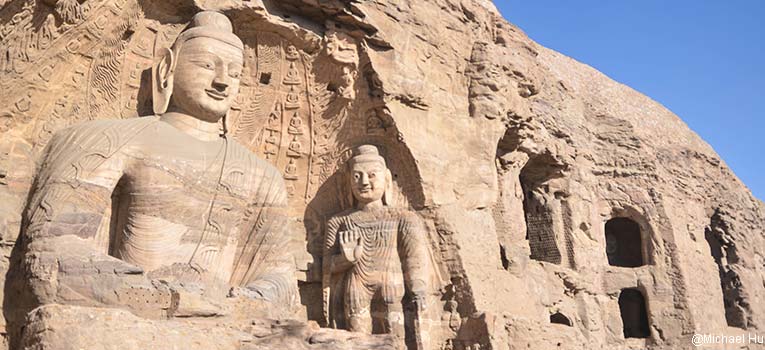 Datong Yungang Grottoes
Day 2
Hanging Monastery, Jinci Temple and Overnight in Pingyao (B,L)
We check out of the hotel and depart after breakfast for the Hanging Monastery (Xuankong Si) located about 1½ hr away. Perched precariously on a sheer cliff face, this mind-boggling monastery is unlike any other and a truly unique experience and picture to add to any travel collection. Lunch (included) will be right after the monastery visit. After lunch, we have another four hours on the road and then stop at the Jinci Temple in the city of Taiyuan for a break. Jinci is another well-preserved temple and the earliest imperial garden still in existence in China. Finally, we have an approximately one hour drive to our hotel in Pingyao County and dinner at local restaurant (not included).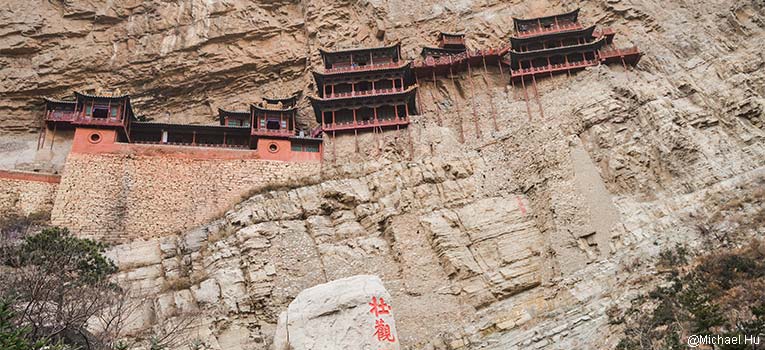 Hanging Monastery
Day 3
Explore Pingyao County – old-fashion homes and a Chinese castle (B,L)
After breakfast, we'll meet in the hotel lobby and drive to the Wang Family Compound for an hour exploratory tour. The fortress compound was privately built by the wealthy and powerful Wang Family during the Ming and Qing dynasties over 300 years ago. It's a phenomenal collection of courtyard residents tightly arranged creating an ancient, small-town, maze-like environment. We'll have lunch nearby before heading to Zhangbi Castle, an ancient Chinese castle with an underground labyrinth of secrets tunnels open to visitors. The castle was built for military, residential, astrological, and religious purposes. If there is enough time, we'll stop to visit the Shuanglin Temple, which is on the way back to Ping Yao. This is an ancient Buddhist temple which features a unique, yet uncanny, 20-armed Buddha statue. Once finished, we'll have dinner (not included) to conclude our day.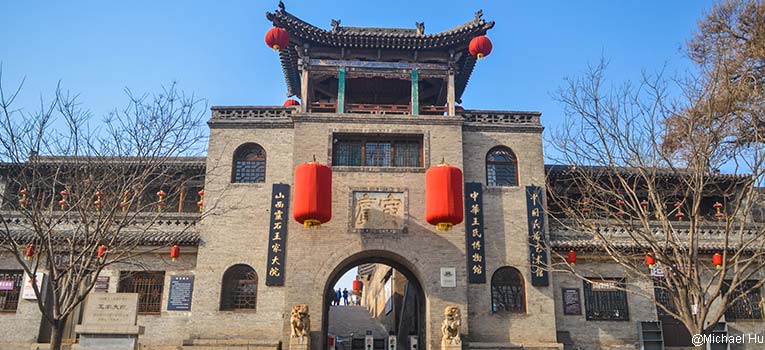 Wang Family Compound
Day 4
Explore the Ancient City of Pingyao and Depart for your next destination (B,L)
Today will be a relaxing day exploring the old city of Pingyao. Our guide will show you the must-see locations inside of Pingyao, including the following: Rishengchang Draft Bank and Tongxinggong Escort Agency in the morning and the Pingyao City Walls and Ancient Government Office (Court House/Jail/Police Station), to catch their daily 15:30 show, in the afternoon. The day and tour conclude around 17:00.
Rishengchang Bank: Founded in 1823, this is the very first bank location in Chinese history. Today, it has been converted into an interesting museum and looks nearly like it did back in 1823.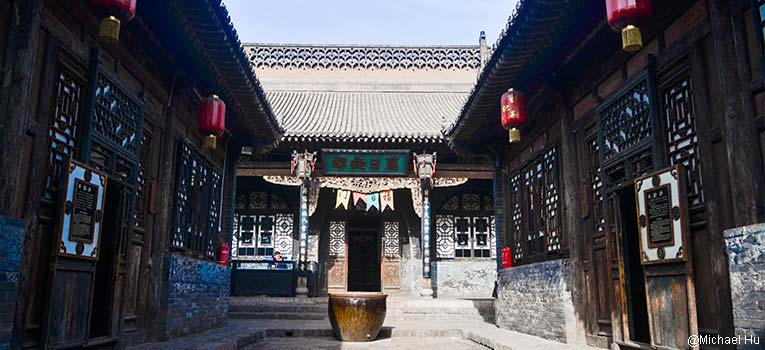 Rishengchang Bank
Tongxinggong Banking Security Guards and Armed Escorts: This is the first museum dedicated to the history of the Chinese banking industry's armed escort and armored transportation service.
Pingyao City Walls: One the biggest highlights of Pingyao, these beautifully preserved ancient walls dating back around 2,700 years make incredible backdrops for stunning trip pictures. On UNESCO's World Heritage list, the walls extended for 6km (roughly 3 miles) around the city, 10 meters (roughly 30 feet) high, and are complete with watch towers and thousands of ancient statues.
Pingyao City Walls
Ancient Government Office: This is not what most people think of in a "government office". This preserved ancient office was the place for pretty much every judicial affair in the 3rd-5th centuries AD. Inside, see a courtroom, a small prison, an interrogation room and even an execution ground. The complex is quite large and the 15:30 show is a light-hearted reenactment of an ancient trial – wonderfully interesting and a great break for tired feet.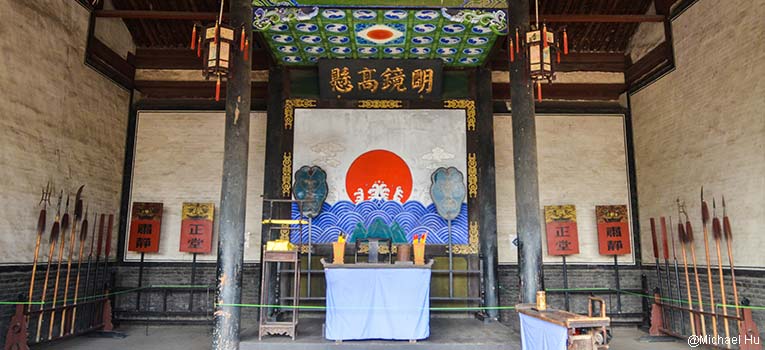 Ancient Government Office
What's Included
Private, comfortable vehicle with driver throughout tour
English-speaking guide
Three-night hotel accommodation
Breakfast and lunch as listed
Entrance fee to all destinations