GL-07:

Private 7-day adventure to Guilin and its neighboring counties

This tour offers an exceptional opportunity for travelers to participate in outdoor activities, such as hiking, cycling, rock climbing, kayaking, and farming. A certain amount of physical strength is required, or we can customize different levels of difficulty suited to individuals and teams. You can spend more time on getting along with nature and have a link with the classical Guilin scenery like a native. Longsheng and Yangshuo are the ideal places to organize outdoors adventures due to the abundant natural resources. Cooperation needs to be built among your friends or family to complete the activities.
Trip Highlights
Professional English speaking guide for each outdoor activity
Hike the most beautiful sections of the Li River and terraced fields
Learn some basic farming skills and do seasonal farm work
Kayaking along the Li River and cycling in the countryside
Experience rock climbing on one of Karst hills in Yangshuo
Suitable For: School, Team Building, Family
Full itinerary for Guilin Outdoor Adventure
Day 1
Welcome to Guilin
Your guide and driver will pick you up from Guilin Liangjiang International Airport (KWL). It takes about 40 minutes' drive to a centrally located hotel in town.
Day 2
Guilin to Longsheng: Hike the Trail of Terraced Fields (breakfast & lunch)
Morning
We will drive you to Dazhai Village in Longsheng for about 2 hours. From the parking lot to Tiantou Village, it takes about 40 minutes hiking on the paved stone path. The magnificent Rice Terraces unfold around you like an abstract work of art upon reaching the top. The old wooden houses are the first thing you will notice, with their unique structures steeped in history and folk stories.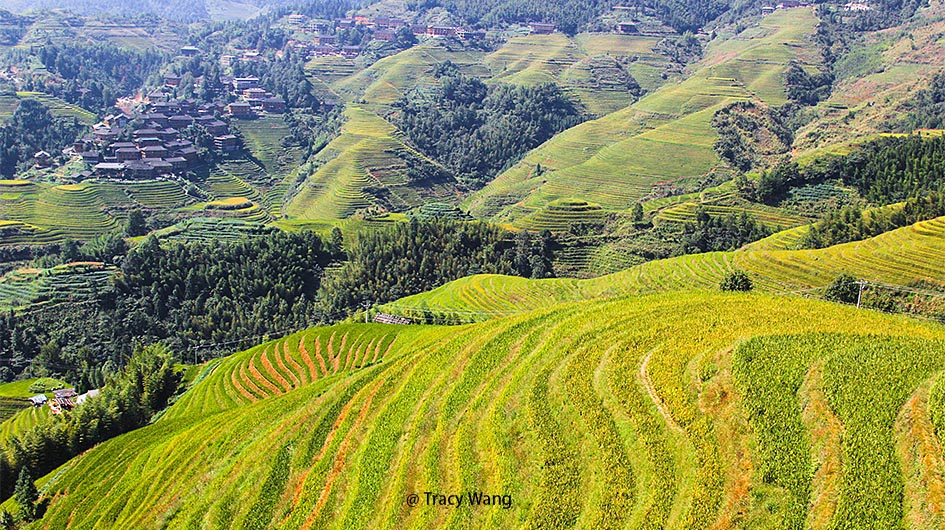 Afternoon
Continue your hike all the way to Ping'an Village for another 5 hours. The stunning scenery at various altitudes is your reward along the trails. This village is built on the back side of the mountain, where a stream flows through. Stay in the old wooden houses, you will hear bubbling streams and songbirds.
Overnight in Ping'an Village.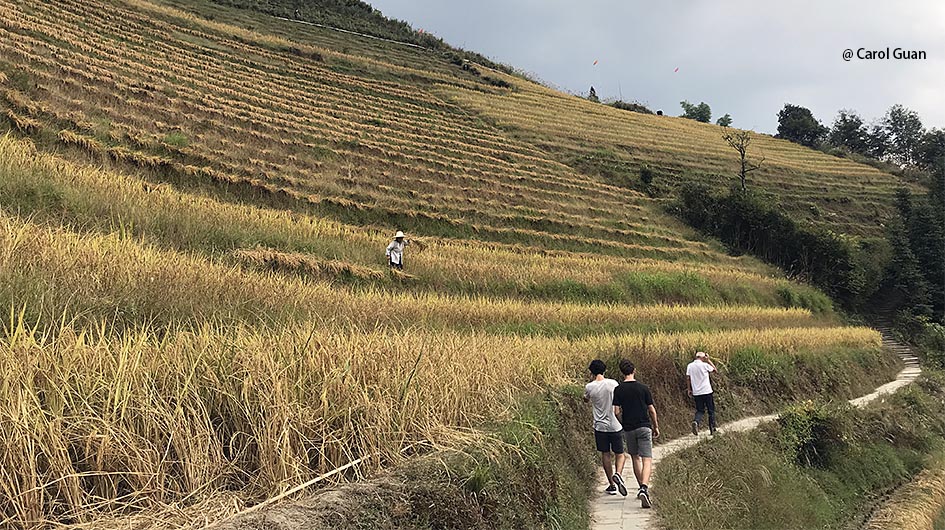 Day 3
Longsheng to Guilin: Nature (breakfast & lunch)
Morning
Spend some time in Ping'an Village to meet the local Zhuang people. Also enjoy the variety of patterns and scenery of the Rice Terraces on the viewing platforms.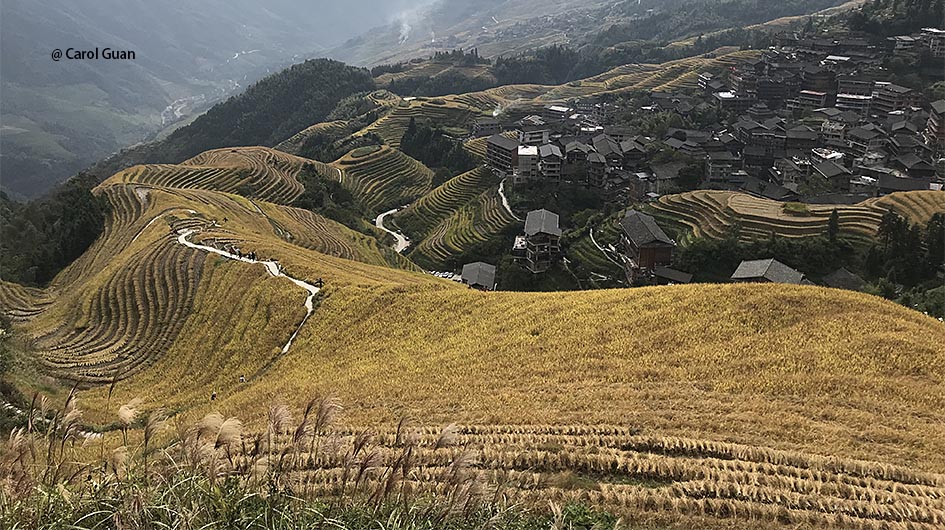 Afternoon
We will take you back to Guilin after lunch. The one-hour tour in Reed Flute Cave takes you to a magical spectacle. Illuminated with colorful lights, these underground stalactites and stalagmites of extremely diverse formations are displayed in a delightful and attractive way.
Overnight in Guilin.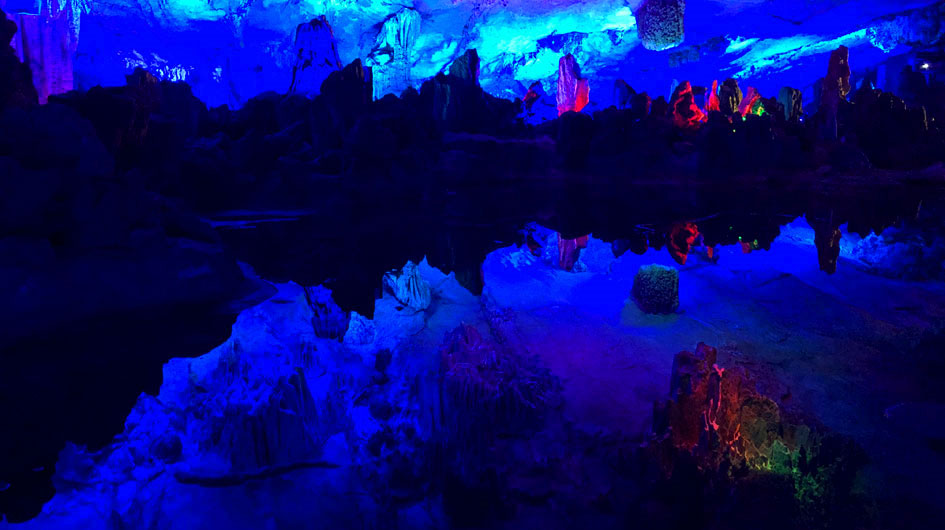 Day 4
Guilin to Yangshuo: Outdoors Activities (breakfast & lunch)
Morning
Hiking is no less than cruising to admire the Li River. We select the highlights of the route along the river, starting from Xianggong Hill which is around 1.5 hours away from Guilin by car. It is optional to climb Xianggong Hill if you are physically fit enough. On top of the hill, you can enjoy the panoramic view of the river bend surrounded by Karst Mountains. The longer route along the river bank will take about 4 hours to get to Xingping Ancient Town on foot; en-route you will see the Nine Horses Painted Hill and Yellow Cloth Shoal (image on the back of the 20 RMB Chinese note). A shorter route is available for about 2 hours, which is to walk along paddy fields and fruit gardens. It is flexible to choose the longer or shorter one according to your physical strength. A simple lunch will be served in Xingping, followed by a leisurely walk in the old town.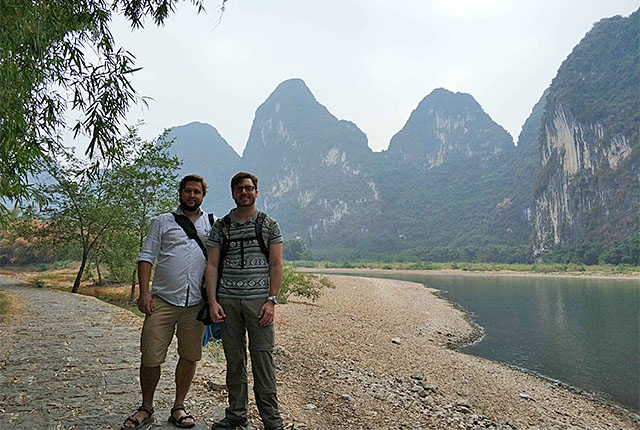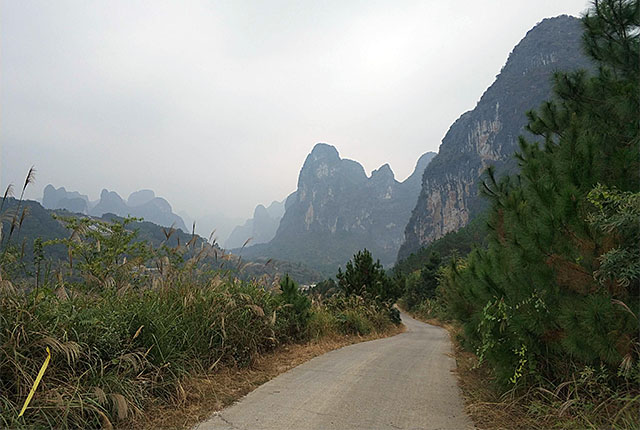 Afternoon
Drive to Yangshuo, where you can start a biking tour in the countryside. Riding along the paths through the local villages, you will get to experience the feeling of the natural surroundings and explore the countryside at a leisurely pace. The biking tour can be 2 to 4 hours long based on your physical condition.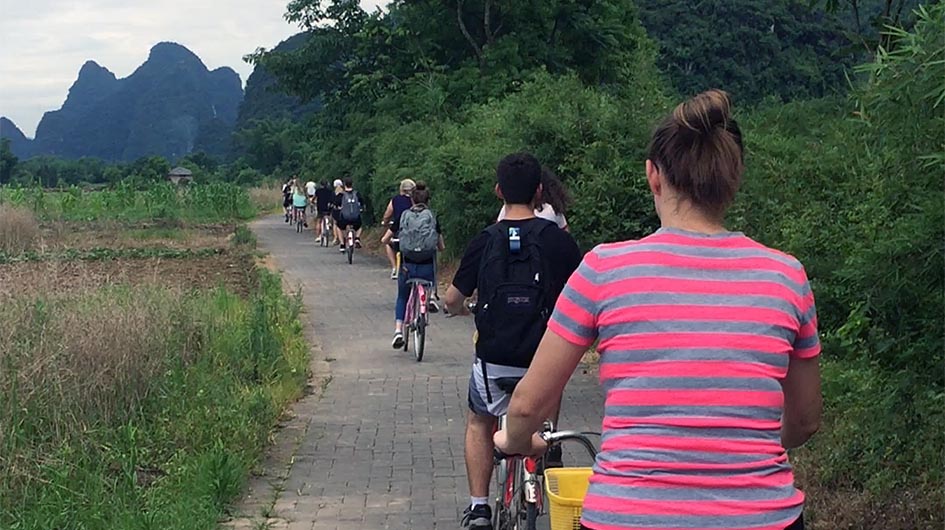 Evening
You can enjoy your free time exploring the busy West Street. Buy some lovely gifts to take home, enjoy a cup of coffee, or have some fun time in a disco bar. You can also watch an evening show here. 'Impression Liusanjie' live show and the show in 'Romance Park' are both recommended.
Overnight in Yangshuo.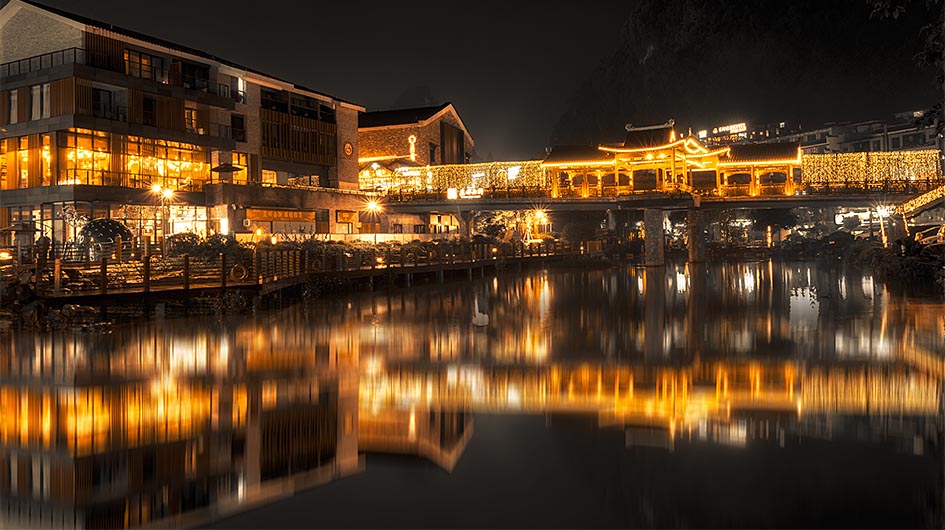 Day 5
Yangshuo: Rock Climbing (breakfast & lunch)
Yangshuo is the paradise for rock climbing, attracting lots of foreign rock climbers. Some of them have settled down to develop different levels of climbing routes for travelers. Professional service and safety issues can be guaranteed. It is a process of fully exploring your own potential. Be brave and challenge yourself. We will provide customized service to suit your needs.
Overnight in Yangshuo.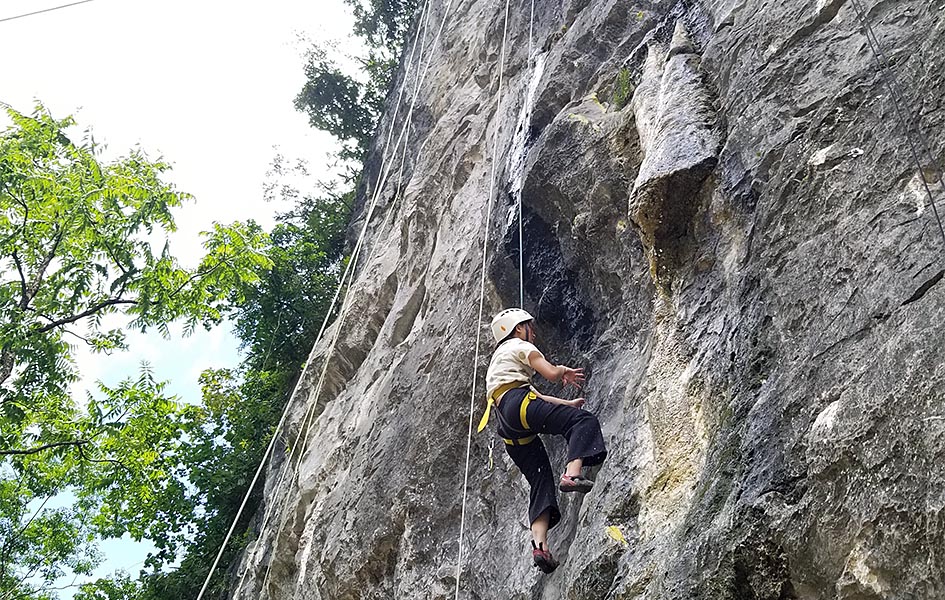 Day 6
Yangshuo: Outdoors Activities (breakfast & lunch)
Morning
Our series of farming activities vary from season to season, such as making Tofu, cooking glutinous rice cakes, planting vegetables, transplanting rice seedlings, or doing handicrafts. All of these are the locals' routine in each season. The host will teach you the process step by step, in which way you will understand about their culture better.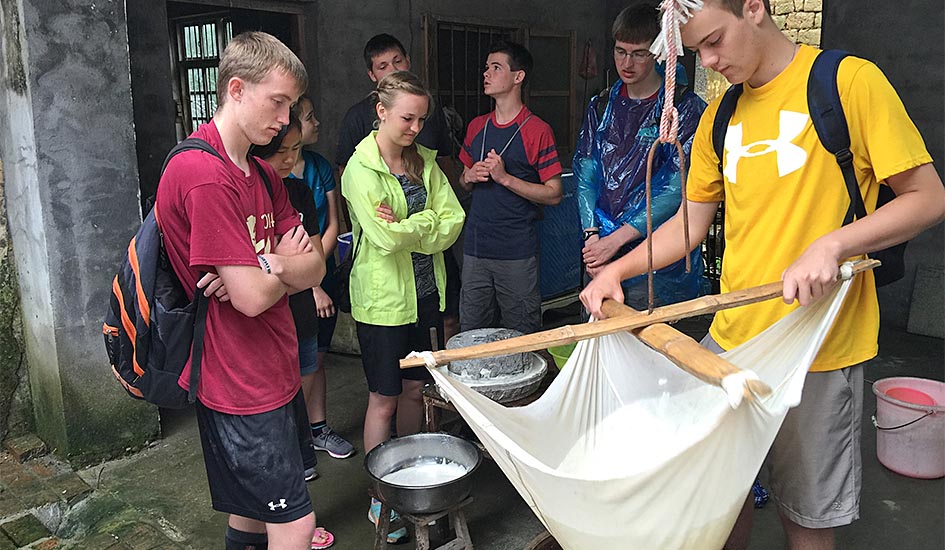 Making Tofu
Afternoon
After lunch, kayaking on the emerald-green Li River is a fascinating experience. The coach will demonstrate the basic skills and explain the safety precautions before starting. You will enjoy the excitement of your own speed for about 1 hour. The crystal clear water, numerous green hills and cliffs, oases and shoals, and hanging bamboo trees will impress you at every turn.
Overnight in Yangshuo.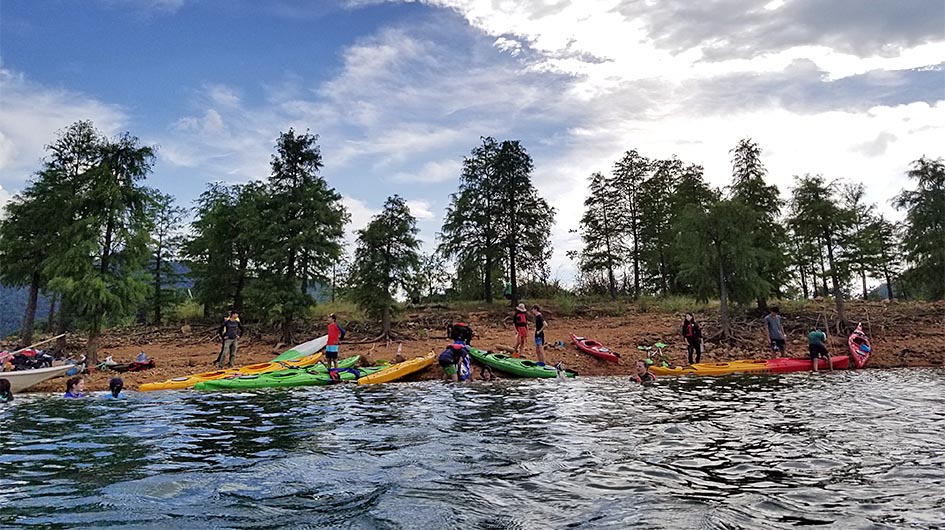 Day 7
Yangshuo to Guilin: Departure (breakfast)
Enjoy some free time after breakfast, until being transferred to Guilin airport or train station for your next destination.
Featured Hotel
| | Comfortable | Deluxe |
| --- | --- | --- |
| Guilin | Guilin Bravo Hotel | Sheraton Guilin Hotel |
| Longsheng | Longji Ping An Hotel | Longsheng Li An Lodge |
| Yangshuo | Green Lotus Hotel | Green Lotus Hotel |
What's Included
6 nights' hotel accommodation
All meals as listed
Entrance fee and cost for all listed activities
Land transfer with a private driver
Experienced bilingual guide throughout the tour