GL-07:

7 Days Guilin Outdoor Adventures

This tour offers an exceptional opportunity to participate in outdoors and sporting activities. Not only will you be delighted as you experience China, you will also improve your physical and mental wellbeing through a series of unforgettable and fun adventures.
CET Advantages
Join a Chinese cooking class
Take bamboo raft on Li River
Learn farming skills
Kayaking & cycling in countryside
Rock climbing in Yangshuo

Quality
No Shopping Traps

Group Type
Private

Tour Focus
Outdoor

Accommodation
Nights:6

Best Season
Spring, Summer, Autumn, Winter
Suitable For: School, Team Building, Family
Full Itinerary
Day 1
Welcome to Guilin
Your guide and driver will pick you up from Guilin Liangjiang airport (KWL) and transfer to a centrally located hotel in Guilin. The drive will take you about 40 minutes.
Overnight in Guilin.
Day 2
Hiking from Dazhai to Ping'an Village (B,L)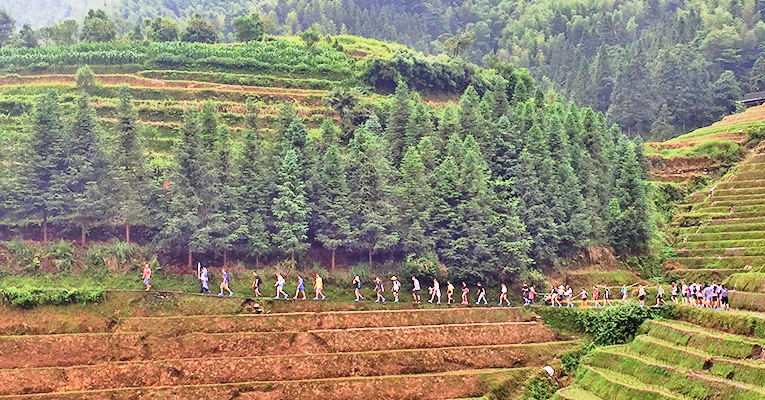 Students hiking at Ping'an village terraced fields
After breakfast, your guide will meet you at your hotel. We will drive you to Dazhai Village in Longsheng for about 2 hours.
You will walk on the paved stone path from Dazhai Village to Tiantou Village, taking about 40 minutes. As you climb up the hill, see the magnificent Rice Terrace unfold around you like an abstract work of art.
Old wooden houses are the first thing you will notice, with their unique structures steeped in history and folk stories.
After that, continue on your hike all the way to Ping'an village for 4 hours. The diverse scenery at various altitudes on your way will take you breath away.
Pingan Village is built on the back side of mountain, where a stream flows through. Stay in the old wooden houses, you will hear bubbling streams and songbirds.
Taste some special local food, such as Rice in Bamboo Tube, chicken soup and Tofu.
Overnight in Pingan Village.
Day 3
Ping'an to Guilin (B,L)
Visit Ping'an Village for about 1 hour to enjoy the variety of patterns and scenery of the Rice Terraces.
And then we will drive you back to Guilin City to visit Reed Flute Cave after lunch. The ride is about 2 hours.
This one-hour tour in the cave takes you to a magical spectacle. The main feature of the cave is some extremely diverse rocky formations including larger stalactites and stalagmites. Illuminated with colorful light, this underground site is displayed in a delightful and attractive way.
Return to your hotel for rest or free activities.
Overnight in Guilin.
Reed Flute Cave
Day 4
Guilin to Yangshuo, Magnificent Li River (B,L)
Your guide and driver will take you from Guilin to a Yangdi Village (1.5hrs) to catch a bamboo raft. This 2-hours' rafting from Yangdi to Xingping comprises the most picturesque part of Li River. Breathtaking landscapes of Karst Mountains are along both sides of bank. After disembarking at Xingping, you can explore the one-thousand-year old town for about half an hour and have your lunch there.
Drive to Yangshuo to do a 2-hour cycling tour in the countryside. Riding along the paths through the local villages you will get to experience the feeling of the natural surroundings and explore the countryside at a leisurely pace. In the evening, you can enjoy your free time exploring the busy West Street.
Overnight in Yangshuo.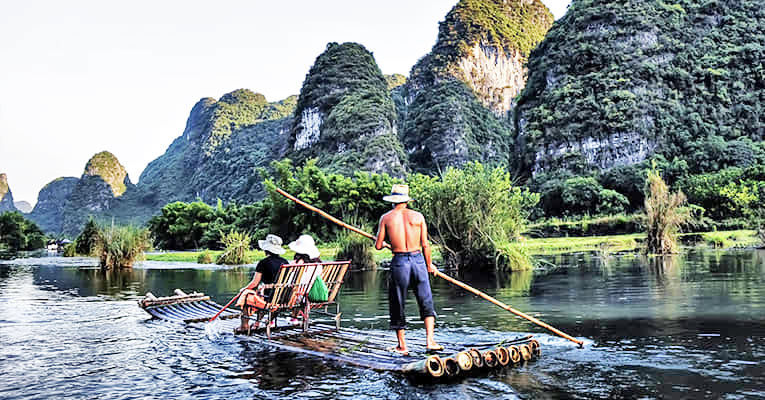 Yangshuo Bamboo Rafting
Day 5
Yangshuo, Interact with locals (B,L)
In the morning, our bilingual chef will bring you to a cooking class, and you will enjoy authentically flavored Chinese dishes you have made yourself.
Here you will handpick some fresh ingredients with your teacher at market, and then you will learn to cook three popular Chinese courses. Finally, enjoy your lunch by tasting the fruits of your own labor.
In the afternoon, rock climbing will give you a different adventure in Yangshuo. Not only is it famous for beautiful scenery, but also well known for its natural resources of rock climbing and outdoors activity.
Overnight in Yangshuo.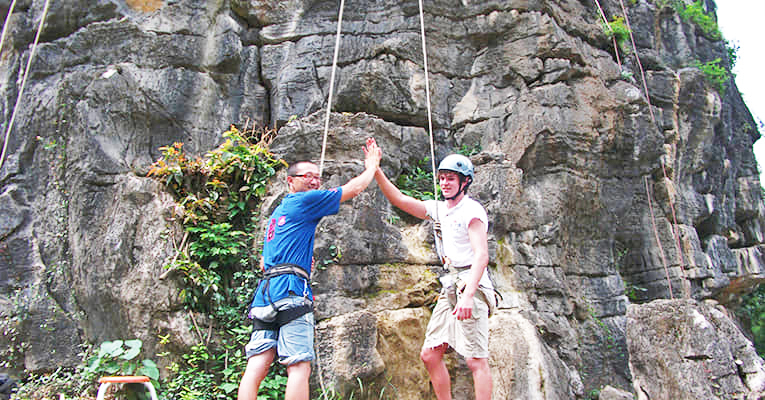 Rock Climbing
Day 6
Yangshuo, Help Farming (B,L)
Our series of farming activities vary from season to season, such as making Tofu, cooking glutinous rice cake, planting vegetables, transplanting rice seedlings, or doing handicrafts. For all of these activities, which are unique in nature, friendly famers will take you in and treat you like more than just a visitor.
After lunch, kayaking on the emerald-green Li River is a fascinating experience. It takes your breath away and refreshes you from head to toe. You will enjoy the excitement of speed for about 1 hour.
Overnight in Yangshuo.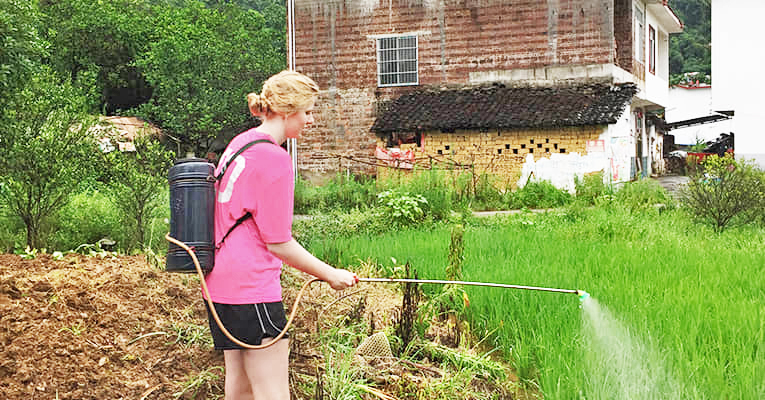 Help Farming
Day 7
Yangshuo to Guilin, Departure (B,L)
Enjoy some free time after breakfast, until being transferred to Guilin airport for your flight home.
What's Included
6 nights' hotel accommodations
All meals as listed
Entrance fee and cost for all listed activities
Overland transfer with a private driver
Student-friendly tour guide
China Life Tourist Accident/Casualty Insurance
Hotel Options
Standard Accommodation:Hotel Universal Guilin, Ping'an Inn Longji and Aiyuan Hotel Yangshuo
Comfortable Accommodation:Bravo Hotel Guilin, Star Wish Hotel Longji amd Aiyuan Hotel Yangshuo