GL-10:

6Day/5Night Group Tour: Guilin - Dragon Backbone Terraces - Yangshuo

This is an action-packed, 6-day/5-night tour of the gorgeous Guilin/Yangshuo area – home to the unforgettable Dragon Backbone Rice Terraces and stunning Karst peaks. This tour is full of adventure activities: hiking through the Dragon Backbone region; rock climbing, off-road biking, caving, and camping outside of Yangshuo; plus cultural activities such as participating in a Chinese cooking class and learning about Chinese tea culture. This tour follows strict, international safety guidelines and is not only a lot of fun, but also teaches people confidence, team building skills, and a little about traditional Chinese culture.
Trip Highlights
Learn basic field navigation skills
Learn how to Rock Climb (for beginners) or practice your rock-climbing skills for more advanced climbers
Learn the basics of Off-Road Biking (for beginners) or learn new techniques for more advanced riders and practice all of it along local trails
Camp under the stars in the stunningly gorgeous Karst mountain area while you barbeque and party with the group
Learn basic camping skills
Learn basic Chinese cooking techniques under the guidance of a professional chef
Discover the thrill of being underground in a real cave, see million-year-old stalactites and stalagmites, while you turn off your headlamp and feel the trill of being in total darkness
Get the opportunity to pick the fresh leaves and know about the process of making tea
Suitable For: School, Team Building
Map of this Trip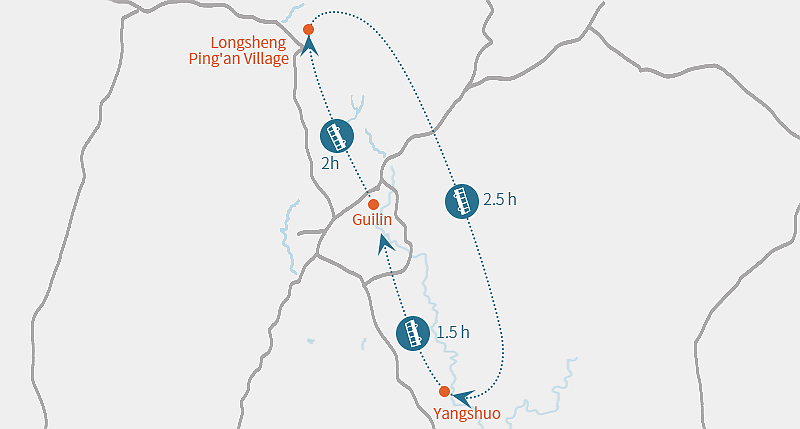 Click to enlarge
Full itinerary for Guilin Summer Camp Adventure Tour
Day 1
Guilin - Dragon Backbone(2 hours): Arrival and Group Activities (lunch & dinner)
Morning
Travelers must provide their own transportation to Guilin – either to the airport, bus station, or train station. Please inform CET at least 1 week prior to arrival on where you plan to arrive and the time of your arrival so we can arrange to pick you up. Pick ups are exclusively arranged only on the day your tour begins and only between the hours of 8am-14pm.
Once the full group is assembled with the tour guide, we will have a briefing to discuss tour guidelines before heading by bus to Dragon Backbone. A box lunch will be provided on the way.
(Note: If there are more than 12 students, we will divide into smaller groups.)
Afternoon
Once we are nearly at Dragon Backbone, we'll transfer to another vehicle which will take us to the village of Pingan. Guests only need to take two days worth of clothing and necessities and the rest of one's luggage will need to stay on the bus (this is because anything guests bring with them will need to be carried on Day 2's hike, but anyone who truly needs to bring all their luggage with them may discuss this with the tour guide). After checking in at the hotel, we will meet to discuss the next day's activities, have dinner, and get to know the rest of the group. There will be free time after dinner.
(Note: Although this area in and around Dragon Backbone is remote, the hotel will have hot showers and basic wifi)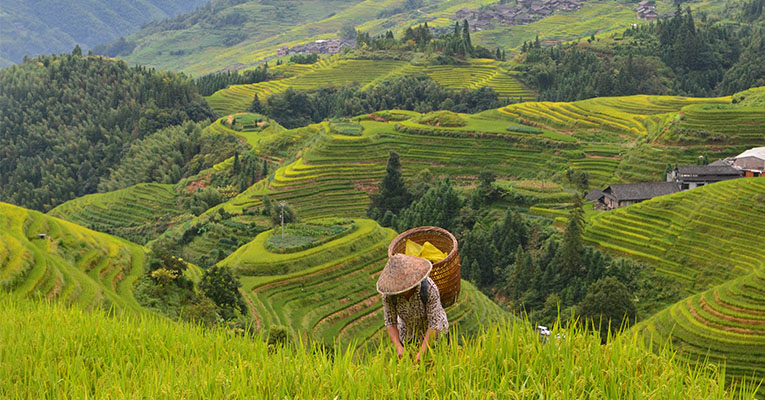 Longji Rice Terrace
Day 2
Dragon Backbone: All Day Hike (breakfast, lunch & dinner)
After breakfast, the guide will hand out a map, a compass, and a lunch box to each person, go over some last minute details and then we will begin an all-day hike from the village of Pingan to stunning, peaceful, and relaxing village of Dazhai – located at the base of the famous Dragon Backbone Rice Terraces about 7 miles (12km) away.
It's important for students to know that the people who live in this area mostly belong to a minority ethnic group called the Zhuang who have distinct customs, language, and even clothing from the majority Han Chinese. On the way, the guide will talk to the group about the Zhuang culture, their customs, and discuss how the ancestors of the Zhuang migrated from the central plains to the mountains. The tour guide will not lead the way. Instead, he/she is there only for safety and supervision while the students will need to use their map and compass to find the village of Dazhai. The scenery around this area is spectacular with rivers, streams, rolling hills, mountains, and rice terraces all in a tranquil setting. Guests will have ample opportunities to take pictures and see many Zhuang people dressed in their traditional clothing.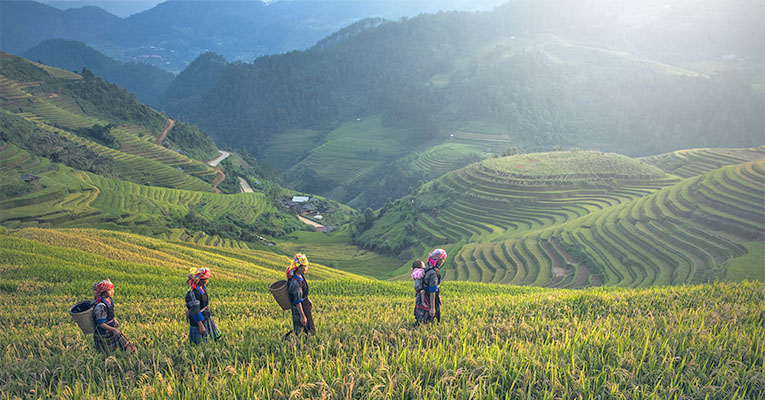 We will arrive at Dazhai at approximately 17:00. After dinner at the hotel, everyone will talk about how it feels today and the guide will tell you about the details of the activities in the next day.
(Note: Although this area in and around Dragon Backbone is remote, the hotel will have hot showers and basic wifi)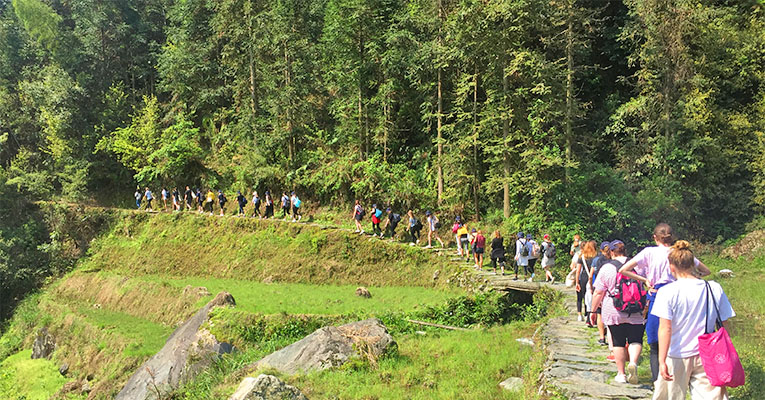 Day 3
Dragon Backbone - Yangshuo (2.5 hours): Caving and Camping (breakfast, lunch & dinner)
Morning
After breakfast, we will check out of the hotel, and take the pleasant, 1.5 hours, downhill walk to the Dazhai parking lot from where we will catch a shuttle bus back to our bus. We will have lunch at Heping restaurant. After lunch, we will then head to Yangshuo Moon Water Cave for around 2.5 hours drive.
Afternoon
We will do one of the most thrilling activities of the area – exploring a real cave, Moon Water Cave. An instructor will first teach us a little about the local Karst caves and how they were formed. Then, with our headlamps on, we'll enter the cave and spend several hours exploring. There will be numerous rock formations along the way – stalactites and stalagmites – and even some fossils from millions of years ago. As an added bonus, there is an underground river that flows through one section of the cave. Once completely underground, we'll also be able to turn our lamps off and experience 100% total darkness.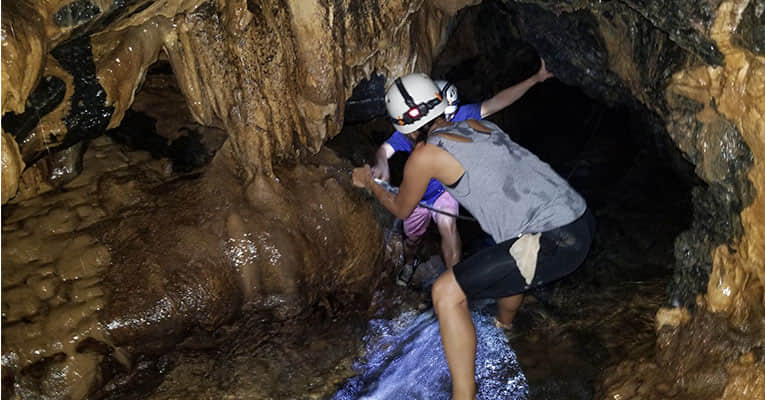 Caves are muddy and this one is no exception so make sure to bring clothes you don't mind getting dirty. In fact, this cave has mud baths and anyone who doesn't mind getting completely covered is welcome to go for a "swim". Once out of the cave, everyone will be able to get cleaned up.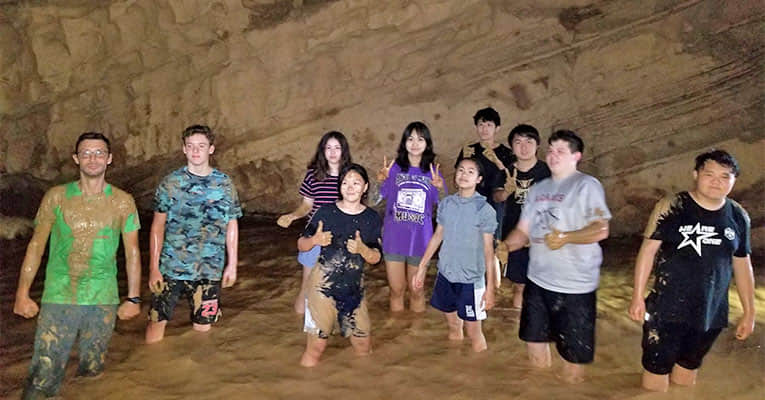 Around 16:30, we will head to camping base where will have a camping area reserved for us. Before dark, the guide will help everyone pitch their tent (for those that need help) and once the tents are up, a campfire will be lit and everyone can begin to enjoy their relaxing, fun evening under the spectacular Yangshuo starry-lit sky.
(Note: the toilet and shower facilities here are basic. But hot shower is available.)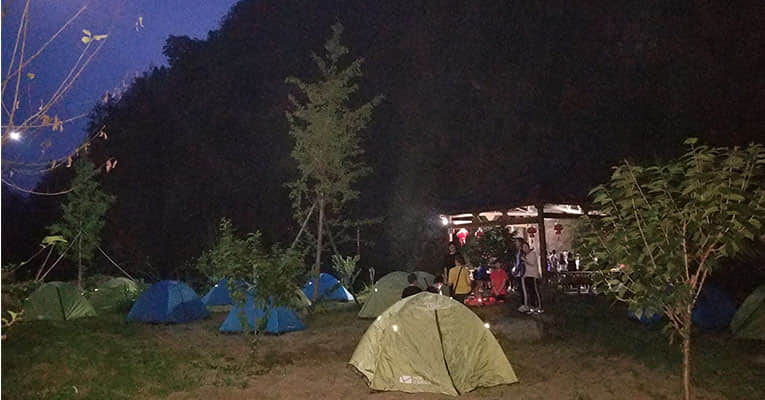 Evening
We have a great, fun-filled evening planned. We will have a delicious BBQ dinner cooked over our campfire, and afterwards a bamboo dance party!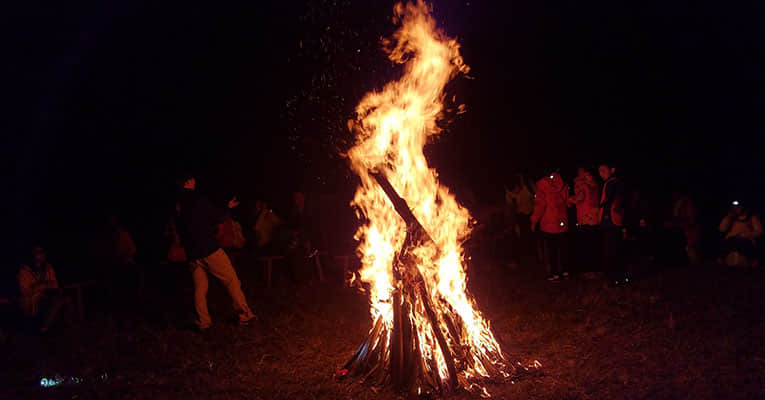 Day 4
Yangshuo: Rock Climbing and Cooking Class (breakfast, lunch & dinner)
Morning
We will pack up the camping gear and have breakfast at the hotel near the camping base. And then we will head to one of the many popular, nearby peaks that have established climbing routes to spend the morning rock climbing over the dramatic Yangshuo River Valley. Popular destinations are Kedou (Tadpole) Mountain, Baimian (White Face) Mountain, and Nailao (Cheese) Mountain. A climbing expert will give everyone a quick course on basic rock-climbing skills. Once the instructor has finished, and each individual guest feels ready, it's "Climb On!" There are many different routes to try ranging in difficulty from easy to hard. Guests are free to choose any route they wish (except for routes deemed too challenging to be safe by the instructor.) All safety precautions are rigorously followed so everyone can have a great experience. For those familiar with the Yosemite Decimal System, all routes for beginners will be 5.6 to 5.10– in other words, quite easy. Lunch will be served at the hotel nearby.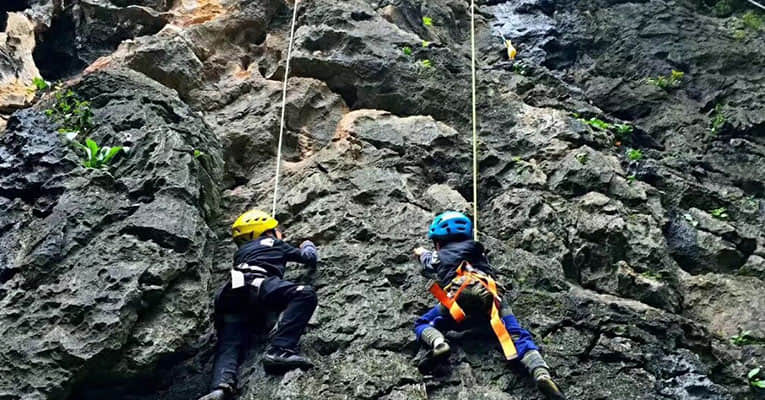 Afternoon
After hotel check in, we will take a short walk to the nearby culinary school for our Chinese cooking class. A professional chef will first discuss the types and characteristics of various regional cuisines and discuss how to make a basic sauce. After that, the chef will teach everyone how to properly use knives, how to properly cut vegetables, set cooking temperatures, and what proportion of oil, salt, sauce, and vinegar should be used. The chef usually prepares 4-5 dishes for everyone to learn. After all the dishes are finished, everyone can enjoy their hard-earned dinner feast.
Dishes list: egg dumplings, braised eggplant, steamed chicken, fried noodles, fried green vegetable and so on. Please let us know if you have any dietary restrictions.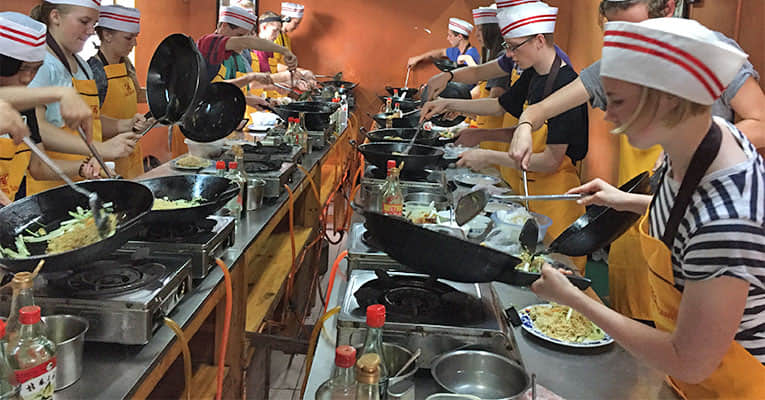 Evening
We'll go to a unique and impressive outdoor performance called Impression Sanjie Liu. Dozens of dancers and artists will perform on/near water with the natural Karst mountains lit up in the background. It's so completely unique, that there's almost no comparison in the world, but it would be similar to a small-scale Olympic Opening Ceremony performed outside and on water.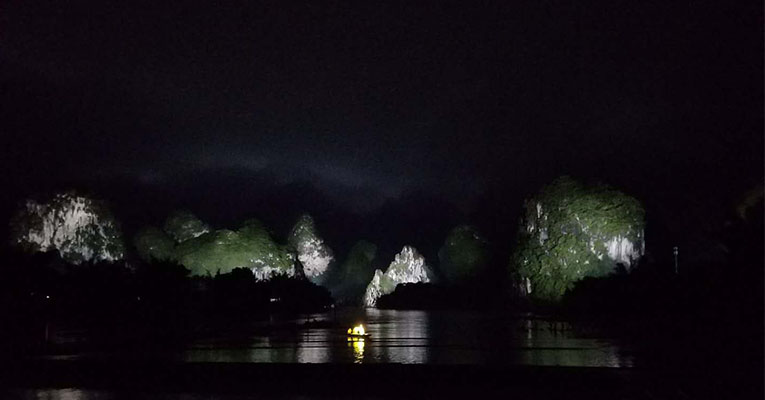 Impression Sanjie Liu Night Show
Day 5
Yangshuo: Off-Road Biking and Visiting Tea Farm (breakfast, lunch & dinner)
Morning
After breakfast, we'll head to the mountains to go off-road biking. An instructor will give everyone a lesson on how to bike properly in an off-road setting. After the lesson, for those who still do not feel comfortable, our guide will spend extra time with them until they feel more comfortable. The dirt trail we'll ride is about 15 kilometers and lasts around three hours. It's mostly flat without many trees, but has low-lying green vegetation in abundance. Once we finish, we'll head back to the hotel to get cleaned up and then go to lunch nearby.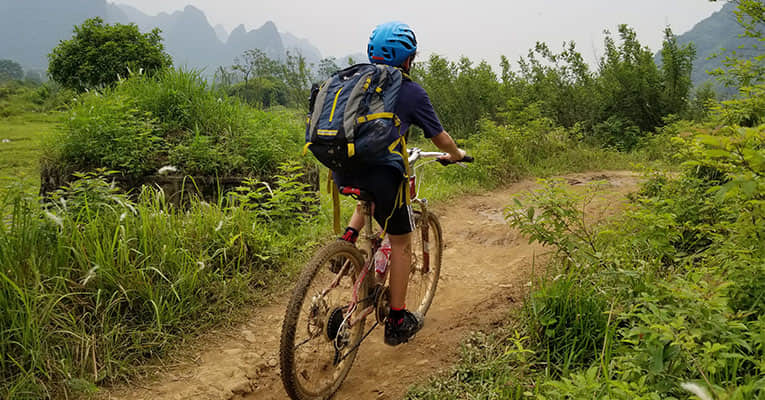 Afternoon
We leave for Qixianfeng tea farm, where we will about all aspects of Chinese tea culture from the picking of the tea leaves, to the making of the tea and finally the proper way to taste the tea. First, we'll go out to the rows of tea plants and help pick the most tender tea leaves as our guide will show us. With these freshly picked leaves, we will learn the entire process of how to properly prepare tea through the steps of harvesting, drying, rolling, shaping, and brewing. We will also learn the differences in how to make different kinds of tea. Finally, we will taste various teas, such as green tea, black tea, white tea, and scented tea, among others.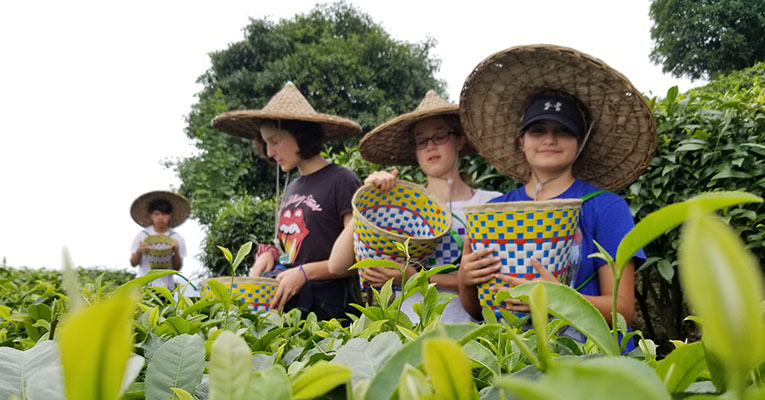 Evening
To celebrate the incredible adventures we've had all week, we will spend our last evening together at a farewell dinner party. We'll watch a short highlight video of all the best moments from our trip and every person will have a chance to talk about their favorite parts of the tour.
Day 6
Yangshuo - Guilin: Departure (breakfast & lunch)
Our last morning will be a leisurely morning with plenty of time to have breakfast and relax or play games in the hotel before leaving for the airport, bus, or train station. A boxed lunch will be provided.
Packing List:
Sunscreen (SPF>30++)
Sunglasses
Camera
1L Water bottle
Insect repellent
Light sweater or jacket for evenings
Waterproof, breathable rain jacket, plus waterproof hat (or baseball cap to keep the sun out of your eyes)
6 changes of clothes plus extra socks/underwear in case they get wet – shorts and t-shirts are best as temperatures will be in the 80's/90's oF (30's °C)
1 change of old clothes for caving (these clothes will get muddy)
Small amount of soap & shampoo (hotels will provide this, but not the campground)
Other personal hygiene products
A retractable or folding cane
A notebook and a pen
Medium size backpack (20-30L recommended) with comfortable straps
Towel and rechargeable headlamp for camping
Comfortable hiking shoes and upstream shoes
Sandals for the campsite/Flip-flops for the showers
Protective cases for any electronics, like phones
Note:
1. The level of difficulty is moderate. Please let us know if you have any health restrictions.
2. Please let us know if you have any dietary restrictions.
3. The minimum number of students for this tour is 8.
Featured Hotel
| | Standard |
| --- | --- |
| Pingan Village | Liqing Hotel |
| Dazhai Village | Longji Panorama House Hotel |
| Yangshuo | EdEN YHA |
What's Included
Professional, experienced outdoor tour leader
Cost for all activities listed in itinerary
All meals listed on the itinerary
Experienced drivers in air-conditioned vehicles
Clean and comfortable accommodation
What's not Included
Extra food, drinks, or souvenirs guests wish to purchase outside what is already provided