Welcome to Taiwan!
The Portuguese "discovered" Taiwan in 1590 and named it "Ilha Formosa" or "Beautiful Island." From soaring mountains to beautiful coastlines, Taiwan offers breathtaking landscapes. Visit Taroko Gorge, Sun Moon Lake, Alishan National Scenic Area, Kenting National Park, and more. Hike through lush forests, enjoy hot springs, or relax on scenic beaches. Taiwan has a diverse cultural heritage influenced by its indigenous populations, settlers from mainland China, and Japanese colonial history. Explore temples, night markets, historic sites, and traditional festivals like the Lantern Festival and Dragon Boat Festival.
Taiwan is a food-lover's paradise. Sample a wide range of tasty street food, night market delicacies, Taiwanese-style beef noodle soup, bubble tea, and unique snacks like oyster omelets and stinky tofu. Experience the culinary delights of the Michelin-starred restaurants in Taipei and indulge in diverse culinary experiences. Taiwan's night markets are legendary and offer an immersive experience in local street culture. Enjoy shopping for trendy fashion, electronics, traditional arts and crafts, and bargain for unique items.
This comprehensive guide covers everything you need to know for your trip to Taiwan. Travel tips on transportation, budget, accommodations, and itineraries to plan your perfect Taiwan adventure.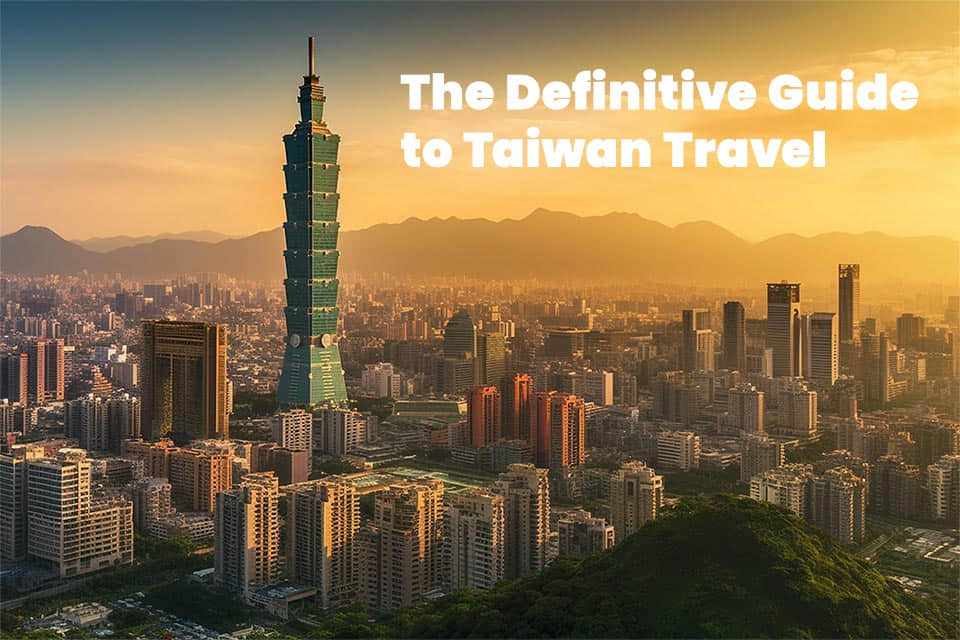 Quick Facts
Location: western Pacific Ocean astride the Tropic of Cancer, less than 161 km (100 mi) from the southeast coast of mainland China, from which it is separated by the Taiwan Strait.
Provincial Capital City: Taipei
Area: 36,193 square kilometers (13,974 square miles)
Population: 23.9 million (as of 2022)
Famous Cities: Taipei, Kaohsiung, Tainan, Hualien and Taichung
Best Time to Visit: The best time to visit Taiwan is during the spring (April to June) and autumn (September to November) when the weather is mild and comfortable. Avoid the typhoon season, which typically occurs from June to October.
How to Plan a Trip to Taiwan
Let's explore each step in more detail.
1. Determine the travel dates and number of people
Arrange the itinerary according to your time and number of people to avoid the itinerary being too full or too loose. When it comes to determining the time, you might have some questions. Don't worry, we can go through them one by one and provide you with the answers you need.
1) When is the best time | season to visit Taiwan?
There's no need to worry about the ideal time for visiting Taiwan as its diverse topography and scale make it a fantastic year-round destination.
Spring in Taiwan
Springs in Taiwan (March to May) are nature's way of showing off its beauty with a pleasant temperature of 19-26 °C. It's the perfect time for hiking and exploring the island's dazzling parks. Not to mention, the cherry and plum blossoms are a sight to behold and attract many visitors.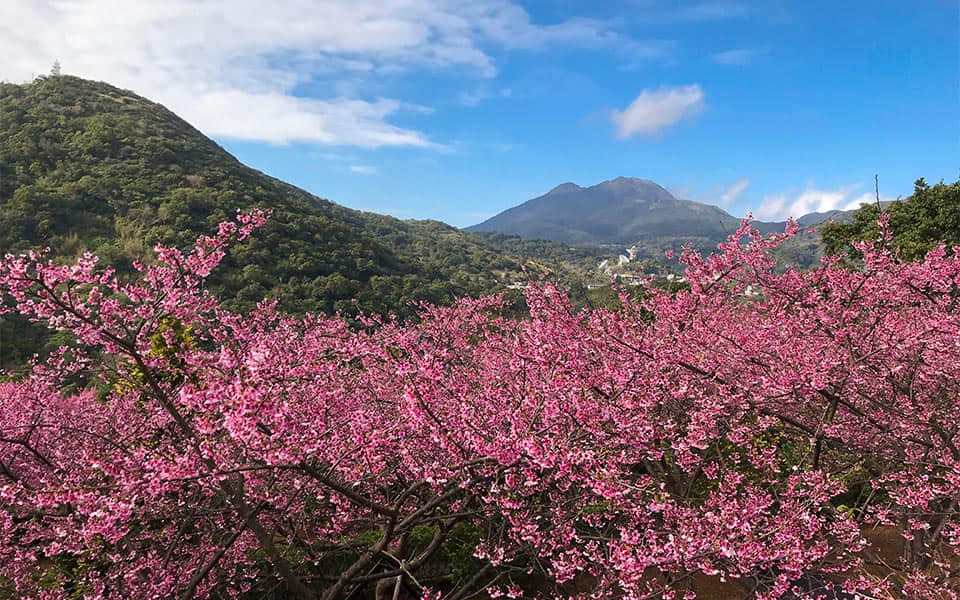 When do cherry blossoms bloom in Taiwan?
The cherry blossom season in Taiwan typically lasts from February to early April, with some variation depending on current temperatures. Here are some of the best locations to admire cherry blossoms in Taiwan along with their blooming periods:
Wuji Tianyuan Temple: Early February to mid-March
Yangmingshan National Park: Mid-February to mid-March
Wuling Farm: Early to late February
Formosan Aboriginal Culture Village: Early February to mid-March
Alishan National Scenic Area: Mid-March to early April
What type of clothing should I wear while visiting Taiwan in the springtime?
A light jacket or sweater should suffice in keeping you comfortable during spring in Taiwan. Layering is a practical option that allows you to remove layers in case the temperature rises.
Summer in Taiwan
The summer season (June to August) can get pretty steamy, but that's no reason to be discouraged. There are plenty of things to get excited about, such as soaking up the sun at its stunning beaches or attending one of the many lively festivals happening during the summer.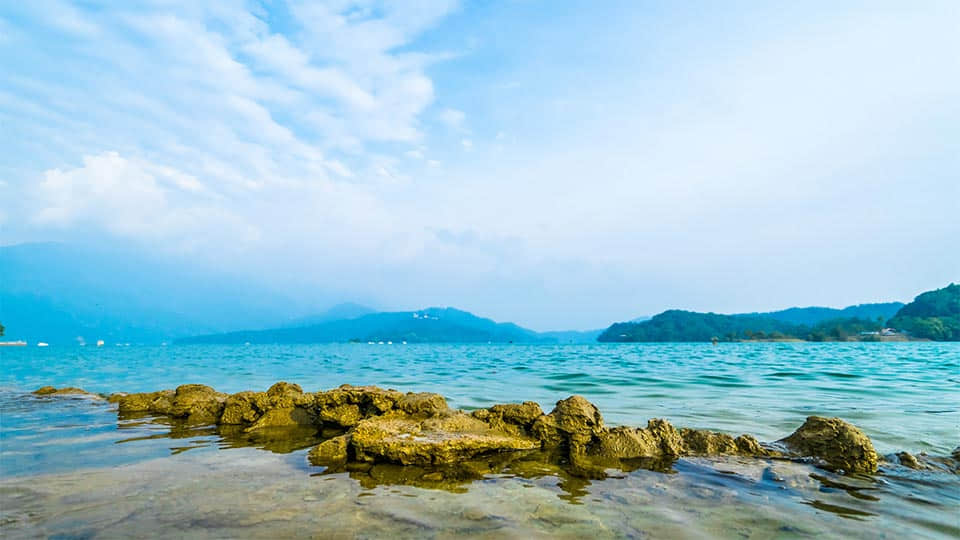 What type of clothing should I wear while visiting Taiwan during summer?
We recommend wearing shorts, t-shirts, and bringing a hat and sunscreen for sun protection. Opting for quick-drying clothing can also be beneficial.
Autumn in Taiwan
Autumn (September to November) is arguably the most popular time to visit Taiwan. The season is perfectly balanced with loads of sunshine and barely any rainfall, making it an ideal season for sightseeing.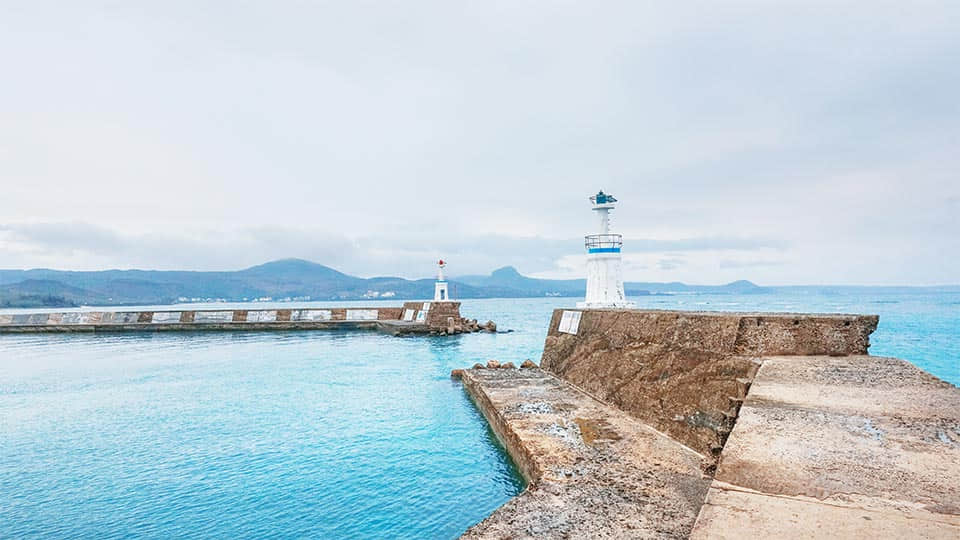 What kind of clothes should I wear when visiting Taiwan in the fall season?
In September and October, Taiwan may experience summer-like heat, so it's wise to pack some short-sleeved clothes. Light clothing remains ideal for autumn, but consider bringing a light sweater or coat for cooler moments.
Winter in Taiwan
Even though winters (December to February) in Taiwan are quite chilly and foggy, the temperature is still quite manageable and doesn't tend to drop below 10°C. With festivities such as hot springs and New Year's celebrations, there's no better time to visit and explore the place.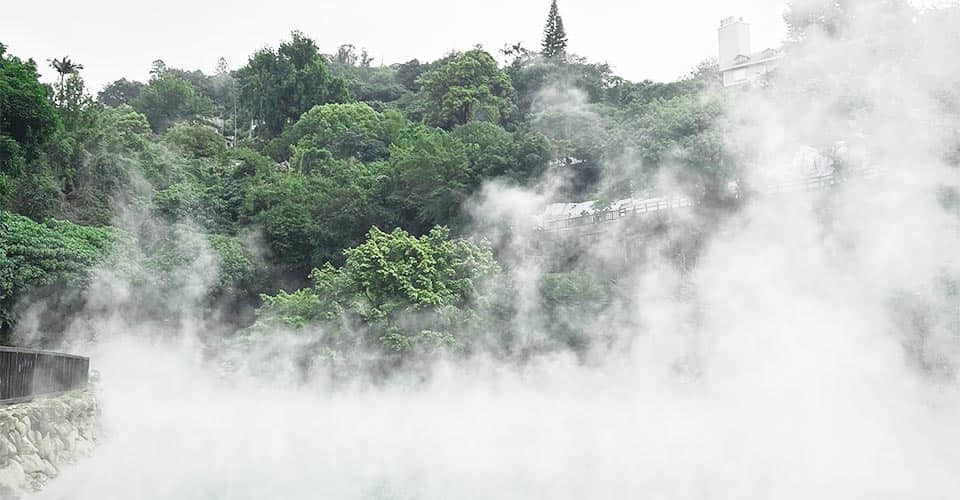 What kind of outfits should I pack for a winter trip to Taiwan?
The weather in Northern Taiwan tends to be cooler than in the South. To stay warm, pack wind-proof clothing, as humidity can penetrate wool sweaters. Keep in mind that central heating is uncommon in Taiwan, so dressing in layers is advisable, even when indoors.
Are winters snowy in Taiwan?
Taiwan experiences snowfall, but only at higher elevations and during a limited time period. Snow typically falls in the mountainous areas of Taiwan from late December through February. However, for most of Taiwan's population living in low-lying cities and areas, the temperatures rarely drop below freezing and snow is uncommon.
2) What's the weather like in Taipei?
5-Day Taipei Weather Forecast
Taipei Average Climate by Month (2022)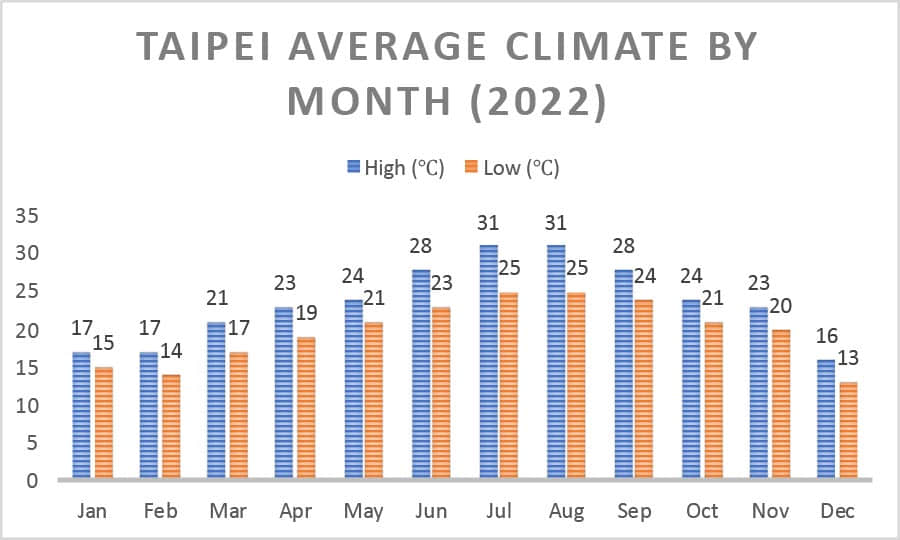 | | Jan | Feb | Mar | Apr | May | Jun | Jul | Aug | Sep | Oct | Nov | Dec |
| --- | --- | --- | --- | --- | --- | --- | --- | --- | --- | --- | --- | --- |
| High (℃) | 17 | 17 | 21 | 23 | 24 | 28 | 31 | 31 | 28 | 24 | 23 | 16 |
| Low (℃) | 15 | 14 | 17 | 19 | 21 | 23 | 25 | 25 | 24 | 21 | 20 | 13 |
3) When is the typhoon season in Taiwan?
The typhoon season typically spans from July through October.
2. Choose the main itinerary route and select the main attractions and cities.
You can also choose theme, such as hiking trip, phytology trip, hot spring trip, railway trip, etc. And cities like Taipei, Hualien, Tainan, and Kaohsiung are major cities, and Sun Moon Lake, Kenting, and Alishan are famous attractions. Choose where to go based on personal interests. There are east-west routes across Taiwan to choose from, you can choose the popular east and west coasts, or the newly opened North-Yilan Highway.
1) Top 8 things to do in Taiwan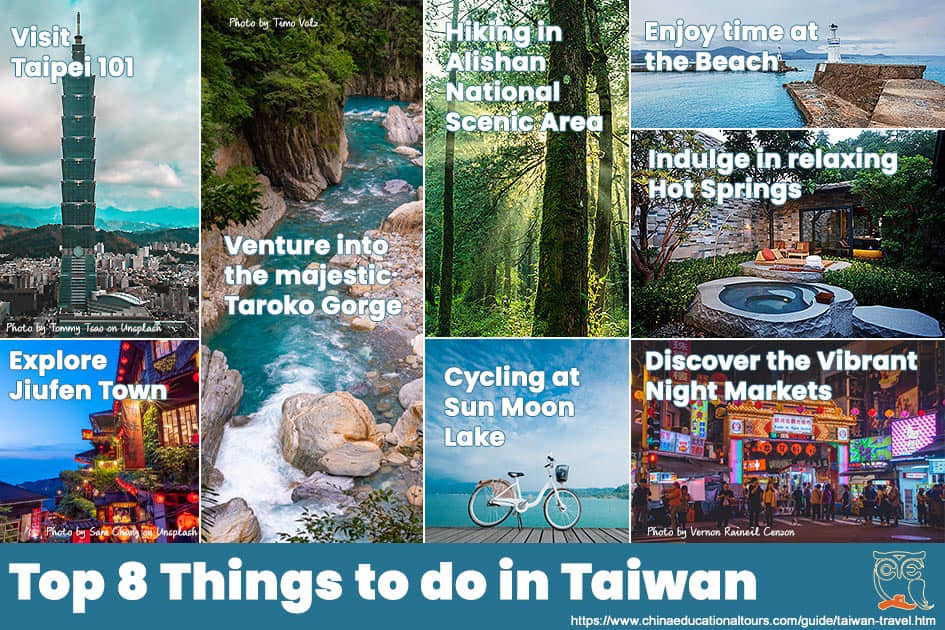 Visit Taipei 101
Taipei 101 is a must-see attraction when visiting Taipei. Once the tallest building in the world, Taipei 101 stands at a height of 508 meters with 101 floors. On the 89th floor, you'll find an indoor observatory offering panoramic views of Taipei from 382 meters high. For even more spectacular 360-degree views, head to the 91st floor outdoor observatory deck.
Formerly called Taipei World Trade Center, Taipei 101 held the world's tallest building title from its completion in 2004 until 2010. Its postmodern architecture is an iconic part of Taipei's skyline. At the base of Taipei 101 is a large shopping mall, if you want to enjoy some retail therapy during your visit.
To experience Taipei from its highest vantage point and take in the city's grand skyscraper designs, Taipei 101's observatories are a must. The views from the top floors of one of the world's tallest buildings are truly jaw-dropping. Taipei 101 is a highlight of any trip to Taipei, offering the opportunity to see Taiwan's largest city from a uniquely elevated perspective at the top of an engineering marvel.
Explore Jiufen Town
Jiufen is a must-visit mountain town in Taiwan, ideal for a day trip or overnight stay from Taipei. Once a gold mining hub, Jiufen exploded in the 1890s but today is a popular tourist destination, renowned for its well-preserved historic streets lined with traditional tea houses.
To experience Jiufen at its most enchanting, aim to arrive early morning before the daytrip crowds. If possible, stay overnight at one of the town's guesthouses, B&Bs or boutique hotels. At night, Jiufen lights up with red lanterns, giving you an opportunity to soak in the ambiance without the tourist masses.
In addition to wandering the historic streets, you can do some light hiking in the surrounding hills. Jiufen also provides a glimpse into Taiwan's gold mining history, with some well-preserved cultural relics and museums.
Jiufen's traditional buildings, street food, tea houses and natural scenery make it a quintessential Taiwanese experience. Steeped in history yet timeless, a visit to Jiufen is sure to enchant you whether you explore for an afternoon or longer stay.
Discover the vibrant night markets in Taipei
Taipei's night markets are a must for experiencing the city's vibrant food scene and culture. With over 30-night markets to choose from, you could explore a different one each night of your visit. Some of the most popular night markets include:
Shilin Night Market: The largest and most famous night market, selling everything from snacks to shopping finds. It received a Michelin Bib Gourmand for its tasty yet affordable fare.
Raohe Night Market: Touted for its local Taiwanese snacks like pepper buns, oyster omelets and stinky tofu. It has a more traditional atmosphere than other night markets.
Ningxia Night Market: Known for creative foods like fried chicken cutlets and grilled squid, at very budget-friendly prices. It stays open later than most other night markets.
Tonghua Night Market: Features over 200 stalls including popular hipster snack shops. It has a lively ambiance with music and outdoor seating.
Snake Alley: Despite the name, now sells mostly seafood and snacks. Still an interesting cultural experience in one of Taipei's oldest night market locations.
The night markets are the best place to sample Taipei's cheap eats, with options to satisfy any taste or budget. You can find classic Taiwanese street food, fusion snacks, fresh seafood and glutenous rice balls for under US$3 per dish. Strolling the night markets at night, with the aroma of fried chicken and squid in the air, is also a quintessential part of experiencing Taipei's vibrant culture after dark.
With options suitable for all price points and a mix of traditional and trendy settings, Taipei's night markets have something to suit every visitor's interests. So set out on an evening food adventure, follow your senses and appetite from stall to stall, and savor the lively atmosphere along with some mouthwatering snacks. You're in for a tasty treat!
Venture into the majestic Taroko Gorge
Taroko National Park is one of Taiwan's top natural attractions, located about 2 hours southeast of Taipei. Spanning nearly 100,000 hectares, Taroko is renowned for its dramatic mountain gorges, hiking trails and scenic cliffs. The park offers many opportunities for hiking and outdoor adventure against a backdrop of stunning natural beauty.
Some of the park highlights include:
Zhuilu Suspension Bridge: A scenic footbridge crossing over a gorge, offering panoramic views. It is one of the most photographed spots in the park.
Eternal Spring Shrine and Changing Temple: Historic cultural and religious sites within the park that showcase traditional Taiwanese architecture. They provide insight into the region's aboriginal tribes.
Shakadang, Changchun and Swallow Grotto Trails: Popular hiking trails ranging from easy to moderate, passing by cliffs, caves, springs and waterfalls. The trails offer glimpses of Taroko's diverse natural scenery.
Lushui-Heliu Trail: A more challenging 18 km hiking route along suspended bridges and narrow cliffside paths with stunning views. It takes about 6-8 hours to complete. Admission to Taroko National Park is free. The park's off-the-beaten-path natural setting makes it appealing for those seeking outdoor adventure and respite from the city. You can experience the park on short walks, day hikes or multi-day trekking routes, with options suitable for beginners and seasoned hikers alike.
With its mountain gorges, hiking trails, scenic cliffs and waterfalls around every bend, Taroko National Park rewards visitors with a feast for the senses. To explore its natural splendor, all you need is a sense of adventure and comfortable shoes to set out on a journey through one of Taiwan's most treasured wild places.
Indulge in relaxing hot springs
Beitou Hot Springs is a rejuvenating natural getaway only 30 minutes from Taipei. Surrounded by lush greenery, the historic hot spring town feels a world away from the bustle of Taipei, making it a perfect escape especially in winter. You can reach Beitou by MRT, getting off at Xinbeitou Station.
Enjoy time at the beach
The beaches of Kenting, located at the southernmost point of the island, offer the perfect setting to savor the summer weather. White Sand Bay, the most popular beach in the area, provides an ideal spot for swimming, snorkeling, and sunbathing. Other notable beaches to explore include Fulong Beach, South Bay, Dawan Beach, Laomei Beach, and Little Bali Bay.
Cycling at Sun Moon Lake
Sun Moon Lake is one of Taiwan's most scenic natural attractions, set amongst mountains in Nantou county. Cycling around the lake is a popular way to enjoy the beautiful scenery at your own pace. Renting bicycles allows you to discover quiet trails and small villages around the lake that are less accessible by other means.
Some tips for cycling at Sun Moon Lake:
Bicycle rentals: Head to Shuishe Pier, Sun Moon Lake's main visitor center. There are rentals offering bikes, helmets, maps and child seats. Rates are around NT$200-500 for 2-3 hours.
Trails: The most popular trail circles the lake, about 21 km with some hills. The Shuishe - Xuanguang Temple Trail is a flat 8 km route. Or take the mountain trail to Cuihu and Tomb of Yu Youren, about 15 km with some off-road sections. There are cycling paths suitable for all skill levels.
Stops: Make stops at Xuanguang Temple, Wenwu Temple, Syuanton Village and Ita Thao Village. Visit the temples, explore the historic villages and refuel with local snacks.
Duration: Leave early, around 8 am to avoid the heat and crowds. The full lake circuit takes 3 to 5 hours at a leisurely pace with stops. Shorter 2 to 3 hour rides are also enjoyable.
Hiking in Alishan National Scenic Area
Alishan is a mountain resort area in central Taiwan, renowned for its sea of clouds, sunrise views and hiking trails. Set at an altitude of 2,200 meters, Alishan National Scenic Area offers refreshing weather and opportunities for hiking through lush ancient forests.
There are many hiking trails for all skill levels. The Giant Tree Trail is easy, visiting 1000-year old cypress trees. The Sunset Trail and Zhaoming Lake Trail are moderate, about 3 hours. Fenqihu-Duoliang Trail is hard, 8 hours to the native village of Duoliang. Stay overnight there to continue to Ruidian Trail, 15 hours total.
Best time for hiking: Spring and autumn from March to May and September to November. The temperatures are mild and you may see sea of clouds or autumn foliage. Avoid summer which tends to be very rainy.
2) How much time should I allocate for my Taiwan trip, and is one week sufficient for a visit?
The ideal approach is to plan a suitable itinerary based on the amount of time you have available.
Here is a suggested 7-day itinerary for Taiwan:
Day 1-3: Taipei
Explore the city, visit Taipei 101, Chiang Kai-shek Memorial Hall, Longshan Temple and Shilin Night Market.
Browse cultural artifacts at the National Palace Museum.
Take a day trip to Jiufen, an historic gold mining town in the mountains.
Day 4: Sun Moon Lake
Head to central Taiwan's largest lake. Rent bicycles to cycle around the lake, see the Wenwu Temple and Aboriginal villages.
Stay overnight to enjoy the serene scenery and nature.
Day 5: Alishan
Travel to Alishan mountain resort, renowned for sea of clouds and giant cypress forests.
Hike the Sunset Trail and Giant Tree Trail to view ancient trees and possibly sunset. Stay overnight.
Day 6: Taroko Gorge
Journey to Hualien and Taroko National Park.
Hike the Shakadang and Changchun Trails to view dramatic gorges, cliffs and waterfalls.
Optional rafting or Baiyang Trail for stunning views. Overnight in Taroko or Hualien.
Day 7: Return to Taipei
Head back to Taipei, stopping by scenic spots along the east coast if time permits.
Optional activities: Shifen Old Street, Taipei Confucius Temple, Ximending Shopping District.
Watch the sunset at Elephant Mountain Hiking Trail or Taipei 101.
Experience the wonders of Taiwan - contact us to begin your journey!
3 Sample Taiwan Itineraries
1-2 weeks (First-time travelers): This is enough time to visit Taiwan's top highlights at a comfortable pace. You can spend a few days in Taipei exploring the city, visit Taroko Gorge, Sun Moon Lake, Alishan and Kaohsiung. This allows you to see a nice mix of natural scenery, culture and food around the island.
2-3 weeks (This is the bare minimum required to get a comprehensive experience while exploring the entire island.): This allows you to explore Taiwan in more depth at a relaxed pace without feeling rushed. In addition to the places above, you can also visit Yilan, Hualien and Taitung on the east coast, the outlying islands of Penghu, Kinmen or Matsu, and spend more time enjoying outdoor activities like hiking, cycling or hot spring soaking.
3-4 weeks: With a month or more, you can have an in-depth experience of all Taiwan has to offer at a leisurely pace. This allows extra days for rest or unplanned adventures. You can venture into the less-visited corners for a comprehensive understanding of Taiwan's natural and cultural diversity. Build in extra time for festivals or events.
Seasonal considerations: Taiwan's weather varies with the season. Spring and autumn from April to May and October to November generally see mild pleasant weather suitable for any activity. Summer from June to August tends to be hot and rainy, best avoided or limited to the mountains. Budget extra time for potential rain and typhoons.
Don't try to squeeze in too much: While Taiwan has a convenient transportation system, travel between cities and regions still takes time. Leave flexibility in your itinerary and avoid trying to fit too many places into one trip. Depth over breadth leads to a more meaningful experience.
Plan your Taiwan getaway - contact us now to book unforgettable tours!
Must try Taiwan Food

Beef Noodle Soup: This iconic dish features tender beef, chewy noodles, and a flavorful broth simmered with aromatic spices.
Bubble Tea (Boba Tea): Taiwan is the birthplace of this popular drink. It consists of tea (usually milk tea) combined with chewy tapioca pearls, creating a unique and refreshing beverage.
Xiao Long Bao: Also known as soup dumplings, these delicate steamed dumplings are filled with juicy pork and a flavorful, savory broth.
Gua Bao: This famous Taiwanese street food consists of a fluffy steamed bun filled with tender braised pork belly, pickled vegetables, and ground peanuts.
Oyster Omelette: A popular snack, this dish comprises a crisp omelette with plump oysters, vegetables, and a tangy sauce. When serving, add a little lemon juice or hot sauce, it will make fried oysters tastier!
Stinky Tofu: Although it has a strong odor, stinky tofu is loved by many. It's fermented tofu, deep-fried until crispy, and commonly enjoyed with spicy or sour dipping sauces.
Lu Rou Fan (Braised pork rice): A comforting dish of braised pork belly served on a bed of rice. It's rich, flavorful, and a staple in Taiwanese cuisine.
Scallion Pancake: A crispy and savory pancake made with green onions. It's often enjoyed as a breakfast or snack item.
Pineapple Cake: A popular Taiwanese dessert, these small buttery pastries have a sweet pineapple filling.
Taro and sweet potato balls dessert: Taro and sweet potato balls dessert is a popular Taiwanese dessert commonly known as "Qiu Qiu" or "Taro Balls and Sweet Potato Balls". It is a sweet and chewy dessert that is often served with sweet syrup and sometimes combined with other ingredients. Make sure to add shaved ice for the best effect.
3. Gather the necessary visa documents and submit your visa application.
Entry Requirements: Visitors from many countries enjoy visa-free entry to Taiwan for a certain duration. Check the visa requirements based on your nationality and ensure that your passport is valid for at least six months.
Check the full list (https://www.boca.gov.tw/cp-149-4486-7785a-2.html) of visa-exempt countries to see if your country is included, and how many days you are allowed to stay. Please note that visa exemptions cannot be extended without leaving Taiwan. If your country is not on the list, it's best to consult the Taiwan office in your place of residence for the most up-to-date information.
4. Book hotels and air tickets.
Some good options for Taiwan hotels include Booking.com, Agoda, and Hotels.com. They offer a wide range of hotels from budget to luxury. Read reviews to determine which suits your needs best.
Start looking for the best deals on airlines that service Taiwan like EVA Air, China Airlines, Cathay Pacific or major airlines from your region. Compare fares across different airlines.
Websites like Skyscanner, Momondo and Google Flights allow you to enter your departure and arrival cities and see the cheapest airfares across many airlines. Check both budget and full-service airlines for the best rates.
For the best rates to Taiwan, start looking and book around 4 to 6 months before your trip, or earlier during peak season. Fares will steadily increase closer to departure date.
Top Best Hotels in Taipei
Grand Hyatt Taipei
This luxury hotel offers elegant rooms, an outdoor pool and spa. It is conveniently located above Taipei Train Station and within walking distance of Taipei 101. Facilities include several dining options and a fitness center. It is a popular choice for business and leisure travelers seeking refined comfort.
The Sherwood Taipei
This stylish 5-star hotel is renowned for its designer rooms, rooftop pool and lavish buffet restaurant. Located in the Da'an District, it puts you close to shopping, dining and nightlife options. Amenities include a fitness center, business center and sauna facilities. It offers luxury and convenience in the heart of the city.
Regent Taipei
This prestigious 5-star hotel provides sophisticated rooms and suites with marble bathrooms and designer furnishings. Facilities include an outdoor pool, spa, wellness center and a selection of upscale restaurants. Its central location is within walking distance to Taipei Main Station and Shin Kong Mitsukoshi mall. An exquisite choice for a luxury city getaway.
Shangri-La's Far Eastern Plaza Hotel
This upscale hotel is renowned for its spacious rooms, marble bathrooms, butler service and fine dining. Recreational facilities include an indoor pool, fitness center, jacuzzi and sauna. Adjacent to the train station and shopping areas, its central location offers convenience while providing an oasis of luxury in the midst of the bustling city.
W Taipei
This lavish 5-star hotel is a bold landmark in Xinyi District. It features avant-garde guestrooms, an outdoor pool, spa and modern fitness facilities. Its prime location next to the Taipei City Hall Bus Station provides easy access around the city. W Taipei is a top choice for stylish luxury and contemporary design with its signature "whatever/whenever" service.
What is the typical price for hotel accommodations in Taiwan?
Hostel: NT$600-900 (US$20-30) per bed, NT$1,200-2,000 (US$40-65) per room. Basic dorm or private rooms, shared bathrooms. Popular with budget travelers and backpackers.
3-Star Hotel: NT$2,700-3,500 (US$90-115) per room. Mid-range hotels offering standard amenities and rooms with private bathrooms. Suitable for most travelers.
4-Star Hotel: NT$3,500-5,600 (US$115-185) per room. Upscale hotels providing enhanced facilities and comfort. Geared towards travelers preferring added convenience and service.
5-Star Hotel: NT$6,000-10,000 (US$200-335) per room. Luxury hotels offering premium rooms, amenities and dedicated staff service. Popular for special occasions or travelers seeking a lavish stay.
Luxury/Hot Spring Hotel: Over NT$10,000 (US$350+) per room. Top hotels providing deluxe accommodation, facilities and service. Some located in scenic mountain or hot spring resorts, offering a secluded upscale experience. Prices vary significantly by location and season.
Rates are calculated based on average costs in Taiwan dollars (TWD) then converted to U.S. dollars (USD) at an exchange rate of 1 USD = 30 TWD for reference. Prices will differ between hotels and may fluctuate slightly based on season or promotions. In summary, hotel rates in Taiwan range from budget stays at US$20-30 per night in a hostel up to US$350 or higher at a luxury mountain resort. Mid-range and upscale hotels providing good value for money start around US$90 to US$185 per room night. Cost depends on chosen accommodation level and location.
5. Arrange transportation.
Taiwan has railways and convenient bus systems in various places. It is also easy for tourists to rent cars for self-driving tours. You need to arrange trains and self-driving tours according to the itinerary route and attractions.
Getting to Taiwan
Taiwan's main international getaway is Taoyuan International Airport (IATA: TPE) which is 40km southwest of Taipei. The second airport is called Taipei Songshan Airport (TSA): Situated in downtown Taipei, this airport primarily handles domestic flights and some regional international flights.
The other airports also have a limited number of international routes.
Kaohsiung - Kaohsiung is Taiwan's second-largest city and has its own airport:
Kaohsiung International Airport (KHH): Located in Xiaogang District, Kaohsiung International Airport serves domestic and international flights, connecting Kaohsiung to various destinations around the world.
Taichung - Taichung is a central city in Taiwan and has its airport:
Taichung International Airport (RMQ): Located in Taichung's Shuinan Economic and Trade Zone, Taichung International Airport mainly serves domestic flights and a limited number of international routes.
Tainan - Tainan is a historic city in southern Taiwan, and its airport is:
Tainan Airport (TNN): Situated in South District, Tainan Airport mainly operates domestic flights and some limited international flights.
Hualien - Hualien is known for its stunning natural landscapes and is served by:
Hualien Airport (HUN): Located in Xincheng Township, Hualien Airport mainly operates domestic flights and has limited international flight connections.
These airports connect Taiwan's major cities to domestic destinations as well as international cities across Asia, North America, Europe, and other regions.
Getting around Taipei
Getting around Taipei is convenient thanks to the efficient Taipei MRT system. Simply purchase an EasyCard by loading cash value at any MRT station, convenience store or online. Tap the EasyCard to enter and exit MRT stations. The EasyCard can also be used to pay for buses, taxis, ferries, convenience stores and some food stalls in Taipei and other parts of Taiwan.
For tourists, consider getting an Unlimited Fun Pass for 1 to 3 days of unlimited travel. It includes:
Unlimited rides on the MRT and public buses in Taipei and New Taipei City.
Five tourist shuttle buses accessing attractions across northern Taiwan.
Entrance to 16 major Taipei attractions like Taipei 101, National Palace Museum, Yangmingshan National Park, etc. The pass saves time waiting in ticket queues and offers easy access around the city.
A cheaper option is the transport-only pass which provides unlimited use of public transit without the attraction entries. Either pass offers an affordable, hassle-free way for tourists to explore Taipei.
With the EasyCard and Unlimited Fun Pass, getting around Taipei is extremely convenient. The MRT system quickly takes you to all parts of the city supplemented by buses, taxis and tourist shuttles. For a short trip, these transport options allow you to pack in as many destinations as possible while saving time. Have a great time exploring Taipei!
TRA and HSR
Taiwan Railways Administration (TRA) operates trains around the entire island. TRA stations are located within city centers for easy access. TRA offers different train types from express to local service. It is the only rail option to reach Hualien, Taitung and Kaohsiung from other cities.
The High Speed Rail (HSR) runs down Taiwan's west coast connecting Taipei to Kaohsiung Zuoying Station. While faster, HSR stations are outside city centers requiring additional transport. HSR may be preferred for quickly traveling between big cities or to/from Taoyuan Airport. But for most destinations, TRA is more convenient.
Pros/Cons
TRA
HSR
Pros
- Stations located in city centers, easy transfer to local transit.
- Offers rail service around the entire island including to Hualien, Taitung and Kaohsiung.
- Varied train types from express to local trains.

- Twice as fast as TRA reducing travel time between cities.
- Direct buses from some HSR stations to Alishan and Sun Moon Lake.
Cons
Slower travel between cities.
- HSR stations outside city centers requiring bus or taxi transfers.
- Only serves destinations on western corridor from Taipei to Kaohsiung Zuoying.
- Higher fare than TRA.
For comprehensive Taiwan travel, combining TRA and HSR rail systems provides efficient transport around the island. Choose based on your priorities for speed, cost or convenience. Carefully consider station locations and local transit options for your destinations.
Self-driving in Taiwan
Self-driving in Taiwan can be challenging for foreign visitors due to several factors:
Road signs are mostly in Chinese which can be difficult to understand. This makes navigation and finding destinations complicated without good maps or navigation aids with English translations.
Taiwan's roads and highways can be quite congested, especially around urban areas and during rush hour. The traffic and driving style may feel chaotic compared to other countries. Extra caution is needed.
Speeding and red light cameras are installed on many roads. Foreign drivers may not notice the cameras and end up getting traffic violation fines, often mailed months after leaving Taiwan.
International driver's permits are required for foreigners to legally drive in Taiwan. Permits must be obtained in your home country before the trip. Local licenses from other countries are not accepted.
It may be difficult to communicate if pulled over by police or if you need roadside assistance. Not all service staff or emergency responders speak English.
However, if you enjoy an adventurous trip and driving challenge in a foreign country, self-driving in Taiwan is possible by taking some precautions:
Obtain an international driver's permit before your trip. Carry it with you when driving.
Rent a car equipped with GPS navigation in English to easily find your way. Or download offline maps and translation apps to aid navigation.
Do research on Taiwan's road signs and traffic rules which differ from other countries. Pay attention to speed limit and camera warning signs.
Allow more travel time, especially around cities or rush hour. Be a patient and defensive driver.
Consider part of your itinerary for self-driving and other parts using Taiwan's frequent public transit for fewer complications.
Carry an information sheet with your name, contact details, blood type, allergies, etc. in both English and Chinese in case of emergencies.
If you take the necessary precautions, self-driving in Taiwan can absolutely be done and make for an exciting adventure exploring the island at your own pace. But for many foreign tourists, Taiwan's public transit and tour options may feel safer, more convenient and less stressful for getting around, especially upon first visit. It depends on your confidence level as an international driver and sense of adventure!
6. Money Tips
Taiwan Currency
The official currency of Taiwan is the New Taiwan Dollar (TWD) and the currency symbol is NT$. US$1 is equal to about NT$31 (as of July 2023). It's advisable to carry some local currency, particularly smaller denomination notes and coins, for smaller transactions and in places that may not accept credit cards or other electronic payment methods.
Currency exchange can be done at airports, banks, and authorized currency exchange offices in Taiwan. Many ATMs also accept international cards for cash withdrawals, providing a convenient way to obtain local currency.
Remember to notify your bank or card issuer about your travel plans to ensure a smooth usage of your credit or debit cards while in Taiwan.
Taiwan's electric current
In Taiwan, the standard electric current used is 110 volts AC at a frequency of 60 hertz (Hz). This is the same as the electrical system used in North America and some other countries. However, it's important to note that some areas in Taiwan, especially in newer buildings or certain industrial settings, may have access to 220 volts for specific equipment or appliances. It is always advisable to check the voltage requirements of your devices before using them in Taiwan or to use voltage converters if necessary.
What would be a suitable daily budget? How much money should I carry with me?
Here are some recommendations for budgeting your daily expenses in Taiwan:
Food: NT$400-1,000 per day (~US$13-33)
- Night market or street food: NT$30-120 per item
- Meals at casual restaurants: NT$200-350 per meal
- Bubble tea or coffee: NT$60-80 each
Public Transit: NT$200-500 per day (~US$7-17) depending on how much you use trains/buses. Buy an EasyCard or tourist pass to save.
Accommodation: NT$800-3,000 per night (~US$27-100) based on hostel dorms to 4-star hotels. Private rooms for 2 start around NT$1,600.
Attractions: NT$200-500 per day (~US$7-17) for most standard admission fees. Some temples/parks are free. All-inclusive tourist passes also available.
Shopping: NT$300-1,000 per day (~US$10-33) depending on how much you shop. Night markets are most budget friendly.
In total, you can budget NT$1,500 to 3,500 per day (around US$50 to 115) for basic expenses as a solo traveler in Taiwan including simple meals, public transit, and a few paid attractions or shopping. For a comfortable trip, budget at least NT$2,500 per day (US$83). Prices are a bit higher in Taipei.
To be safe, I would recommend bringing at least NT$3,000-5,000 per day (US$100 to 165) of cash for your daily budget. Have more on hand if planning to dine at nicer restaurants, take taxis, join tours or go shopping often. Many stores and restaurants also accept credit/debit cards but carry cash for night markets and smaller stores.
Exchange some of your cash to NT$ once arriving in Taiwan for convenience since fewer places accept USD. ATMs are widely available to withdraw additional cash as needed using a debit card but may charge small fees.
What payment methods are accepted?
Credit card acceptance in Taiwan is relatively widespread but cash is still commonly used for many small purchases. To summarize:
Major credit cards like Visa, Mastercard and American Express are accepted at most hotels, restaurants, shops and attractions in Taiwan, especially in larger businesses. Some may accept JCB and Unionpay cards as well.
However, cash is preferred or required at places like:
Night markets - Most vendors only take cash. Have small bills on hand.
Street food stalls - Cash only for snacks and meals from roadside stands.
Taxis - While some taxis accept cards, cash is the most commonly used payment.
Public Transit - Cash only accepted to pay fares for trains, buses, ferries, etc. Buy an EasyCard to avoid needing cash.
Small businesses - Many individual or family-run stores prefer cash transactions.
ATMs to withdraw cash are widely available in towns and cities should you need more money. Banks may charge small withdrawal fees for international cards. Check with your home bank.
Newer payment options like Apple Pay, Google Pay and Samsung Pay have limited acceptance mainly at larger chains. Cash or cards are still far more commonly used.
To enjoy your time in Taiwan without finance hassle, we would recommend:
Bring both credit/debit cards as well as cash (New Taiwan Dollars).
Exchange at least NT$3,000-5,000 per day into cash for food, transit and small purchases. More for shopping days.
Withdraw extra cash from ATMs if needed using a debit card and bank card that reimburses ATM fees if possible.
Larger hotels, shops and restaurants will likely accept credit cards but always have cash as backup.
Avoid relying entirely on credit/debit cards or digital payments alone. Cash is still king for many transactions!
By being prepared and carrying a mix of payment methods, you'll have access to funds no matter where your adventures take you around Taiwan!
Staying connected in Taiwan
SIM cards: One of the most convenient options is to purchase a prepaid SIM card upon arrival at the airport or from local telecom providers' stores throughout Taiwan. Companies like Chunghwa Telecom, Taiwan Mobile, and FarEasTone offer tourist-specific SIM card packages with data, voice minutes, and sometimes international calling options.
Portable Wi-Fi devices: Renting a pocket Wi-Fi device is another popular option. These devices provide a personal Wi-Fi hotspot that can be used with multiple devices simultaneously. Many rental services offer pick-up and drop-off services at airports or hotels.
Public Wi-Fi: Taiwan has abundant public Wi-Fi hotspots. Major cities, transportation hubs, shopping malls, and tourist attractions often provide free Wi-Fi. Look for signs displaying "iTaiwan" or "Wi-Fi" logos for access. However, keep in mind that public Wi-Fi may not always be available or secure.
Roaming with your existing provider: Check with your mobile carrier to see if they offer roaming services in Taiwan. Be aware that roaming charges can be expensive, so it's recommended to get an international roaming plan or data package suitable for your needs.
Roaming with your existing provider: Check with your mobile carrier to see if they offer roaming services in Taiwan. Be aware that roaming charges can be expensive, so it's recommended to get an international roaming plan or data package suitable for your needs.
Remember to have your passport available for SIM card registration and activation, and ensure that your phone is unlocked and compatible with Taiwan's mobile network frequencies (GSM 900MHz and 1800MHz).
Have a wonderful trip to Taiwan, safe travels and enjoy all the excitement of your upcoming getaway to Taiwan. Looking forward to hearing about your adventures there after your return!
Feel free to ask if you have any further questions related to traveling in Taiwan. We are here to help!