Top 9 Family Vacation Destinations in China

When you are planning a family trip, the first thing that comes to your mind is: Mom and Dad would love a comfortable hotel, medium travel pace and cultural things. However, the kids are quite active. They love fun things, interesting stories and outdoor activities. Which destinations are you going to choose to spend quality time together?
Fortunately, China is such a big country that it can provide all the different types of activities to meet your various requests. I have searched far and wide to find destinations to suit your every taste. No matter if you are history fans, happy foodies, sports talents, animal lovers or shopaholics, you all can find your favorites in the following best family vacation destinations.
1. Beijing: Great Wall and Emperor's Life
Beijing is always on the top of the list when people are planning a trip to China. It's not only where the Great Wall and Forbidden City are located, but it is also the capital city where diverse culture exchange activities are available. Children can experience not only the wealth of the history of China, but also see the recent rapid development of this remarkable country.
Family-Friendly Activities: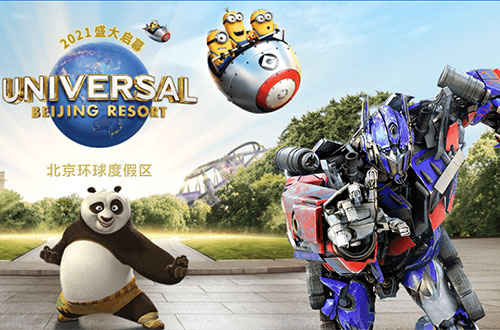 Great Wall Hiking: The Great Wall has different sections. No matter how old members of your family are (kids or seniors), you can always find an easy access section which is suitable for them.
The Forbidden City: This is the best place to tell your kids about the emperor's life in ancient China. Our tailor-made immersive activities will help them to have a deep understanding about Chinese history.
Universal Studio Beijing: As the biggest Universal Studios theme park on this planet, it will open to public in 2021. This will be another reason that the kids choose to visit Beijing.
2. Chengdu: Giant Panda and Jiuzhaigou National Park
Chengdu, known as the "Country of Heaven", "Country of Hot Pot" and "Country of Giant Pandas", is the best place in China that you can get close to the pandas. The extra different religious sites also make the city more attractive to both adults and kids. Furthermore, if you love the natural parks, the Jiuzhaigou National Park is only about a 1 hour flight from Chengdu.
Family-Friendly Activities:
Panda Keeper Program: It's the only chance in the China trip that both the kids and seniors can do this program together and get close to the giant pandas. Working as a panda keeper will be a life-long memorable experience.
Jiuzhaigou National Park: 'Back to Nature' is the best saying to describe this amazing park. The kids can have a walk in the park and admire the natural landscape.
A Hot-Pot Meal: Having a hot-pot meal in the hometown of hot-pot, you can get to experience the most authentic hot-pot. Remember to order no/less spicy option, even though you think you can eat "spicy" food.
3. Shaxi Ancient Town: Local Life Experience
Shaxi ancient town is located about 90km from Dali, Yunnan Province. It hasn't been a well-known old town until recent years. It's the off-the-beaten-track place where you can relax and escape from the city noise. The houses in this old town have a history of more than 600 years. The old bridge out of the town is another highlight. The culture exchange activities like cooking class, dancing class, and community farming will fulfill your travel experience in this town.
Family-Friendly Activities: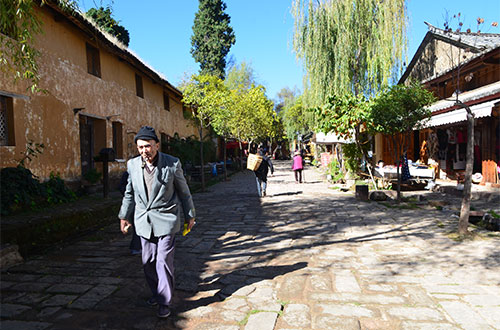 Explore the Old Town: It's such a relaxed walk in the old town and exploring the countryside out of the town.
Friday Market Visit and Cooking Class: It's the best chance to experience the local people's daily life and see their food market. You can buy your own materials and the teacher will tell you how to cook classic Chinese dishes.
Minority Dancing Class: Bai people are the minority people in this old town. They are quite good at dancing. They will teach you how to dance with their folk music.
4. Shanghai: Skyscrapers, Museums & Exhibitions, and Disneyland
Shanghai has many titles, and the most well-known one is 'the future of China'. You can find lots of skyscrapers in this metropolis, which is the character of this city. As the most developed city in China, you can experience the cultural diversity here. After Disneyland opened to the public in 2016, Shanghai became the top destination for kids.
Family-Friendly Activities:
Disneyland: Shanghai Disneyland is the biggest Disneyland Park in Asia. Your kids will fully immerse themselves in this happy land.
Museums & Exhibition Halls: There are many museums, galleries and exhibition halls in Shanghai. It's a great chance for the kids to learn about China's history, arts and technology development.
Shopping: Both adults and kids love shopping as well. No matter whether they like shoes, toys or souvenirs, they all can find their favorite stuff in the knockoff market.
5. Huangshan (the Yellow Mountains): National Park and Chinese Architecture
Huangshan city is only about 2.5 hours bullet train ride from Shanghai. It's where the Yellow Mountains are located. The Yellow Mountains are famous for their charming 'seas of clouds', pine trees, hot springs, and spectacular rock formations. Huangshan is also characterized by the Hui-style architecture.
Family-Friendly Activities: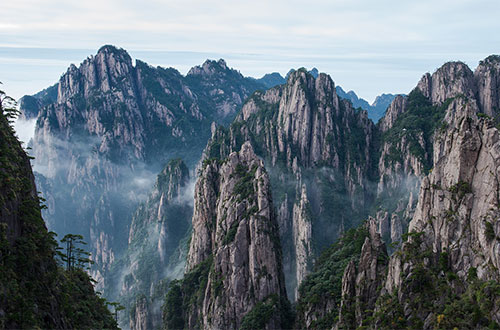 Hike on the Mountains: Even though a cable car is available, hiking on the mountains is very enjoyable as well. You can explore the peaks on your own. The sunrise and sunset are the extra highlights
Experience Handmade Huizhou Style Incense Pendant: With natural herbs as raw materials, you will make an incense pendant by hand.
Local Village Visit: Hui-style architecture is an important branch of the major Chinese ancient architecture. Wandering through such a graceful ancient building feels like walking into a Chinese ink-wash painting.
6. Guilin: Countryside Life and Outdoor Activities
People know Guilin because of the beautiful natural landscape. As for kids, Guilin is their paradise too. Obviously, they will enjoy sightseeing in the authentic countryside. But the outdoor activities are even more attractive. After seeing the political spots in Beijing and experiencing history in Xi'an, they will love the interesting and adventure activities in Guilin and Yangshuo.
Family-Friendly Activities: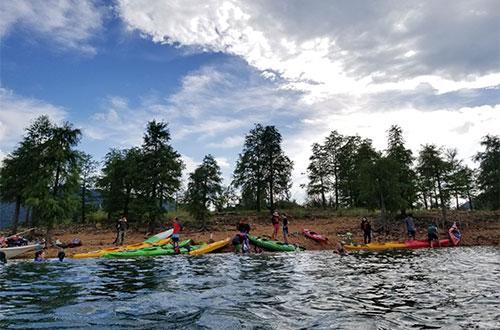 Hike on the Rice Terraces: It's a great chance to visit a local minority village. Hike on the rice terraces and get to know about Chinese agriculture.
Outdoor Activity Experience: No matter if your interest is biking, hiking, rafting, kayaking, rock climbing, or cave exploring, you can enjoy all of those activities in just one beautiful town: Yangshuo.
Culture Exchange Program: There are different types of culture exchange activities you can join in, such as Taiji learning, Chinese cooking class, Chinese painting & calligraphy class, and Chinese folding fan making.
7. Xi'an: Experience the Rich History
Xi'an, an ancient capital city for 13 dynasties in China's history, also played an important role in the ancient Silk Road. It's a must see destination for the first time visitor. There are more things you can see than just the Terracotta Warriors and Horses Museum. The Shaanxi History Museum is another place where you can learn about China's long history. And the Mountain Hua is a real adventure if you want the kids to experience the Plank Walk.
Family-Friendly Activities:
Visit the Terracotta Warriors and Horses Museum and Learn How to Make Figurines: The museum is a must see in Xi'an, it is like a history book of the Qin Dynasty. The kids will admire the extraordinary handcraft skills from the learning experience of how to make a terracotta figurine.
Xi'an City Wall with Bicycle: The highly recommended activity by the parents, as it's quite safe to cycle on the city wall.
8. Guangzhou: Safari Park and Foodie Tour
Located in southern China, Guangzhou is also known as Canton. It is the capital and most populous city of Guangdong Province. Guangdong Cuisine is one of the most famous eight regional cuisines in China. You can find numbers of yum cha restaurants on the street. It's the reason that one of the titles of Guangzhou is 'heaven for foodies'.
Family-Friendly Activities: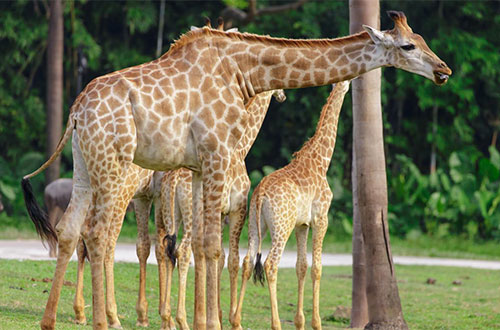 Guangzhou Chimelong Safari Park: This is one of the largest wildlife theme parks in the world, which includes Chimelong Paradise, a Safari Park, a Water Park, a Bird Park and an International Circus. The park features a huge collection of roaming wildlife which can be observed from the comfort of self-driven vehicles.
Food Tour: Cantonese yum cha is another highlight of the food experience in Guangzhou. You can try dozens of different pastries for breakfast. This is the place where dim sum originally comes from.
9. Hua Quan Village: Art and Culture Center
Located in the heart of Jiangxi province in Eastern China, Hua Quan Village is nestled into the countryside near Longhu Mountain, known to be the cradle of Taoism and one of China's most remarkable UNESCO World Heritage Sites.
In this village, you can immerse your creative self in art and culture. With over 50 acres to call home, this thriving art village includes museums, open studios, and one of the largest collections of outdoor murals in the world. Discover the artist in you through classes in painting, ceramics, calligraphy, and more. Hua Quan Village has created an educational center equipped with 21 studios and a wellness and culture park.
Family-Friendly Activities: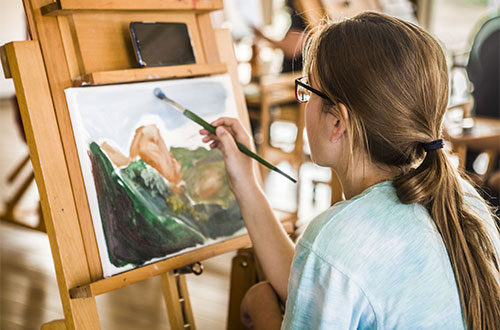 Calligraphy Arts and Chinese Painting Learning: It's a great chance to learn the art form of Chinese calligraphy and painting. The kids will learn the skills of how to use a Chinese brush pen and draw a classic Chinese painting.
Sand Bottle Craft: Making a sand bottle is a very calming form of art. The process uses unique different techniques to fill colored sand into glass bottles of various shapes and sizes.
Community Farming: The kids will have a chance to help the local farms for some activities based on different seasons, such as bamboo shoot harvesting, strawberry picking, rice transplanting, farmland preparation, and spring bamboo shoot harvesting.
---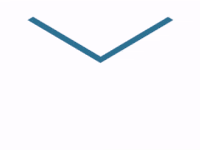 Have a question?
OR
Are you eager to begin your Chinese cultural journey?
Drop us a line and we will promptly connect you with our leading China expert!