Where is Sanya?
Sanya is a coastal city located in the southern part of Hainan Province, China. Hainan is an island province in the South China Sea and is the country's southernmost point.
Best Time to Travel to Sanya
The best time to travel to Sanya, is generally during the months of November to April. These months offer pleasant weather with warm temperatures and relatively low humidity compared to the rainy season, which typically occurs from May to October. This will allow tourists to fully enjoy the beaches, outdoor activities, and sightseeing. Keep in mind that Chinese New Year (usually in January or February) can be crowded due to the peak travel season.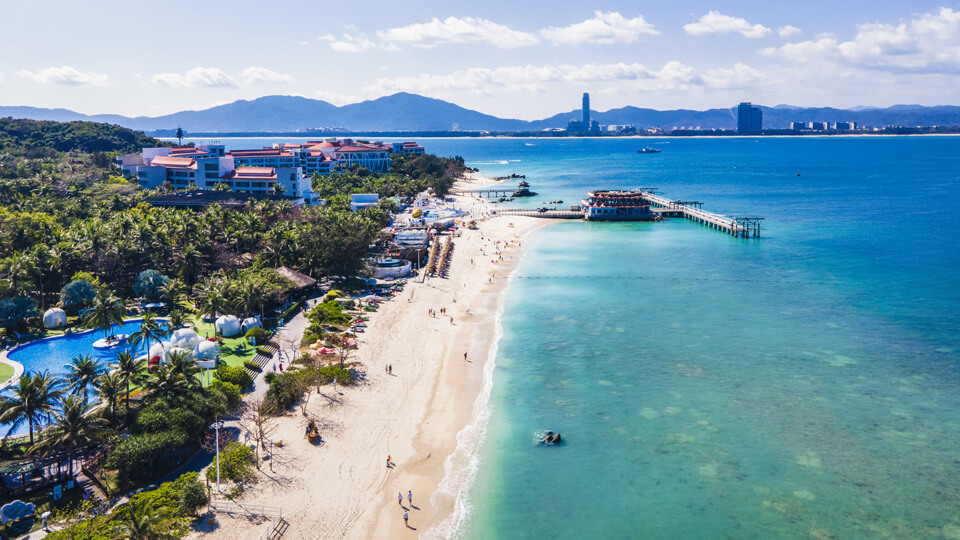 Where to Go Surfing in Sanya?
With its tropical climate, perfect waves and plenty of beaches, Sanya is becoming a go-to destination for surfing enthusiasts. Here are some spots you should consider if you plan to ride the wave in Sanya:
Riyue Bay (Sun and Moon Bay)
About 87 km north of Sanya, Riyue Bay is the capital of surfing in China. There are 5 surf spots along the towns 2 km beach. They range from beginner beach breaks to shallow reef breaks and a reversed J-Bay. It hosts surf competitions and offers consistent waves suitable for both beginners and experienced surfers.
Dadonghai Beach
This bustling beach in Sanya is favored by tourists and locals alike. While the surf conditions might not be consistent, it is still a convenient option for surfers due to its proximity to the city and availability of surfing schools and rental shops.
A crescent-shaped sandy beach about 30km northeast of Dadonghai, Houhai Bay is a popular place for beginner and intermediate surfers. Now Houhai Bay is home to some 45 clubs offering classes and training.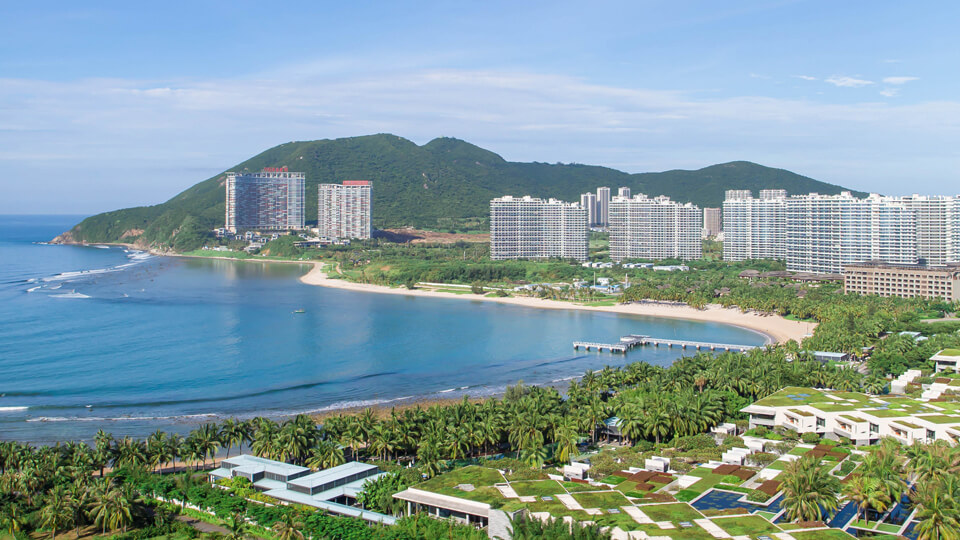 Houhai Bay
A crescent-shaped sandy beach about 30km northeast of Dadonghai, Houhai Bay is a popular place for beginner and intermediate surfers. Now Houhai Bay is home to some 45 clubs offering classes and training.
Yalong Bay
Renowned for its luxury resorts and beautiful beaches, Yalong Bay can offer some decent surf conditions when the swell is right. This spot is best for beginner surfers looking for a more relaxed and upscale beach experience.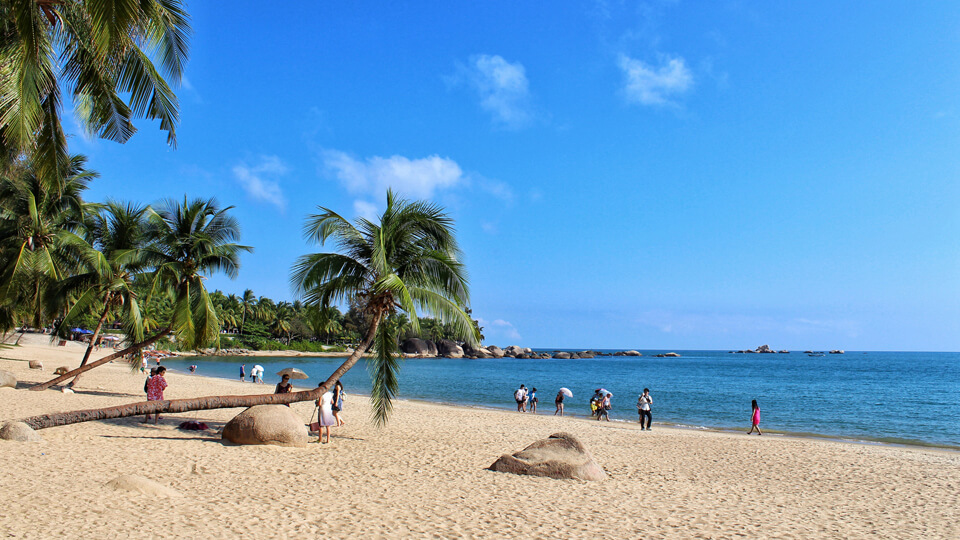 What Are the Top Attractions in Sanya?
Yalong Bay
Known as the "Oriental Hawaii," this 7.5-kilometer crescent-shaped beach features crystal-clear waters, white sands, and swaying palm trees, making it the perfect spot for sunbathing, swimming, and water sports.
Nanshan Temple
This Buddhist temple complex, famous for its 108-meter-tall Guanyin statue, offers visitors an insight into Chinese spiritual culture and history.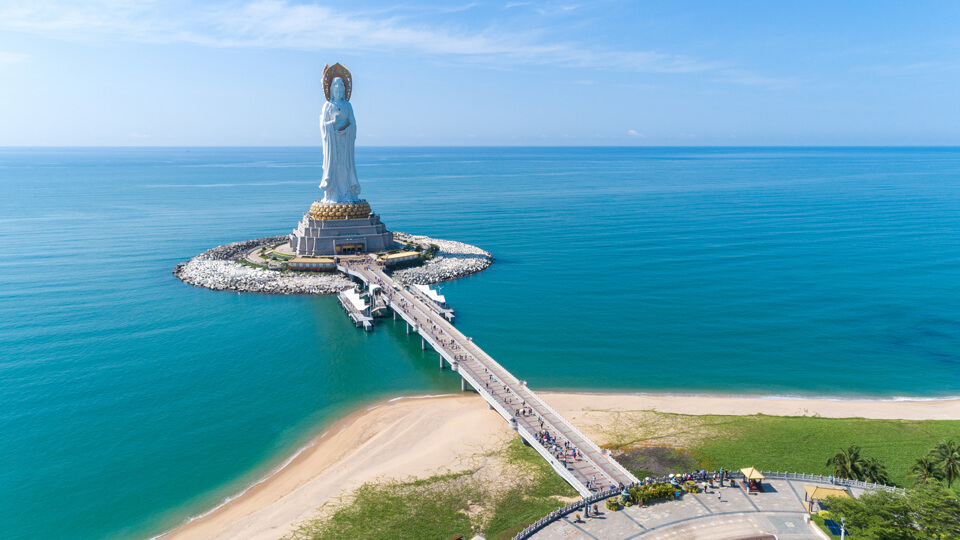 Wuzhizhou Island
A popular destination for water sports, snorkeling, and scuba diving, with abundant coral reefs and marine life.
Luhuitou Park
A scenic park featuring a panoramic view of Sanya city and the coastline, walking trails, and the famous "Deer Turning Back" statue.
The End of the Earth (Tianya Haijiao)
This spot is steeped in local legends and features beautiful rock formations and stunning sea views.
Binglanggu Li and Miao Cultural Heritage Park
It is dedicated to preserving and showcasing the rich cultural heritage of the Li and Miao ethnic groups. The park is divided into three main areas, spanning over 333 acres, offering visitors a unique opportunity to experience the traditional customs, folk art, and natural beauty of these indigenous communities.
Yalong Bay Tropical Heaven Forest Park
This hillside park offers a refreshing escape from the bustling city, surrounded by lush tropical vegetation and landscapes that provide a perfect blend of tranquility and adventure.
Nanwan Monkey Island
This protected reserve spans an area of about 10 square kilometers and is home to more than 2,500 macaque monkeys, which are the main attraction of the park. It offers a one-of-a-kind experience, allowing guests to observe, interact, and appreciate the fascinating world of macaque monkeys while supporting their conservation.
Yanoda Rainforest Cultural Tourism Zone
This expansive rainforest park stretches over an area of about 45 square kilometers, offering visitors a magnificent blend of lush tropical landscapes, vibrant flora and fauna, and insightful cultural experiences.
Where Should You Stay in Sanya? Dadonghai, Yalong Bay or Sanya Bay?
Each of the three bays in Sanya— Dadonghai, Sanya Bay, and Yalong Bay— has its own unique appeal, making it difficult to determine an overall best. Your choice will depend on the type of experience you're seeking:
Advantages
Disadvantages
Dadonghai
Plenty of shopping places
Easy to find restaurants
Moderate hotel prices
Beach quality is not as high as Yalong Bay
Less exclusive than Yalong Bay
Sanya Bay
Affordable hotel prices
Moderate exclusivity
Fewer shopping places compared to Dadonghai
Less restaurant options than Dadonghai
Lower beach quality compared to Yalong Bay
Yalong Bay
High-quality beaches and hotel
Exclusive area
Limited shopping places
Higher hotel prices
Moderate restaurant options
What are the Most Recommended Hotels of Deluxe, Comfortable and Tourist Class in Sanya?
Here is a selection of hotels in Sanya, categorized as deluxe, comfortable, and tourist class to help you find the perfect accommodation based on your preferences and budget:
Deluxe (5-star) Hotels
The Sanya Edition: A luxury hotel with stylish rooms, private beach, and multiple pools that offer a serene, elegant atmosphere.
Rosewood Sanya: Located in the heart of Haitang Bay, this luxury hotel features spacious rooms, an infinity pool, and exceptional dining options.
The Ritz-Carlton Sanya, Yalong Bay: A magnificent resort with private villas, a spa, and multiple dining choices that provide a luxurious and tranquil retreat.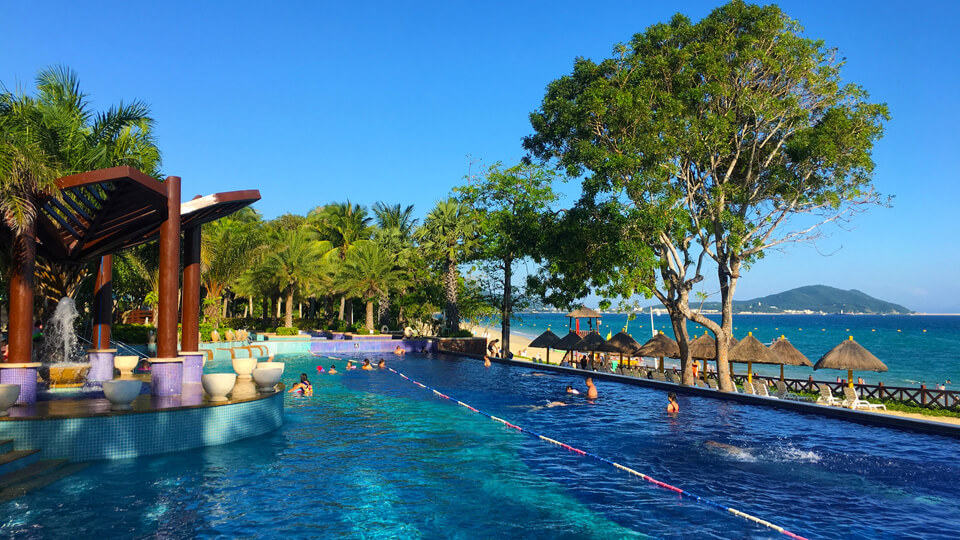 Comfortable (4-star) Hotels
Ocean View Resort Yalong Bay: A family-friendly hotel with modern rooms, a pool, and excellent facilities tailored for a comfortable stay.
DoubleTree Resort by Hilton Sanya Haitang Bay: Offering a private beach, a large outdoor pool, and well-appointed rooms, this comfortable resort caters to both leisure and business travelers.
Phoenix Island Resort Sanya: An affordable hotel on the scenic Phoenix Island, featuring simple rooms, outdoor pools, and access to the island's amenities.
Tourist Class (3-star) Hotels
Sanya Jinjiang Baohong Hotel:Offers comfortable rooms, convenient amenities, and a convenient location for exploring the city and nearby attractions. Visitors can enjoy the nearby beaches, indulge in local cuisine, and explore the tropical landscapes and cultural sites that Sanya has to offer.
The Sanya Summer Beach Seaview Hotel: With its prime location near the beach, the hotel offers guests stunning views of the ocean and convenient access to the sandy shores.
Gentl Grown Sanya Seashore: Well located at the Dadonghai area. You just need 10 mins' walk to the beach.The is known for its stylish and modern design, offering comfortable and well-appointed rooms.
Local Cuisine in Sanya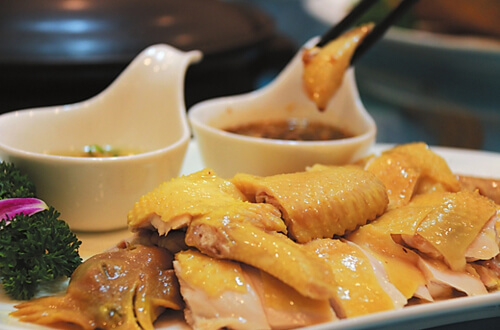 Savor the local culinary delights with these popular dishes:
Wenchang Chicken: A traditional Hainan dish made with tender, free-range chicken accompanied with dipping sauces.
Jiaji Duck: A tasty dish of roasted duck marinated in a blend of spices.
Hele Crab: A popular seafood dish featuring fresh crabmeat cooked in a variety of ways.
Danjia Salted Fish Casserole: A traditional Hainan dish that has been passed down through several generations. It originated from the Dan people, a subgroup of the Li ethnic minority living in Hainan, who were primarily fishermen. The dish is known for its unique flavors, combining saltiness, spiciness, and umami, making it a popular choice among locals and visitors.
Vegetarian food in Sanya Nanshan Temple: Nanshan temple is a famous Buddhist temple complex visited by both pilgrims and tourists. Apart from its religious and scenic appeal, the temple is known for offering vegetarian food to visitors, reflecting traditional Buddhist dietary principles. Though specific dishes can vary, here's an example of a delicious vegetarian dish inspired by Sanya Nanshan Temple's cuisine: Stir-fried Tofu and Vegetables.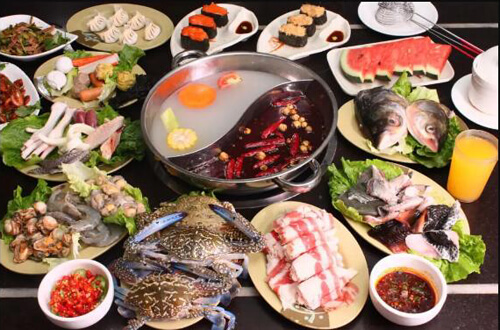 Sanya Seafood Hot Pot: It is a delightful culinary experience that showcases the fresh seafood available in the coastal city of Sanya. You'll taste local seafood like shrimp, crab, snail, shellfish and fish.
Transportation to And from Sanya
Sanya Phoenix International Airport (SYX) is the main gateway to the city, offering flights to and from all major cities in China, as well as international flights to Moscow, Seoul, and Hong Kong.
You can also fly to Haikou Meilan International Airport (HAK) then take taxi, bus or bullet train to Sanya.
To travel within Sanya, you can use taxis, local buses, or rent a car or a bike. Always negotiate taxi fares before starting your trip, as many cabs might not use meters.