Introduction
Hainan Island is located at the southernmost point of China. It faces Guangdong Province across Qiongzhou Strait in the north, the Philippines, Brunei and Malaysia in the southeast and south, and Beibu Gulf in the west opposite Vietnam. Hainan is a regional center connecting Northeast Asia and Southeast Asia, and is a maritime gateway between the Indian Ocean and the Pacific Ocean.
Hainan Island has a land area of 35,400 square kilometers and a sea area of about 2 million square kilometers. It is China's second largest island after Taiwan. Its provincial capital is Haikou, known as the "Coconut City". Another famous city is Sanya, which holds the most beautiful beaches in China. The history of Hainan Island can be traced back to 10,000 years ago, when "Sanya Man" had been living there. Ethnic minority Li people are the indigenous people of Hainan Island. In the Qin Dynasty (214 BCE), Hainan was a part of Xiang County and was controlled by Emperor Qinshihuang.
Located in the tropical zone, there are no distinct four seasons in Hainan. The annual average temperature is 22-27°C/71.6-80.6°F. The ultraviolet rays are very strong. Sunscreen and sunglasses are essential gear if you are planning to visit Hainan.
Basic Facts
English Name: Hainan Island
Chinese Name: 海南岛 (Hǎi Nán Dǎo)
Government: Province
Location: Southernmost China
Area Code & Zip Code:
Area Code: 0898; Zip Code: 570000 - 572900
Airports: Haikou Meilan International Airport (HAK), Sanya Phoenix International Airport (SYX), Qionghai Bo'ao Airport (BAR), Sansha Yongxing Airport (XYI)
Major Railway Stations:
Haikou Railway Station, Haikoudong Railway Station, Sanya Railway Station
Major Cities:
Haikou, Sanya, Sansha, Danzhou, WuZhishan, Qionghai, Wenchang, Wanning, Dongfang
Population: about 9.4million
Best Time to Visit
The best time to visit Hainan Province is from October to April. The weather during this period is fine and the temperature is not that high compared with the period from May to September, which is the typhoon season. It rains a lot from May to September, with 70 to 90 percent of the annual precipitation. If you visit Hainan during October to April, there is a high probability of sunny days.
What to See
1. Wuzhizhou Island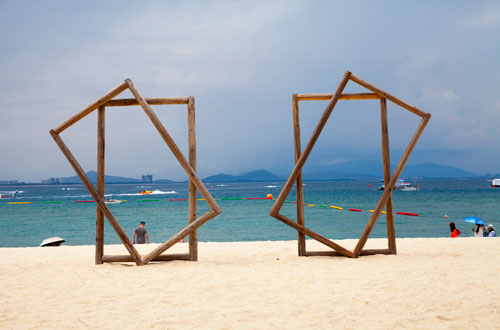 Wuzhizhou Island is located about 30km away from Sanya City. The island is not large and has an area of 1.48 square kilometers. You can find soft sand, blue seawater and a variety of activities on the sea (banana boat, paragliders, diving, and motorboat) on Wuzhizhou Island. If you like outdoor water entertainment, Wuzhizhou Island is the place for you.
2. Tropical Beaches
As a tropical island surrounded by the South China Sea, Hainan holds the most beautiful beaches in China. With blue skies, fine weather, white sand and clear seawater, Hainan has all you need and you must go there to experience it for yourself. The following places have the best beaches in Hainan, such as Yalong Bay Beach (Sanya), Sanya Bay Beach (Sanya), Shimei Bay Beach (Wanning), Qizi Bay Beach (Changjiang), Holiday Beach (Haikou), Perfume Bay Beach (Lingshui), and Moon Bay Beach (Wenchang).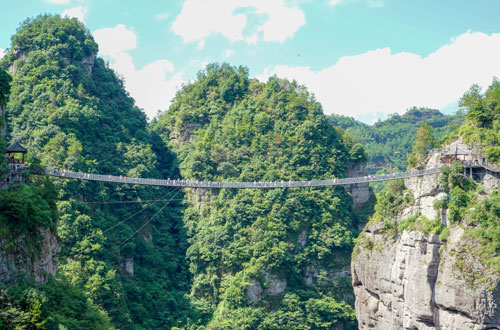 3. Yalong Bay Tropical Paradise Forest Park
Located 20km from Sanya City, Yalong Bay Tropical Paradise Forest Park is a large mountain area facing Yalong Bay. You can take the golf cart between the attractions in the forest park. And then take in a bird's eye-view of Yalong Bay once you get to the Canghai Pavilion on the mountain top.
Recommended Attractions
| | | |
| --- | --- | --- |
| Nanshan Buddhism Culture Park (Sanya) | Haikou National Volcano Geopark | Sanya Romance Park |
| Sanya Jiefang Rd. Pedestrian Street | Biking along the coast in Sanya | Local Seafood Markets |
| Yanoda Tropical Rainforest Park (Sanya) | Haikou Mangrove Forest | Dongjiao Coconut Forest (Wenchang) |
How to Get There
Hainan Island has comprehensive transportation systems that link to mainland China and the world. Haikou Meilan International Airport (HAK) and Sanya Phoenix International Airport (SYX) are the two major airports. Hainan Island Ring High Speed Railway links most of the major coastal cities and towns. You can circle the island in about 4.5 hours by high-speed train. In addition, the Cross Sea Tunnel of Qiongzhou Strait Project has been started since July 2019. In the not too distant future, passengers will be able to take the high-speed train or drive directly from China mainland to Hainan Island easily instead of taking a ferry (1h 40mins).
How far is Haikou/Sanya from Major Cities
| Cities | Distance from Haikou/Sanya (km) | By Air to Haikou/Sanya |
| --- | --- | --- |
| Beijing | 2300 / 2510 | 3hrs 50mins / 4hrs 10mins |
| Shanghai | 1690 / 1890 | 3hrs / 3hrs |
| Guangzhou | 475 / 685 | 1h 20mins / 1.5hrs |
| Hong Kong | 446 / 650 | 1.5hrs / 1hrs 40mins |
| Xi'an | 1625 / 1800 | 3hrs / 3hrs |
| Chengdu | 1345 / 1450 | 2.5hrs / 2.5hrs |
| Wuhan | 1260/ 1465 | 2.5hrs / 2hrs 40mins |
| Guilin | 590 / 775 | 1.5hrs / 1h 40mins |
| Shenzhen | 460 / 660 | 1.5hrs / 1.5hrs |
| Kunming | 965 / 1012 | 2hrs / 2hrs |
Hainan 59 Country Visa-free Entry Policy
As an International Tourism Island, China's largest Special Economic Zone and largest Free Trade Pilot Zone, Hainan Province has implemented a 30-day Visa-free Entry Policy for travelers from 59 eligible countries since May 1st, 2018. Here are the application requirements.
1. Applicable countries: currently, there are 59 countries eligible for Hainan Visa-free Entry Policy;
| | |
| --- | --- |
| Europe | Albania, Austria, Belarus, Belgium, Bosnia and Herzegovina, Bulgaria, Croatia, Cyprus, Czech Republic, Denmark, Estonia, Finland, France, Germany, Greece, Holland, Hungary, Iceland, Ireland, Italy, Latvia, Lithuania, Luxembourg, Macedonia, Malta, Monaco, Montenegro, Norway, Poland, Portugal, Romania, Russia, Serbia, Slovakia, Slovenia, Spain, Sweden, Switzerland, the United Kingdom and Ukraine |
| America | Argentina, Brazil, Canada, Mexico, Chile and the United States |
| Oceania | Australia, New Zealand |
| Asia | Brunei, Indonesia, Japan, Kazakhstan, Malaysia, Philippines, Qatar, Singapore, South Korea, Thailand and the United Arab Emirates |
2. Travelers from those 59 visa-free entry eligible countries may travel from or through Hong Kong or any other places outside Mainland China with a direct flight to Hainan.
3. The maximum length of stay for visa free travelers in Hainan is 30 days.
4. Travelers must register with a Hainan travel agency before arriving.
5. Travelers who need to travel to other parts of China must apply for a visa.
6. Travelers from Singapore, Japan, Brunei, the United Arab Emirates, Serbia, and Bosnia and Herzegovina holding a regular passport do not need to apply for a visa before entering China (including Hainan) for a set period of time.
7. For more detailed information about the Hainan 59 Country Visa-free Entry Policy, please consult our travel specialist.
Gourmet Food Recommendation
Seafood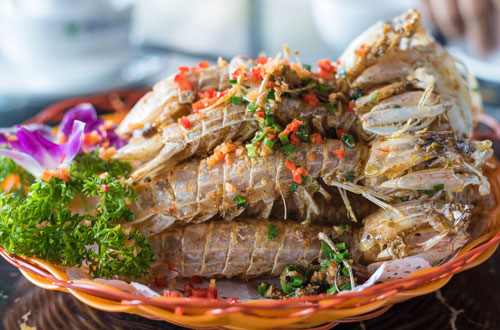 You can find a variety of seafood in the local markets and restaurants in Hainan. In the local seafood market, the seafood are pretty fresh and you can try to bargain for a good price. You may cook the seafood at your own apartment hotel (if there is a kitchen), or take the seafood to the local restaurant and they will cook the seafood for you with a reasonable processing fee. It is also a great experience to see the local's daily life in the market.
Coconut Rice
It is a typical Hainan gourmet food. The local people use the coconut shell as a container, filling it with sticky rice, coconut juice and milk. Then they cover the hole on the coconut and steam it for 1 hour. The steamed rice has a mixed natural sweet taste of coconut and milk. It is a very healthy food and helps to whet people's appetite.
Qingbuliang
It is the best dessert in Hainan. It is a mixture of coconut juice, milk, watermelon, mango, mung beans and red beans. Qingbuliang is very popular in southern China including Hong Kong, Macau, Hainan Island, Guangdong Province and Guangxi Province. It is considered to help to relieve the symptoms of extreme fatigue, poor appetite and constipation. You must try this dessert when you are in Hainan.
White Cut Wenchang Chicken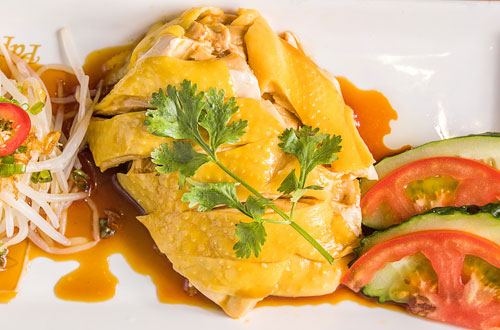 It is the most famous food in Hainan. In Wenchang City, this special kind of free-range chickens have the features of low fat content, tender meat, thin skin and high nutrition. White Cut Wenchang Chicken looks flat and without too much flavor, but you can enjoy the original taste of the ingredients, especially coupled with the homemade sauces. Besides, there are other ways to cook Wenchang Chicken, such as Coconut Chicken Soup, Hainan Chicken Rice, and Braised Wenchang Chicken.
Souvenirs and Shopping
Sea Pearls
Lingshui County of Hainan Island is one of the major salt water pearl production areas in China. The pearls produced in Lingshui County are called "South Pearl", which can only be found in China. The pearls are famous for their size, shape, brightness, and fine quality.
Coconut Foods
As it is a tropical island, coconut is the most popular fruit in Hainan. You can buy many kinds of coconut products in Hainan. There is not only fresh coconut juice, but also packed coconut candy, coconut cream powder, coconut biscuits, coconut cakes, and crispy coconut chips, etc. These products can be found in most of the local stores and markets.
Carvings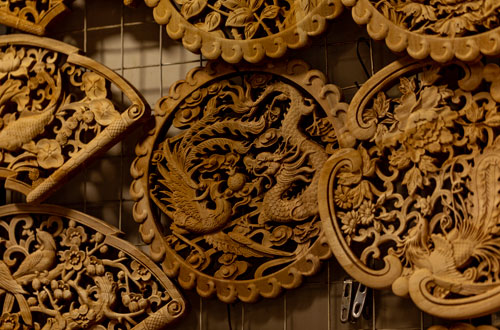 Hainan's forest coverage rate is over 62 percent. Wood carving workshops are mainly in Haikou, Wenchang, Qionghai and Danzhou. You can find those fine works at some temples, ancestral halls and old houses. Hainan wood carvings are exquisite and auspicious artistic works, known as "3D Paintings". Moreover, the root carvings, coconut carvings and shell carvings are also amazing local handicrafts in Hainan.