Hong Kong Weather in November
It is not cold in November in Hong Kong. The average temperature is between 20℃/68.0℉ and 24℃/75.2℉, and the lowest temperature is just 15℃/59℉. There are more cloudy days and less rainy days than last month.
| | | | | |
| --- | --- | --- | --- | --- |
| | Average Maximum | Average Minimum | Highest Maximum | Lowest Minimum |
| ℃ | 24 | 20 | 29 | 15 |
| ℉ | 75.2 | 68.0 | 84.2 | 59.0 |
Sunny Days: 2 days
Cloudy Days: 22 days
Rainy Days: 5 days
Overcast Days: 1 day
What to wear and bring?
Early November
It rains lightly in early November for a couple of days. The highest temperature can reach 28℃/82.4℉, so it is a little hot during this period. You are advised to wear a light coat, long sleeves and long pants. In this climate, carrying a bottle of water is also rather important.
Mid-November
The weather is similar to early November, and it is recommended that you wear shorts with a coat, or long sleeves. And it is necessary to carry rain gear.
Late November
The temperature in this period is lower than other periods, with the lowest temperatures being between 15℃/59.0℉and 21℃/69.8℉. You can wear light and comfortable clothing, like light coats, thin trousers and thin sweaters.
Historical Hong Kong Weather in November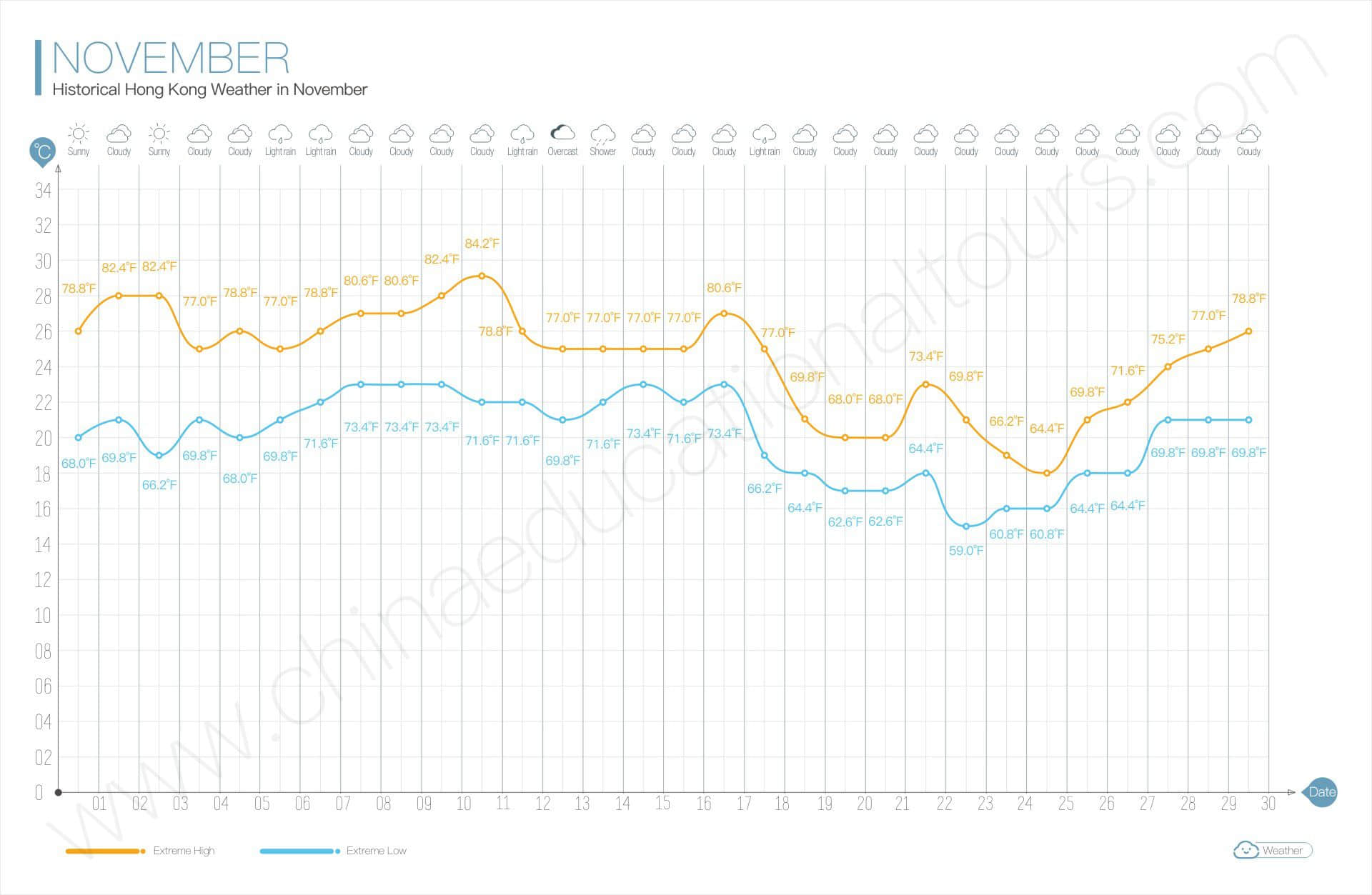 click here to enlarge
Have a question?
OR
Are you eager to begin your Chinese cultural journey?
Drop us a line and we will promptly connect you with our leading China expert!