Hong Kong Weather in January
It is mostly dry in January, there are about 20 cloudy days and it rains lightly for a couple of days. January is one of the coldest months in the year, with an average temperature between 13℃/55.4℉ and 18℃/64.4℉.
| | | | | |
| --- | --- | --- | --- | --- |
| | Average Maximum | Average Minimum | Highest Maximum | Lowest Minimum |
| ℃ | 18 | 13 | 24 | 7 |
| ℉ | 64.4 | 55.4 | 75.2 | 44.6 |
Cloudy Days: 24 days
Rainy Days: 7 days
What to wear and bring?
Early January
The temperature in early January is between 7℃/44.6℉ and 22℃/71.6℉, and it rains lightly for a couple of days. Because of the rainy days, the temperature goes down to 7℃/44.6℉. Therefore, it is recommended that you wear down jackets, sweaters and winter coats, and wear a hat and gloves when necessary.
Tips:
On Chinese New Year's day
It can be warmer on New Year's day, with a maximum temperature of 20℃/68℉, and it is usually a cloudy day, so you just need to wear a sweater with a coat, or a down jacket.
Mid-January
The temperature in this period is lower than in early January. But there are a few rainy days, and more cloudy days. You need to wear warmer clothing to resist the cold, such as a thick sweater with a down jacket, thick pants and shoes with soft soles.
Late January
The weather is similar to the middle of the month, but at the end of the month, the minimum temperature can reach 8℃/46.4°F and 9℃/48.2°F. It is necessary to keep warm and you need to wear padded or woolen clothes, a winter coat, or a leather jacket.
Historical Hong Kong Weather in January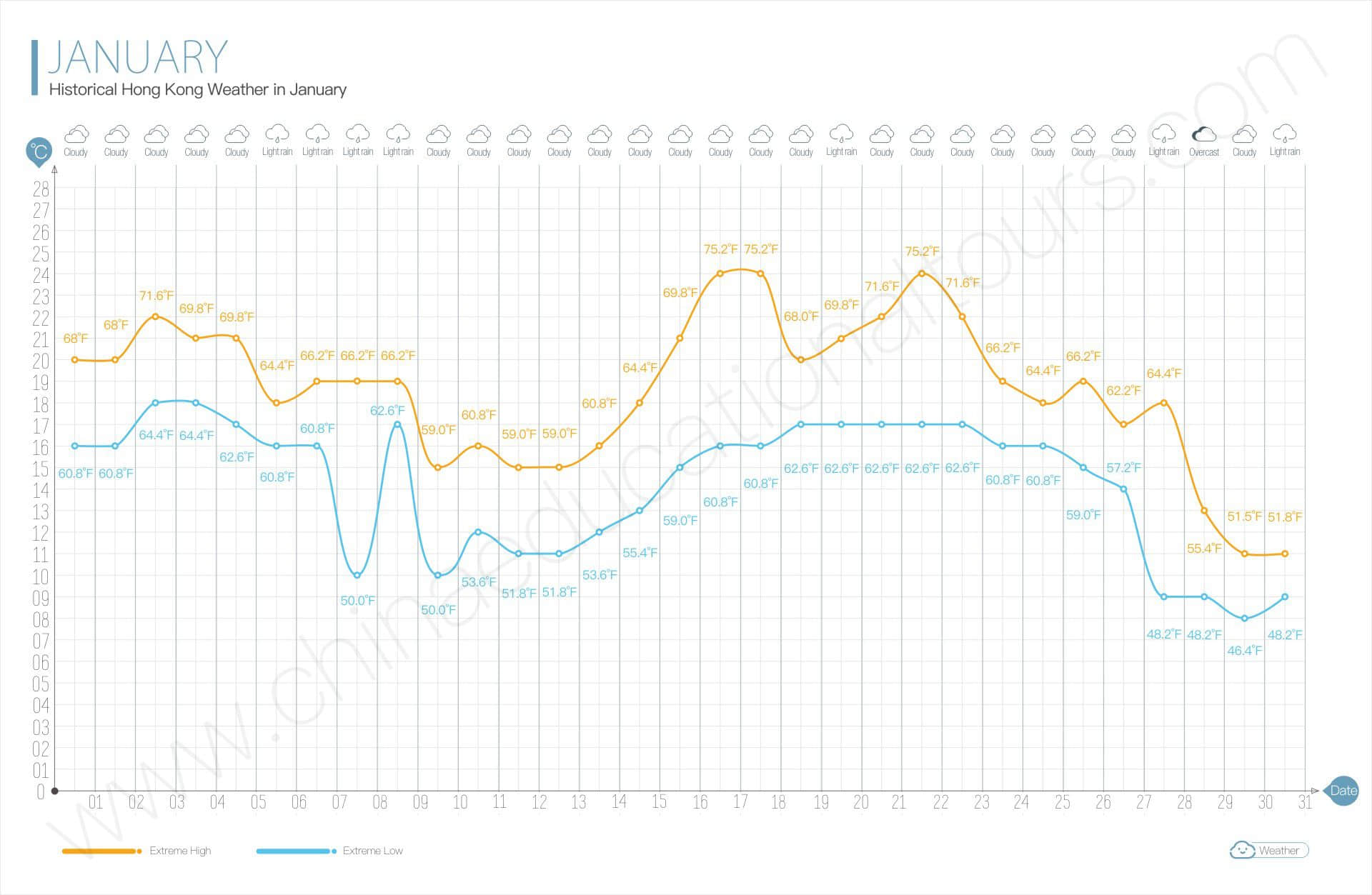 click here to enlarge
Have a question?
OR
Are you eager to begin your Chinese cultural journey?
Drop us a line and we will promptly connect you with our leading China expert!