Hong Kong Weather in February
The weather is warmer than last month, and the maximum temperature can rise to 25°C/77°F. But at the beginning of the month it is still cold, with minimum temperatures between 7°C/44.6°F and 10°C/50°F.
| | | | | |
| --- | --- | --- | --- | --- |
| | Average Maximum | Average Minimum | Highest Maximum | Lowest Minimum |
| ℃ | 18 | 13 | 25 | 7 |
| ℉ | 64.4 | 55.4 | 77.0 | 44.6 |
Sunny Days: 3 days
Cloudy Days: 18 days
Rainy Days: 1 day
What to wear and bring?
Early February
It is the coldest period in this month, as the highest temperature is around 13°C/55.4°F. It is recommended that you wear the warmest clothing you can, like a thick sweater with a down jacket, or a fur coat. Sometimes you need to wear woolen gloves and a hat.
Tips:
Weather on the Chinese New Year Festival
On New Year's Day, it's usually sunny on the day, with the temperature staying about 24°C/75.2°F. Because of the warm day, it is recommended to wear a T-shirt with jeans or a dress. But it is a little cold in the morning and evening, so wearing a light coat is a necessity.
Mid-February
The temperature begins to rise during this period, and is between 14°C/57.2°F and 25°C/77°F. But you also need to wear warm clothing, such as down jackets and thick sweaters.
Late February
It is similar to the middle of the month, and it may rain lightly for one or two days. You are advised to wear a down jacket with a sweater, or long sleeves with a fur coat.
Historical Hong Kong Weather in February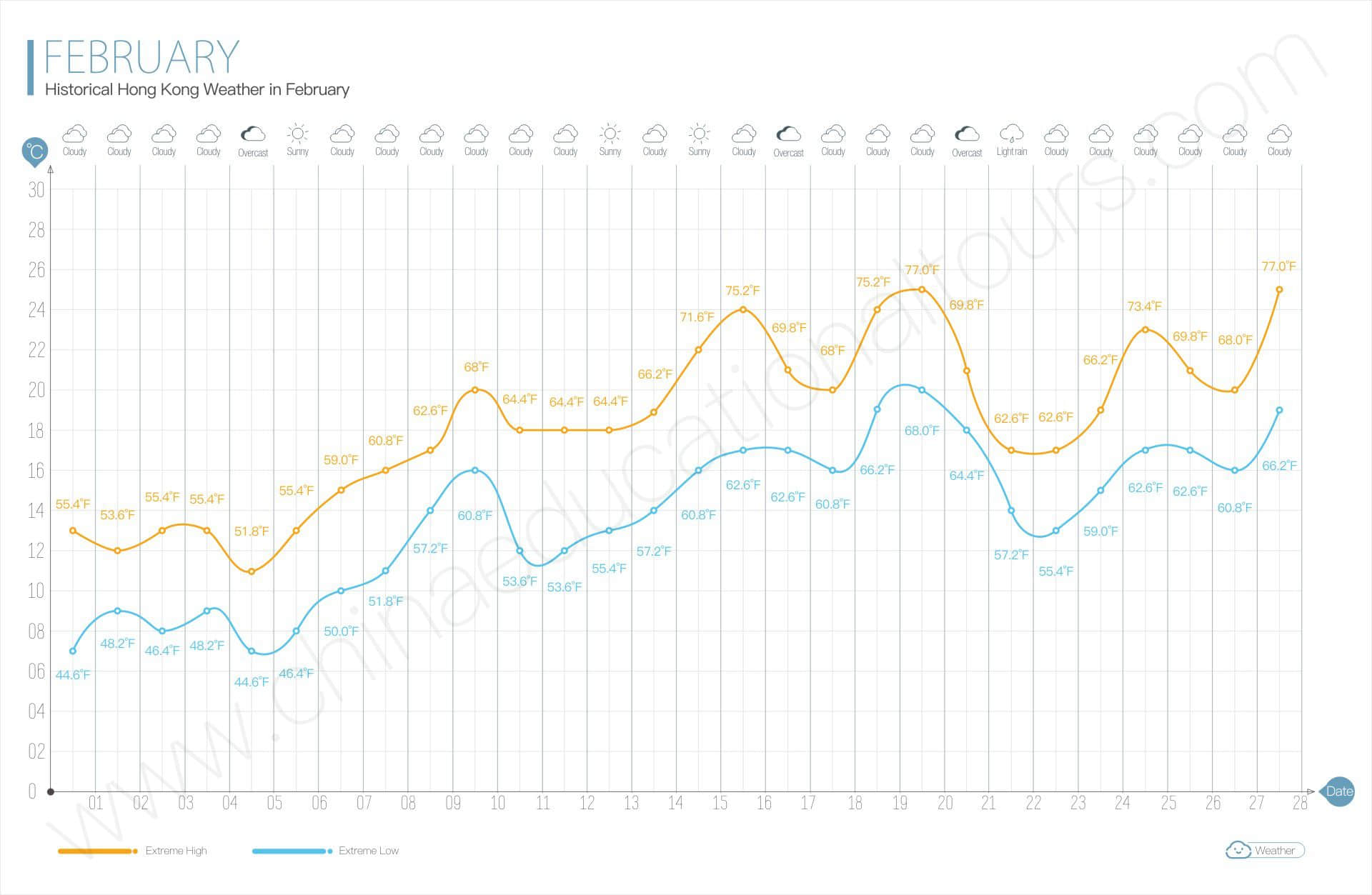 click here to enlarge
Have a question?
OR
Are you eager to begin your Chinese cultural journey?
Drop us a line and we will promptly connect you with our leading China expert!