Layover in Hong Kong International Airport (HKG)

Connecting to around 220 destinations worldwide by around 120 airlines and 71.5 million passengers handled in 2019, Hong Kong International Airport (HKG) is Asia's fourth-busiest airport and the world's 8th busiest airport. It has won over 80 "World's Best Airport" awards, and a lot of that has to do with its in-airport amenities and entertainment. Some travelers like it so much that they purposely plan their long-haul travels to touch down for several hours at HKG.
If you've got a layover at Hong Kong Airport, you're in for a great surprise!
Can I leave the airport during a layover in Hong Kong International Airport?
You do not need to apply for a transit visa if you are in direct transit by air and will not leave the airport transit area. But you need to check the visa info if you want to leave the airport during your layover.
Nationals of about 170 countries and territories may visit Hong Kong without a visa/entry permit for a period ranging from 7 days to 180 days. For more information on visa/entry permit requirements for visitors to the HKSAR, you may refer to the "Visit Visa / Entry Permit Requirements for the Hong Kong Special Administrative Region" webpage or the pamphlet "Do you need a visa for the HKSAR?" (ID290).
All Indian citizens with a valid passport must apply for a pre-arrival registration (PAR) visa when entering and staying in Hong Kong for up to 14 days.
You can visit the designated GovHK website to apply for PAR. After inputting the required information, the application will then be processed by the computer system automatically and the result will be made known instantly.
Luggage storage at Hong Kong International Airport
The luggage storage facility is on Level 5 of Terminal 1 (non-restricted area). It operates from 05:30 until 01:30 the next day, every day.
The hourly price is HK$12 per hour and daily price is HK$140 per day.
Storage fees are calculated based on storage duration, baggage dimension and weight. Anything that is stored for less than one hour is charged as an hour.
In any 24-hour period, storage is charged at the hourly rate or the daily rate, whichever is less.
Standard Storage Rates are applicable to items not exceeding 30kgs in weight or the total dimensions not exceeding 199cm (Length + Width + Height).
Additional charges will apply to oversize baggage with total dimensions exceeding 199cm (Length + Width + Height) or overweight baggage (exceeding 30kgs) by the number of times of normal rate when the dimension/weight exceeds the standard or part thereof. Please click here for more details on the additional charges.
Payment for the bag storage is to be made on collection. Cash, Visa, MasterCard, UnionPay, Alipay, WeChat Pay, Apple Pay and Samsung Pay are accepted.
Unless prior notification is received from the passenger, stored items not collected after 30 days from the check-in day as stated in the receipt will be regarded as unclaimed items and will be removed. The Airport Authority will not bear any liability thereof.
Hong Kong International Airport WiFi
All passengers can enjoy free WiFi at most of the seating and public areas in the passenger terminals. No registration is required.
Please follow these simple steps to get connected:
1. Disable data service (e.g. 3G or 4G) to avoid roaming service fee
2. Select one of the following SSIDs as your connection network
"#HKAirport Free WiFi"
"#HKAirport Hi-Speed WiFi"
3. Open the Internet browser and enter any valid website address. (Do not enter website address that starts with https://)
4. Click "Agree and Continue" after reading all terms and conditions
For more information or support, please refer to their leaflet or contact their service hotline at +852 2188 7799.
Money exchange and The Octopus Card
You can easily buy Hong Kong Dollars (HK$ or HKD) inside the Arrival Hall at the airport. It's worth noting that while most places such as restaurants and malls accept credit cards, you will still need cash to use in public transportation and taxis.
However, there is a quick and easy alternative to cash for the city's public transportation (bus, MTR, tram).
The Octopus Card comes pre-loaded with a value of HK$ 50. The card works in the MTR, buses, mini-buses, trams, and even some shops and restaurants. Once you have the Octopus Card, you won't need more than HK$ equivalent to US$ 50 to 75 in cash for your outing.
You can purchase a Tourist Octopus (Sold version) at the following stores within the Hong Kong International Airport on arrival:
A. 7-Eleven (Unit 5T058, Arrivals Meeters & Greeters Hall, or any 7-Eleven outlets)
B. China Travel Service (Counter A4, Arrival Hall, Terminal 1)
C. MTR Ticket & Octopus Selling Machine (Airport Station)
D. Relay (Arrivals Pre-Immigration, L5, Terminal 1, (Restricted Area))
Lounges and hotels in Hong Kong International Airport
All travelers can relax at the 24-hour pay-in lounges for a reasonable charge. The lounges offer a range of facilities including hot showers, food and beverage, beauty and massage services, internet, television, magazines and newspapers. Check your lounge membership programs, there is a chance that you can use one of the lounges free of charge.
Resting Lounges are located throughout the airport for passengers to unwind and rest before departure and during transit.
If sleeping in the airport does not appeal to you, there are hotels inside and near the airport:
Refreshhh by Aerotel – Location: Terminal 1, Airside, near Gates 35 and 60. Private "relaxation cabins" for single passengers that can rented in blocks of 1 – 6 hours. Cabins come equipped with showers. Accessible to Terminal 1 passengers in transit only.
Regal Airport Hotel – Connected to Terminal 1 via air-conditioned bridge. The hotel is a 2 minute walk or 1 minute drive via scheduled airport shuttle. Day rooms are available for use from 9:00AM to 9:00PM.
Novotel Hotel Citygate – (5 minutes from the airport) A free airport shuttle runs between the Car Park 1 at Terminal 1 (Bay 11-14) and the hotel every 20 minutes from 6:00AM to 11:40PM.
Sky City Marriott – (5 minutes from the airport) A free airport shuttle bus runs between the airport and the hotel between 5:00AM and 12:30AM. The shuttle can be found at Car Park 1, Terminal 1, Bay 11/12. If you require assistance, you can find an Airport Representative at B05 Marriott Counter in Terminal 1.
Top-Rated Tourist Attractions in Hong Kong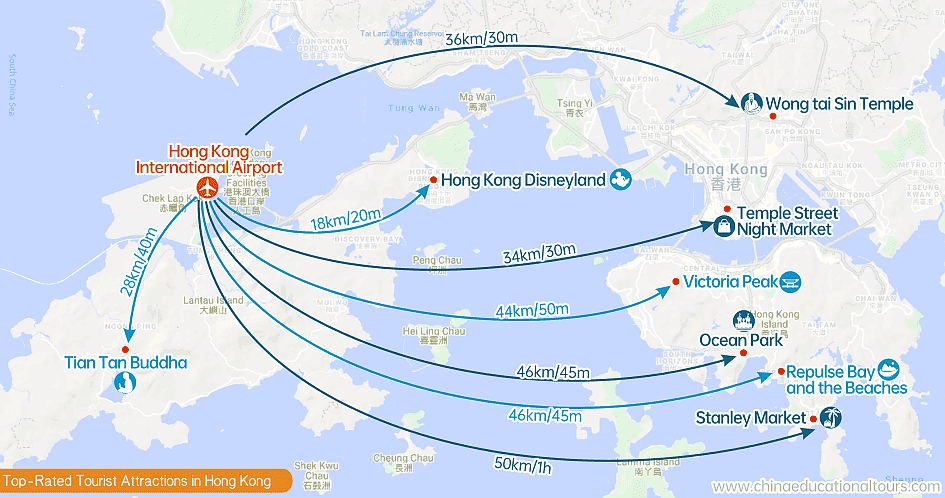 How to travel from Hong Kong airport to major attractions
| Name of Tourist Attraction | Distance(from airport) | Recommended visiting time | Why visit here? | How to get here? |
| --- | --- | --- | --- | --- |
| Hong Kong Disneyland | 18km(11.2mi) | 6hrs | A wonderful world filled with fun and fantasy | Take a taxi from airport to the park is the most convenient option |
| Big Buddha (Tian Tan Buddha Statue) | 28km(17.5mi) | 2hrs | The largest outdoor seated Buddha statue in the world | It is very far from city center. The easiest way is get to Tung Chung Town center first then change to Ngong Ping cable car, bus No.23 or taxi to get to the Buddha |
| Temple Street Night Market | 34km(21mi) | 1.5-2 hrs | This is a good place to taste eclectic foods and to shop for bargains on almost everything | Take MTR to Jordan and get out from Exit A then turn into Jordan Road and walk approx. 3 blocks. |
| Wong Tai Sin Temple | 36km(22.5mi) | 1.5hrs | This is where the city pays homage to some of Hong Kong's best known film stars, like martial arts Bruce Lee | Take MTR to East Tsim Sha Tsui Station |
| Victoria Peak (The Peak) | 44km(27.5mi) | 2 hrs | Great view on the peak, you can also experience the 132 year old Peak Tram | You can get to Garden Road Peak Tram Lower Terminus by bus 15C or get off at MTR Central station and walk to the Peak Tram Lower Terminus |
| Repulse Bay and the Beaches | 46km(28.7mi) | 2hrs | Most popular beach in Hong Kong | Take MTR to Hong Kong station and get out from Exit D and change to bus 6, 6A, 6X,66 or 260 at Exchange Square Bus terminal |
| Ocean Park | 46km(28.7mi) | 3-4hrs | Theme park with rare and exotic wildlife including Giant Panda | Take MTR South Island Line to Ocean Park station |
| Stanley Market | 50km(31.2mi) | 2hrs | Best place for souvenirs shopping | Take MTR to Hong Kong station and get out from Exit D and change to bus 6, 6A, 6X,66 or 260 at Exchange Square Bus terminal |
What to do on a Hong Kong layover?
Depending on your time, you can watch a movie, do some shopping, taste local dim sums or take a tour to the city .
How many hours before the flight we should get back to the airport?
We recommend that you should get back to airport at least 3 hours before your flight.
What are the transportation options to and from HKG?
A wide variety of public transport services operate to and from Hong Kong International Airport.
1. The quickest way to and from the city is by Airport Express. It takes you only 24 mins to get to Central (city center). Trains depart at approximately 15-30 minute intervals from 05:54 to 00:48 daily.
If you wish to visit the Disneyland Resort you can change to the Tung Chung Line at Tsing Yi Station, and alight at Sunny Bay Station for the shuttle bus provided by MTR.
2. The most flexible way to reach your destination is by taxi. The Taxi Station is located near the left-hand ramp outside the Arrivals Hall.
Hong Kong taxis are color-coded according to their operating areas. Separate rows are designated for different taxi types:
Urban taxis (red) operate in most areas in Hong Kong (except partial of Tung Chung Road and roads in south Lantau).
New Territories taxis (green) mainly operate in the north-eastern part (i.e. north of Sha Tin) and north-western part (i.e. north of Tsuen Wan) of the New Territories.
Lantau taxis (blue) operate only on Lantau Island and Chek Lap Kok.
All taxis are allowed to provide services at the passenger terminals of Hong Kong International Airport.
3. Convenient and direct hotel transfers by hotel coaches. If you are staying at a major hotel, the hotel coach will deliver you directly to your hotel. You can book a seat on a hotel coach at the Commercial Services Counter in Arrivals Hall B, Terminal 1.
4. The relatively inexpensive transport option is by public buses. There are many bus routes available.
Recommended Hong Kong International Airport layover tour packages
You can get around easily in Hong Kong as English is widely used here. Their public transportation system MTR (subway) is very convenient. But if your layover time is limited, we recommend that you take a guided tour so you can make the best use of your time.
If you have 6 hours for tours:
We recommend that you include Victoria Peak (including one way Peak Tram ride), Repulse Bay and Aberdeen Fishing Village.
If you have 9-12 hrs for tours:
We recommend that you include Victoria Peak (including one way Peak Tram ride), Repulse Bay, Aberdeen Fishing Village, Walk along the Avenue of the Stars and Wong Tai Sin Temple.
If you have 1.5-2 days:
Besides a half day or one day city tour, you can add a one day tour to Tian Tan Buddha on Lantau Island
If you have 3-5 days:
You can travel to a city in mainland China (if you have applied for a visa to China beforehand), there are direct bullet trains to several cities in mainland China: the closest one is Shenzhen, it takes you only 25 mins, the second is Guangzhou, 58 mins, and it takes you only 3.5 hrs to get to Guilin. Guilin is a very popular city for international tourists, and you can find details about the tour package on: Classic Guilin Tour from Hong Kong.
Have a question?
OR
Are you eager to begin your Chinese cultural journey?
Drop us a line and we will promptly connect you with our leading China expert!