HK-03:

Highlights tour in Kowloon District and Hong Kong Island

Hong Kong has benefited from its status as a free port in the past, becoming a hub of finance and shipping in Asia. Hong Kong Island is the place to see the futuristic skyscrapers, especially from the top of Victoria Peak where you can have a panoramic view. Furthermore, you will explore Aberdeen Fishing Village and Repulse Bay to find out the big difference in daily life between the past and the present. Kowloon District, across Victoria Harbour, is an old area and relatively not fully developed. You will discover the culture in Wong Tai Sin Temple and stroll along the Avenue of Stars. The unique garden where the bird lovers gather around brings you back to the old times of Hong Kong.
Trip Highlights
Visit the first bay under heaven
Feel the urban atmosphere
Taste the traditional dishes of Hong Kong
Visit a local market
Walk along Hong Kong's spectacular waterfront promenade
Full itinerary for One Day City Tour in Hong Kong
The day before your tour begins
Your private guide will call your hotel reception between 7pm and 9pm to confirm your stay and pickup time for the next day.
(Note: the following visiting schedule is for your reference only. The guide may adjust it according to traffic conditions.)
Your first stop is Wong Tai Sin Temple, which is a shining example of traditional Chinese architecture, with red pillars, a golden ceiling and ornate latticework. The locals and even tourists come there to pray for good luck, and ask for answers when they feel confused. The unbelieveable thing is that they always get whatever they requested via a practice called kau chim. I bet you are having doubts now. Go try it.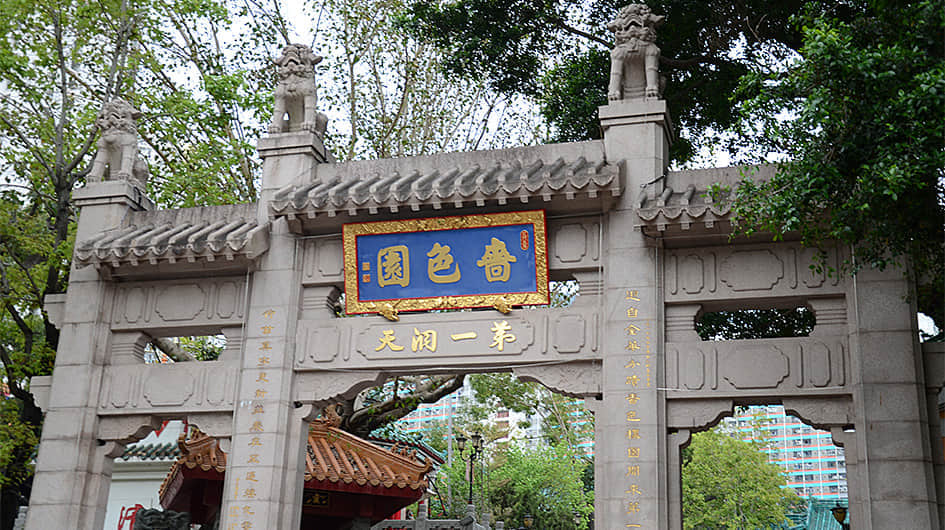 The Archway of Wong Tai Sin Temple
With about 70 bird stalls showcasing a variety of melodious songbirds, Yuen Po Street Bird Garden, with its courtyards and moon gates, is a delight. Songbirds remain a favourite pet of some local men and this garden is testimony to the excessive pampering they receive. It is like stepping back in time as you wander through the market where Kowloon residents sit and drink tea while watching over their pet birds.
Apart from Hong Kong movie lovers, most visitors come to the Avenue of Stars to enjoy the excellent views of the harbor and the Hong Kong skyline on the opposite side of Victoria Harbour. It occupies a friendly location which is a long stretch of Tsim Sha Tsui Promenade. Reopened on January 31, 2019, it is now equipped with double the seating area, seven times more shade, eight times more green spaces, and enhanced leisure facilities.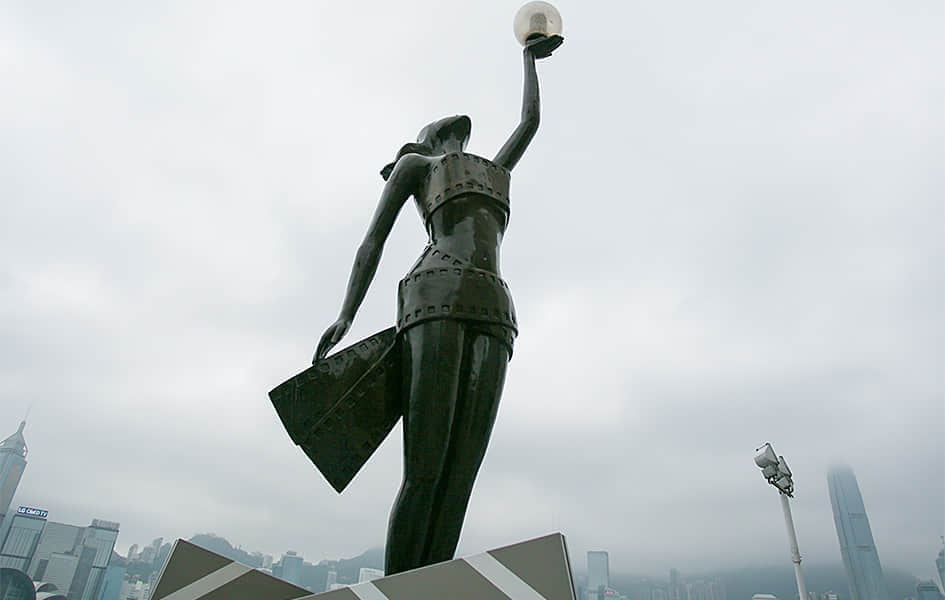 A Statue in Avenue of Star
We will take you across the sea to Hong Kong Island. Take a sampan ride to get a close-up look at this unusual way of life in Aberdeen Fishing Village. This is home to hundreds of people living on fishing junks, juxtaposed against a modern high-rise community. You will have the traditional dish with a long history called 'sampan noodle' for lunch. There are fewer and fewer fishmen cooking this dish on the sampan nowadays.
Primarily a well-to-do residential area, Repulse Bay has a relaxed, resort-like atmosphere. The wide beach is popular with residents and great for sandy strolls. The Lift Guard Club built in traditional Chinese style, features statues of Kwun Yum and Tin Hau, both protectors of fishermen. Colonial-style hotel 'The Repulse Bay', resembling the original luxury hotel that occupied the site, houses shops and restaurants. Enjoy a relaxing moment on the beach.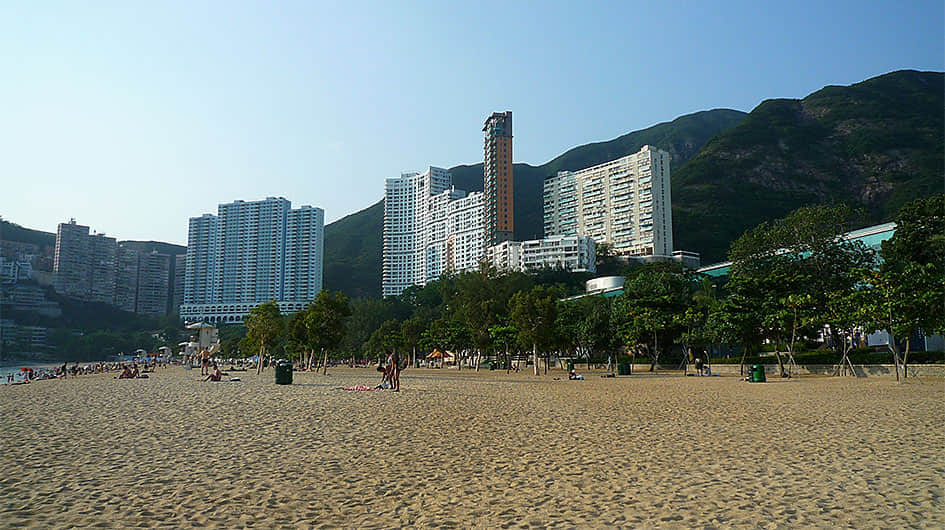 The Sandbeach of Repulse Bay
Victoria Peak gives Hong Kong perhaps the most extraordinary and legendary vista of any modern city in the world. It is only 552 metres high, but provides a bird's-eye view of Victoria Harbour, Kowloon Peninsula and Hong Kong Island. It is truly one of the finest skylines in the world. Whether by day or night, this site is a must-see.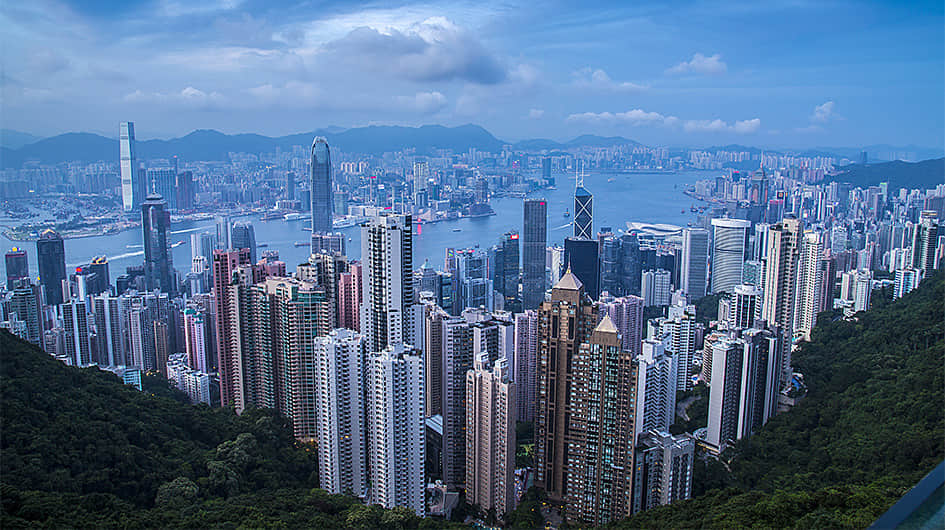 A Bird's-eye View of Victoria Harbour, Kowloon Peninsula and Hong Kong Island
What's Included
English speaking tour guide
Entrance fee to all spots listed in the itinerary
Excellent driver and comfortable vehicle with air-conditioning
Hotel pick-up and drop-off