Victoria Harbour, is also shortened and referred to as V-Harbour. Its east side reaches Lei Yue Mun and its west side faces the sea, connecting the Tsing Yi Island and the Hong Kong Island. The middle part, which is between the Tsim Sha Tsui and the central district, is narrower. Because of its broad water-surface and deep water-depth, it is a natural great harbor. Therefore, Hong Kong also has the reputation of "The Pearl of the Orient" and "One of the Three Best Night-Views in the World". The name of Victoria Harbour comes from Queen Victoria of the United Kingdom.
Quick Facts
Chinese name: 维多利亚港 Wéi Duō Lì Yà Gǎng
Constructioned: 1861
Suggested time: 2-3 hours
Ticket: free
Adress: between Hong Kong Island and Kowloon Peninsula
Open hours: All day
Best time to visit: Autumn and winter
How to get there:
1. Direct access by Hong Kong subway: Take the subway and get off at Tsim Sha Tsui Station
2. Direct access by bus: Take the No. 1A, 8, 8A, 8P, or 9 bus and get off at Tsim Sha Tsui Pier.
3. Star Ferry: Take the Central to Tsim Sha Tsui route, Central to Hung Hom route, or Hung Hom to Wan Chai route.

Highlights of Victoria Harbour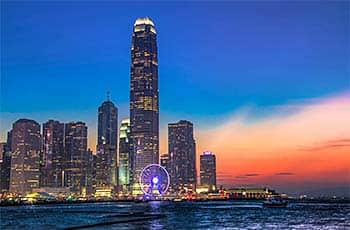 The nightview of Victoria Harbour
Victoria Harbour has a broad water surface and beautiful scenery. Every day, during sunrise and sunset, the bustling ferry shuttles between the north and south shores. The fishing boats / tourist boats / 10,000-tons cargo ships, together with the sound of their whistles, create a wonderful view of the sea. During the day, in Victoria Harbour, there are blue skies, white clouds and clear waters, while many small boats and tons of giant ships enter and leave the harbor without disturbing each other. At night, it will be even more flamboyant, creating a magnificent night view of the "Pearl of the Orient".
Kwai Chung Container Terminal
In the northwestern part of the harbor, there is the Kwai Chung Container Terminal, one of the world's largest container transport centers. The Kwai Chung Container Terminal covers a massive area. It extends from Kwai Chung and Tsing Yi to Stonecutters Island, and has nine container terminals with a total of 24 berths. The region covers 279 hectares and can accommodate even the largest container ships.
A Symphony of Lights
"A Symphony of Lights" is a large-scale lighting show at Victoria Harbour at 8:00pm every night. Accompanied by rhythmic music, more than 40 buildings are lit up with colorful and dazzling lights. Under the lights, you will feel like you are a superstar.