Folded Brocade Hill (previously called Guishan Mountain), is located on the banks of the Lijiang River and is composed of Bright Moon Peak, Agrimony Peak, Siwang Hill and Yuyue Hill, and is popular among photographers. The Crane Hole (Hill of Folded Brocade) is the best place to photograph the sunrise over Guilin. Climb up Bright Moon Peak, stand on the top of the Cloud-catching Pavilion overlooking Guilin city and you will get a bird's eye view of downtown Guilin.
Quick Facts
Chinese name: 叠彩山 Dié Cǎi Shān
Duration: 1-2 hours
Entrance fee: RMB 35
Opening hours: 6:30-18:00
Best time to visit: The whole year
Address: No.2, Longzhu Road, Xiangshan District, Guilin
How to get there: Take Bus No.2,203 to "Die Cai Shan"
Attractions in Folded Brocade Hill
1. Mountain-climbing and photography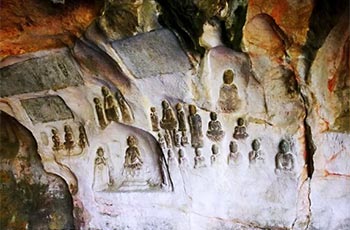 Stone carvings of the mountain
Folded Brocade Hill became a tourist attraction of Guilin because of its beautiful scenery and because it is easy to climb. There are lots of scenic spots and historical sites in Diecai Hill, including a monument for commemorating Qu and Zhang, Yangzhi Hall, Crane Hole, River-watching Pavilion and Cloud-catching Pavilion.
Inscriptions on Diecai cliffs from celebrities of previous dynasties are the essence of cultural relics. The peak of Diecai Hill is a great place for shooting a panoramic view of Guilin and its sunrise.
2. Butterfly Specimen Hall
The Diecai Butterfly Exhibition Hall, one of the larger butterfly exhibition halls in China, has three display rooms, where more than 2000 butterfly specimens (over 300 kinds) are displayed. It also established an exhibition hall for rare butterflies, displaying more than 10 kinds of world-class butterflies and 20 kinds of renowned butterflies in China, many of which belong to the first and second class under state protection. Visiting the Diecai Butterfly Exhibition Hall endows us with not only the enjoyment of beauty, but some understanding of popular science related to butterflies.