Covering an area of more than 40 acres, the Flying Tiger Heritage Park is a memorial park built on the former site of a command post of Yangtang Airport in Guilin. It was the fourteenth volunteer air force of America.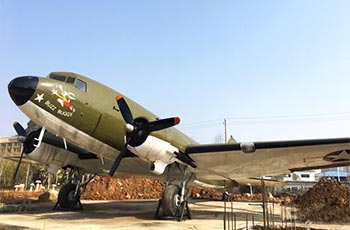 C-47 Aircraft in the park
In the memorial museum of the Flying Tiger in Guilin there are a series of records demonstrating China's Anti-Japanese War, including the combat logs of China's air force in the anti-Japanese war, records on the establishment, development and transition of the Flying Tiger, stories of Flying Tiger members and General Chenault's career in the Flying Tigers.
There are nearly 300 historical relics related to "Flying Tiger", such as uniforms, medals and old photos, all of which were donated by the Historical Committee of the Flying Tiger of the United States.
Completed on March 28, 2015, the park provides a platform not only for old American soldiers, families and friends of Flying Tiger to talk about the old times and show respect to the senior martyrs, but also to further promote the exchanges between China and the United states. On the second anniversary of the opening of Flying Tiger Heritage Park of Guilin on March 25, the Historical Committee of Flying Tiger officially donated a C-47 aircraft to Guilin. The plane will be permanently displayed at the Flying Tiger Heritage Park of Guilin.
Quick Facts
Chinese name: 美国飞虎队桂林遗址公园 Měi Guó Fēi Hǔ Duì Guì Lín Yí Zhǐ Gōng Yuán
Duration: 1-2 hours
Entrance Fee: Free
Opening hours: 6: 00-19: 00
Best time to visit: All year round
Address: Linsu Road, Lingui District, Guilin
How to get there: Take bus No. 85 until the terminal station Xicheng South Road (Feihu Linju)
Learning about the history of the Anti-Japanese War
There is a time line in the memorial hall showing the exact time of some major events in the Anti-Japanese War, including the July 7 Incident of 1937, the Incident of January, September 18th Incident, and the outbreak of World War II, which provides a very good opportunity for visitors to learn about the history of China's Anti-Japanese War.
Learning about the history of the China's air force and Flying Tiger
The memorial hall introduces the birth of the China's air force, records of the members of the Guilin air force, the birth of American Volunteer Group and Flying Tiger and their heroic deeds in helping China fighting against Japan.