The Nanjing Hekeng Earth Buildings are famous for their time-honored history, large number of buildings and extraordinary architectural style. As the filming location of the TV show, Where Are We Going, Dad? and the movie, The Knot, the Nanjing Hekeng Earth Buildings have attracted a lot of visitors.
Highlights of Nanjing Hekeng Earth Buildings
The five "Most": They contains the highest, largest, smallest, most extraordinary and best-preserved earth buildings.
Six Functions: It is a place where people belonging to the same clan can live together. They provide venues for both educational and recreational activities. They provide safe shelter. They are windproof and anti-seismic, fireproof and damp-proof, warm in winter and cool in summer.
Seven characteristics: They are time-honored, large in number, diverse in form, extraordinary in design, grand in scale, fully functioned, and of great cultural value.
Eight shapes: They include circular, square, oval, arc, fan-shaped, folding-chair-shaped, bevel-gauge-shaped and hoof-shaped earth buildings.
The smallest earth building: Cuizhu Building, whose diameter is only 9 meters
Long history of over ten centuries: Nanjing Hekeng Earth Buildings were developed 11 centuries ago, having a history of more than 1,000 years.
Quick Facts
Chinese name: 南靖土楼 Nán Jìnɡ Tǔ Lóu
Duration: 1-2 days
Entrance fee:
Package A: Yunshuiyao, Hegui Building, Huanyuan Building: RMB 90
Package B: Tianluokeng earth building complex, Yuchang Building, Taxia Village: RMB 95 Opening hours: 8: 00-17: 00
Best time to visit: All year round
Address: Tianliaokeng, Nanjing County, Zhangzhou City, Fujian Province.
How to get there: Since Nanjing Hekeng Earth Building is a little far away, visitors are advised to charter a car to get there. Usually it takes about 3 hours (depending on road conditions) to get there.

Representative Buildings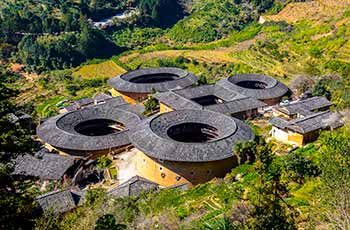 Four dishes and one soup
Tianluokeng Earth Building Complex
Tianluokeng Earth Building Complex consists of a square earth building, 3 circular buildings and an oval one, with the square building, Buyun Building, in the center, a circular building, Hechang Building, which was built in the first year of Jiaqing of the Qing Dynasty (1796), in the upper right, and Zhengchang Building, Ruiyun Building and Wenchang Building built around. Every morning, the Hakka people get up early to chop firewood and make a fire to prepare their breakfast. The smoke from the kitchen chimneys blends with the morning mist, floating above the five buildings, which, looking from the mountain top, is like a table full of big plates and a dish, resembling a classic Chinese meal, "four dishes and one soup", which is exactly the nickname of the Tiankukeng Earth Building Complex.
Hekeng Earth Building Complex: The ancestors in the Hekeng Earth Building Complex built the 7 square earth buildings first, and as the population grew larger and larger, and their techniques for constructing earth building matured, another 7 circular earth buildings were added, each one built between the square ones. Looking from above, the 7 square earth buildings and the 7 circular ones are like 2 sets of Big Dippers
The best way to appreciate the Hekeng Earth Building Complex: See the "Big Dippers" from above. Walk along the mountain road and pass through the Hekeng tunnel, then turn right and walk another 300 meters and you'll find a mountain road to the left. Walk along that mountain road for about 10 minutes and you'll arrive at the observation deck.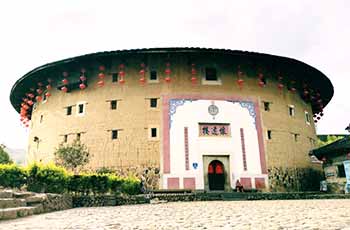 Huaiyuan Building
Huaiyuan Building
Built in the Ming Dynasty between 1905 and 1909, Huanyuan Building covers an area of 1384.7 square meters and is 14.5 meters high. It is a 4-story building with each story having 34 rooms, which adds up to 136 rooms in total. Listed as a major historical and cultural site protected at the national level in May 2006, Huanyuan Building is the most delicate and well-preserved circular earth building with two concentric circles.
Hegui Building
Constructed in 1732, Hegui building covers an area of 6,450 square meters, with its front building being 17.08 meters in height, and the one at the back, 17.95 meters. Built on a swamp, the building looks like Noah's Ark on land. There are two wells inside the building. One is very clear while the other one is very murky, and together they are called Yin and Yang wells.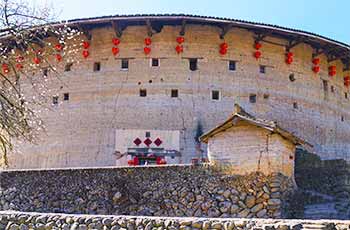 Yuchang Building
Yuchang Building
Built in the late Yuan Dynasty and the early Ming Dynasty, Yuchang Building, a circular earth building, is the oldest existing earth building in Nanjing County. This 5-story building has 270 rooms. The wooden pillars in the corridor on the third floor tilt to the right with the largest gradient of 15 degrees, while those on the fourth floor tilt the other way. The building has been in the same condition for more than 700 years, and has thus got the nickname of 'tilted building'.
Cuilin Building
Being the smallest earth building, Cuilin Building is less than 8 meters in height, with its outer diameter no more than 30 meters, and inner diameter barely more than a meter. The building has 3 stories and each story has 11 rooms. The ceilings of the rooms are within arm's reach and each room can only accommodate one bed and one small desk.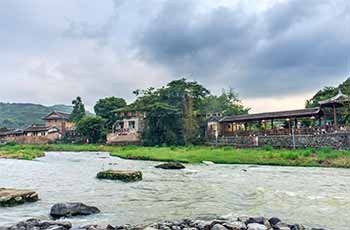 Yunshuiyao Ancient Town
Yunshuiyao Ancient Town
Yunshuiyao Ancient Town has a very long history. Alongside the stream, there stand 13 banyan trees which are hundreds or thousands of years old, and among which is the largest banyan tree found in Fujian Province, whose crown covers an area of 1,933 square meters, with its limbs longer than 30 meters and its trunk taking more than 10 adults to reach their arms around. Alongside the old street of Changjiao stands a row of 2-story houses made from bricks and wood.
Travel Tips
1. Visitors are advised to shop in formal shopping malls rather than buying from the booths along the street to avoid being scammed.
2. Comfortable walking shoes are recommended as there will be some climbing and walking.