Nowadays there are only 68 earth buildings remaining in Hua'an. Though small in number, Hua'an Earth Buildings reflect distinctive local characteristics and are of great historic, artistic and scientific value, therefore they are a special and important part of Fujian Hakka Earth Building. Totally different from the Yongding Hakka Earth Building in layout, Hua'an Earth Buildings were the fruit of the culture of local residents, and are in a class of their own.
Compared to other scenic spots, the Hua'an Earth Buildings are less known to the public, therefore, the visitors there are comparatively fewer and they are mainly Taiwanese and Malaysian, meaning the place is fairly quiet most of the time.
Quick Facts
Chinese name: 华安土楼 Huá Ān Tǔ Lóu
Duration: 2-3 hours
Entrance fee: RMB 90
Opening hours: 8:30-17:30
Best time to visit: All year round
Address: Dadi Earth Building Complex, Hua'an County, Zhangzhou City, Fujian Province.
How to get there: The Hua'an County-Dadi Earth Building Complex Dedicated Bus will take you RMB 5 to travel 24 kilometers to get there. The bus comes every hour.
Classic Buildings
Eryi Building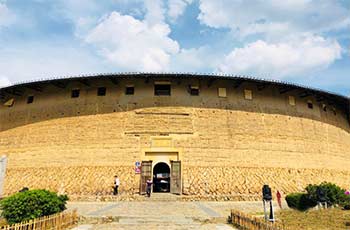 Eryi Building
Eryi Building is an outstanding representative of China's ancient dwellings, circular earth buildings. Dubbed as the king of earth buildings and a national treasure, and appraised as a major historical and cultural site protected at the national level, the building is famous for its large scale, scientific design, reasonable layout and comprehensive maintenance. The plaque hung on Eryi Building is included in the book Famous Plaques of China.
Built in the fifth year of the reign of Emperor Qianlong (1740), by Jiang Shixiong, the 14th generation of Jiang Family, a local family of high prestige, Eryi Building covers an area of 9,300 square meters. Facing Southeast, the building has 4 stories, with a total height of 16 meters. The wall of the building is 2.53 meters in width and the outer diameter is 73.4 meters. Formed with two concentric circular walls, Eryi Building is divided into 16 units and has a total of 213 rooms. On the open space inside the building, there are two wells which symbolize the Yin and Yang poles to form the chart of the Great Ultimate (Taichi).
Rich in cultural and artistic collections, Eryi Building boasts of 226 murals of 593 square meters, 228 paintings of 99 square meters, 349 wood carvings and 163 pairs of couplets, which cannot be found in other earth buildings, and are also rare in China's ancient dwellings, making it the treasure of Chinese folk arts. On the walls and ceilings of the Unit 3, 6 and 10 are posted 1931's and 1932's American newspaper, New York Times, and a picture is painted of western clocks and women, with translations attached, which are the proofs of the communication between the Chinese and western culture.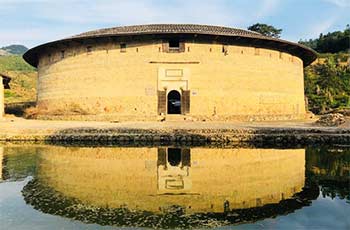 Nanyang Building
Nanyang Building
150 meters to the southeast of Eryi Building, Nanyang Building was built in the 22nd year of Jiaqing of the Qing Dynasty (1817) by Jiang Jingbanbang, grandson of Jiang Shixiong, the builder of Eryi Building. An earth building built with two concentric circles facing south, the building covers an area of 3,100 square meters, has a total height of 13.25 meters and with the diameter of the outer circle being 51.6 meters.
Dongyang Building
Located to the west of Nanyang Building, Dongyang building was constructed in the 22nd year of Jiaqing of the Qing Dynasty (1817) by Jiang Zongsi, imperial academic and grandson of Jiang Shixiong. Situated at the foot of a lion-shaped mountain to the south of Eryi Buildng, this square earth building is called the footprint of the lion. Facing southeast and covering an area of 2,200 square meters, the 2-story building is 11 meters in height, 45.81 meters in width and 26 meters in length. The front side of the building is shorter than its back side. The main building has 36 rooms and 4 halls, with each room is accessible through a public corridor. Currently, the building has 47 residents from 13 households.
You may also like: