ST-14:

12 Days School Field Trip: Beijing, Xi'an, Guilin

The students will see and learn about the different aspects of China from this trip. This itinerary includes a modern city, an ancient capital, a remote mountain village, and a small town with amazing natural landscapes. Activities include visiting historical sites, a local school visit, learning a folk skill, and also outdoor activities. The best way to get to know a country is to experience the local life for yourself.
Trip Highlights
Gain a comprehensive understanding of China
Cultural exchange at a local school in Beijing
See the local life in different areas of China
Local farming skills and cooking experience
Well-selected touring route
Suitable For: School Students
Full itinerary for School Field Trip to China
Day 1
Beijing Arrival
Welcome to China, your guide will be waiting for you in the arrival hall of Beijing Airport (PEK or PKX). Then transfer to your hotel in downtown Beijing after approximately an hour's drive. Take the rest of the day at your leisure.
Day 2
Beijing: The World Heritage Sites tour (breakfast, lunch & dinner)
Morning
After breakfast, you will go for a visit to the world's largest square, Tiananmen Square. Right next to it, the Forbidden City is the next important site to visit. It is one of the most famous and the largest imperial palace in the world, so follow your guide closely and you will learn a lot about the Forbidden City. Lunch will be arranged at a local restaurant nearby.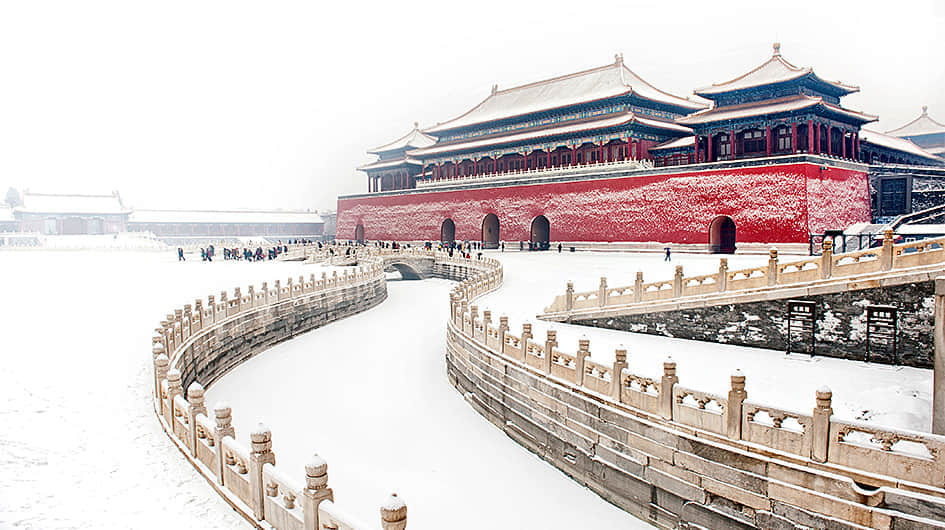 The Forbidden City Covered by White Snow
Afternoon
In the afternoon, a visit to Beijing Planning Exhibition Hall will help you understand the development of Beijing. You will be surprised by the over-sized model of downtown Beijing and the great achievements in the urban planning of Beijing.
The next site is the famous world heritage site, the Temple of Heaven. It was the place where the emperors worshipped heaven and prayed for the harvest every year. The temple of Heaven is famous for its strict layout of the architecture, unique architectural structures and magnificent decorations.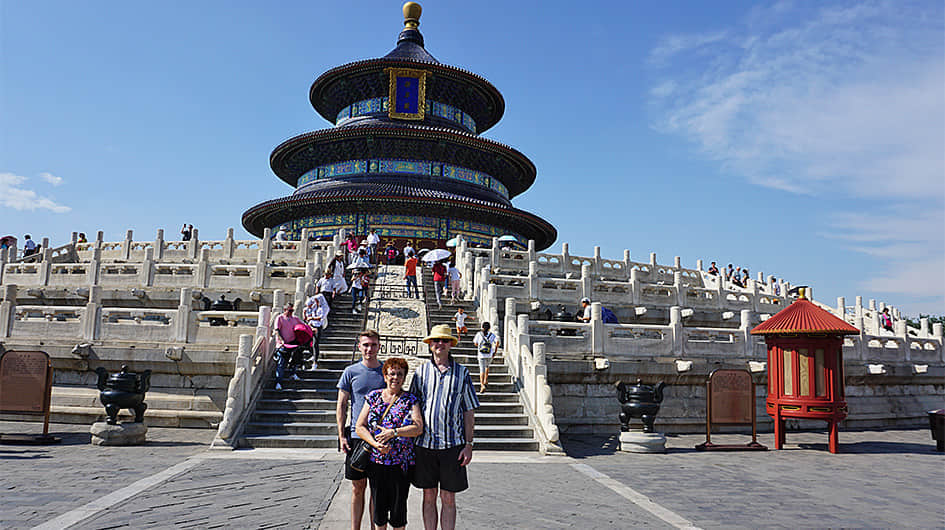 The Hall of Prayer for Good Harvest
Evening
Enjoy Peking Roast Duck in a local restaurant for dinner.
Recommended optional activities:
1. The Legend of Kungfu premiered in 2004. In contrast to the traditional Kungfu show, it demonstrates Kungfu through dramatic stories. The group also tours abroad and has a good reputation.
2. Acrobatics at Chaoyang Theatre was founded in 1984. Their performances have won more than 30 awards at home and abroad. "Blue And White Porcelain" (balancing a stack of bowls on the head), which is one of them, was on the stage of the Spring Festival Gala in 2015.
Day 3
Beijing: Great Wall Hiking (breakfast, lunch & dinner)
Morning
Driving for about 2.5 hours from your hotel in the morning, you will arrive at the Great Wall at the Jinshanling section. Today, we are going to hike on the Great Wall for about 3.5-4 hours. It's one of the most beautiful, less touristy sections of the Great Wall. You will learn a lot about this most famous world heritage site!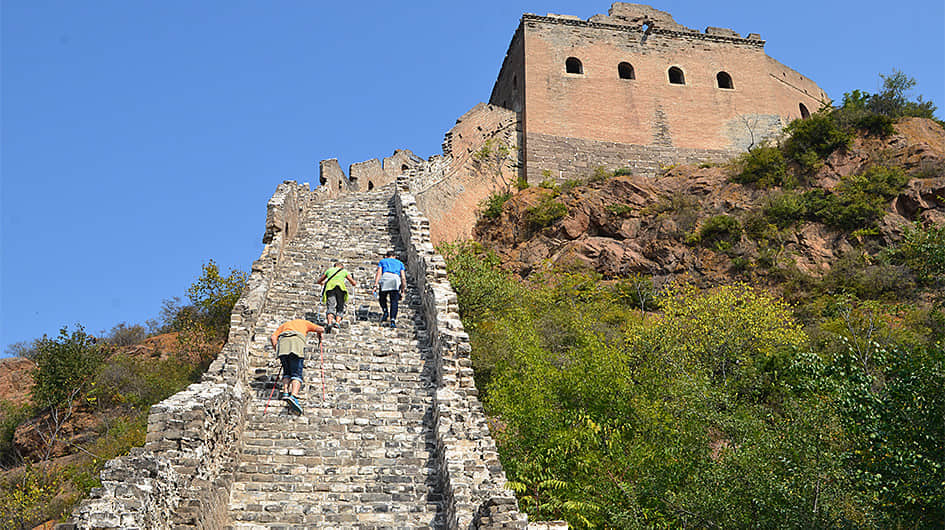 The Steep Stairs on Jinshanling Section
Afternoon
We will prepare a lunch bag for you which includes a sandwich, water, a banana, and yogurt, so having a backpack with you would be very helpful.
Drive back to your hotel in downtown Beijing after the hike.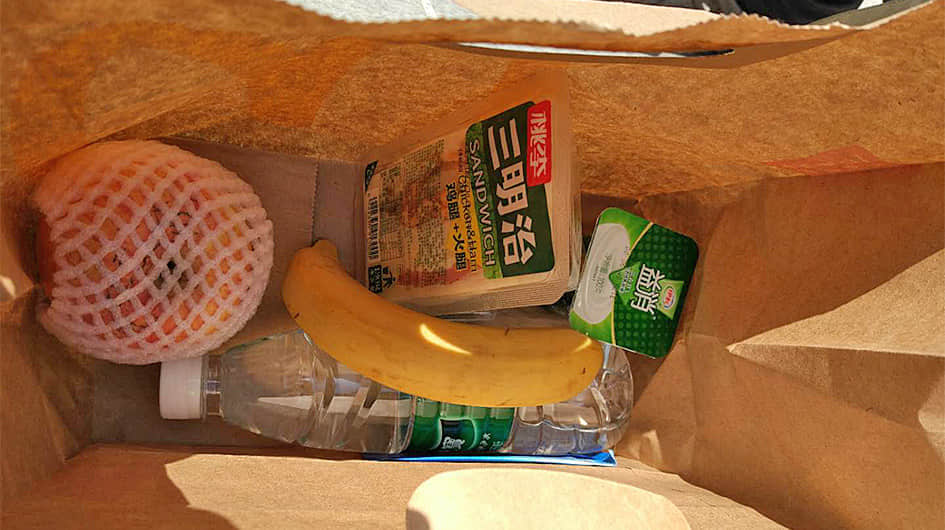 The Lunch Bag
Evening
A dinner will be arranged at a local restaurant near your hotel.
You will probably be too tired to want to have more activities after the long hike on the Great Wall, so it's free time at night after dinner.
Day 4
Beijing: Social Study in Beijing (breakfast, lunch & dinner)
Morning
This morning, you will go for a visit to a local school in Beijing. It can be a middle school, high school or skills training school. You may walk around the school, have a class, or play a match with the Chinese students. It's a great cultural exchange opportunity for you to communicate with Chinese students.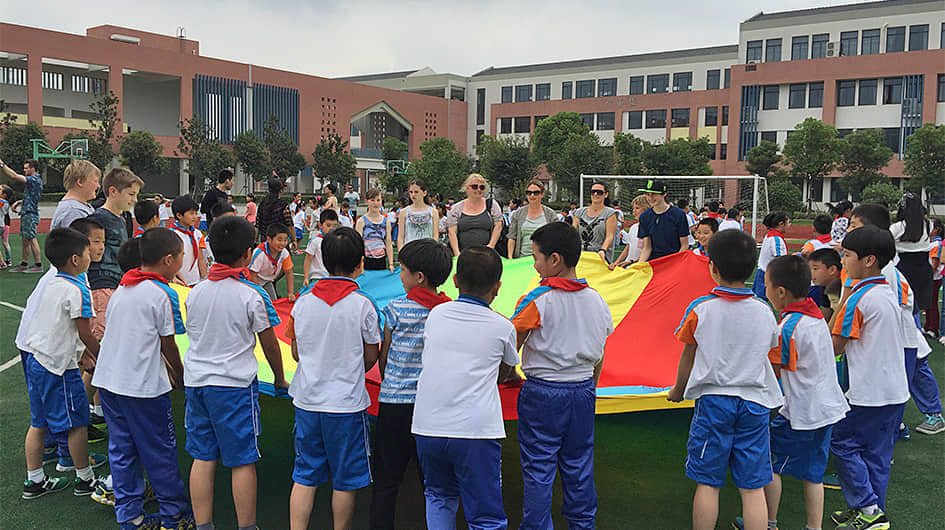 Team Building with Local Students
Afternoon
After lunch, we will go to a local company or factory in Beijing. The students will see and learn about the management of their business and the manufacturing process of the products. The company visit can be arranged according to your request. (Please let your travel specialist know what sort of companies or factories you might want to visit.)
Evening
Free time on your own after a dinner at a local restaurant near your hotel.
Day 5
Beijing to Xi'an via the bullet train: Morning visit to the Summer Palace (breakfast & dinner)
Morning
A visit to the Summer Palace is the last activity before you leave Beijing for Xi'an. The Summer Palace is the best preserved imperial garden in China, also known as the "Royal Garden Museum". In the Summer Palace, one of the gardens is called "Garden of Virtue and Harmony" (Dehe Yuan). The biggest ancient theater stage in China is located in this garden. It is reputed to be the "Cradle of Peking Opera".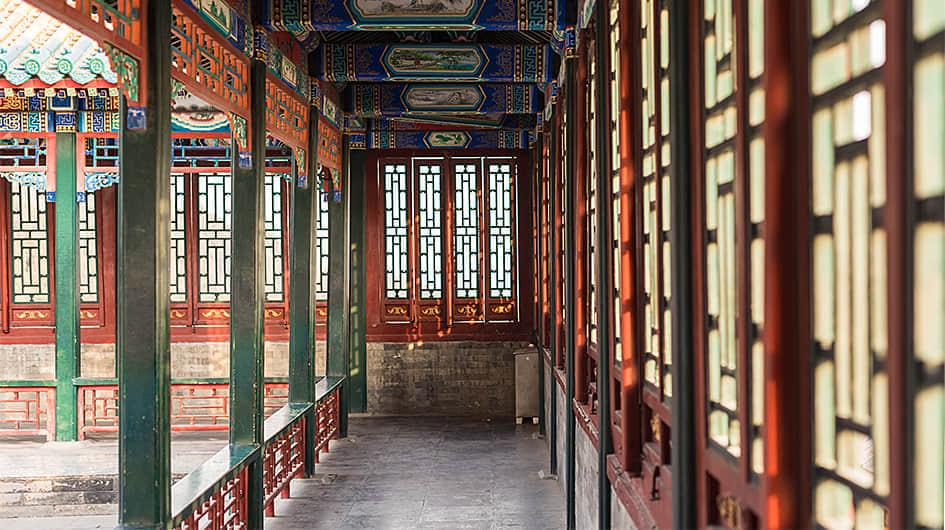 The Beautiful Corridor in the Summer Palace
Afternoon
Take a bullet train from Beijing to Xi'an in the afternoon. You will experience a speed of 300km/h on that train. The bullet train journey will be approximately 4.5 hours from Beijing to Xi'an.
Evening
Meet your guide and driver at the exit of Xi'an North Station. Check-in at your hotel in Xi'an after having dinner at a local restaurant.
Day 6
Xi'an: Terracotta Army, Ancient City Wall and Muslim Quarter (breakfast, lunch & dinner)
Morning
Today, students are going to visit the most famous World Heritage sites in Xi'an, the Terracotta Army. It's always the must-see place when travelers come to Xi'an and is reputed as "the Eighth Wonder of the World". More than 8000 terracotta warriors and horses have been excavated. They were first discovered by a local farmer in 1974. You will be amazed when you see the treasures.
Lunch will be in a local restaurant on the way back to Xi'an city after the visit to the Terracotta Army.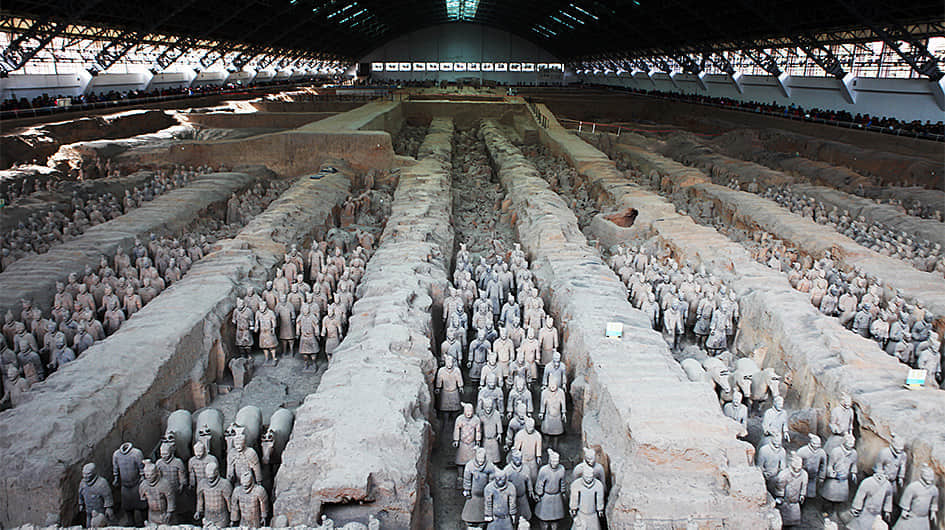 Pit 1 in Terracotta Army Museum
Afternoon
The ancient City Wall of Xi'an was built about 1400 years ago. It is 12 meters (39ft) high and 12-14 meters (39-46ft) wide on the top. The circumference is 13.74km (8.5miles). You will have a better understanding of Xi'an after taking a 2 hour bicycle ride on the city wall.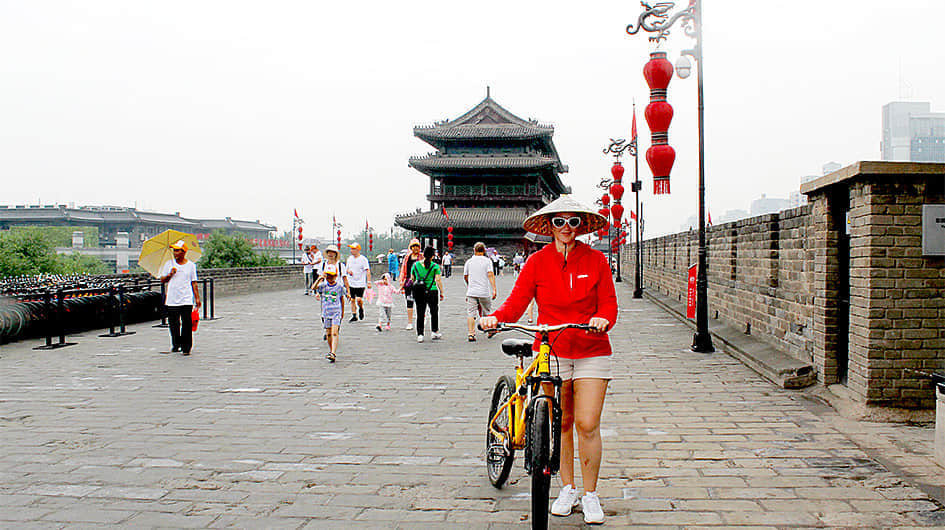 Cycling on the Ancient City Wall
The Muslim Quarter in downtown Xi'an is always the best place to find local food and souvenirs. You will have time to explore this area after the cycling on the city wall. If it's dinner time, a dinner will be arranged in a restaurant nearby. Then transfer back to your hotel and relax.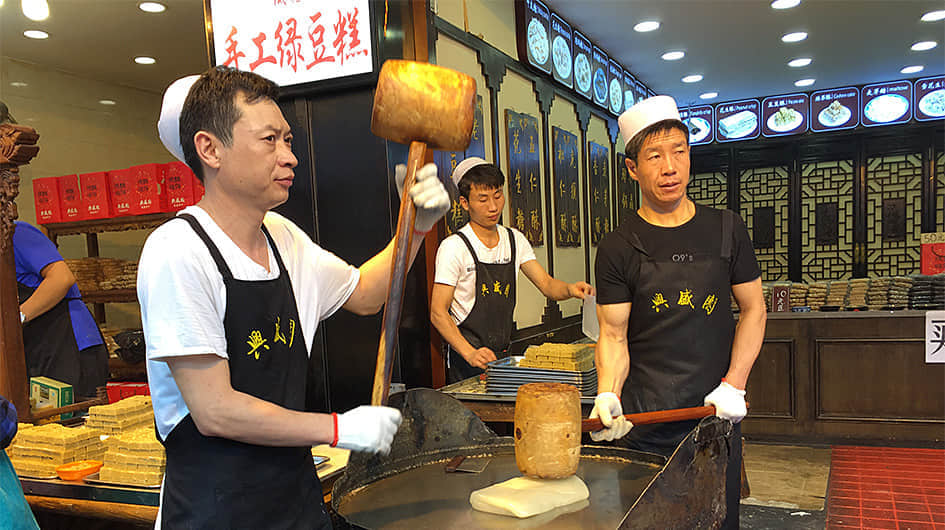 Making Green Bean Cakes
Evening
Recommended optional activities:
1. The music fountain at the north square of the Big Wild Goose Pagoda is free to the public. You can stroll around it after dinner to experience local life.
2. Tang-Dynasty Palace Music and Dances is a performance that was re-created by many famous artists in Shaanxi province, displaying the essence of music, rhythm, and dance art in the Tang Dynasty.
Day 7
Xi'an – Guilin by Plane: Xi'an Folk Activities Experience (breakfast & lunch)
Morning
Check out of your hotel after breakfast and drive for about 1.5 hours to Yuan Village, located to the north of Xi'an. You will learn a lot about the local folk activities and farming skills from the villagers. For example, visit a traditional local cave dwelling, try the dragon dance, play peg-top, and learn how to make dumplings, do some cooking and prepare for a picnic. The picnic lunch will be the dumplings and other dishes made by you.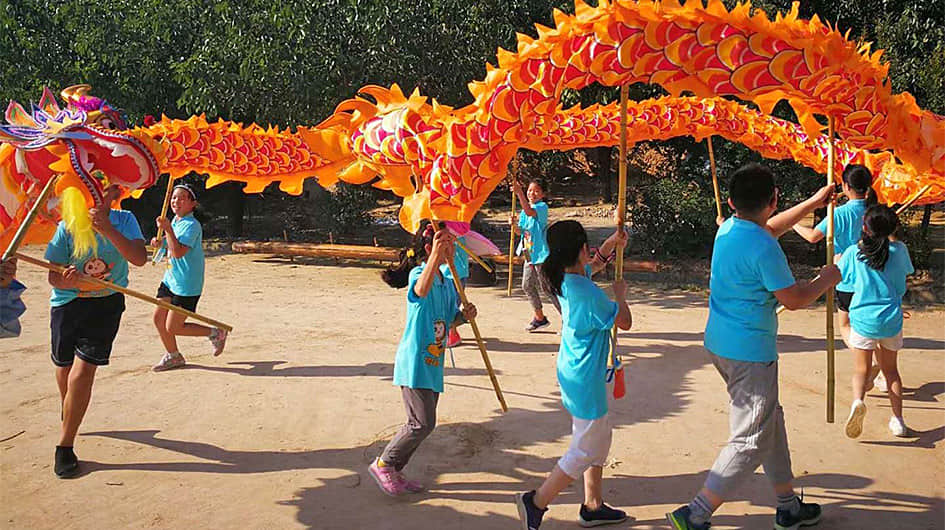 Dragon Dance
Afternoon
Do some farm work at Yuan village in the afternoon, such as seasonal fruit picking, harvesting crops and planting vegetables, etc.
You will be transferred to Xi'an Airport (XIY) after you have done all the activities in Yuan village. Your guide will assist you to get your boarding pass and check-in your luggage.
Evening
Take a night flight from Xi'an to Guilin. Your guide in Guilin will be waiting for you at Guilin Airport (KWL). Then transfer to your hotel in downtown Guilin.
Day 8
Guilin – Longji by Coach: Rice Terrace Fields & Minority Culture Learning (breakfast, lunch & dinner)
Morning
After breakfast, you will be transferred to the Longji Rice Terrace Fields Area in the north of Guilin after a 2.5 hour drive. There are lots of Minority Zhuang and Yao people's villages deep in the mountains. Their ancestors developed a large area of terraced rice fields about 800 years ago.
Arrive at Longji Ancient Zhuang Village, and large areas of rice terrace fields will be right in front of you. Then start a short hike (1.5hrs) through the paddy fields to Ping'an Village. You will see different scenery in different seasons.
Check in at your hotel in Ping'an village and have a taste of the local traditional food as a lunch.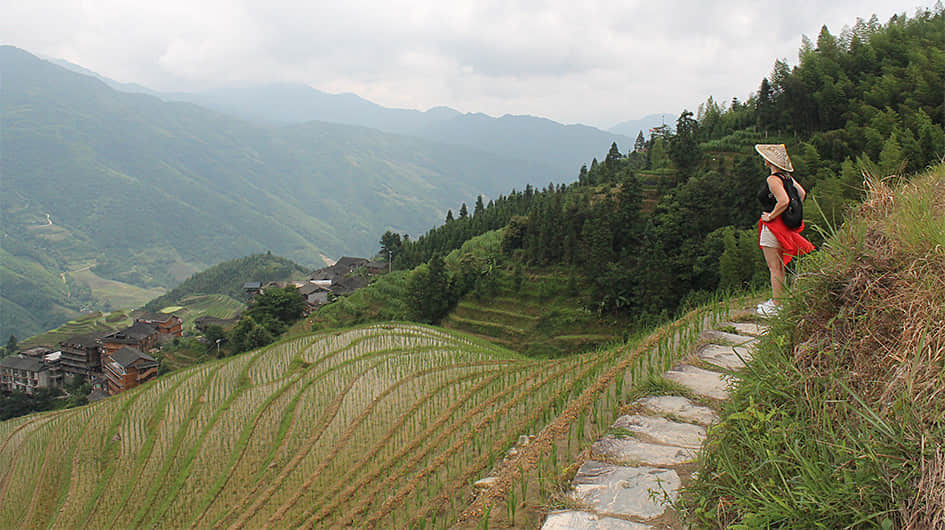 Hiking along the Route on Longji Mountains
Afternoon
Do some local farm work in Ping'an village in the afternoon. Depending on the season and weather, we will arrange something like: field plowing, rice planting, bamboo rice cooking, and learning a traditional bamboo-dance, etc. All of these activities are good for the students to experience the local life in the remote mountain village.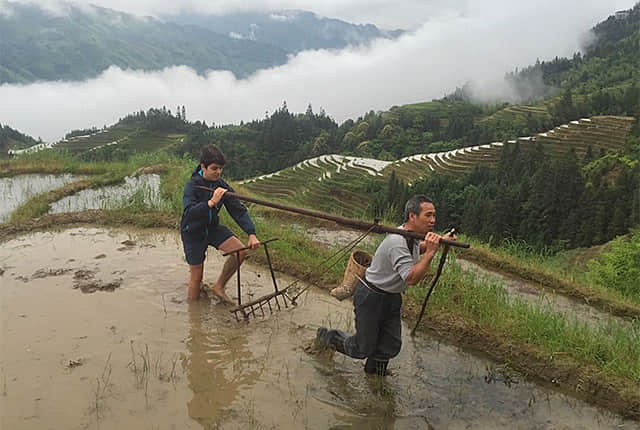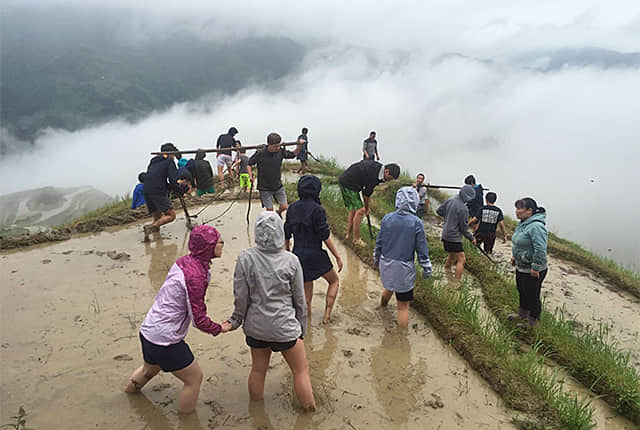 Evening
Enjoy a local style dinner and stay overnight in Ping'an village.
Day 9
Longji – Guilin (breakfast, lunch & dinner)
Morning
Pack your carry-on baggage and start a morning hike around Ping'an village. Hike to the view-points for "Seven Stars with Moon" and "Nine Dragons and Five Tigers", and you will see the most beautiful rice terraces in this area. Then walk down the hill to your coach.
Afternoon
Drive back to Guilin and visit the most famous cave, "Reed Flute Cave". As you walk through the cave, you will be surprised by the power of nature. It is reputed to be "the Palace of Natural Arts".
Arrive at your hotel in downtown Guilin and enjoy free time for the rest of the day.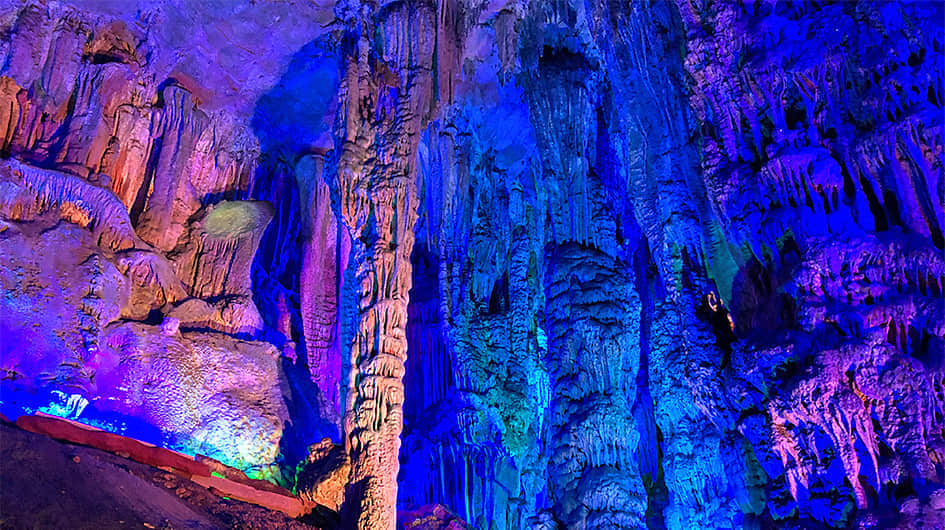 The Stalactites and Stalagmites
Evening
Dinner will be arranged at a famous restaurant near your hotel.
Recommended activity:
Night walk around the four lakes in downtown Guilin is highly recommended. The lakeside will be illuminated at night and the Sun and Moon pagodas will be glowing with lights.
Day 10
Guilin – Yangshuo: Li River Cruise and Painted Fan Making (breakfast, lunch & dinner)
Morning
The guide will pick you up and leave your hotel for the Li River cruise terminal at 08:15am. A 4-hour Li River cruise from Guilin to Yangshuo is the most recommended activity for people who come to Guilin.
The unique Karst landscape along the Li River is always one of the top-10 attractions in China. By taking this cruise, you will see both the scenery and local people's life along the river. Lunch will be a simple lunch box provided by the cruise company.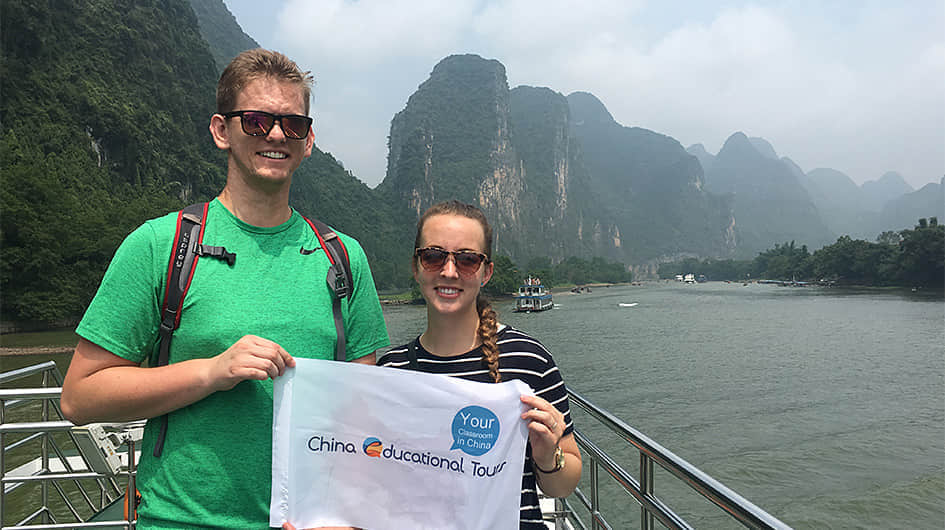 On Li River Cruise
Afternoon
Arrive in Yangshuo at about 1:30pm, follow your guide and find your coach. The next destination is a small town called Fuli after about a 20 minute drive. The students have an opportunity to visit a local market and see the daily life there. Fuli is a major place for the production of painted fans in China. The main activity on this afternoon is for the students to learn how to make a painted fan by themselves. We will choose a local family workshop and a villager will teach them step by step. The students can keep their final products as a souvenir in the end.
Drive back to your hotel in Yangshuo.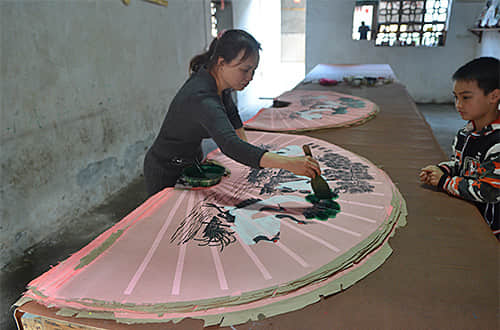 Paint a Pan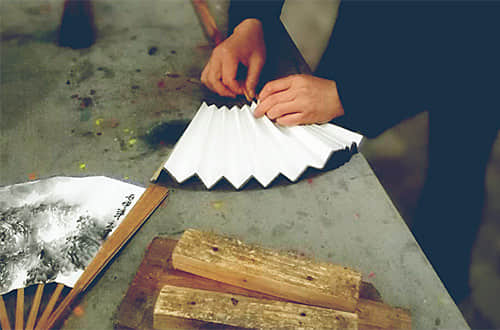 Insert the Sticks into the Folded Paper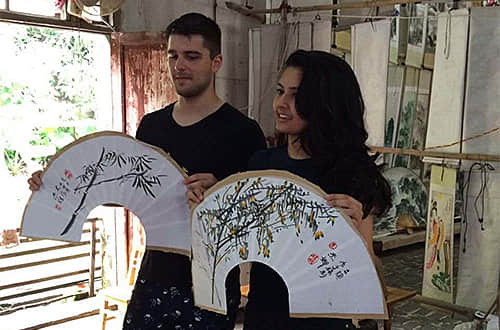 Students Complete Painting on Fans
Evening
Beer Fish is the most famous local dish in Yangshuo, so you may have a taste of this dish at dinner time.
Recommended activities:
1. Impression Sanjie Liu Show uses the Li River as the stage and the mountains as the backdrop to give audiences a visual feast performed by more than 600 actors.
2. Yangshuo West Street is the oldest street, with a history of more than 1,400 years, which is attractive to a lot of foreigners. There are lots of souvenir shops, restaurants and bars in West Street.
Day 11
Yangshuo: Outdoor Activities (breakfast, lunch & dinner)
Morning
Yangshuo is the "paradise" of outdoor activities. Yulong River is a branch of Li River. Today, we will go for a 3-hour biking and 1-hour bamboo-rafting trip along the Yulong River. It is a good combination and not that tiring for the students. They will be cycling through the villages, fruit farms, and paddy fields and they will see the local life.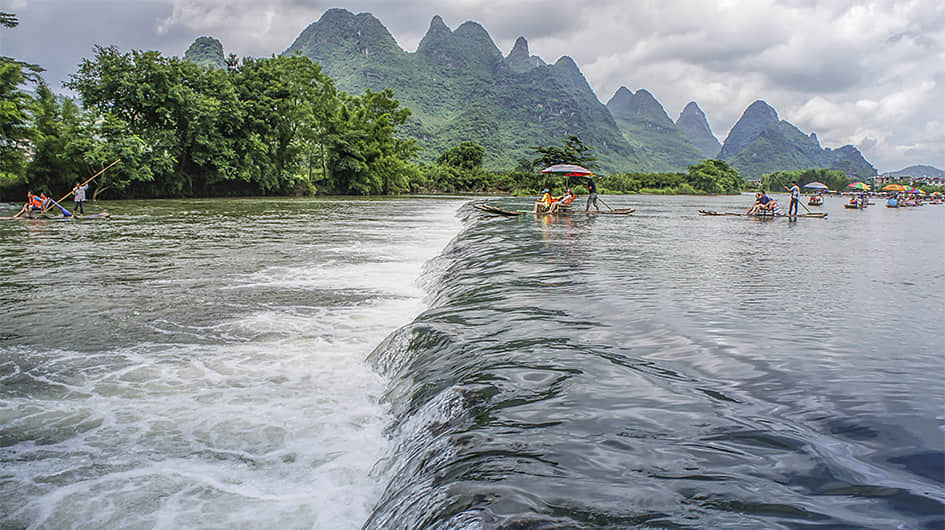 Yulong River Rafting
Afternoon
A late lunch will be arranged in a local resort restaurant at the Yulong riverside. It's a perfect place to relax and enjoy nature.
Keep cycling back to downtown Yangshuo and finish the tour today.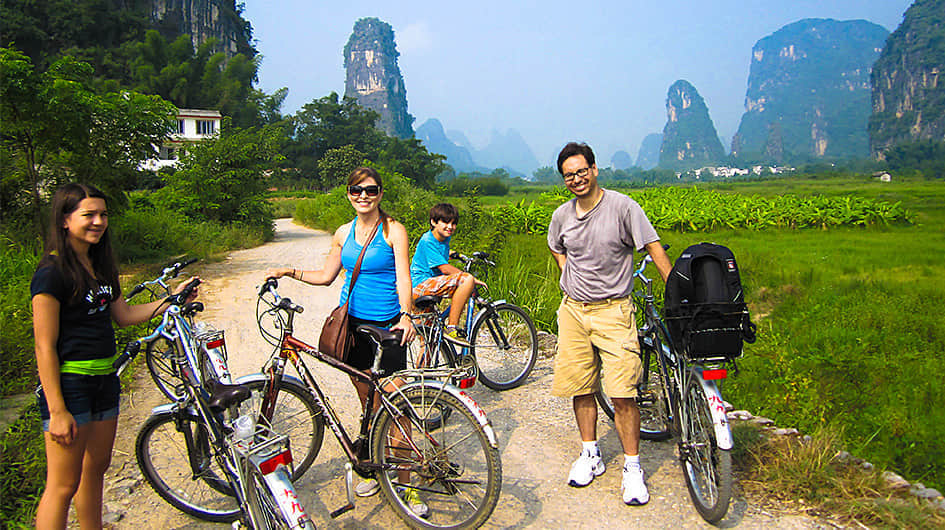 Cycling in the countryside of Yangshuo
Day 12
Leave Guilin for home (breakfast)
Meet your guide at your hotel lobby, then head to Guilin Airport (KWL) based on your flight schedule.
Comfortable Hotel
| | |
| --- | --- |
| Beijing | Sunworld Hotel Beijing |
| Xi'an | Grand Noble Hotel |
| Guilin | Guilin Bravo Hotel |
What's Included in the Tour Price
Experienced English-speaking guides, drivers and fine condition coaches
Domestic bullet trains and flight tickets in the itinerary
Centrally located Hotels
Admission to all tourist sites as listed
Meals as listed in the itinerary
Bottled water