ST-21:

Students Private Tour: 9 Days Beijing-Xi'an-Shanghai

China's economy and industry have grown rapidly in the last 40 years. You will see China's industrial achievements and learn about environmental protection from this China industrial tour itinerary. You will have a new understanding of China and be inspired in your journey.
Trip Highlights
Well-selected industry companies
See the great constructions and architectures
In-depth understanding of China's industry and companies
Tailor-make company visit based on your requests
Experienced English-speaking guides
Suitable For: School Students
Full itinerary for China Industrial Tour for Students
Day 1
Beijing Arrival
Your guide in Beijing will be waiting for you with your name sign at the arrival hall of Beijing airport (PEK or PKX). It takes about 1-hour from the airport to your hotel. Hotel check-in and relax for the rest of the day.
Day 2
Beijing: Beijing City Tour (breakfast & lunch)
Morning
A visit to Tiananmen Square is the must-be place for travelers. Tiananmen Square is located in the center of Beijing and is one of the iconic landmarks of China.
Next to Tiananmen Square, the Forbidden City is right behind the Tiananmen Tower. Walking into the Forbidden City will take you back in time. You will learn the history of this ancient capital and see Chinese traditional architecture design and constructions in this royal palace.
For lunch, you will enjoy the famous Peking Roast Duck at a local restaurant.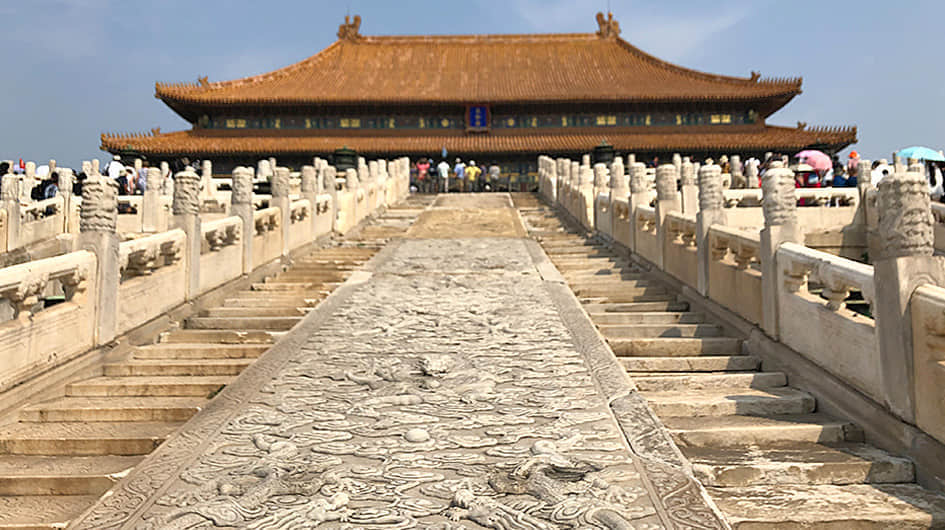 The emperor who was the only person would be carried in his sedan over the stone carving.
Afternoon
In the afternoon, you will visit the Gaobeidian Wastewater Treatment Plant. This is the largest Wastewater Treatment Plant in Beijing and the third in China. Nearly half of the wastewater in Beijing will be treated here before the wastewater is discharged into the rivers. It's a great project for a city with a population of more than 21 million. You will learn about managing and maintaining wastewater collection and treatment process.
Afterward, there is a stop at the Beijing Planning Exhibition Hall. You will see the history and future development of Beijing urban planning. This will give you a better understanding of all the famous architectures and constructions in Beijing.
Evening
Recommended optional activities:
1. 'The Legend of Kungfu' premiered in 2004. In contrast to the traditional Kungfu show, it demonstrates Kungfu through dramatic stories. The group also tours abroad and has a good reputation.
2. 'Acrobatics at Chaoyang Theatre' was founded in 1984. Their performances have won more than 30 awards at home and abroad. "Blue And White Porcelain" (balancing a stack of bowls on the head), which is one of them, was on the stage of the Spring Festival Gala in 2015.
Day 3
Beijing: Ancient Construction vs. Modern Construction (breakfast & lunch)
Morning
Today, you will visit the Mutianyu Section of the Great Wall. A place that is opened all-season. This part of the Great Wall is one of the most famous and beautiful sections. You will take a round-way cable car to go up and down the wall. You will be surprised how ancient people built this incredible construction without machines. It's one of the 7 Wonders of the World.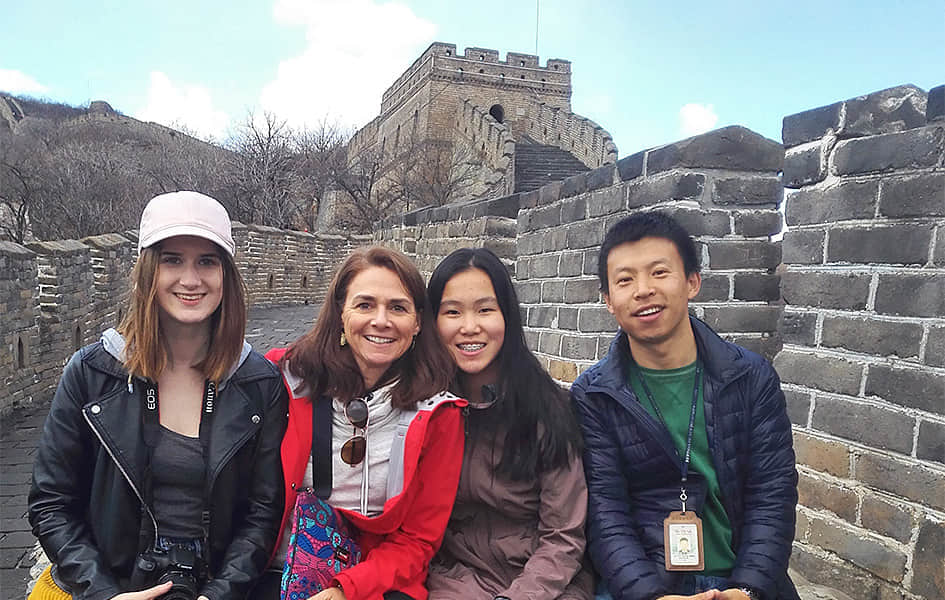 Mutianyu Great Wall
Afternoon
After lunch at a local restaurant, your next destination is the Bird's Nest Stadium and Water Cube in Beijing Olympic Park. The outer shield of the Bird's Nest Stadium is constructed of 42,000 tons of special tailor-made steel. You will be amazed when you see this super-sized "Bird's Nest".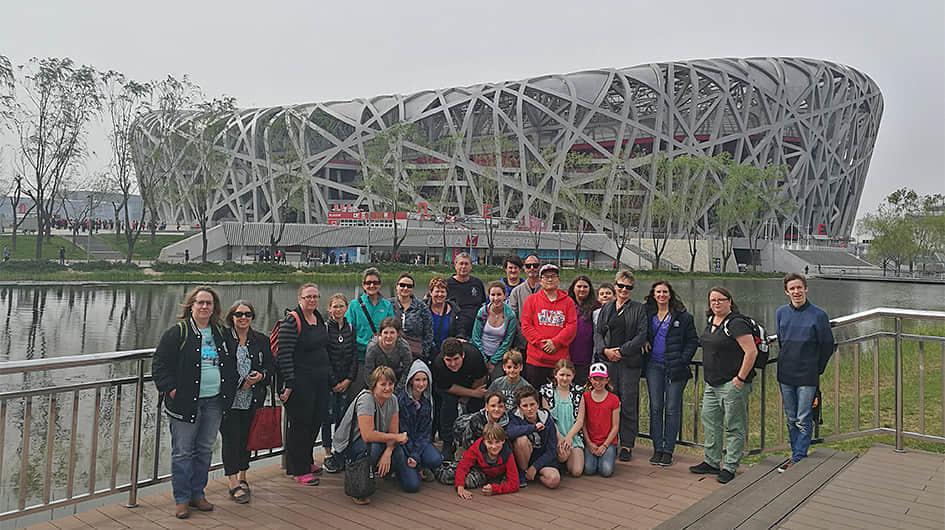 Bird's Nest Stadium
Day 4
Beijing-Xi'an by High-Speed Train (breakfast)
Morning
Hotel check-out in the morning after breakfast. In the morning you will visit the Summer Palace as the last attraction in Beijing. As a well-preserved imperial garden in China, there are many natural and historical relics in the Summer Palace, such as Longevity Hill, Kunming Lake, Long Corridor, and the ancient opera-stage in the Garden of Harmonious Virtue.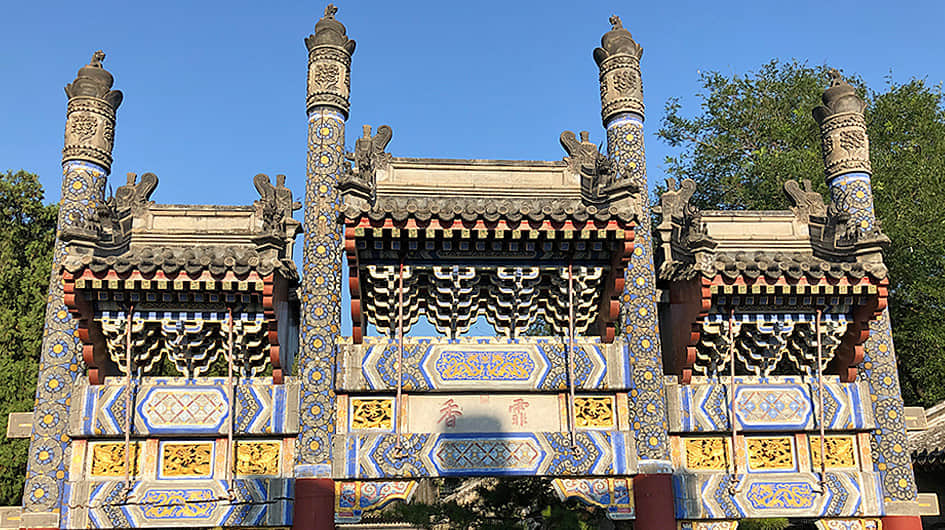 The Exquisite Archway in the Summer Palace
Afternoon
You will be taken to Beijing Railway Station where you will take the high-speed train to Xi'an.
Evening
Arrive at Xi'an North Railway Station and meet your guide at the exit. Transfer to your hotel and check-in.
Day 5
Xi'an: Ancient Heritage Sites Visit (breakfast & lunch)
Morning
Visiting the Terracotta Army is always on the list of every traveler to Xi'an. This world heritage site is a great opportunity to understand the burial system and history of the Qin Dynasty over 2000 years ago.
You will have time to visit a Handmade Pottery Factory, where you will learn the manufacturing process of making the Terracotta statues and an opportunity for you to try and make one yourselves.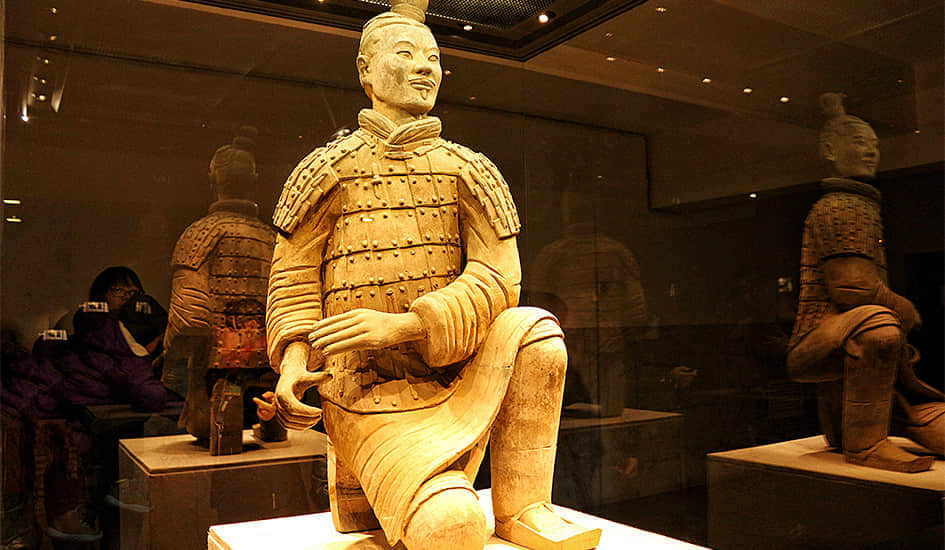 Kneeling Archer
Afternoon
Have lunch at a local restaurant, you will be driven back to downtown Xi'an. The next attraction is the ancient City Wall of Xi'an. The ancient City Wall in China has a circumference of 13.74 km (8.5 miles). It's a popular photography site in Xi'an. The City Wall will be illuminated at night and makes this ancient capital charming.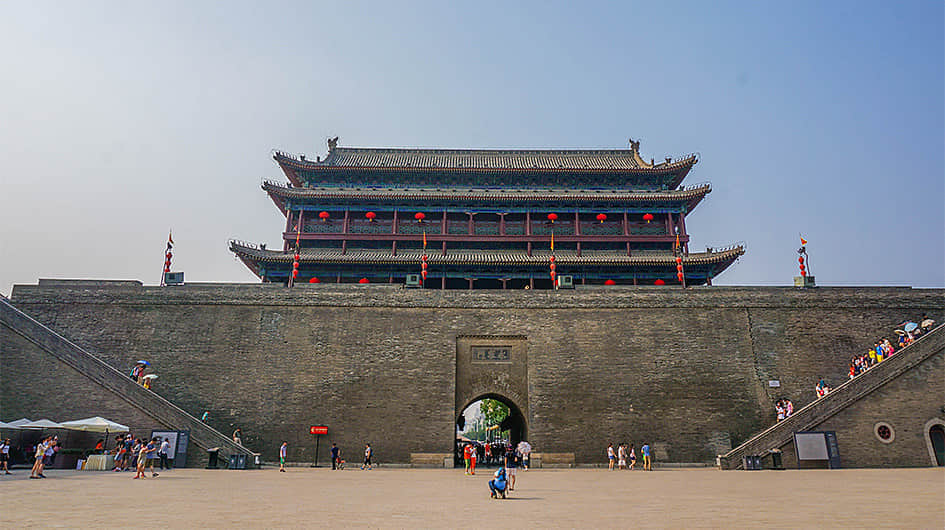 The South Gate of Xi'an City Wall
Evening
Recommended optional activities:
'Tang-Dynasty Palace Music and Dances' is a performance that was re-created by many famous artists in Shaanxi province, displaying the essence of music, rhythm, and dance art in the Tang Dynasty.
Day 6
Xi'an-Shanghai by flight: Soda Water Factory Visit (breakfast & lunch)
Morning
Hotel check-out after breakfast, and you will be taken to visit Bingfeng Soda Water Factory in Xi'an, famous since 1953. You will be able to watch the production process from bottle washing, canning, sealing, packing and transportation.
Have lunch at a local restaurant and then head to the airport.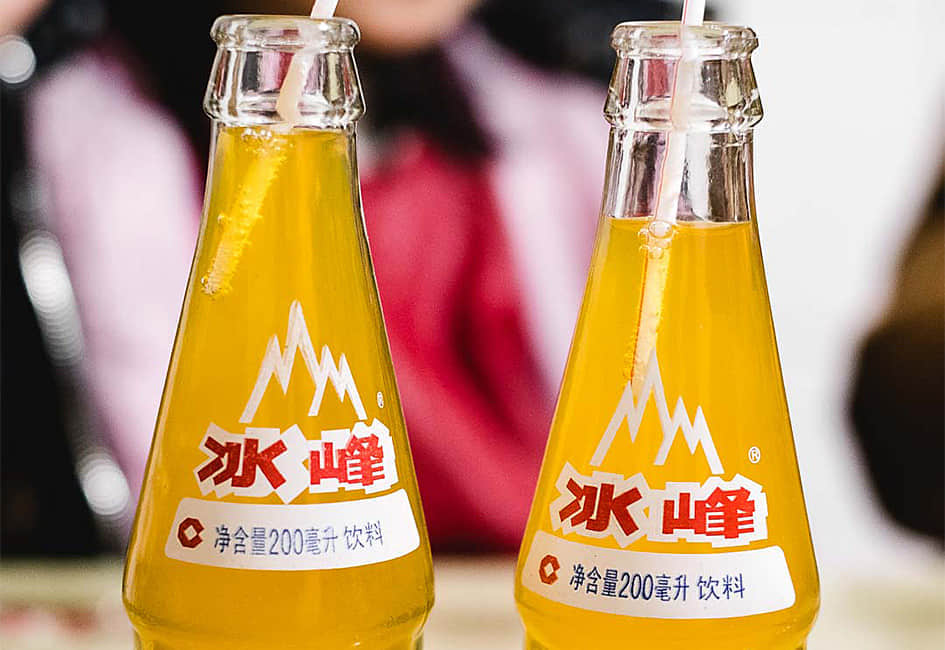 Bingfeng Soda Water
Afternoon
Arrive at Xi'an Airport (XIY), you will take an afternoon flight from Xi'an to Shanghai.
Evening
Meet your guide in Shanghai Airport and check-in at your hotel after an hour's drive.
Day 7
Shanghai: The Model of Future City (breakfast & lunch)
Morning
In the morning, you will visit the BYD Auto Industry Company. After 20 years of fast growth, BYD Auto became a famous brand in China. In the last few years, BYD Auto dedicated to providing zero-emission energy solutions. Nowadays their products include passenger vehicles, rail transit, batteries and electronics.
You will see their lithium battery production line and solar power station. There you will learn about renewable energy production, storage, and applications. You can even sit in a BYD new-energy vehicle to experience the quality of their product.
Afterward, you will be transferred to downtown Shanghai and have lunch.
Afternoon
After lunch, you can take a leisurely walk along the Bund on the bank of Huangpu River. It's the best place to capture the development of Shanghai over the past 100 years.
From there, you will go across the Huangpu River and visit Shanghai's iconic building, the Shanghai Tower. It's 632 meters (2,073 feet) tall and with 128 stories, making it the tallest building in Shanghai. You can take a panoramic view from the sightseeing hall at 118 stories.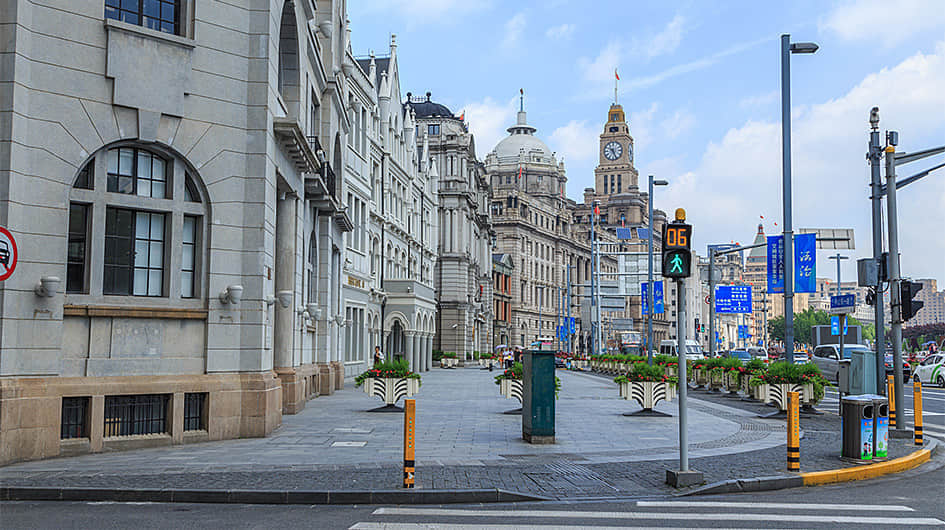 The Bund
Evening
Recommended optional activities:
1. A live acrobatic show by 'Shanghai Acrobatic Troupe' or another one called 'ERA, Intersection of Time'.
2. 'Night cruise along Huangpu River' to see the beautiful city lights on both sides.
Day 8
Shanghai: China's Top Steel Company Visit (breakfast & lunch)
Morning
After breakfast, you will head to the Baosteel Group Corporation and visit this top steel company in China. You will visit the all-weather berth, blast furnace, and hot strip mill. You will see the steel manufacturing process in the workshop. The development of steel smelting is very important for major projects in China. For example, the 'Bird's Nest' Stadium, high-speed train, and skyscrapers that you have seen in Beijing, Xi'an, and Shanghai.
On the way back to Shanghai downtown, you will stop at China Industrial Design Museum. It's the first museum with the theme of industrial design in China and a base of science education in Shanghai. This museum aims to collect the industrial products produced since 1949. It's a great place for you to learn about the development of China's industry from the last century.
Afternoon
You will have a late lunch and then take a leisurely walk through the Former French Concession. There are still many historical buildings in this area. It's a great place for history to learn and relax in this busy city.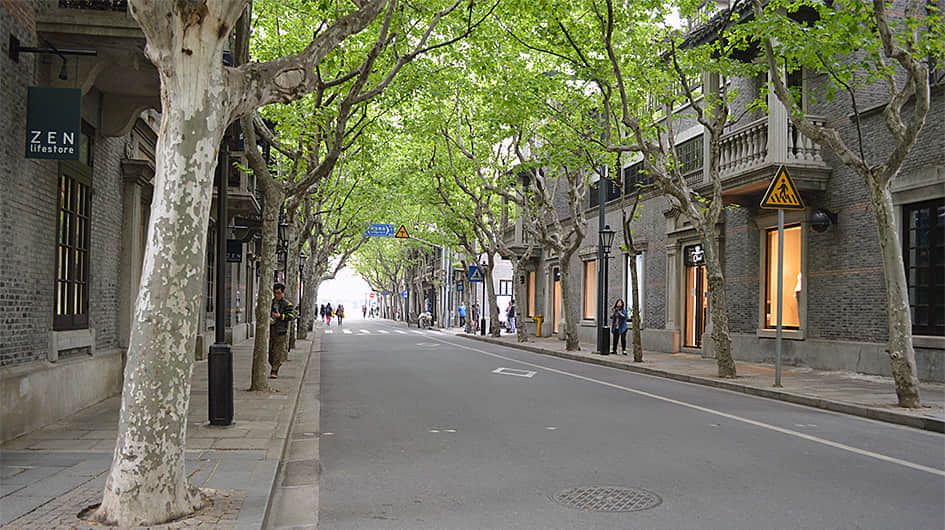 The Former French Concession
Day 9
Shanghai Depart (breakfast)
Today, your guide will assist you to experience the Maglev Train, traveling at a speed of 400 km/h, from downtown to Shanghai Pudong Airport(PVG). You will get there on time for your departure flight back home.
Depart Shanghai for home.
Hotels for your reference
| | |
| --- | --- |
| Beijing | Feitian Hotel |
| Xi'an | Grand Noble Hotel |
| Shanghai | Narada Boutique Hotel Shanghai Bund |
What's Included
English-speaking guides, drivers and fine condition coaches
Domestic flight and high-speed train tickets in the itinerary
All accommodations
Admission to all attractions and factories as listed
Meals as listed in the itinerary
Bottled water every day