February is one of the coldest months in the year in Shangri-La, but the temperature is a bit higher than last month. There are more sunny and snowy days during the month, and the average temperature is between -6°C/21.2°F and 7°C/44.6°F.
| | | | | |
| --- | --- | --- | --- | --- |
| | Average Maximum | Average Minimum | Highest Maximum | Lowest Minimum |
| ℃ | 7 | -6 | 14 | -10 |
| ℉ | 44.6 | 21.2 | 57.2 | 14.0 |
Sunny Days: 10 days
Cloudy Days: 2 days
Rainy Days: 6 days
Snowy Days: 1 day
What to wear and bring
Early February
In early February, the temperature is as low as -9°C/15.8°F. The rainy days and snowy days of the whole month are concentrated in this period. It is recommended that you wear down jackets, fur coats or windproof coats.
Mid-February
In mid-February, the temperature continues to drop, with the minimum temperature staying generally around -6°C/21.2°F. Compared with early and late February, the middle of February is colder. As it is sunny for most of the time, it is recommended that you wear windbreakers, down jackets, or other heavyweight warm clothes for outings.
Tips:
Weather on the Chinese Spring Festival
On Spring Festival, it is usually snowy and quite cold, with the temperature staying between around -6°C/21.2°F and 6°C/42.8°F. In China, almost every family has to go shopping on this day. It is recommended that you wear warm clothing like fur coats, down jackets or winter coats. Bring rain gear in case of snow.
Late February
In late February, it is warmer than other periods in the whole month, and there are more sunny days, with a little rainfall. It is recommended that you wear cotton-padded clothes, winter clothes, etc. Bring your rain gear in case of rain.
Historical Shangri-La Weather in February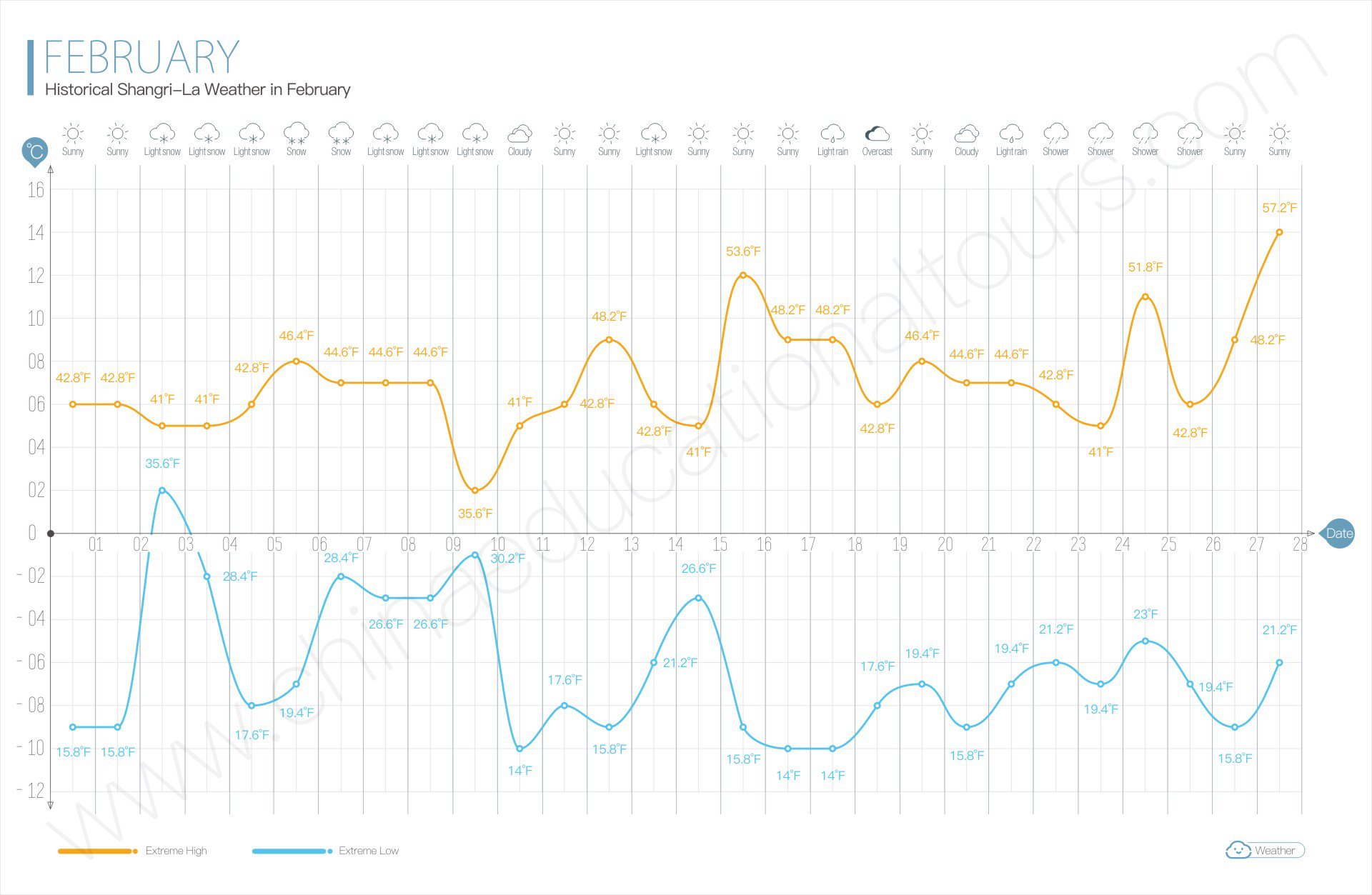 click here to enlarge