Qingdao Weather in September
September is cooler than last month, with the average temperature staying around 25°C/77°F. There are more sunny or cloudy days than rainy days.
| | | | | |
| --- | --- | --- | --- | --- |
| | Average Maximum | Average Minimum | Highest Maximum | Lowest Minimum |
| ℃ | 25 | 19 | 29 | 16 |
| ℉ | 93.2 | 78.8 | 96.8 | 77.0 |
Sunny Days: 15 days
Cloudy Days: 10 days
Overcast Days: 3 days
Rainy Days: 2 days
What to wear and bring
Early September
Early September is the hottest period in September, when the maximum temperature stays around 29°C/84.2°F. As most of the days are sunny, it is recommended to wear shirts, skirts and short pants.
Mid-September
After early September, the temperature starts to drop for a couple of days, with the lowest temperature around 19°C/66.2°F. There are some cloudy and rainy days. Wearing cool clothing like shorts or trousers, dresses and lightweight coats is suitable.
Late September
Compared to other periods, late September is cooler. The temperature is between 16°C/60.8°F and 25°C/77°F, and there are all sunny or cloudy days. It is suggested to wear shorts and lightweight coats.
Tips:
Weather on the Chinese Mid-Autumn Festival
On Mid-Autumn Festival it is a little cool in Qingdao, when the temperature is just between 16°C/60.8°F and 25°C/77°F, and it is often a sunny day. It is a nice day for people to celebrate the festival. Wear shorts and lightweight coats.
Historical Qingdao Weather in September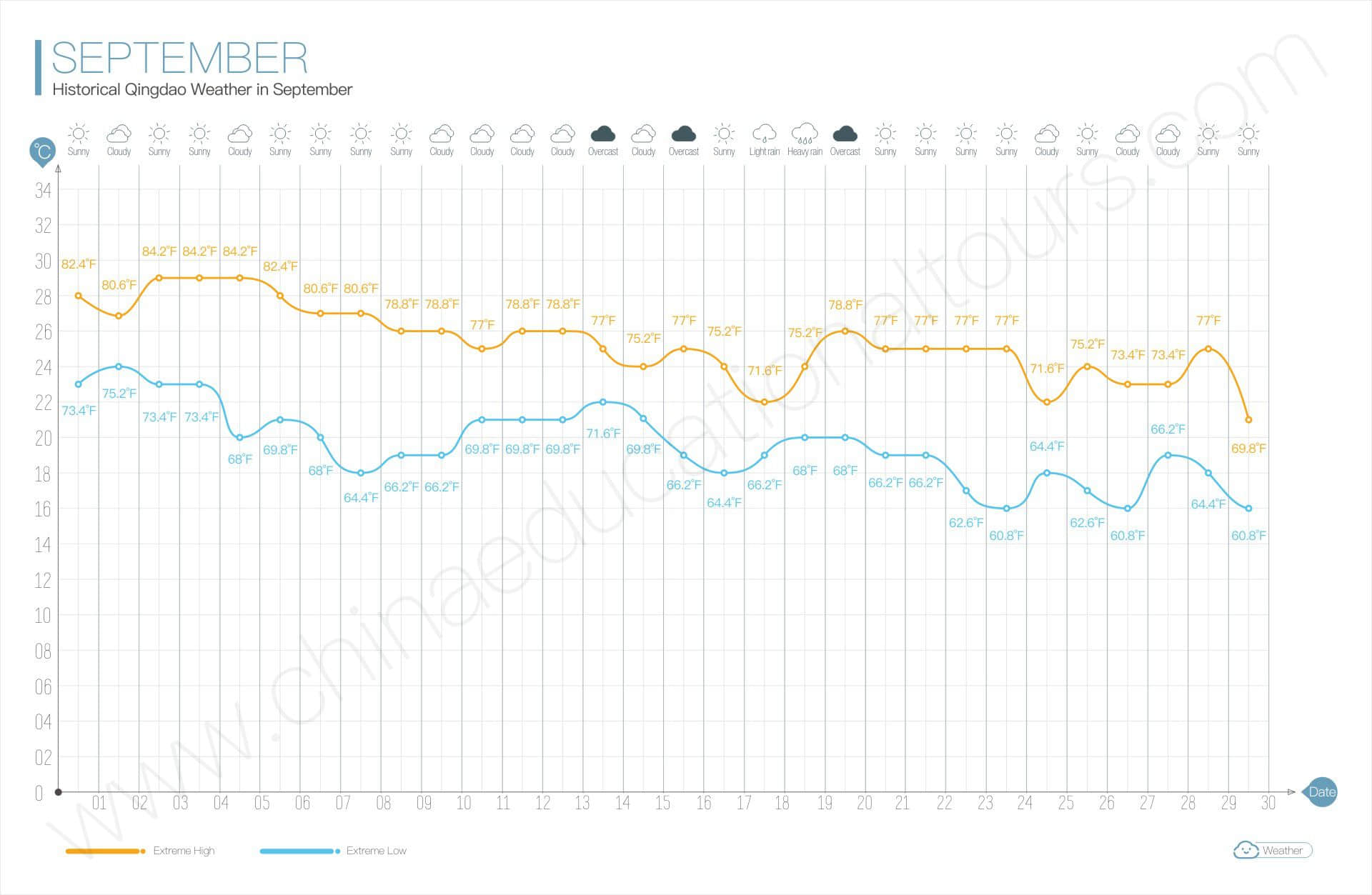 click here to enlarge
Have a question?
OR
Are you eager to begin your Chinese cultural journey?
Drop us a line and we will promptly connect you with our leading China expert!