Qinghefang Ancient Street is not only the most famous and the most well-preserved ancient street in the history of Hangzhou City, but also provides an illustration of the history of Hangzhou. Qinghefang arose in the Song Dynasty and thrived in the Qing Dynasty. It was once the most prosperous commercial district of Hangzhou. Most of the existing ancient buildings in the street were built at the turn of the Ming and Qing Dynasty. At that time, there were many shops, restaurants and teahouses on the street, enjoying booming businesses. In ancient times, Qinghefang Ancient Street was known to be "with Court Ahead and Market Behind". "Court Ahead" means that it faced the imperial court, that is, the imperial palace of the Southern Song Dynasty at the foot of Phoenix mountain, and " Market Behind" means that there was a market to the north of Qinghefang, that is, the region of Hefang Street. It had enjoyed great commercial prosperity from the Yuan, Ming and Qing Dynasties, and the period of the Republic of China to the eve of China's liberation. Many century-old shops in Hangzhou were gathered here.
Quick Facts
Chinese Name: 清河坊 Qīng Hé Fāng
Duration: 1-2 hours
Entrance fee: free of charge
Opening hours: Full day
Address: business area at Hefang Street, Shangcheng District, Hangzhou City, Zhejiang Province
Best time to visit: All year round
Bus lines: Take Metro Line 1 and get off at the Andinglu stop and then walk nearly 600 meters to the destination. Take bus No. 206 or 216 and then get there on foot.
Origin of Qing He Fang:
Hangzhou was chosen as the capital in the Southern Song Dynasty. Then a 9-li ("li" is half a kilometer) imperial palace and a 10-li street were established in Hangzhou. Relatives of the emperor and powerful officials all built palaces and residences on both sides of the street at the periphery of the imperial palace. The name of Qing He Fang is related to Zhang Jun, the prime minister of Southern Song Dynasty. In the 3rd year of the Jianyan ruling period of the Southern Song Dynasty (1129), Zhang Jun defeated Jin's army at Mingzhou (today's Ningbo City) and won a complete victory at Gaoqiao Town. In his later years, he was dubbed Qinghe governor, enjoying great favor. He built his Qinghe Governor's Palace at today's Taiping Alley Hefang Street. That's how Qing He Fang Street got its name.
Highlights of Qinghefang Ancient Street:
Distinctive Exhibition Halls
Distinctive Exhibition Halls in Qing He Fang include Zhubingren Bronze Sculpture Art Museum, Guanfu Museum, Santai Art Museum, Shouzhen Special Art Museum, World Numismatic Museum, and Ancient Ceramics Museum.
Zhubingren Bronze Sculpture Art Museum is the only Bronze Sculpture Mansion in China and thus is reputed as "Jiangnan Bronze House/Bronze House of Southern Yangtze River". With bronze as its essence, it adopts the architectural style of Jiangnan residences and integrates painting, sculpture, construction and calligraphy into it, representing intense bronze and Buddhist culture.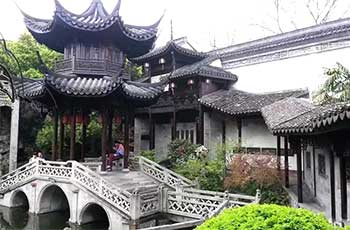 The former Residence of Huxueyan
The No. 1 Mansion of Chinese Successful Merchants:
Huxueyan (1823-1855) was one of the most successful merchants in Chinese history as well as a triumphant politician. The former Residence of Huxueyan is a must-see attraction in Qing He Fang. Corridors, alleys, pavilions, terraces, halls, courtyards, cliffs, rockeries, bridges, rivers, doors, windows and carefully-carved arches all reflect the style of a famous garden. It has a collection of some gorgeous calligraphic and stone-carving pieces of the famous artists, such as Zheng Banqiao and Tang Bohu. It is recommended for both youngsters and seniors.
Delicious Food at Qing He Fang:
Time-honored Brands:
The famous restaurants in Hangzhou include time-honored brands such as Louwailou, Tianwaitian and Shanwaishan. When first coming to Hangzhou, you may be attracted by the fame of "Louwailou". Indeed, "Louwailou" is the best place to appreciate the landscape of West Lake. In the archaic building, you can look out over the glistening waters from the windows, enjoying the authentic flavor of ancient Hangzhou.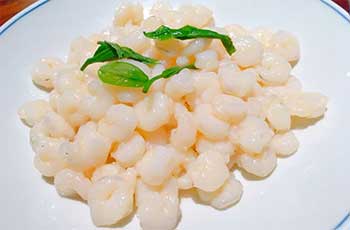 Stir-fried Shrimps with Longjing Tea
Local Delicacy:
Hangzhou cuisine belongs to Zhejiang cuisine—one of the 8 major Chinese cuisines. "Freshness and novelty" are the major characteristics of Hangzhou cuisine. And it also has the allusion of "dismounting your horse for the strong scent". Hangzhou has many famous dishes, among which Beggar's Chicken, Braised Dongpo Pork, Sister Song's Fish Broth, West Lake Fish in Vinegar Gravy, Stir-fried Shrimps with Longjing Tea, West Lake Water Shield Soup, and Oil-cooked Bamboo Shoots are the most famous ones. Braised Dongpo Pork is moist and succulent but not greasy, Beggar's Chicken is fragrant and refreshing, and West Lake Fish in Vinegar Gravy is tasty and delicious. You should not miss these cuisines when touring Hangzhou.