Wenchang Pavilion, built in 1609 (the 37th year in Wanli era of the Ming Dynasty), covers an area of over 1,200 square meters. It is famous for its ingenious design and distinctive structure, and has been awarded the National Key Culture Relic Protection Unit. Wenchang Pavilion is a kind of traditional Chinese architecture designed for religious sacrifice, so there are many Wenchang Pavilions in many places around China. The Guiyang Wenchang Pavilion is a nonagon-shaped (9-sided) pavilion, with a peculiar architectural style. It sits up high on the walls on the east gate in Guiyang city (capital of Guizhou province), so if you step onto the Pavilion, everything from mountains and rivers to cities and walls are within your sight. Therefore, it is a good place to have a grand view of Guiyang.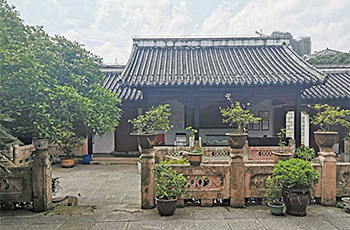 Quick Facts
Chinese name: 文昌阁 wén chāng gé
Visit time suggested: 1 hour
Ticket: free
Address: No.1, Wenchang North Rd, Nanming District, Guiyang
Opening hour: 8:00-18:00
Best months for visit: May-November
Transportation: You can take Line 4, Line 5, Line 6, Line 18, Line 21, Line 22, Line 24, Line 25, Line 31 Loop Line, Line 32m Line 34, Line 37, Line 40, Line 42, Line 44, Line 45, Line 54, Line 61, Line 64, Line 68, Line 69, Line 202, Line 253, Line 303 and get off at East Gate Station.
Highlights of the Site
Wenchang Pavilion is a nonagon-shaped and three-layer architecture, with supporting palaces on both sides and an ascetic room in front. The overall layout of the Pavilion is a quadrangle courtyard, with three layers and three eaves. The pinnacle is non-equilateral nonagon. Besides this, there are many inserted arches in each layer, with relatively low uptrend angles. The paper-cut window decoration and planks are decorated with colorful painting, making it locally characteristic in architectural style.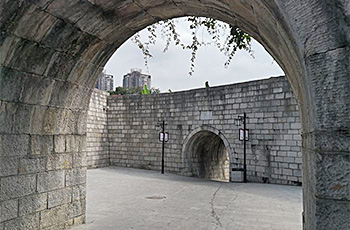 Architectural style: The bottom layer of Wenchang Pavilion is square-shaped, and the second and third layers are nonagon-shaped. In total there are 81 beams and 54 columns, all of which are multiples of 9. And there are respectively 9 wooden columns in the second and third floors. The number 9, in The Book of Changes, means supremacy and noble position. The structure of the Pavilion is: three layers, three eaves, and the non-equilateral-nonagon-shaped pinnacle. Currently, all eaves of pavilions in China are an even number in amount and equal in angle, so Guiyang Wenchang Pavilion is the only one without such structure.
The Pavilion is imposing and ancient, the yard is tranquil and beautiful. All paper-cuttings and plans are decorated with colorful painting. The sculpture is different from that in Northern China, with supporting palaces and ascetic room equipped with heavy eaves. At the early stage of its construction, there was even a stable for horses and mules. A copper drum is set on the main Pavilion, making the architectural style pretty characteristic. It is pretty rare to find somewhere else in China where Pavilions are nonagon-shaped. The Pavilion sits high up on the walls, with everything from mountains and rivers to cities and walls within your sight, making your journey much more joyful.