Xianggong Hill sits on the west bank of the Li River in Xingping Town, Yangshuo County, lying between the two famous tourist attractions the Yellow Cloth Shoal and Nine Horses Fresco Hill, and is about 28 kilometers away from Yangshuo. It is a great location overlooking the "First Bay of the Li River" and the perfect place for watching the sunrise and taking photos.
Quick Facts
Chinese name: 相公山 xiàng gōng shān
Entrance Fee: 60 yuan (adults/children over 1.3 meters)
Opening hours: 5:00 am - 8:00 pm
Best time to visit: April to October
Address: west bank of the Li River in Xingping Town, Xingping Ancient Town (between the Yellow Cloth Shoal and Nine Horses Fresco Hill)
How to get there: travel from Yangshuo or Guilin to Putao or Baisha town, then rent a car to reach the foot of the mountain. You can also drive (or rent a car) directly from Yangshuo, and after passing Baisha, turn right towards the direction of Guban. If you prefer going by waterway, you can rent a boat and sail from Xingping, passing the Yellow Cloth Shoal to reach the foot of the mountain, and then walk up the mountain.
Highlights of Xianggong Hill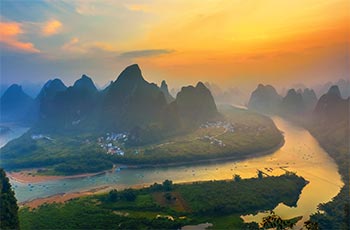 The Sunrise in Xianggong Hill
1. Sunrise and the Sea of Clouds
Travel to Xianggong Hill before dawn to take photos of the sunrise, the sea of clouds, and the amazing rosy sunglow. Each year, a good number of photographers are attracted here by the sunrise and the mountain peaks shrouded in mist and fog. The number of visitors usually peaks at this hour, though a few people come here during the rest of the day. When the burst of sunshine thrusts out through the clouds, the scene is mesmerizing and unforgettable.
2. Karst Landscape
The Li River courses through Yangshuo County for 56 kilometers. The numerous peaks on the two sides of the river come in all shapes and forms. The stunning karst hills and lush bamboo groves on the shore are reflected in the limpid and emerald river, forming a magnificent scroll of landscape painting. Ascending the Xianggong Hill to look far into the distance, you will see the peaks arranged in an orderly manner, the clear Li River meandering through the embrace of the mountains and you can look over the superb panorama of the magnificent karst landforms.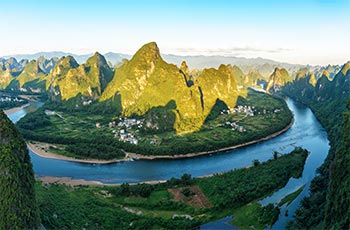 The Li River in Xianggong Hill
3. The Li River
The Li river makes a magnificent U-shaped bend at the foot of the Xianggong Hill. The scenery changes with the weather. On overcast days, the hills are wreathed in mist; on clear days, the scene is full of vigor. Xiangong Hill, with a full view of the "First Bay of the Li River", Lijiang Bay, is the best spot for appreciating the beauty of the Li river, and is not to be missed.