Chinese Embroidery - The Art of Needle and Thread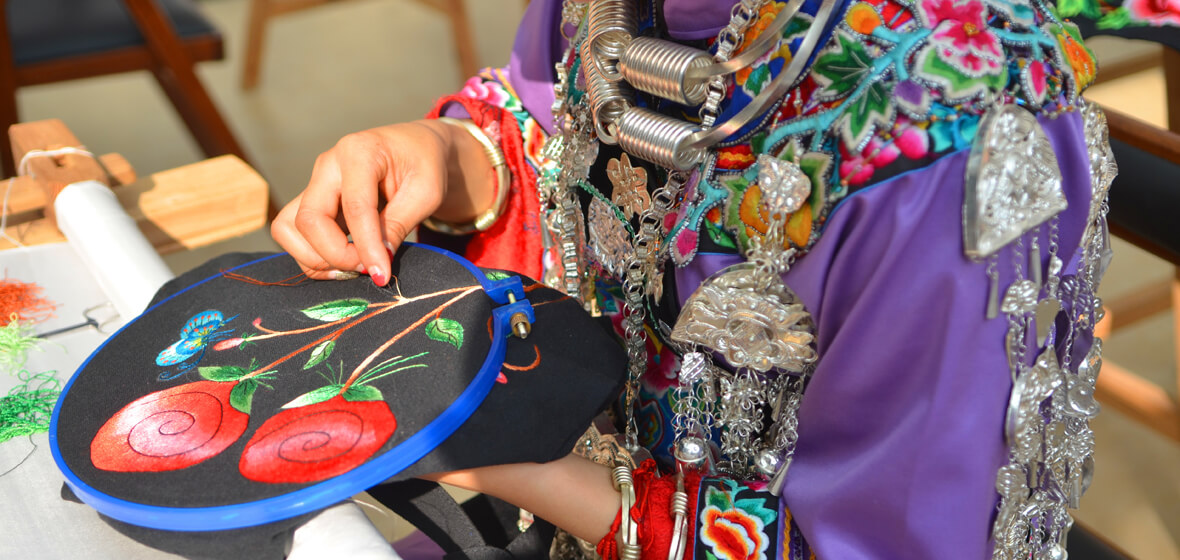 China was the epicenter of silk production for thousands of years. It is no wonder that we have a variety of arts related to silk, one of which is embroidery. Embroidery, with at least four thousand years of history, is one of the traditional Chinese folk arts and crafts. Chinese embroidery is known for its use of vibrant colors, intricate designs, and a wide range of stitches. These techniques have been developed and refined over thousands of years and are still highly valued as a traditional art form in China today. Since most embroiderers are women, it is also called "women's needlework". Embroidery has been widely popular among the Chinese people since ancient times. It can be used to decorate clothing and other articles of daily use. For example, clothes, quilts, baby holders etc. It can be embroidered with beautiful patterns, or a piece of embroidery can be made for a special ornament. You can find regional embroidery all over China, and most ethnic groups also have their own distinctive embroidery.
Four Famous Embroideries in China
The Four Famous Embroideries of China refer to the Xiang embroidery in central China's Hunan Province, Shu embroidery in western China's Sichuan Province, Yue embroidery in southern China's Guangdong Province and Su embroidery in eastern China's Jiangsu Province.
Su Embroidery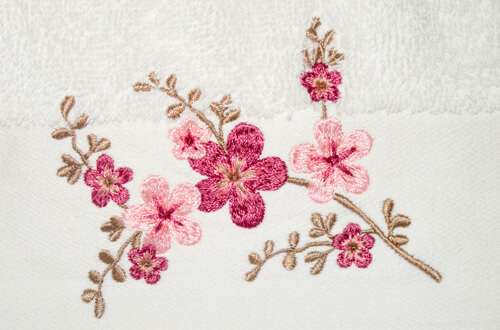 Su embroidery is the most celebrated of the four main styles of Chinese silk embroidery, hailing from Suzhou and surrounding towns of Jiangsu province in eastern China. Suzhou has been one of China's silk capitals for more than one thousand years. It is easy to understand why Suzhou became a center of embroidery.
Su embroidery is characterized by its fine and delicate stitches, often depicting natural scenes or figures. It uses silk threads in various colors and shades to create intricate designs.
Xiang Embroidery
Also known as Hunan embroidery, this style of embroidery originated in the Hunan province in central China. It is known for its use of bright colors and bold designs, often depicting animals or natural landscapes. Xiang embroidery also uses a variety of stitches, including satin stitch, chain stitch, and seed stitch.
Paintings are often used as a reference for Hunan embroidery designs. Favorite subjects are landscapes, figures, flowers and birds, and classical Chinese paintings featuring birds and beasts. Embroidery featuring lions and tigers is especially popular.
Shu Embroidery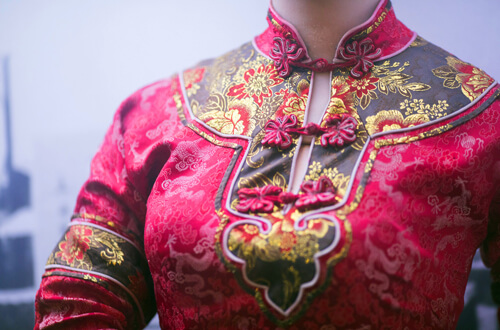 Shu embroidery, or Sichuan embroidery, originates from the area around Chengdu in Sichuan Province. It is based on the use of colored silk and satin cloth. It is marked by its even stitching and subtle colors. The general closeness of the stitches allows for embroidering intricate details. It is used to decorate pillow cases, shoes, quilt covers, garments, and screens. Shu embroidery often shows the panda bear. It also depicts scenes from Chinese mythology or historical events, and uses silk threads in a wide range of colors to create shading and depth.
Yue Embroidery
Yue Embroidery, also known as Guang Embroidery, is a general name for embroidery products of the regions of Guangzhou, Shantou, Zhongshan, Fanyu and Shunde in southern China's Guangdong Province. Yue embroidery often uses a combination of long and short stitches to create texture and detail. Yue embroidery has a wide range of themes, but the most common are birds paying homage to the phoenix, dragons, peonies, pine trees and cranes, monkeys, deer, chickens, and imitation of ancient paintings. Most of the embroidery items are suited for bedroom, or as clothes, ornaments, and furnishings.
Embroidery of Ethnic Minority Groups in China
Embroidery is an important traditional handicraft of many ethnic minority groups in China. Each ethnic group has its own unique style and techniques, which reflect their cultural traditions, beliefs, and lifestyle. Some examples of ethnic embroidery styles in China are:
Miao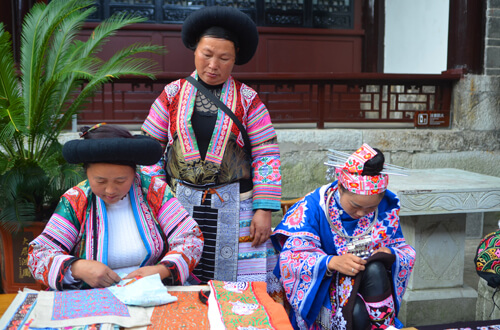 The Miao people (or known as the Hmong in the United States and Australia) of China produce some of the most intricate and beautiful embroidery in the world. Miao embroidery favors bold basic colors – red and green are prominent, and other colors include yellow, orange, bright blue, and white, usually on a blue or black background. Nature motifs such as mountains, butterflies, flowers, and birds frequently appear, as these have a unique place in Miao mythology. Their embroideries reflect their world view, values, history, religions, and the social changes they have experienced over the centuries. Working with silk and cotton thread, as well as with horsehair, embroiderers adorn cuffs, sleeves, collars, and tunic fronts with designs of mythical animals (dragons and phoenixes) and ordinary insects, fish, and flowers. Vibrant colors—such as scarlet, pink, purple, dark blue, and bottle green—are frequently used.
Dong
Embroidery by the Dong people combines paper-cutting and embroidering techniques. The first step of Dong embroidery work is paper-cutting, that is, cutting out various patterns with paper, and then embroidering according to the patterns. Embroiderers use small scissors to cut out individual patterns on a blank piece of cardboard according to the patterns constructed in their minds, and because the patterns are used for the decoration of clothing, the patterns are usually small and delicate.
Dong embroidery is mainly used for women's clothing, men's headscarves and gaiters, children's bibs, shoes and hats, and other lace pattern decoration.
Shui Horsetail Embroidery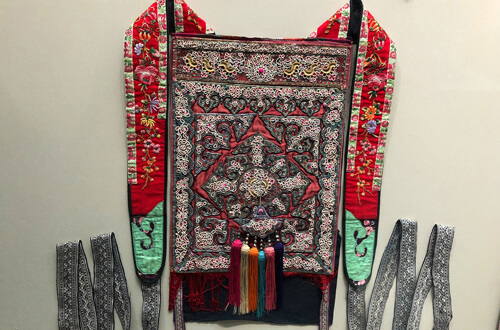 The Shui is an ethnic group that lives along the Long and Duliu Rivers in Sandu, Limbo, Dushan and Duyun in southern Guizhou Province. The Shui people created a unique style of embroidery called horse tail embroidery.
Unlike many other embroidery styles, the horse tail embroidery is characterized by unique prefabricated sewing threads made up of horse tail fibers wound with silk yarns from the outside. Using the prefabricated horse tail sewing threads, embroiderers carry out their needlework following sketches prepared in the first hand. The sophisticated procedures of the horse tail embroidery make it an acclaimed traditional art, which was also recognized as a national intangible cultural heritage in 2006.
The horsetail embroidery is chiefly used to make T-shaped bags for carrying babies on the back, embroidered shoes with an upward toe, corsets and pectoral plates for women, bonnets, pouches, protective casings for scabbards, and so on.
Yi Embroidery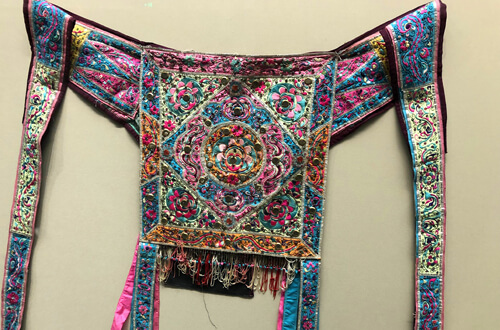 Yi, an ethnic group of about 8 million people, mainly inhabit the Yunnan and Sichuan provinces in southwestern China. Featuring bold colors such as red, yellow, and black, traditional Yi embroidery celebrates totems and time-honored customs. Most of the embroidery is about plants, animals, and nature such as flowers, butterflies, birds, tigers, and cats, as well as the sun, moon, and stars. For more than 1,300 years, the Yi people have been passing on their embroidery traditions, a form of intangible cultural heritage. However, steep mountains used to cut off the unique culture from the outside world. For a long time, the Yi embroidery art remained unknown to outsiders. With the help of modern media, Yi embroidery made a stunning appearance at New York Fashion Week (NYFW) in 2019, as Chinese designer Wang Tao brought the technique dating back thousands of years together with new urban fashion on the catwalk.
Where to See and Shop Embroidery in China?
There are many places to see and shop for embroidery in China, as it is a traditional and popular art form in the country. Here are some places you might want to consider:
Suzhou
Su embroidery is a traditional form of embroidery that originates from the city of Suzhou in China. If you are looking to purchase Su embroidery in Suzhou, check out Suzhou Embroidery Research Institute. Established in 1954, Suzhou Embroidery Research Institute now has over 100 specialized experts including senior craftsmen and highly qualified artists. The elaborate embroidery works created by Suzhou Embroidery Institute have been exhibited in more than 120 countries and regions.
Chengdu
Chengdu is the place to see and shop Shu embroidery. We recommend Chengdu Shu Brocade and Embroidery Museum. This museum is composed of three parts: the exhibition of Shu brocade and embroidery, artworks for sale, and a workshop where visitors can get up close with craftsmen. You can also find embroidery in gift shops on Kuanzhai Lane and Jinli Street.
Changsha
Changsha is the capital city of central China's Hunan Province. It is where Xiang embroidery originated. You can go to Shaping Xiang Embroidery Museum, which is a showcase of Xiang embroidery and its craftsmanship. It is famous for its embroidery of tiger designs. The artisans use very thin thread to embroider the fur and make the tiger life-like.
Guangzhou
You can see and buy Yue embroidery in Guangdong Folk Art Museum (in Chen Clan Ancestral Hall). The museum aims to collect, preserve, display, and conduct research on folk arts and traditional crafts from Guangdong province and other parts of China.
Another place is Chaozhou Embroidery Museum. Chaozhou embroidery is a type of Yue (short for Guangdong) embroidery, originating from Chaozhou, a city in eastern Guangdong province. There is an embroidery workshop where participants are taught how to make their own Chaozhou embroidery work with the help of skillful and experienced embroiderers in the museum.
Kaili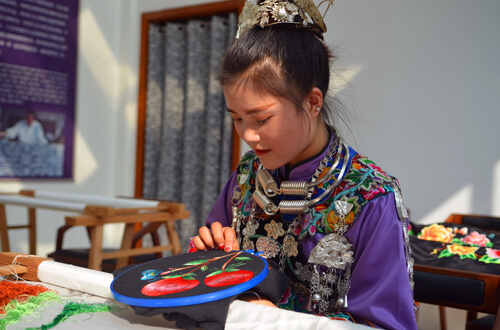 Kaili is located in the southeastern part of Guizhou province in Southwestern China. The city is the capital of the Qiandongnan Miao and Dong Autonomous Prefecture which is home to 33 ethnic minority groups. As the capital city, it is the best place to see and shop embroideries from local ethnic minority groups like Miao, Dong and Shui. You can find beautiful embroideries in the Kaili Ethnic Minorities Museum. The museum is a showcase of clothing, textiles, and jewelry from the ethnic minority (especially Miao) groups of the area. Another place to see embroidery is the Kaili Embroidery Market. The market started in the 1980s as dealers trekked from village to village to bring the region's best pieces to sell. Local people can gather everything that they need to continue their needlework at the market — from vintage costumes passed down over generations to freshly-made trimmings and bunches of braided ribbons and silk threads.