Chengdu Weather in April
April in Chengdu is usually nice weather. Compared to March, the temperature is higher. The highest maximum temperature is about 30°C/86°F. It is a bit hot on a few days, but you also need to keep warm at other times.
| | | | | |
| --- | --- | --- | --- | --- |
| | Average Maximum | Average Minimum | Highest Maximum | Lowest Minimum |
| ℃ | 9 | 2 | 15 | -2 |
| ℉ | 48.2 | 35.6 | 59 | 28.4 |
What to wear and bring?
Early April It gets hot in early April, and the maximum temperature is 30°C/86°F. During Tomb-Sweeping Day, the minimum temperature is usually about 6°C/42.8°F. It is a good idea to be prepared with a long sleeved shirt, some trousers and a jacket.
Mid-April
It is cooler in mid-April when it rains. The maximum temperature is usually around 25°C/77°F. Maybe you could dress in something made of light cotton and bring rain gear to go out.
Late April
With the late April weather stability, the temperature is between 14°C/57.2°F and 29°C/84.2°F. There are only likely to be a couple of days of rain, but it is better to go outside with your rain gear. At the same time you can try to wear cool clothes such as a short-sleeved shirt and shorts.
Historical Chengdu Weather in April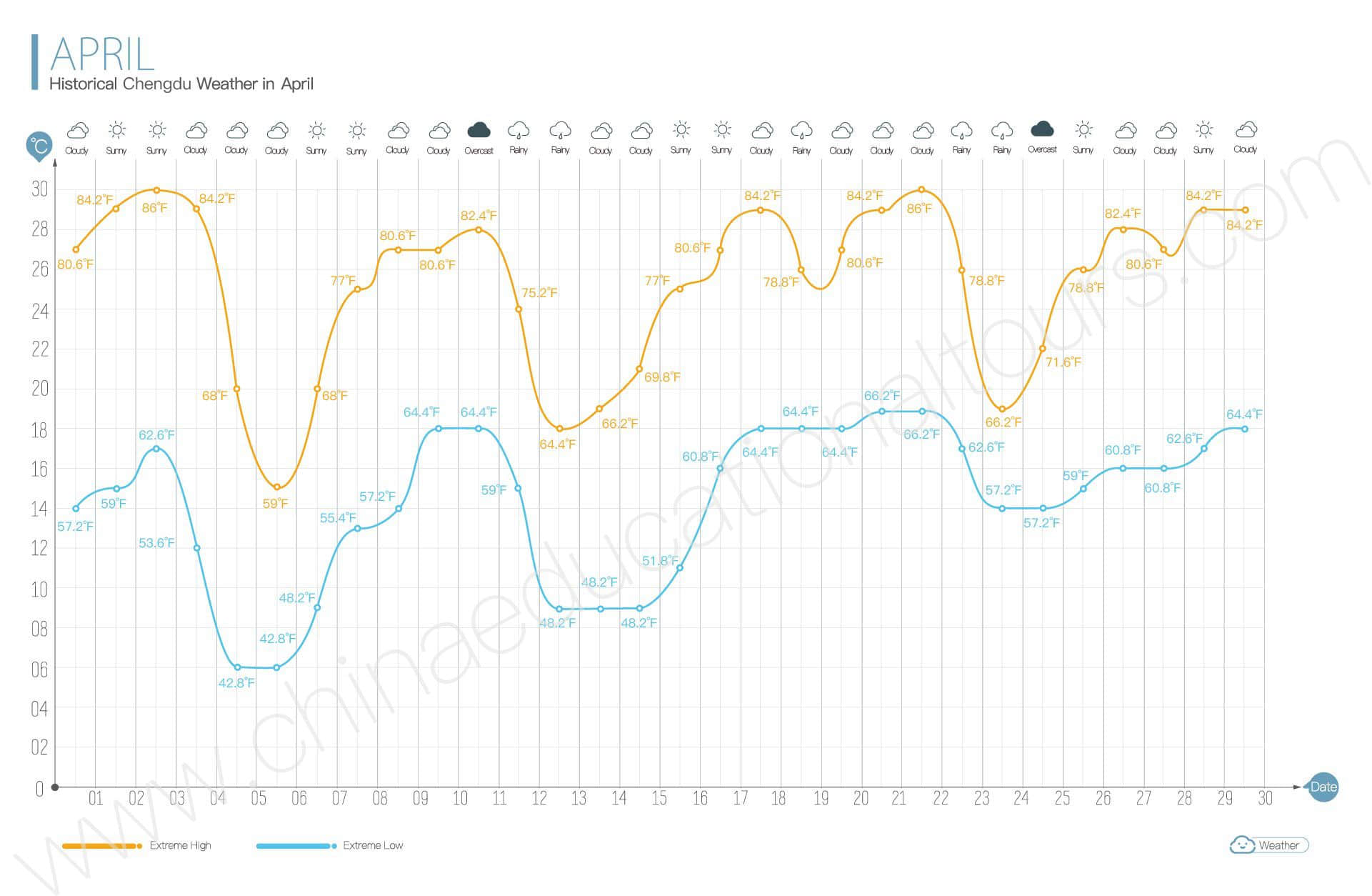 click here to enlarge
Have a question?
OR
Are you eager to begin your Chinese cultural journey?
Drop us a line and we will promptly connect you with our leading China expert!