Leshan Giant Buddha, also known as Lingyun Buddha, is located next to Lingyun Temple on the east bank of Min River, south of Leshan City, Sichuan Province, China. The Buddha is a statue of Maitreya Buddha in sitting posture. The 71-meter high statue carved out of a cliff set a record for its kind. The construction started in 713 A.D. in Tang Dynasty and was completed 90 years later.
Quick Facts
Chinese name: 乐山大佛 Lè Shān Dà fó
Constructed in: 803 A.D.
Duration: 4 hours
Entrance fee:
Ticket: 90 RMB per person; a yacht tour in Min River, 50 RMB per person
OFor peak season (April 1 - October 7), 7:30 - 18:00
For off season (October 8 - March 31), 08:00 -17:30
Address: No. 2435, Lingyun Road, Shizhong District, Leshan City, Sichuan Province, China
Best time to visit: spring and fall
How to get there:
Take the intercity train of Chengdu-Leshan, which takes about 1 hour. Get off at Leshan Station first. Then take the No. K1 Bus and get off at Huahuwan Station or take No. 605 Bus and get off at Dongfangfodu Station. The Buddhas is within the walking distance.
Highlights of Leshan Giant Buddha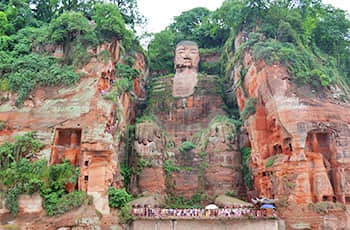 Leshan Giant Buddha
Leshan Giant Buddha
The head of Leshan Buddha is the top of the mountain. Its feet are on the river bank and hands rest on the knees. The solemn looking Buddha with a well-proportioned body carved out of the cliff is sitting properly facing the river. On the same cliff at both sides of the Giant Buddha, there are two stone statues of Dharma patronuses, both over 16-meter tall. The above joined by hundreds of stone statues have formed a large art cluster of Buddhist stone carvings.
Giant Reclining Buddha
The Giant Reclining Buddha, shaped by several mountains, is located on the periphery of the Leshan Giant Buddha scenic spot. The north-to-south ward distance between the Buddhas is about 1,300 meters. This Reclining Buddha has a clear outline and is lying peacefully on the river, from which, visitors could sense the placid emotion.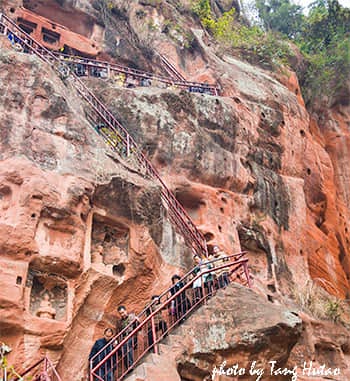 Lingyun Plank Road
Lingyun Plank Road
Along the right cliff of the Leshan Giant Buddha, there is a steep plank road as was excavated at the same time when the Buddha was under construction. The width of the plank road is 1.45 meters at the widest point and 0.6 meters at the narrowest point. A total of 217 spiral stone steps lead people down to the feet of the construction. At the top of the plank road is a gallery-style pavilion. The delicately carved patterns valuable for understanding the architecture and stone carving art of the Tang Dynasty.