The Happy Valley of Chengdu is the third stop of the Happy Valley chain brand in China after the Happy Valley of Shenzhen and the Happy Valley of Beijing. As the largest modern theme park with the strongest ecological features and charm in Western China, the Happy Valley of Chengdu attracts numerous domestic and foreign visitors with the promise of "fashionable, dynamic, amusing and dreamlike" experiences. There are several theme zones in the Valley, including Sunshine Port, Happy Time, Cyclone in Caribbean, Bashu Folklore, Flyland, Magic Castle, Flying across the Mediterranean, and Joy Light Year. The merry-go-round, ferris wheel, roller coaster and gyro swing offer you a real thrill. Music festivals and funny festivals are frequently held here. It will feel like traveling through several different worlds in one day and bring you the greatest joy.
Quick Facts
Chinese name: 成都欢乐谷 Chéng Dū Huān Lè Gǔ
Built in 2009
Duration: 1 day
Entrance fee: RMB 200 for adult, RMB 120 for child 1.2-1.5 m tall, RMB 80 at night (After 18:00)
Opening hours: 09:00-21:00
Address: 16 Xihua Avenue, Jinniu District, Chengdu City, Sichuan Province
Best time to visit: from March to November
How to get there: Take Bus 36 at the North Railway Station or Bus 48 at the New South Gate and get off at Huaqiaocheng Stop; take Bus 56 at Yanshikou Stop or Bus 3, 22, 75, 93, 101, 109 at other stops, get off at Jiulidi Stop, then take Bus 88, 95, 362 or 365, and get off at Huaqiaocheng Stop; or walk for about ten minutes from Jiuliudi Stop; or take "Happy Bus" from Jiulidi for free.
Highlights of the Happy Valley of Chengdu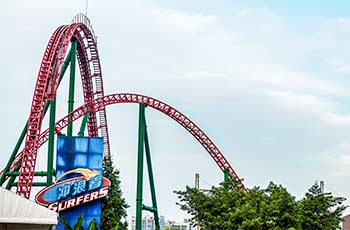 Roller Coasters
Roller Coasters in the Theme Zone of Flying across the Mediterranean
Thrilling roller coasters, compared with other entertainment facilities, enjoy unparalleled magic with winding tracks, high speed, as well as visitors' cries, thus being popular among tourists. Take care of yourself because there will be a sudden collision, stopping or spinning.
Spinning and Soaring Skyward in the Theme Zone of Cyclone in the Caribbean
Two boats are hung side by side and rise to the sky simultaneously, spinning and soaring. Visitors experience a powerful sensory impact when it seems the boats are going to collide with each other, which may cause dizziness. It is not recommended that you drink too much water or eat too much food before enjoying this program.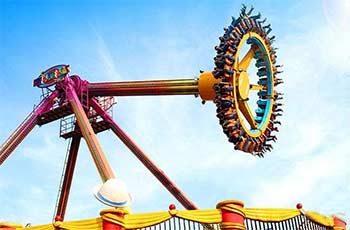 Gyro Swing
Gyro Swing in the Theme Zone of Happy Time
The thrilling high-altitude program gyro swing features howling wind, accelerated heartbeats, crazy speed and exaggerating swing range, with the hands and feet of visitors hanging in the air. This new entertainment facility is popular worldwide and is a must choice for visitors who enjoy excitement. It is 17 m high and can hold 30 visitors at the same time. Sitting on the spinning swing gets visitors crying out and laughing involuntarily although dazed.
Tips:
Visit route: Most equipments are under daily maintenance at 9:00 when the Valley opens every morning. Happy Time Zone has the largest number of programs and therefore witnesses the largest number of visitors. Some programs open to the public after 10:00 and don't close until nighttime. It is suggested to try the roller coasters and 4D cinema in the theme zone of Flying across the Mediterranean, self-revolving pulleys and facilities which are popular among children in Magic Castle, mine carts in the theme zone old Bashu Folklore, and wild water in the theme zone of Cyclone in Caribbean in the morning, and return to Happy Time Zone in the afternoon, which saves a lot of time in queuing up. Please refer to the Information Bar for performances at the entrance.
Travel tools: You can take battery carts or electric cars if do not feel like walking. Pleasure-boats will help you avoid the crowds. You can buy a wristband (RMB 20 per person for unlimited trips) for taking the electric cars at the entrance for both old and young.
Foods: Maras Dondurma, Doner Kebab, snacks in the theme zone of Bashu Folklore, and traditional Beijing sugar-coated haws on a stick are strongly recommended. You can also join in games prepared by these stalls to get prizes. There is a high possibility of hitting the jackpot.
It takes more than one day to experience all facilities in the Valley and you can try the ones that interest you the most.