9 Summer Travel Ideas for Student Tour

Want to be productive over the summer holiday? A trip to China is good idea. It can be an exciting way to enrich your mind while enhancing your resumé. It will help you to broaden your horizons by visiting and exploring our well selected destinations. You'll deepen your understanding of the Chinese people and culture. It's also a great chance to develop your Chinese language skills.
Here are some ideas for your summer trip to China:
1. Work as a Panda Keeper in Chengdu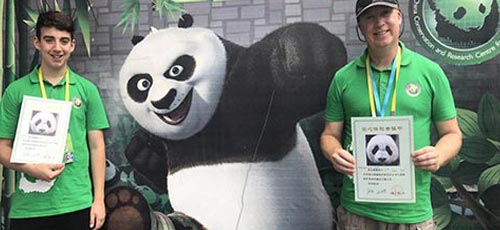 Chengdu in southwestern China is the hometown of Giant Pandas. It is the best place to visit these adorable creatures. Now you can work as a panda keeper for one day in the Dujiangyan Panda Base, a 1.5 hour drive from the city center of Chengdu. As a panda keeper, you'll clean panda enclosures, make panda cakes, prepare fruits, and feed pandas. Through this special program, you'll learn what is involved in caring for pandas including what they eat and how their health is monitored. The goal is to increase awareness about their shrinking habitat and you'll certainly walk away with a deeper appreciation for conservation.
2. Hiking and Camping on the Great Wall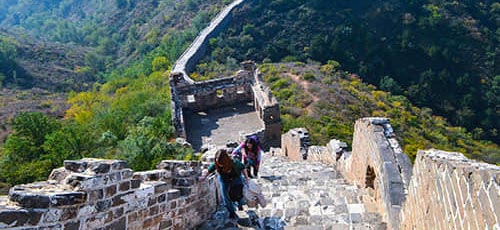 The Great wall is indisputably China's most famous landmark, and one of the world's most astonishing manmade sites. Forget about the popular and perfectly restored sections, we recommend sections that are less traveled – the Jinshanling and Gubeikou sections. They are un-restored sections with some parts in complete ruins, which make the hiking both challenging and rewarding. You can see the most original wall and crumbling watch towers along the 10km hiking route. Summer is a good time to camp on the wall as it is cool up there. You will admire the starry sky in the evening and enjoy the sunrise in the morning.
3. Experience colorful ethnic cultures in Guizhou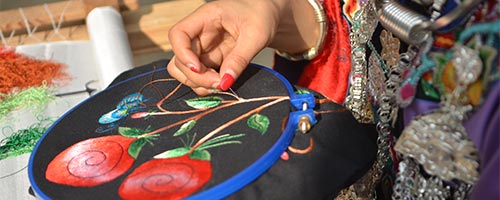 Guizhou is a landlocked province in southwestern China. With an average elevation of 1,085m (3560ft), the temperature in Guizhou is mild in summer, so it is an ideal destination for summer travel. About 39% of the population is ethnic groups; you can experience colorful ethnic cultures here. Miao (Hmong) people are famous for their silverware, embroidery and costumes. Dong people are famous for their traditional wooden architecture like drum towers and sheltered bridges. The Buyi and Gelao people are particularly known for their batik. To deepen your understanding of these ethnicities, you can join in a batik workshop to make batik yourself or learn to play the Lusheng from a local master during our tour.
4. Hiking 'Tiger Leaping Gorge' in Yunnan
Yunnan is also a province in southwestern China. Owing to its subtropical latitude combined with its high altitude (average 1,900m/6,233ft), Yunnan has moderate climates all year round, with even the hottest summer temperature rarely breaks 30°C (86°F). Kunming, the capital city of the province is the so called "Spring City". Yunnan is famous for its natural beauty. You can find snowy mountains, terraced fields and tropical rainforests here. 'Tiger Leaping Gorge' hiking is highly recommended so that you can enjoy the stunning landscape. Located between the Jade Dragon Snow Mountain (5,596m) and the Haba Snow Mountain (5,396m), the gorge is one of the deepest and most beautiful gorges in the world. It runs for about 15km in length and at its highest point has a maximum depth of 3,790m.
5. Learn Feng Shui in Ancient Villages near The Yellow Mountains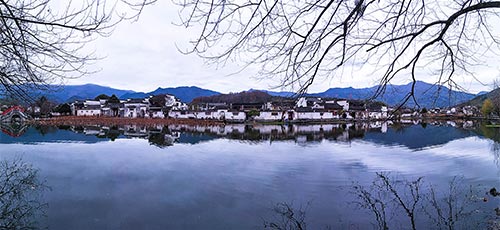 If you've ever seen a traditional Chinese ink painting in which the mountains are impossibly angular, it's likely the painting was a landscape of the Yellow Mountains. The Yellow mountains ('Huangshan' in Chinese) are characterized by their granite peaks and pine trees jutting out at odd angles.
The ancient villages are another highlight of Huangshan tour. The ancient villages of Xidi and Hongcun have been listed as World Heritage Sites. The ancient villages were built according to Feng Shui theory. "Feng" means wind and "Shui" means water in Chinese. The Chinese people believe that the flow of wind and water in the home will affect your family's wealth and prosperity. Join our tour to learn more about Feng Shui.
6. Learn more about Chinese manufacturing in Shanghai
China is arguably the most important manufacturer and industrial producer as it sells more manufacturing goods than any other country in the world. As one of the earliest cities that opened trade with the rest of the world, Shanghai was known as the birthplace of contemporary industry in China. It is now a modern industrial hub, with over 100 industrial locations opened to public.
Shanghai Volkswagen factory and Shanghai Auto Museum
Shanghai Volkswagen, a Chinese-German joint venture, is the largest auto manufacturer in China and sold 2 million cars in 2018.
The tour will bring visitors to the auto assembly line to see the process and they can learn how a car is produced using the most up-to-date technologies. After the tour of the factory, you can also visit the auto museum nearby. The museum has three pavilions dedicated to history, collections, and automotive exploration, as well as a zone for temporary exhibitions.
Shanghai Baosteel Plant
This is the most competitive steelmaker in China and a Fortune 500 company. The main steel business of Baosteel focuses on the production of hi-tech and high value-added premium steel using the most modern production techniques. The visit to the steel plant will give you an idea regarding the working of a large-scale steel producing company.
Shanghai Supercomputer Center
If you want to track the progress of human computer technology and China's independent research and development of supercomputers, the Shanghai Supercomputer Center is definitely a place to visit.
The experience center of Shanghai Supercomputer Center is divided into three exhibition areas – a "Magic Cube" exhibition area, a smart city film room, and a smart city interaction area.
7. Chimelong Safari Park and Chimelong Water Park in Guangzhou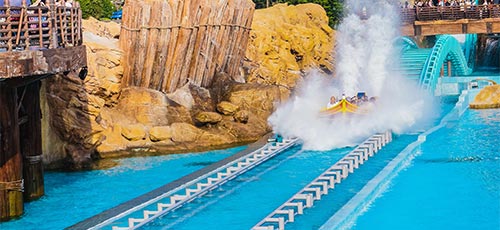 Chimelong Safari Park has been regarded as Asia's biggest wildlife theme park, with over 500 species of animals. As you explore the vast safari park via the mini train and cable car ride, observe and take pictures of around 20,000 animals, including koalas, hippos, white tigers, giant pandas, and more. The world's only surviving giant panda triplets were born here in 2014. The water park nearby is a paradise in summer time. The park uses the most advanced ozone water filtration system to provide visitors with a clean, safe, and exciting water park experience.
8. Team-building in Yangshuo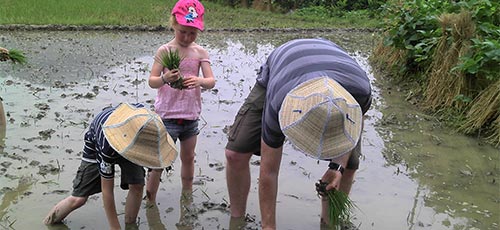 Just as the popular Chinese saying goes "East or west, Guilin landscape is best." Guilin is a very beautiful place. And Yangshuo is thought to be the most beautiful place in Guilin. You can see the Karst peaks rising up like bamboo shoots. They are part of a wonderland of rural villages, winding rivers, and cycling trails which are perfect for exploring. Rock climbers from all over the world have been attracted by the area's pristine limestone crags. The quality of the rock, the number of sites, and the ease of access are among the best across China. You'll have a lot of options for team-building games and activities in summer: biking, hiking, kayaking and rock climbing.
9. Learn the skills that Genghis Khan used to conquer the world at Naadam Festival in Inner Mongolia
Bordering to the north with Mongolia and Russia, Inner Mongolia is a province in northern China, home to the Mausoleum of Genghis Khan, the Zhaojun Tomb, and the ancient Great Wall. You can also find hordes galloping through the vast grasslands. Summer is the best season to visit here both because of warm weather and also the Naadam Festival. The festival is usually held in mid-July. It is the most important festival for the Mongolian people, and the highlights of the festival is the three manly sports – wrestling, horseracing, and archery. Armed with those skills, the Mongolian warriors led by Genghis Khan founded the largest contiguous land empire in world history, covering some 9 million square miles (23 million square km) of territory.
Summer Travel Tips:
Booking a hotel with swimming pool is the key.
Quick-Dry T-shirts and shorts, breathable shoes.
Sunscreen and sun glasses. Please notice that aerosol sunscreen is not allowed on the bullet train or subway in some cities in China, it is better to bring sunscreen lotion.
Don't forget insect repellent if you will be spending time outside during the evening hours when mosquitoes are rampant.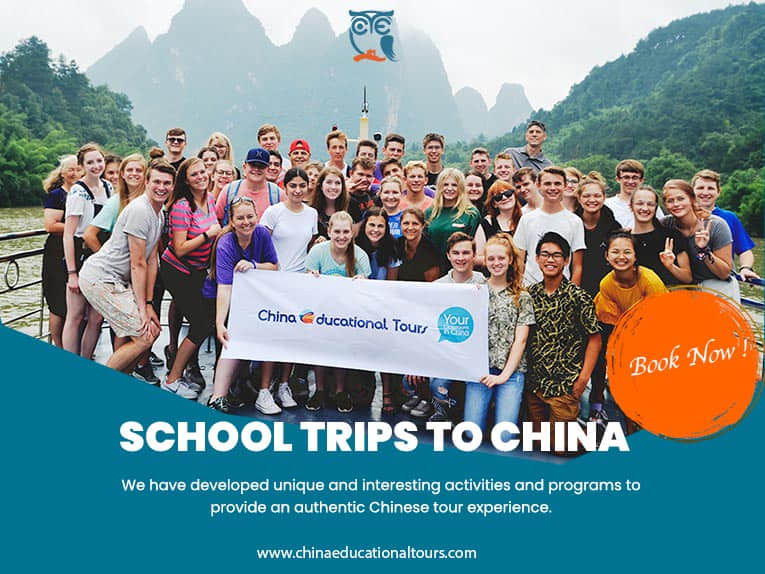 Have a question?
OR
Are you eager to begin your Chinese cultural journey?
Drop us a line and we will promptly connect you with our leading China expert!