5 Coolest Destinations in China for Overseas Students

When people talk about travelling to China, the Great Wall, the Forbidden City, and the Terracotta Warriors must be the most well-known attractions. However, there are some hidden treasures that many don't know about, such as unique landscapes and diverse cultures to be explored in some remote mountain villages and smaller cities. You will learn more about China's history, landscape, local life, and minority culture by visiting these destinations.
1. Huangshan City
Huangshan City is located in Anhui Province in eastern China. It is recommended for student trips for the picturesque Yellow Mountains, classic Hui-style architecture, and the rich culture of the locals.
The Yellow Mountain (Mount Huangshan) is the must-see site for visitors. It is a UNESCO World Natural and Cultural Heritage Site. Students will learn about natural landscapes, plants, and birds when hiking.
Huangshan City was called Huizhou in the ancient times. It was one of the most prosperous towns as the Hui merchants were talented in doing business. Traditional Hui-style villages are also a highlight in Huangshan area. The most recommended villages are Hongcun, Xidi, Chengkan and Nanping. It is the best destination for students who are interested in architecture and Chinese 'Fengshui' theory.
Additionally, Hui Cuisine and Hui incense, part of traditional Chinese medicine,can't be missed either.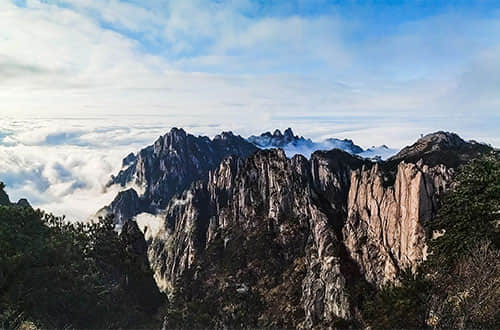 Mount Huangshan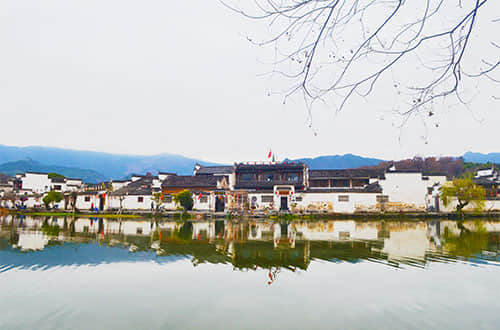 Hongcun:Traditional Hui-style village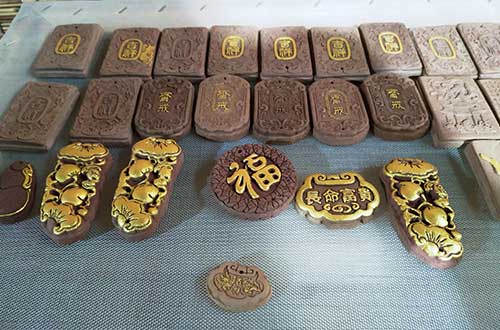 Hui incense
2. Guilin, Yangshuo and Longsheng
Guilin and its surrounding areas are the coolest choices for someone who loves outdoor adventures. A variety of outdoor activities will never let you down.
The popular ones are:
Rock Climbing in Yangshuo: It can be a half day or one day basic rock climbing lesson for both beginners and skilled ones. With the guidance of local climbing experts, you will build up teamwork and enjoy the fun of rock climbing.
Biking in Yangshuo can also be arranged at different levels of difficulty. It can be professional, like 40-60 kilometers per day, or leisure, amounting to 5 kilometers or 1-3 hours. Cycling through the villages, paddy fields, and fruit farms, you will see a real local villager's life in southern China.
Minority culture is another highlight of the region. You will enjoy hiking along the Longji Rice Terraces, visiting Zhuang, Yao and Miao minority villages, tasting their food and being amazed by their colorful clothes and cultures.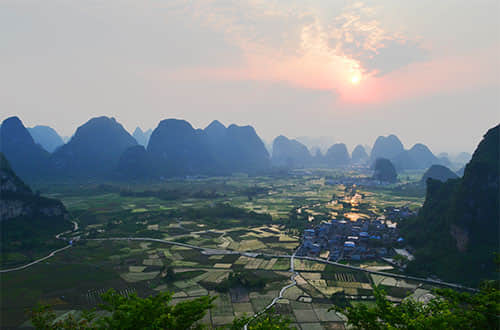 Countryside around Guilin City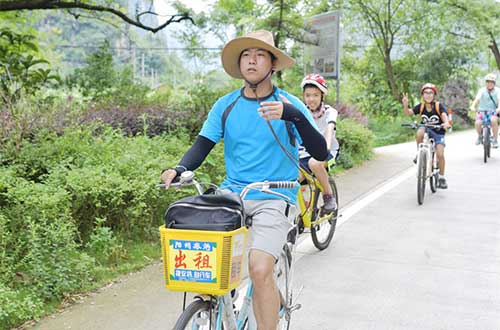 Biking in Yangshuo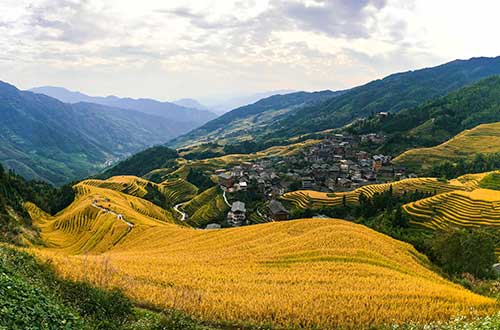 Longji Rice Terraces
3. Minority Villages in Guizhou Province
Guizhou is a big province with lots of interesting places to visit. Here we mainly recommend minority villages in southeast of Guizhou province. Away from major tourist destinations in China, these villages in Guizhou maintain much of the charm and character of old China.
The villagers in Shiqiao Miao village still keep the traditional way to make paper from the bark of mulberry tree and different flowers. As one of the four great inventions in ancient China, students can learn and make paper with their own hands.
Men at Biasha Miao Village carry long rifles as they have done for hundreds of years. This is the only place in China people can use guns legally.
Zhaoxing Dong Village, the biggest and oldest Dong village in China, has the most beautiful drum towers. The drum tower is usually the tallest building in Dong villages and is used as a venue to host special events and ceremonies.It is an unforgettable experience to listen to their Grand Song, a unique polyphonic folk music tradition that has been passed down for over 2,500 years.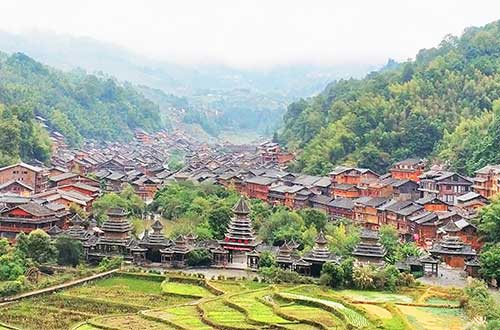 Zhaoxing Town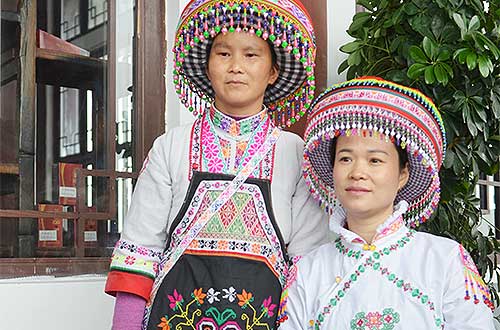 Minority Villages in Guizhou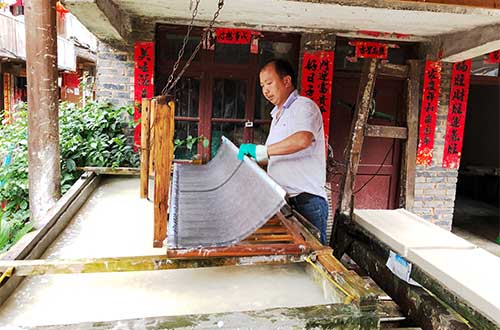 Paper Making
4. Lijiang Ancient Town
If you are interesting in learning history and religion, Lijiang will be the right destination to visit. The ancient town of Lijiang was designated as a UNESCO World Heritage Site in 1997. In Lijiang, most of the residents are minority Naxi people. Against a backdrop of snow-capped mountains, ancient architecture and streets, the Naxi people and their unique culture give Lijiang its universal value to mankind.
The Tiger Leaping Gorge in north of Lijiang is a popular destination for sight-seeing and hiking. The Jinsha River(upper part of the Yangzi River) at this point passes through a 16-kilometer-long valley and forms one of the deepest gorges.
'Dongba' is from Naxi language, which means 'the wise' and refers to wizard and sorcerer. The Dongba culture has a history for over thousands of years, and it is one of the rare treasures in Chinese natural culture.
In the Dongba Culture Museum, you will see Naxi clothing and artifacts. You can learn the history of Lijiang from the ancient rough axes, the rusty rifles, the monument lying on the riverside of Jinsha River that commemorates the crossing-river battle of the red army, the boorish but magnificent Baisha murals, etc.
Lijiang Green Education Center (GEC) is a public welfare organization which provides education of science and environmental development. It's a great opportunity to learn, practice, and promote environment protection. Students will know the importance of public participation and advocacy, particularly at a national and international level, in environmental protection and sustainable development in the area.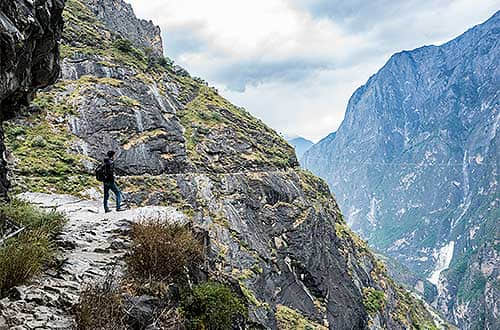 The Tiger Leaping Gorge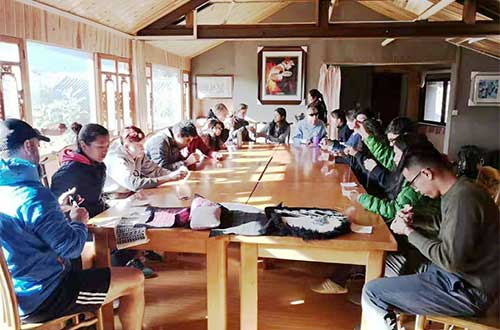 Embroidery Learning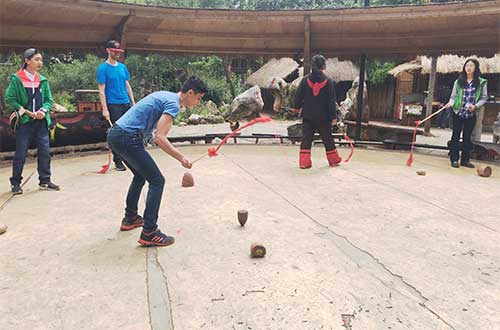 Play Peg Top
5. Shaxi Ancient Town
Shaxi was an important town on the ancient Tea-Horse Road. There are not many tourists in Shaxi due to its remote location, so you will enjoy the peace and quiet here.
Most of the residents in Shaxi are Bai people. They are still practicing their traditional lifestyle and culture. Bai and Yi people from nearby villages will trade everything from fresh produce to supplies and horses at Sideng Street in town. You will see many minority women dress in colorful traditional clothes, and men lead packed mules to carry products back home, just like in the ancient Tea-Horse Road days hundreds of years ago.
We can arrange a lesson for students to have a deeper understanding of the local culture. This will be the coolest part of the visit.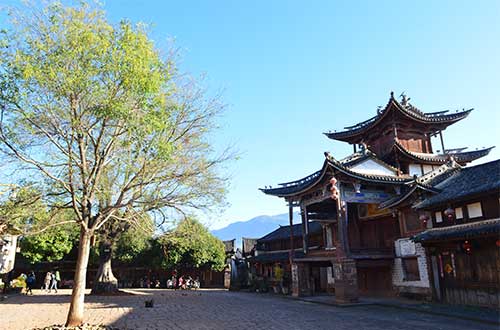 Shaxi Ancient Town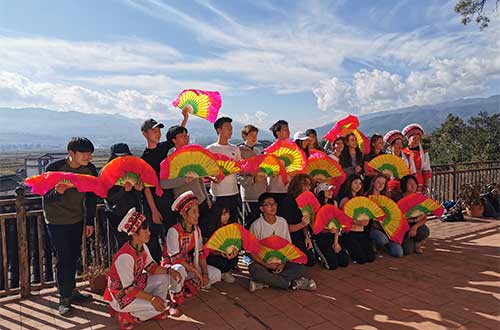 The Traditional Dancing Class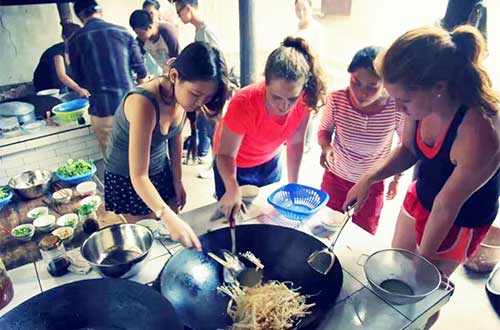 Cook Local Dishes
The traditional dancing class is the best way to enjoy and see the Minority Bai people's music, dancing and costumes. Join them and it will be a highlight of your China tour.
Learning Azhali Buddhism at a local temple will let you know the history, back ground, and culture about the local religion in Shaxi.
Tasting different kinds of local food is always an important part of travelling. So spending a few hours to learn how to cook local dishes from local people is highly recommended.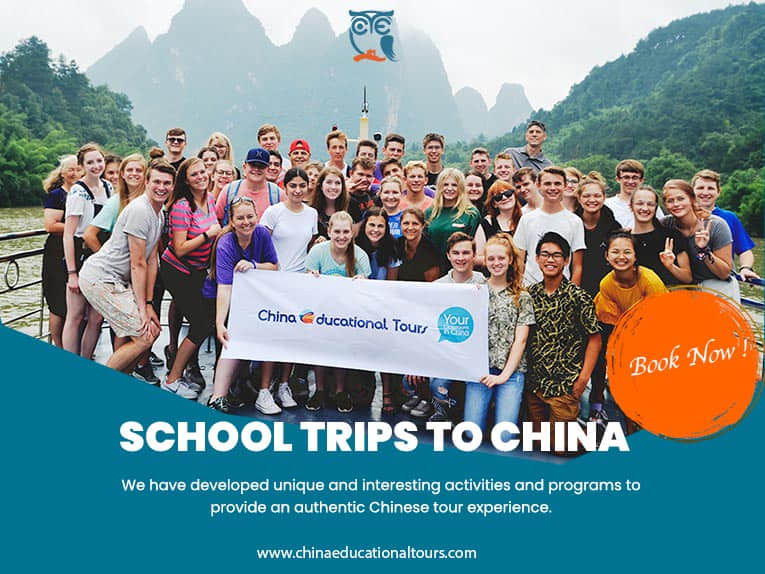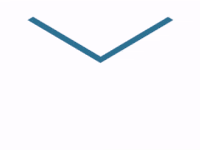 Have a question? Or can't wait to immerse yourself in the engaging journey of Chinese culture? Send us a message! Our top China specialist is ready to assist and connect with you without delay!