CD-07:

5 Days Private Tour: Connect with the culture and local life

We have selected the best highlights of Sichuan culture, history and the local life for you. This charming city has a lot to offer to whet your appetite! You can take part in a Sichuan opera by applying facial makeup and learning some lines. Have a hands-on unique opportunity by being a panda keeper where you can be up-close to these cute cuddly creatures. Enjoy Sichuan cuisine, and learn to make a mobile phone holder using lacquerware. Your tour will end at the People's Park where you can meet with the locals and enjoy tea at a teahouse.
Trip Highlights
Discover the ancient civilization of this area
Take care of pandas for one-day
Learn to cook authentic Sichuan dishes
Learn about the history of Chengdu lacquerware
Experience local life in a teahouse
Suitable For: School Students, Hands-on Activities Lovers
Full itinerary for Chengdu Educational Tour
Day 1
Chengdu Arrival
On your arrival, you will meet your guide at the exit and be taken to your hotel. Chengdu is humid, which is the reason why the local people uses Sichuan pepper and chilies as ingredients. Refresh yourself and prepare to gain insight to another face of China.
Day 2
Chengdu: Cultural Learning (breakfast, lunch & dinner)
Morning
As the City of Gastronomy designated by UNESCO, Chengdu has the first museum to display a regional cooking culture in the world. Sichuan Cuisine Museum is where you will be entertained to learn the history of the local food a can sample some of the food that is served. This would be followed by a cooking class. The chef will teach you how to make this region's popular dishes: Panda dumplings, Mapo tofu, and Kung Pao chicken. You will have a delightful few hours that will culminate into a delicious lunch.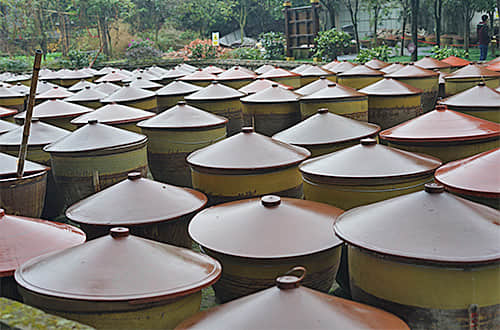 Fermented Soy Beans in the Jars for Making Soy Sauce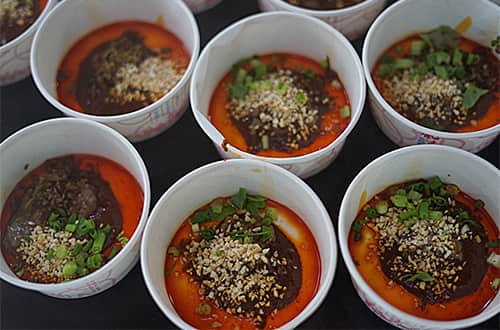 Tofu Pudding with Spicy Sauce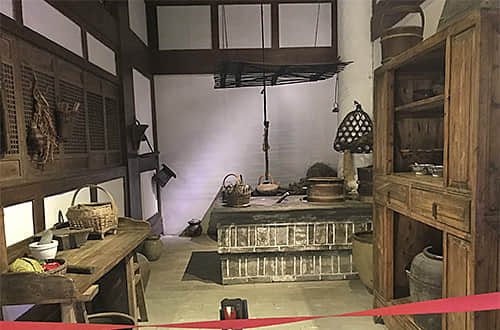 An Example of Kitchen Displayed in the Museum
Afternoon
You may have seen some Chinese artists with colorful facial make-up performing on TV or other media. Sichuanese opera is one of them. Listen to the symbolic meaning of each color and paint a traditional opera mask under the direction of the Master. Put on a costume, and you can learn some skills of vocal cavities. Pose like a professional actor and sing some of the lines. The amazing Face Changing Show is optional and at your own expense.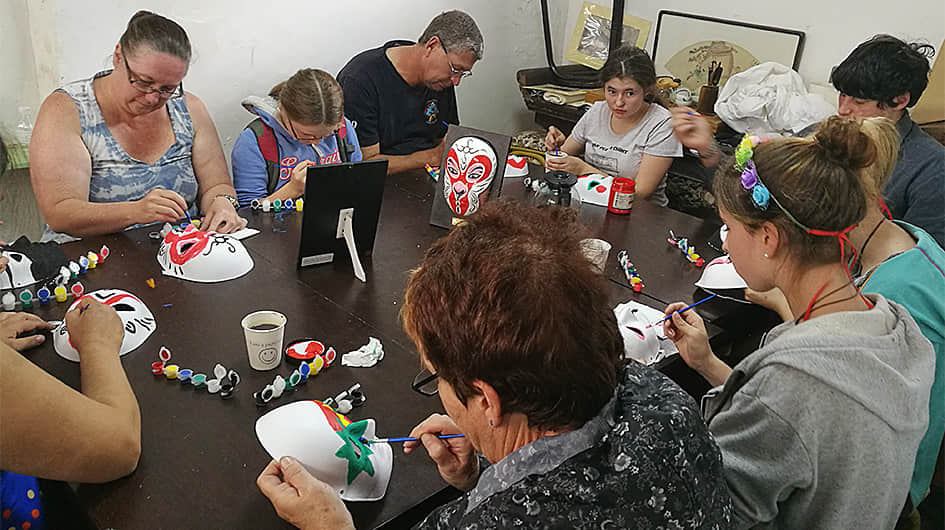 Painting Traditional Opera Masks
It is almost dinner time. Let's explore Kuan-zhai Lane! You can find many hotels, tea houses, street food and souvenir shops there. If you are a history or architecture lover, Zhai Lane is the ideal place to see the well-preserved traditional residential buildings. Walking along this lane, you can experience the old Chengdu lifestyle, leisure, and show.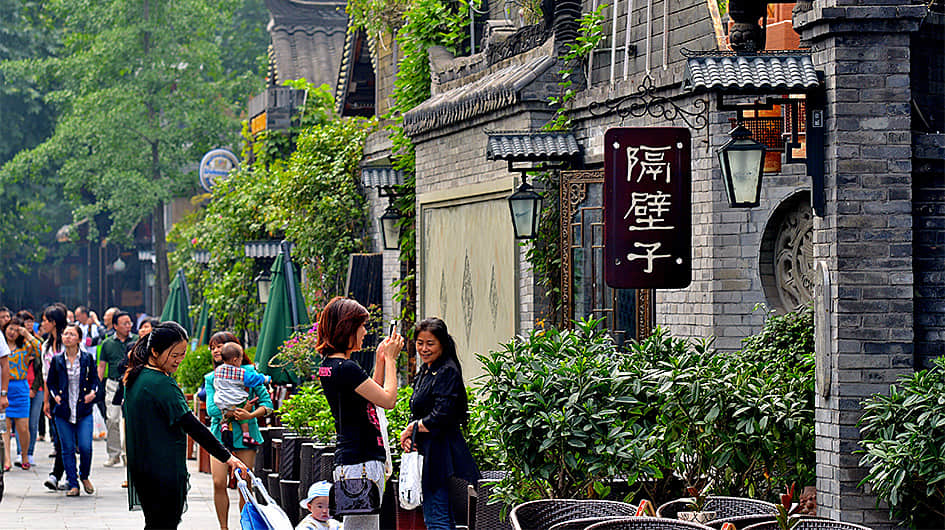 Kuan-zhai Lane
Day 3
Chengdu: Panda Keeper Day (breakfast, lunch & dinner)
Today you will spend a full day in Dujiangyan Panda Base. Enjoy your day as a volunteer, to learn about their habitat and get up close to them. You day will consist of:
1. Clean their enclosure
2. Explore the panda rescue exhibition hall
3. Feed them with their snacks and fruits
4. Watch a movie to learn more about the pandas
5. Prepare food (fresh bamboo, apple, special biscuit and/or vegetables) for the pandas
6. Gather insight from some of the experienced panda experts
7. Plant bamboos and trees
8. Q & A section
At the end of the program, you will receive a panda keeper certificate and return to Chengdu.
Cleaning Pandas' Enclosure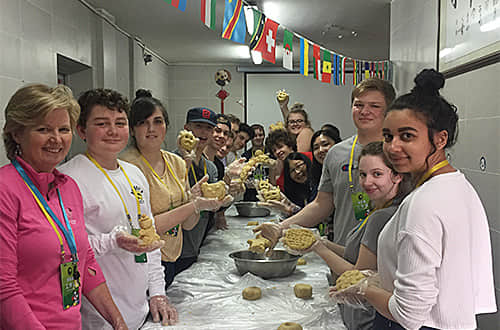 Making Cakes for the Pandas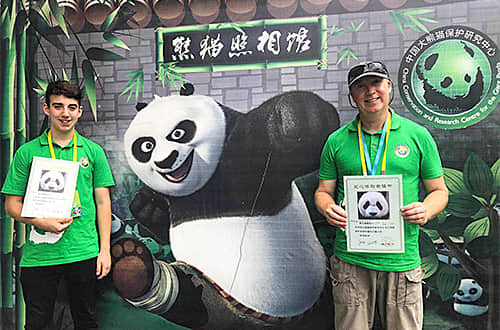 Receiving Panda Keeper Certificates
Note: The above schedule is a guideline and may not be according to this order. This is due to the animals behavior and season. Please follow the instructions and guidance of base staff.
Day 4
Chengdu: Handicraft and History (breakfast, lunch & dinner)
Morning
Chengdu lacquerware is famous for its durability against corrosion and aging. It has a history of more than 3000 years. It takes a large amount of time and patience to complete a product, plus many complicated processes to go through. There is only one lacquer factory that maintains the original processing style left in Chengdu. We hope that this traditional craft can be passed on and not fade. To visit this unique old factory:
1. Tour around the factory led by the manager: visit the workshops and the exhibition hall.
2. Attend a lecture given by technical staff: explain its long history and the knowledge of making lacquerware.
3. Hands-on activity: learn to make a mobile phone holder under the guidance of an experienced craftsman, including the process of polishing, carving, and coloring.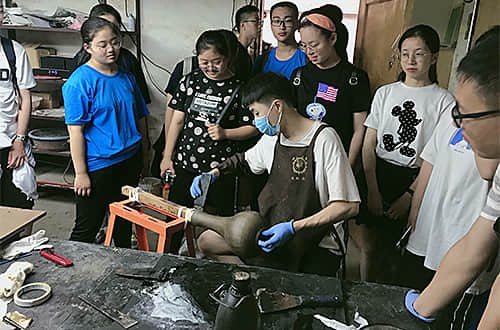 Workshops Visit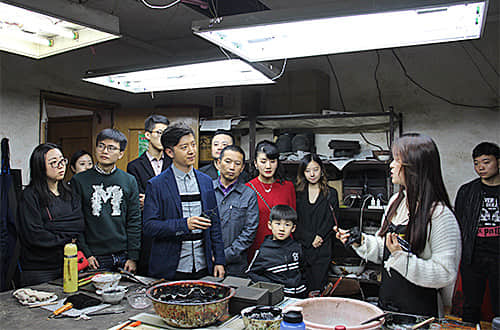 Listen to the Introduction of Lacquerware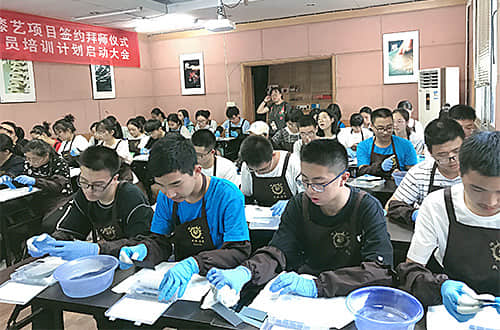 Hands-on Activity under Guidelines
Afternoon
More than 3000 years ago, there was the ancient Shu Kingdom that existed in Jinsha Site. It is considered to be the ancient civilization center along the Yangtze River. What was Shu culture all about? You can get the answers from this site museum which displays the largest amounts of cultural relics, such as the palace foundation, sacrificial area, residential area, and burial site.
Switch your time to the present, where you can see how local life would be in Heming Teahouse located in People's Park. Enjoy a cup of fragrant tea and sit chatting with the locals. It will be a leisurely afternoon relaxing and people-watching there.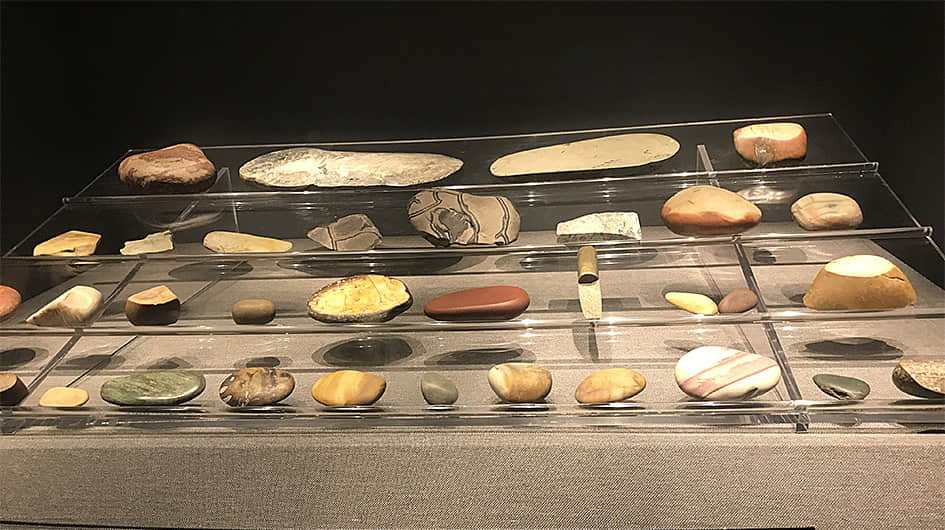 The Raw Materials of Jade Unearthed in Jinsha Site
Day 5
Chengdu Departure (breakfast)
After breakfast, you will depart to your next destination, taking your memories and experience with you.
Comfortable Hotel
| | |
| --- | --- |
| Chengdu | Holiday Inn Express Chengdu West Gate |
Note: please feel free to contact our travel specialist if you prefer to stay at other categories of hotels.
What's Included
Professional English speaking tour guide
Entrance fee to all spots listed in the itinerary
Well-selected hotel accommodation
Meals mentioned in the itinerary
Qualified driver and comfortable vehicle with air-conditioner