Baishuitai(White-Water Terraces)

Baishuitai is a natural feature and tourist attraction in Sanba Township, Shangri-La County, which is 100 kilometers away from Shangri-La town. According to legend, the Naxi god used his magic to make this terrace in order to let the local Naxi people learn farming and cultivation. Later generations called it 'the fairy land'. Baishuitai is a holy place for Naxi Dongba religion. According to legend, Dongba Ancestor became immortal in Baishuitai. This place was thus regarded as the Dongba Bodhimaṇḍa by the Naxi people.
Quick Facts
Chinese Name: 白水台 Bái shuǐ tái
Suggested Time: 3-4 hours
Ticket: 30rmb per person
Address: Baidi Village, Sanba Township, Shangri-La County
Open Hours: 8.00-16.00
Best Time to Go: May to November

How to get there:

1. Take buses from Shangri-La town (4 hours)

2. Take a taxi.

3. Self-driving: Shangri-La airport – Shenying Road – Huandao – Huancheng South Road – Huancheng East Road – Baishuitai
Highlights of Baishuitai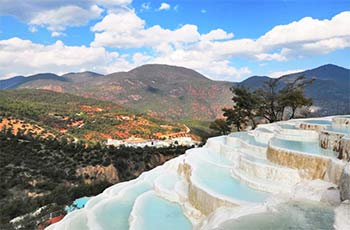 Looking into the distance from Baishuitai, the shape of the Green Mountain is like layers of terraced fields. Under the sun, it looks like a frozen waterfall in a photograph. On the lower left side of the river, there is a stone sarcophagus, white as milk, shaped like a pregnant woman. It is the place where the local people worship the reproductive god. The Baishuitai is not only a beautiful place, but also the birthplace of the Naxi Dongba religion. People hold religious events here. Baishuitai is an important tourist attraction on Diqing Plateau. Stepping onto the terrace, you can see the layers of white water. It is like a sliver of the moon fallen to the earth, and like the silver accessories of the Naxi girls. The terraces are stacked into a myriad of silver rings, shining towards the glory. On the left side, a spring is shaped like a crescent moon, and the spring is overflowing. It is said that the spring was the dressing place for the fairies. The Naxi residences, costumes and handicrafts near Baishuitai are also unique and distinctive.
Do you have a question or are you eager to begin your Chinese cultural journey?
Drop us a line and we'll connect you with the top China expert in no time!