Surrounded by mountains and sea, with its front gate adjacent to the South Putuo Temple, and a beautiful seaside beach and Huli Shan fortress on the other side, Xiamen University is considered to be "one of the most beautiful campuses in China".
Xiamen University was founded in 1921 by Mr. Tan Kah Kee, the well-known overseas patriotic Chinese leader. It is the first university founded by overseas Chinese in the educational history of modern China and is one of the earliest domestic universities to recruit graduate students. It is reputed to be the "the best university in the south".
The university includes scenic spots like Lotus Lake and Lover Valley which are very romantic. Apart from the natural scenery, the architectural examples which feature both western and Chinese style in Xiamen University are worth visiting.
Quick Facts
Chinese Name: 厦门大学 Xià Mén Dà Xué
Key word: University, Architecture, Technology
Duration: 2-3 hours
Entrance Fee: Free
Opening hours: Monday to Friday: From 12:00 to 14:00 (a maximum of 300 visitors are allowed at noon); and 17:00-24:00 (the number of visitors are not limited); Weekends: 24 hours. Visitors are only allowed to enter through Danan Gate and Qunxian Gate.
Best time to visit: All year round
Address: No.422 South Siming Road, Siming District, Xiamen City
How to get there:Take Bus No.1, 20, 29, 47, 659, 959 or 520
Highlights of Xiamen University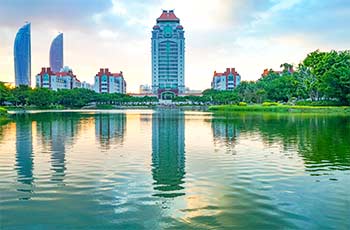 Lotus Lake
Lotus Lake and Song'en Buildings
Lotus lake is located in front of the Jiageng Buildings with an area of 130,000 square meters. There are black swans on it and plants and flowers all around it. It is considered by the students to be one of the most romantic places in Xiamen University.
Song'en Building is located beside the Lotus Lake, and is the most imposing building complex in Xiamen University. Standing on the top of the building, you can have a panoramic view of Lotus Lake. As a complex that combines both western and Chinese architectural styles, it is also a suitable place for taking photos. On the top of the main building, you can enjoy a bird's eye view of Xiamen University.
Anthropology Museum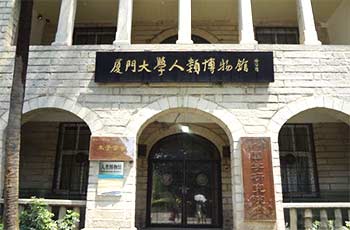 The gate of Anthropology Museum
The Anthropology Museum at Xiamen University is a famous museum recognized by UNESCO (137 museums in China are selected) and the only museum of anthropology in mainland China. Started in 1952, the museum was officially opened to the public in March,1953.
The museum has seven exhibition rooms and a tablet corridor displaying the collections of cultural relics from the Old Stone Age to the Qing Dynasty and the cultural relics of the ethnic minorities, Nanyang nation, and Minnan customs, as well as a series of models showing the evolution from apes to modern humans. With its archaeological value, the museum is well worth a visit.