Gulangyu Island is appraised as a National 5A Tourist Attraction, a major historical and cultural site protected at the national level. At the 41st World Heritage Convention held in Poland on July 8th, 2017, Gulangyu Island was inscribed into the World Heritage List as an "Historic International Settlement", making it the 52nd Chinese site to be added to the list.
Boasting of a pleasant climate all year round and filled with the singing of birds and the fragrance of a variety of flowers, Gulangyu Island has long been reputed as a "Garden on the Sea". Home to architectural forms featuring diverse Chinese as well as foreign architectural styles, it is also praised as a "Gallery of International Architecture".
Quick Facts
Chinese name: 鼓浪屿 Gǔ Làng Yǔ
Highlights: Architecture, beaches, islands, slow living lifestyle, leisure time, cats, coffee and so on
Duration: 1-2 days
Entrance fee:
Boat ticket: RMB 35.
Tickets for the major scenic spots on the island: Sunlight Rock: RMB 60; Shuzhuang Garden (Piano Museum included): RMB 30; Haoyue Park: RMB 15; Organ Museum: RMB 20; International Character Engraving Art Gallery: RMB 10.
Ticket package for Gulangyu Island's major scenic spots (all the above-mentioned scenic spots included): RMB 100/person.
Opening hours: 24 hours
Best time to visit: All year round. Please pay attention to the weather around August as it is typhoon season.
Address: Siming District, Ximen City, Fujian Province
How to get there: With downtown Xiamen lying across the 600-meter-wide Lu River, it only takes a 5-minute ferry to arrive at Gulangyu Island.
Highlights of Gulangyu Island
Sunlight Rock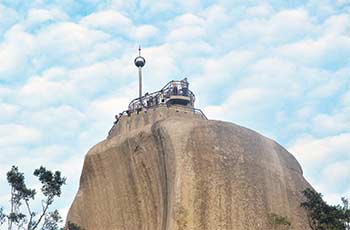 Sunlight Rock
Located in south central Xiamen, Sunlight Rock is made up of two rocks leaning against one another, with one lying horizontally and the other standing vertically. Being the highest point of Gulangyu Island makes Sunlight Rock the optimum viewing point for enjoying a bird's eye view of the whole Gulangyu Island, the sea, Dadan Island and Erdan Island.
Sunlight Rock used to be named Huang Rock. The Chinese character "Huang" is made up of two characters which mean 'sun' and 'light'. It's said that when Zheng Chenggong (a well-known military general in the late Ming and early Qing Dynasties) came to Huang Rock in 1641 and found that the scenery there was far more beautiful than that of Japan's Nikko (which is pronounced 'sunlight' in Chinese), he decided to separate the character Huang in the original name, and called the scenic spot 'Sunlight Rock'.
On top of Sunlight Rock, a small observation deck is formed by a circle of handrails. In the daytime during the peak season, the deck is usually packed with so many people that it appears almost too small. Therefore, if time allows, it's better to go there in the late afternoon when there are fewer visitors and you can take your time to enjoy the extraordinary scenery.
Sunlight Rock Temple is situated near the entrance to the foot of Sunlight Rock. Originally built in the Bingxu Year (i.e. the 14th year of the reign of the Emperor Wanli) the overall refurbishment of the temple was finished in September, 1999. In 1998, Sunlight Rock Temple was registered as a venue for religious activities. The temple is not very big, therefore, it takes only about 10 minutes to tour around it. Next to Sunlight Rock Temple, there lies the Gospel Hall.
Shuzhuang Garden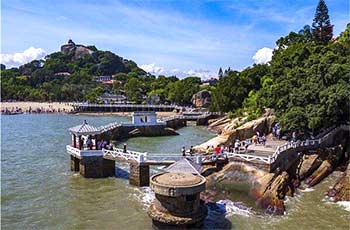 Shuzhuang Garden
Built in 1913, Shuzhuang Garden is located in the north of Gulangyu Island, facing the sea, with Sunlight Rock lying to its back. It was once a private villa of Lin Erjia, a local celebrity, and was donated as a garden in 1955. Shuzhuang Garden was designed in a way that it skillfully blends into the natural scenery around. The garden is divided into two parts, Canghai Park and Bushan park. The perfect combination of parks and the sea presents a picture that reflects both the elegance of the parks and the majesty of the sea.
The Piano Museum on Gulangyu Island, which was finished in January, 2000, is located in "Tingtao Pavilion" of Shuzhuang Garden. Covering an area of 450 square meters, it consists of building A and building B, with each having two floors. The museum has on display more than 40 time-honored pianos collected by patriotic overseas Chinese, Hu Youyi. The collection includes a gold-plated piano, the world's earliest square piano, the earliest and biggest vertical piano, the oldest barrel piano, a foot-operated player piano made a hundred years ago, and an eight-pedaled Clavichord.
Haoyue Park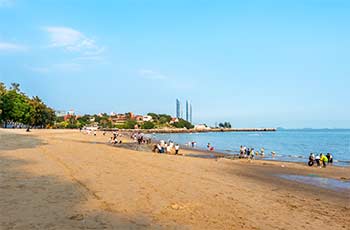 Gangzaihou Beach
Built in memory of Zheng Chenggong, Haoyue Park has a statue of him in it. The Ming style buildings here and the scenery of the mountains and sea around complement each other. The grand statue of Zheng Chenggong stands upon Fuding Rock, forming a tripartite balance of forces with Jian Rock and Yindou Rock standing in the sea.
Gangzaihou Beach
Gangzaihou beach is a perfect seaside resort developed by nature: the sand here is soft; the sea is smooth and peaceful with a low current velocity and no observation of sharks; the seawater temperature remains above 20℃ for five and a half months of the year, making it possible to have a half-year-long swimming season. The seaside resort is well equipped and provides recreational activities, including sailing and motorboating. In 1998, a national Optimist Sailboat Championship was held here.
Architectural Styles
Home to the consulates of multiple nations, Gulangyu Island boasts various buildings featuring European style, Ancient Greek's Doric, Ionic and Corinthian orders, Roman columns, Gothic spires, Islamic domes and Baroque reliefs. As well as those, there are also buildings reflecting classicism and romanticism such as traditional Chinese temples, yards and bungalows with a touch of southern Fujian style, distinctive eight-diagram buildings, and Shuzhuang Garden featuring the classic garden style of south of the Yangtze River.