Located in the western suburbs of Lhasa, Norbulingka is the summer palace of Dalai Lamas (Potala Palace is their winter palace). It is appraised as a key cultural relics site under the state protection. Founded in the 1740s (Dalai VII), this typical Tibetan style garden is a place where Dalai Lama spends his summer time and deals with state affairs.
Norbulingka has been designated to be the People's Park. Some call it "the Summer Palace in Lhasa", and some jokingly describe Norbulingka as a combination of "a water tower, two rows of craft shops and several palaces surrounded by zoos".
Quick Facts
Chinese name: 罗布林卡 Luó Bù Lín Kǎ
Duration: 1~2 hours
Entrance Fee: RMB 60
Opening hours Monday to Saturday: 09: 00~18: 00
Best time to visit: June to September
Address: No.21 Norbulingka Road, Chengguan District, Lhasa, Tibet
How to get there: Take Bus No.2 and No.14 to get off at Norbulingka South Station
Highlights of Norbulingka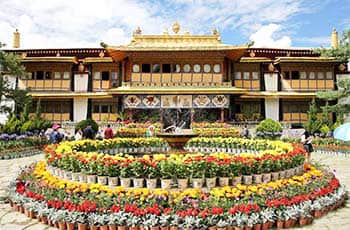 Plateau Botanical Garden
Plateau Botanical Garden
Having gone through more than 200 years of expansion, Norbulingka now covers an area of 360,000㎡. Home to over 100 kinds of plants ranging from common flowers and trees in Lhasa, exotic flowers and rare herbs in the northern and southern foothills of the Himalayas, to rare flowers transplanted from inland or imported from abroad, the garden really earns its name as the plateau botanical garden.
Architecture
Norbulingka architecture mainly includes Gesang Podrang, Golden Podrang and Darden MingJu Podrang (Podrang means palace), with 374 rooms. It is the largest and most beautiful artificial garden in Tibet with the most historical sites. Norbulingka garden not only reflects the characteristics of the Tibet Plateau but also adopts traditional techniques of inland gardens to create different views with various combinations of architecture, rocks, water and plants.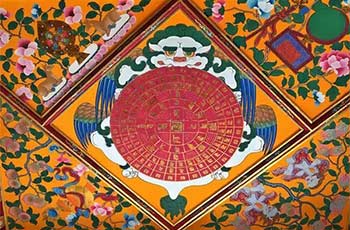 The murals of Norbulingka
Cultural Relics Collection
The cultural relics collected in Norbulingka can generally be divided into two categories: Tibetan religious relics, such as Buddha statues, pagodas, Thangka and murals, and treasures given and awarded by the central governments and the Emperors to the upper class of Tibet, such as porcelains, incense burners and jades. The workmanship of these two categories of relics are both exquisite and fastidious.
One of the activity centers for Shoton Festival
Norbulingka is one of the activity centers for the annual Shoton Festival, which draws famous Tibetan opera groups from different places. From July 1 to July 7 of the Tibetan calendar, you can enjoy Tibetan operas every day. While on the Shoton Festival Eve, Norbulingka and the woods that surround it will become a colorful "tent city". These tents are temporary "homes" for Tibetans in Norbulingka. You can also find in the tent city several unique and bustling festival streets where it seems like the entire Lhasa has moved into this green world.