Mount Everest is the main peak of the Himalayan mountain range. It is located at the borderline between China and Nepal, with its north slope in China's Qinghai-Tibet Plateau, south slope in Nepal and the world's highest peak is in China with an elevation of 8,848 m(29,029 feet).
The upper peak is covered by snow all year round with high and steep terrain and its body is in the shape of a majestic pyramid. At the foot of the peak stands the Rongbuk Monastery which is the monastery at the world's highest elevation. It is the best place to appreciate viewing the mountain in the golden glow of sunrise.
Everest Base Camp is in the protected zone set for the environment of the Everest core area. With an elevation of 5,200 m, it is nearly 19 km away from the summit of Mount Everest as the crow flies. Everest Base Camp mainly provides accommodation for tourists with restrooms and a tent post office, which is China's highest post office. In front of every door is a solar panel, which provides electricity for a light at night. Everest Base Camp is located to the south of Rongbuk Monastery, surrounded by a group of tent hotels, with the flag of China and the flag of Everest protected area erected in the center. Apart from two public toilets representing the modern civilization, the Base Camp has no other permanent construction. During every mountaineering season, the Base Camp gathers excellent mountaineers from all over the world. It is very spectacular with numerous outdoor tents scattered on the empty ground.
Quick Facts
Chinese Name: Zhū Mù Láng Mǎ Fēng 珠穆朗玛峰
Duration: 2-5 days
Entrance fee: RMB 250/person
Address: at the Tingri County of Shigatse area in the Tibet Autonomous Region at the borderline of Nepal
Snowline Altitude: 5,800-6,200 m at north slope and 5,500-6,100 at south slope
Best time to visit: It is from April to June and September to October. Spring and Autumn are mountaineering seasons because the common good weather improves visibility. It is relatively safe to climb mountains in the two seasons. During October to the next April every year, it is recommended not to tour around snow peak, especially in winter when heavy snow covers mountain roads. July and August are rainy. It is difficult to climb mountains in such awful weather.
How to get there:You can take the shuttle bus at the Lhasa West Passenger Station from Lhasa to Shigatse. It runs every hour and costs RMB 85-125 yuan per person. You can take the bus at Shigatse Long-distance Passenger Station from Shigatse to Tingri County. It runs twice every day and costs RMB 85 yuan. It costs RMB 500 yuan per person to share a car from Tingri County to Rongbuk Monastery. When arriving at the Everest Base Camp (tent area) 2 km south of Rongbuk Monastery, you can take a green car to Everest camp (at the monument of the elevation of 5,200 m), which costs RMB 25.
Seven Little-known Facts about Qomolangma
1. How high is Mount Everest?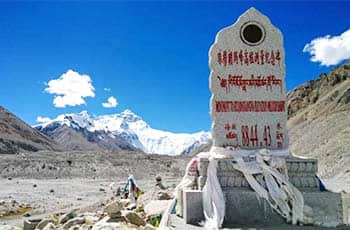 The monument of Mount Everest
In 2005, the rock surface measured by China's State Bureau of Surveying and Mapping was 8,844.43 m and the traditional snow cap used by Nepal is 8,848 m (29,029 feet). Regardless of whether there is a more rational measuring method, the height of Mount Everest widely acknowledged by the international community is the height with snow cover on the summit. China and Nepal reached an agreement on the elevation of Mount Everest in 2010. The height of Mount Everest is formally determined as 8,848 m.
However, there are also many other ideas, such as 8,848 m, 8,850 m and 8,882 m.
2. How old is Mount Everest?
Although the Himalayas were formed 60 million years ago, scientists believe that Mount Everest was actually formed long before. The limestone and sandstone on the summit was part of submarine sedimentary rock 45 million years ago.
As time went by, submarine rocks gathered together by being squeezed and rose at the rate of 11 cm (4.5 inches) every year, finally reaching today's height. Today, we can still see the marine creatures and shell fossils on the upper part of Mount Everest from hundreds of millions of years ago.
3. How many names does Mount Everest have?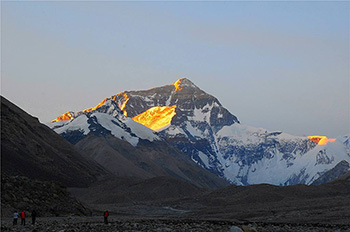 The scene of Mount Everest
The mountain is usually called "Everest". Traditionally, the Tibetan people called it Chomolungma or Qomolangma centuries ago. Its Tibetan name can be translated as "Goddess Mother of Mountains". However, it is not the only name for the Peak. Nepalese people call it "Sagarmatha", which means "Forehead in the Sky". Thus the Peak belongs to "Sagarmatha National Park".
The British surveyor Andrew Waugh named it "Everest" when measuring it. At that time, he didn't know the name of the Peak, so he named it after George Everest, the leader of the British survey team. Despite Captain Everest's protestation, Britain formally changed its name from "Peak XV" to "Mount Everest".
4. How much does it cost to climb Mount Everest?
It costs at least $30,000 and usually adds up to nearly $45,000. The price for climbing Mount Everest is not fixed and ranges from $30,000 to $85,000. The travel companies in Nepal dominate the market for their low prices, while traditional western organizers create product differentiation by providing more services. In other words, climbing Mount Everest has become a mature market, just like buying a car or traveling by plane.
The price depends on your mountaineering form, logistical support and mountaineering route. Usually, it costs nearly $32,000 if you climb from Tibet (north slope) and nearly $42,000 from Nepal (south slope).
If you are equipped with one or more western guides from the south slope, it costs at least $60,000. If you choose the low-cost travel companies in Nepal, it costs nearly $30,000.
5. How many people have reached Mount Everest successfully?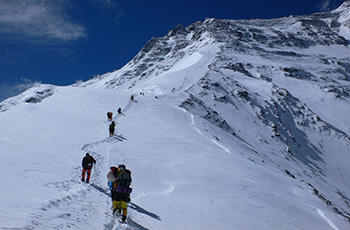 People climbed Mount Everest
According to The Himalayan Database, the latest data updated in December 6, 2016, lists 4,469 people who have reached the top 7,646 times. Most of the 1,105 mountaineers are Sherpa mountaineering assistants who each reached the top many times. Climbing from the south slope (Nepal) is still a more popular choice with 4,863 climbers than the north slope (China's Tibet Autonomous Region) with 2,783 climbers.
During the Spring of 2017, there have been a total of over 500 climbers reaching the top from both the south and north slopes. Nepal Tourism Administration announced in June, 2017, that 455 climbers reached the top from Nepal: 190 foreigners, 32 paid Nepalese people and 233 Sherpa mountaineering assistants. 50% of foreigners succeeded in reaching the top, basically equaling 2016. At least 164 foreign climbers with the Everest Climbing License failed to reach the top.
6. How many people have died on Mount Everest?
According to The Himalayan Data base, the latest data updated in December 6, 2016, shows that from 1921 to 2016, a total of 282 people (168 western climbers and 114 Sherpa mountaineering assistants) died on Mount Everest, with 176 in Nepal and 106 in China's Tibet Autonomous Region.
Since the first attempt in 1921, an annual average of 4.8 climbers have died each year on Mount Everest. During the modern period of 2000 to 2016, an annual average of 6.9 climbers have died annually.
During the Spring of 2017, even Ueli Steck, known as "the Swiss Machine", perished on Mount Everest.
When climbing Mount Everest, you may see bodies of victims, which have become like road signs. These bodies always remind the passing climbers what a perilous and cruel adventure it is.
7. Is Mount Everest the "dirtiest" mountain in the world?
Along with more and more people climbing to the top, Mount Everest has nearly 50 tons of waste in addition to the bodies, and new waste is generated every season. Abandoned oxygen carriers, mountaineering equipment and human excrement are seen everywhere on Mount Everest.
Since 2008, Eco Everest Expedition has started to climb Mount Everest to deal with garbage pollution every year, and they have removed over 13 tons of garbage up till now. The government of Nepal issued a new regulation. Since 2014, every mountaineer must carry 8 kg (18 pounds) of garbage when he goes downhill, or his deposit of $4000 would be withheld.
The artists of "Everest 8848 Art Project" turned 8 tons of Everest garbage (including shabby tents and beer cans) into 75 art exhibits. All the garbage was brought down by 65 climbers who scaled Mount Everest twice during Spring. Such an exhibition of "turning waste into wealth" has attracted people's attention to the environmental problem of Mount Everest.