At 8,848.86m (29,031.69 feet), Mount Everest is considered the tallest point on Earth. It is a peak in the Himalayas mountain range. It is not just the tallest peak on the planet but with Nepal to the south and Tibet to its north, it is also the tallest international boundary. The Tibetan name for the mountain is Chomolungma, which means "Mother Goddess of the World." And in Nepali, it is called Sagarmatha which means "Forehead of the Sky." In 1865, the mountain was named after George Everest, a former Surveyor-General of India.
The upper peak is covered by snow all year round with high and steep terrain and its body is in the shape of a majestic pyramid. Climbing Mount Everest has become a popular expedition for mountain climbers. However, it is a dangerous undertaking. The snow and ice on the mountain create deadly hazards like avalanches, and there is only a limited climbing season due to bad weather conditions.
Only a small percentage of experienced climbers can even attempt the ascent of this majestic and mortally dangerous mountain. Most people can arrange to see this mighty mountain – up close and personal. If you choose to visit Mount Everest from China side, you would need to go to Tibet which is famed for its spectacular natural views, unique lifestyle, and brilliant intangible cultural heritages. From there, you can drive from Lhasa to the Everest Base Camp at the foot of the mountain.
Quick Facts
Chinese Name: 珠穆朗玛峰 Zhū Mù Láng Mǎ Fēng
Duration: 2-5 days
Entrance fee: RMB 250/person
Address: At the Tingri County of Shigatse area in the Tibet Autonomous Region.
Snowline Altitude: 5,800-6,200m at the north slope and 5,500-6,100 at the south slope
Best time to visit:
April to June and September to October. Spring and autumn are mountaineering seasons due to good weather and visibility. From October to the next April every year, it is recommended not to tour around during winter when heavy snow covers mountain roads. July and August are rainy.
How to get there?
All international visitors are required to be accompanied by a local guide in Tibet.
You can take the shuttle bus at the Lhasa West Passenger Station from Lhasa to Shigatse. It runs every hour and costs RMB 85-125 yuan per person. You can take the bus at Shigatse Long-distance Passenger Station from Shigatse to Tingri County. It runs twice every day and costs RMB 85 yuan. It costs RMB 500 yuan per person to share a car from Tingri County to Rongbuk Monastery. When arriving at the Everest Base Camp (tent area) 2 km south of Rongbuk Monastery, you can take a green car to the Everest Camp (at the monument of the elevation of 5,200m), which costs RMB 25.
Top 11 Interesting Facts About Mount Everest
1. How High is Mount Everest?
Over the past few decades, researchers have repeatedly measured the height of Mount Everest, with varying results. In December 2020 China and Nepal jointly declared that the height of Everest was 8,848.86 meters (29,031.69 feet). This new measurement, derived from data from surveys performed by Nepal in 2019 and China in 2020 that utilized GPS and BeiDou navigation technology and laser theodolites, was accepted by various specialists in the fields of geodesy and cartography.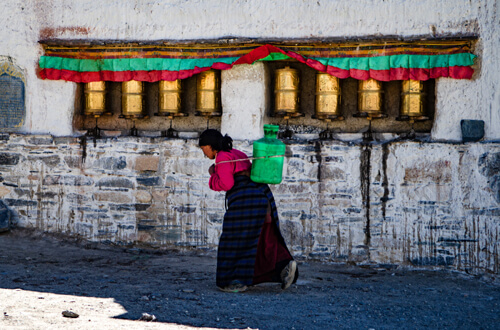 the Minority People at Rongbuk Monastery
2. How Old is Mount Everest?
Although the Himalayas were formed 60 million years ago, scientists believe that Mount Everest was formed long before. The limestone and sandstone on the summit were part of submarine sedimentary rock 45 million years ago. As time went by, submarine rocks gathered together by being squeezed and rising at the rate of 11 cm (4.5 inches) every year, finally reaching today's height. Today, we can still see the marine creatures and shell fossils on the upper part of Mount Everest from hundreds of millions of years ago.
3. Is Mount Everest Getting Taller?
An ancient geologic smashup raised the mighty Himalaya Mountains—and the collision continues today. Mount Everest continues growing every year by at least 4 mm due to the geological uplift.
4. How Many Names Does Mount Everest Have?
The mountain is usually called "Everest". Traditionally, the Tibetan people called it Chomolungma or Qomolangma centuries ago. Its Tibetan name can be translated as "Goddess Mother of Mountains". However, it is not the only name for the Peak. Nepalese people call it "Sagarmatha", which means "Forehead of the Sky". Thus the Peak belongs to "Sagarmatha National Park".
The British surveyor Andrew Waugh named it "Everest" when measuring it. At that time, he didn't know the name of the Peak, so he named it after George Everest, the leader of the British survey team. Despite Captain Everest's protest of the name, Britain formally changed its name from "Peak XV" to "Mount Everest" in 1865. George Everest, after whom the mountain is named, never saw Mount Everest, let alone ascend it.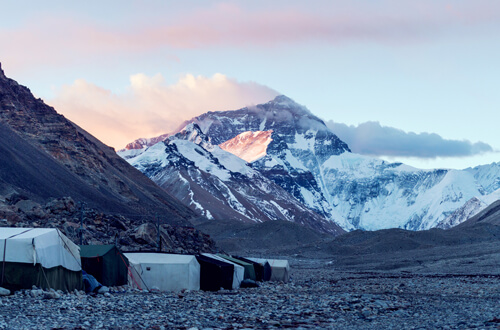 Everest Base Camp
5. How Long Does It Take To Climb Mount Everest?
Mount Everest is on the bucket list of every high-altitude mountain climber. It is the highest and one of the most dangerous peaks in the world that every mountaineer wishes to summit at least once in a lifetime.
The average time for an expedition to the peak of Mount Everest is 6 to 10 weeks, with two months being the standard. This includes gathering supplies, trekking to base camp, adjusting to the altitude, then climbing up to higher peaks and eventually going for the summit.
6. How Much Does it Cost to Climb Mount Everest?
It costs at least US$30,000 and usually adds up to nearly US$45,000. The price for climbing Mount Everest is not fixed and ranges from US$30,000 to US$85,000. The travel companies in Nepal dominate the market for their low prices, while traditional western organizers create product differentiation by providing more services. In other words, climbing Mount Everest has become a mature market, just like buying a car or traveling by plane.
The price depends on your mountaineering form, logistical support, and mountaineering route. Usually, it costs nearly US$32,000 if you climb from Tibet (north slope) and nearly US$42,000 from Nepal (south slope).
If you are equipped with one or more western guides from the south slope, it costs at least US$60,000. If you choose the low-cost travel companies in Nepal, it costs nearly US$30,000.
7. How Many People Have Reached Mount Everest Summit Successfully?
According to the Himalayan Database, as of December 2021, 6,014 people have reached the summit of Mount Everest.
The first ever recorded people to climb Everest were Sir Edmund Hillary (a mountaineer from New Zealand) and his Tibetan guide Tenzing Norgay. They scaled the mountain in 1953 and continue to hold the record together.
The record of the first woman to summit the world's highest peak was held by Junko Tabei in 1975. Since then, numerous mountaineers and mountain expeditions have summited Everest. Reinhold Messier and Peter Habbler became the first people to climb Everest without oxygen in 1978, nearly 200 other people have also achieved this impressive goal.
The record of the youngest person to climb Mount Everest is currently held by Jordan Romero. He successfully reached the summit on May 22, 2010, at the age of 13 years and 10 months.
Yuichiro Miura successfully summited Mt Everest on May 23, 2013. He became the oldest person to reach the summit of Mount Everest at the age of 80.
8. How Many People Have Died on Mount Everest?
As of January 2021, 305 people have died while attempting to climb Mount Everest. The majority of those who passed away, their bodies remain on the mountain, with some never being found, and serve as grim "markers" along the route, with some being only exposed years later when the weather changes.
Since the first attempt in 1921, an annual average of 4.8 climbers has died each year on Mount Everest. From 2000 to 2016, an annual average of 6.9 climbers died annually. During the spring of 2017, Ueli Steck, known as "the Swiss Machine", perished on Mount Everest.
When ascending Mount Everest, you may see the bodies of victims claimed by the mountain, and they are a reminder to climbers what a perilous and cruel adventure it is.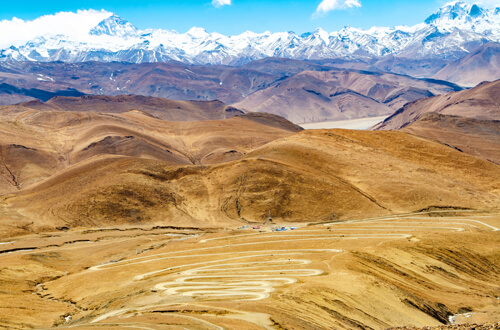 Zig zag road leads to the Mt. Everest
9. How to Visit Mt. Everest Without Climbing It?
We understand that not everyone is thrilled at the thought of summiting Mount Everest. The closest place you can get to the mountain is Everest Base Camp. You can have a good view of the mountain there. Another place worthy of a stop is the Rongbuk Monastery. If you want to join a plane tour or charter a small plane to fly to the mountain, you have to go to Nepal. We do not have this kind of service in China.
10. What's the Everest Base Camp?
Everest Base Camp is in the protected zone set for the environment of the Everest core area. With an elevation of 5,157m (16,919ft), it is nearly 19 km away from the summit of Mount Everest. Everest Base Camp mainly provides accommodation for tourists with restrooms and a tent post office, which is China's highest post office. Apart from two public toilets representing the modern civilization, the Base Camp has no other permanent construction. During every mountaineering season, the Base Camp gathers excellent mountaineers from all over the world. It is very spectacular with numerous outdoor tents scattered on the empty ground.
The Everest Base Camp can be reached by road from Lhasa, it is about 600km (375miles), but due to the strict speed limit policy, you need at least two days to drive from Lhasa to the Base Camp. Typically it takes 8 days for a tour from Lhasa to Mount Everest and back to Lhasa; en route you'll visit lakes, glaciers, and monasteries. Check the detailed itinerary here.
11. How's the Rongbuk Monastery and the Guesthouse in it?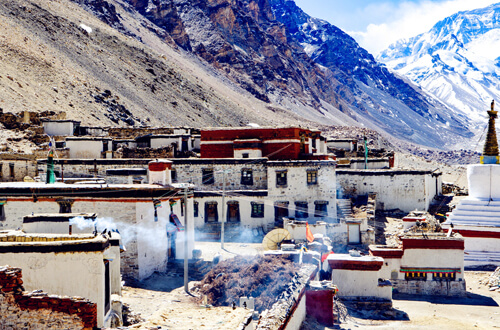 Rongbuk Monastery
At 5154m (16,909 feet), Rongbuk Monastery is the second highest monastery in the world after the Drirapuk Monastery on the Kailash Kora trek in Ngari, northwestern Tibet. It is the prototype of the Hollywood blockbuster movie "2012." Both monks and nuns live in this monastery. It was first built in 1899, during its heyday there were more than 600 monks and nuns that lived in this monastery. Today, it is just a small and simple monastery. Visitors come for the amazing views of Mount Everest.
The monastery also hosts Rongbuk Monastery Guesthouse, a very basic accommodation. There is no running water but they bring you a flask with boiling water and a bowl. The lack of water does make you wonder about how often the laundry gets washed, so best you take your bed sheet or something to sleep in or on, and bring your own towel.