Tianjin is located in the northeast of the North China Plain on the shore of Bohai Sea. The city is one of the four municipalities and top 10 most populous cities in China. Tianjin is the neighbor city of Beijing and it only takes about 35mins from Tianjin to Beijing by bullet train. Tianjin Port is the largest port in northern China. With the key location between the capital of China and the Bohai Sea, Tianjin plays an important role as a national logistics hub, Pilot Free Trade Zone and strategic fulcrum of the Maritime Silk Road.
Basic Facts
Chinese Name: 天津 (tiān jīn)
Location: Northern China (39°08' 01'' N, 117°12' 19'' E)
Airport: Tianjin Binhai International Airport (TSN)
Railway Stations:
Tianjin Railway Station, Tianjin Bei Railway Station, Tianjin Xi Railway Station, Tianjin Nan Railway Station, Binhai Railway Station, Binhai Xi Railway Station
Port: Tianjin International Cruise Home Port
Suburban Districts:
Heping, Hedong, Hexi, Hebei, Nankai, Hongqiao, Binhai, Dongli, Xiqing, Jinnan, Beichen, Wuqing, Baodi, Ninghe, Jinghai, Jizhou
Best time to visit
Bordering Bohai Sea, Tianjin has a warm, temperate, humid, monsoon climate with four distinctive seasons. It is windy and dry in spring, hot and wet in summer, mild and comfortable weather in autumn, cold and less snow in winter. The recorded highest temperature is 41.6°C/106.88°F in July, and the lowest temperature is –17.8°C/0.04°F in January. Therefore, spring and autumn are the best times to visit Tianjin.
What to See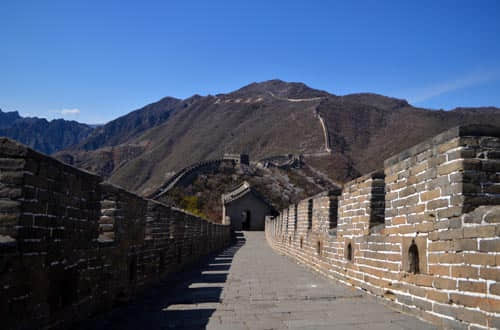 Great Wall at Huangya Pass
1. Great Wall at Huangya Pass: The Great Wall at Huangya Pass is the nearest Great Wall section from Tianjin. It is located in the mountainous area 150km north of downtown Tianjin. It was firstly built in 556 CE and is a UNESCO Heritage Site. Many cruise ship travelers choose to visit this part of the Great Wall during their layover time in Tianjin.
2. Ferris wheel, Eye of Tianjin: This is the most conspicuous landmark in Tianjin downtown. You can see this Ferris wheel everywhere in the city center area. It is a combination of a Ferris wheel and a bridge cross the Haihe River. The diameter of the Ferris wheel is 110m/360ft, and it takes about 30mins for a cycle. It has become the best place to see the whole city since 2009.
3. Five Great Avenues: Five Great Avenues is a major attraction located in Heping District in downtown Tianjin. The area was the former British Concession in 1860. Having been well protected, there are still over 300 buildings of various architectural styles from Britain, France, Italy, Germany and Spain, as well as over 50 houses which have been lived in by celebrities. As one of the national-level historical and cultural cities, the Five Great Avenues makes for a special exotic atmosphere in Tianjin.
Recommended attractions:
| | | |
| --- | --- | --- |
| Porcelain House | Ancient Culture Street | Tianjin Museum |
| Jingyuan | Water Park | Italian Style Street |
| St Joseph's Cathedral | Memorial of Zhou and Deng | Tianjin Radio and TV Tower |
How to get there
It is very convenient to travel to Tianjin because of the well-planned transportation system. You can take a plane to Tianjin Binhai International Airport(TSN), or take a bullet train to Tianjin from other cities in China. Moreover, lots of international cruise ships disembark in China at Tianjin International Cruise Home Port.
How far is Tianjin from Major Cities
| Cities | Distance from Tianjin (km) | By Air to Tianjin | By High-Speed Railway to Tianjin |
| --- | --- | --- | --- |
| Beijing | 136 | / | 35mins |
| Shanghai | 1080 | 2.5hrs | 5hrs |
| Guangzhou | 2093 | 3hrs | 8hrs 57mins |
| Hong Kong | 2198 | 3hrs 20mins | 10hrs |
| Xi'an | 1106 | 2hrs | 6hrs 17mins |
| Chengdu | 1824 | 3hrs | 10hrs |
| Chongqing | 1778 | 2hrs 45mins | 11hrs 41mins |
| Hangzhou | 1152 | 2hrs | 5hrs 10mins |
| Wuhan | 1125 | 2hrs | 5hrs |
| Harbin | 1292 | 2hrs 15mins | 6hrs 19mins |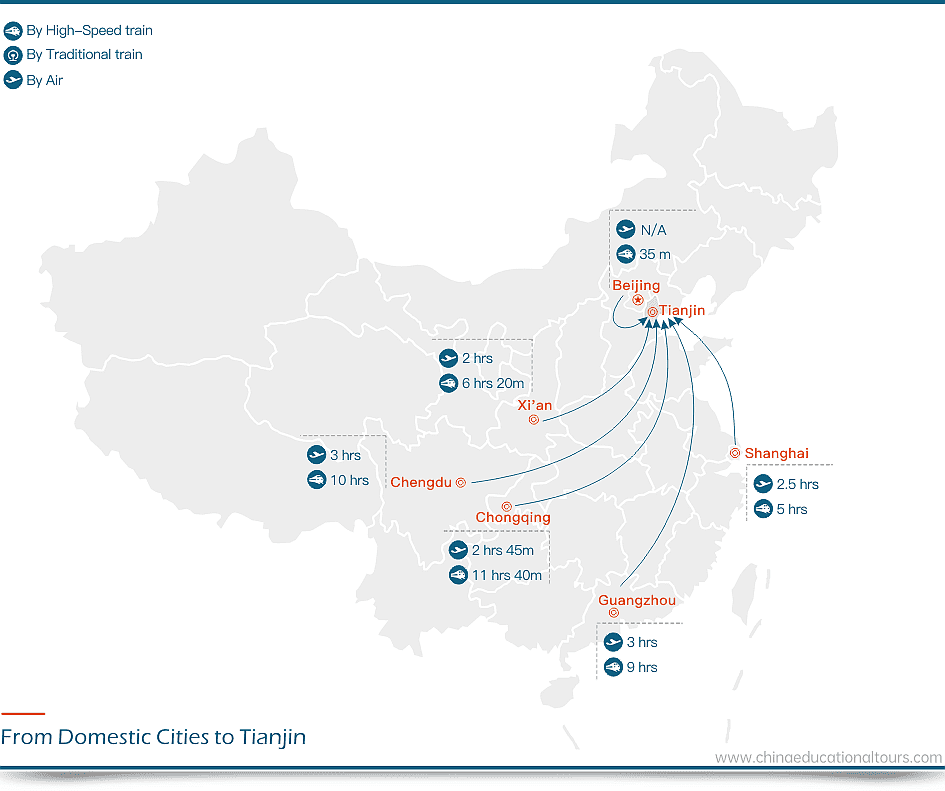 Gourmet Food Recommendations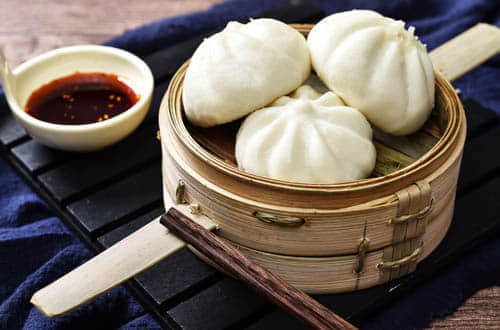 Goubuli Baozi
Goubuli Baozi (Goubuli Steamed Stuffed Bun) is known for its generous filling, which is succulent but not greasy. It has a history of over 150 years and is one of the most famous snacks in China. They have developed 98 kinds of buns with different fillings and tastes. You can find the Goubuli Bun Shop everywhere in Tianjin. This is a "must-taste" local food if you are in Tianjin.
Shibajie Mahua (18th Street Fried Dough Twist) is another iconic local snack in Tianjin. From the appearance, it is just a normal twisted fried dough, but it is not easy to make. Each bar of dough is made with quality flour, stuffed with a variety of fillings, and then fried in peanut oil. The most famous fried dough twist shop is called "18th Street Fried Dough Twist", which was named after the location of the first shop 100 years ago. It can be preserved for several months; therefore you can take some of this sweet, crispy local snack back home.
Erduoyan Zhagao (Ear-Hole Fried Rice Cake) is one of the top 3 snacks in Tianjin. It derived its name from the narrow Ear-Hole Street in Tianjin, where the original shop was located. It has a distinctive flavor with a crispy outer surface and soft bean paste inside which is sweet in taste.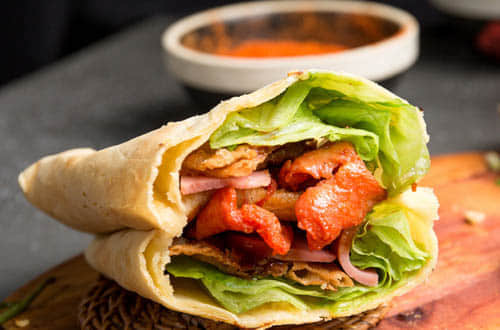 Jianbingguozi
Jianbingguozi (Pancake Rolled with Crisp Fritter) is a typical Tianjin breakfast. The pancake is very thin and is made of mung bean flour. After the pancake is ready, a fried dough stick is rolled in the pancake along with egg, sauce and chopped green onions. You can find this food at some street vendors near the schools or back streets in the morning.
Souvenirs and Shopping
Niren Zhang Painted Clay Sculptures: Niren Zhang Painted Clay Sculptures is a kind of Tianjin local folk artwork from the Qing dynasty 180 years ago. The vivid clay sculptures and rich colors make it extremely popular. "Niren Zhang"(Clay Figure Zhang) is the nickname of the founder, Mr. Zhang Changlin. Nowadays, it has become one of the most famous brands among the local handicrafts in Tianjin.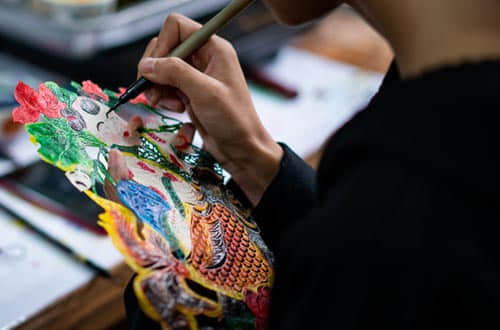 Yangliuqing Woodblock New Year Paintings
Yangliuqing Woodblock New Year Paintings: These paintings originated from Yangliuqing Town near Tianjin. It has a history of over 600 years. This is an artwork of "half-printed, half-painted". With the combination of folk woodblock carving and Chinese traditional painting, and the paintings reflect the local's daily life, myths and legends, and folk customs. It was ranked as a China Intangible Heritage in 2006.
Kite Wei: In Tianjin, the most famous kite maker is called Mr. Wei Yuantai(1872-1961). He started to learn kite making when he was sixteen. Then he had his own kite shop and continued to innovate and improve the skills of kite making. His kites have many advantages, such as using quality materials, various shapes, vivid paintings, smooth flight, exquisite workmanship, and they are easy to carry. So we call the kites made by Mr. Wei Yuantai or his inheritors "Kite Wei".