Zhujiajiao ancient town is located in Qingpu District, Shanghai, and close to the Dianshan Lake scenic spot. It is a typical water town of the regions in southern Yangtze River and known as "Venice in Shanghai". There are historical garden sites, varieties of traditional food and gift shops. It is the water town nearest to Shanghai.
Quick Facts
Chinese name: Zhū Jiā Jiǎo
Duration: 2-3 hours
Entrance fee Free
Opening hours 08:30~16:30
Best time to visit: March to October
Address: No. 36, Meizhou Road, Zhujiajiao town, Qingpu District, Shanghai
How to get there: Line 4 from Shanghai Stadium leads directly to Zhujiajiao; special vehicles (Dagu junction of old Chengdu Road) from People's Square lead directly to Zhujiajiao; Line 17 (under construction) can also lead directly to Zhujiajiao.
Highlights of Zhujiajiao
Zhujiajiao has 36 ancient bridges, and 9 long streets which are built along the water. They are basically Ming and Qing style architecture.
1. Main Scenic spots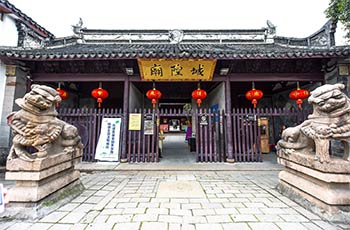 Zhujiajiao Chenghuang Temple
1. Fangsheng Bridge: Five-hole stone arch Fangsheng Bridge of Ming Dynasty has a beautiful shape and is one of the most ancient stone arch bridges and the leader of the top ten scenic spots in Zhujiajiao.
2. Zhujiajiao Chenghuang Temple: Zhujiajiao Chenghuang Temple is the main activity place of Taoism and was listed as a county level cultural relics protection unit in 1986.
3. Museum of Humanities & Arts: The Museum of Humanities & Arts is a unique modern white architecture, recording the history and culture of Zhujiajiao with paintings and sculptures.
4. Kezhi Garden: Kezhi Garden is the largest garden architecture in the local area and the most worth visiting pay-sight spot. It was founded in 1912 and took 15 years to complete. It wasthe private residence of Ma Wenqing, a local business tycoon. There are also rice fields, vegetable fields and fruit forests in the depth of the garden. Another feature is the design structure and decorative materials, mostly using the Chinese and Western form.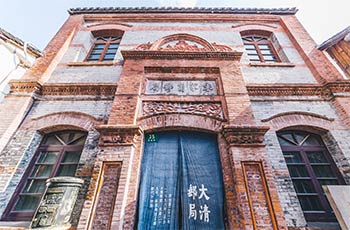 Qing Post Office
5. Zhuxi Graden: Zhuxi Garden is a classical art style garden. It covers an area of over 3.3 hectares) Scenic spots include Golden Stone Pavilion, Tsinghua Pavilion, stone arch bridge, stone barge embankment, zigzag bridge, nine-dragon fountain, rockery and gallery. There is also a Zodiac Garden with 12 stone Zodiac statues and each one has corresponding personal descriptions.
6. Qing Post Office: Founded in 1903, the Qing Post Office in Zhujiajiao is the earliest postal organization in this area, one of the 13 major post offices in Shanghai and also the sole former post office site of the Qing Dynasty in Eastern China.
2. Local Delicacies
In this typical water town, there are nearly 60 types of freshwater fish. Eating fish and other special snacks is a real delight here.
Small steamed meat buns
Even more distinctive are snacks such as Apo Zongzi, Ancient town sweet dumplings, Braised pig feet, Five-colored sweet dumplings, Bamboo shrimp Sao-mai, Pan-Fried Steamed Bun, Small steamed meat buns, Chicken wonton, Large crisp packets and Pastry meat dumplings.
In addition, "Dried Plum" and "Mannosum Kaki" produced by Xuexiangzhai Resturant won the prize in the Panama World Fair in 1915. Nowadays, Marinated dried bean curd, Spiced fried fish, Plum candy beans, Preserved Mandarin Peel, Fruity cake, and Walnut cakes are all widely known.
What's more, Trapa natans (or water caltrop) is tender and sweet and sold during the Mid-Autumn Festival; Water chestnuts are dark red, large sized, thin skinned and sweet; lotus roots are crisp and sweet and can be eaten raw or cooked.