Shanghai World Financial Center was completed on August 29, 2008. It is 492 meters high with 101 floors on the ground. It ranks 3rd in China and 5th in the world in terms of height. And it is also the highest flat-roofed building in the world. With the two functions of the financial center and information center, Shanghai World Financial Center is regarded as Asia's international financial and trade center.
Quick Facts
Chinese name: 上海环球金融中心 Shàng Hǎi Huán Qiú Jīn Róng Zhōng Xīn
Duration: 1-2 hours
Entrance Fee: RMB 180
Opening hours: 8 : 00-23 : 00
Best time to visit All year round
Address: No.100, Century Avenue, Pudong New Area, Shanghai
How to get there: Take Metro Line No.2 to the Lujiazui Station and get out from Exit 6 or to Dongchanglu Station and get out from Exit 4.
Highlights of Shanghai World Financial Center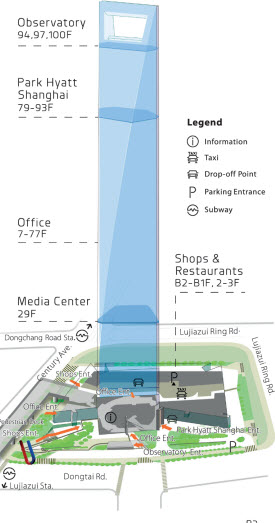 Photo from: SWFC official website
1. Sightseeing Hall
100F: It is a 55-meter-long sightseeing corridor, 474 meters above ground level. The perfect combination of glass and mirrors enables tourists to enjoy the beautiful scenery of both banks of the Huangpu River.
97F: Being 439 meters above ground level, it has a specially designed open glazed ceiling. On sunny days, the sightseeing hall seems like an "overpass" floating in the air when the glazed ceiling slides open on two sides.
94F: Being 423 meters above the ground level, it is 8 meters high and covers an area of 750 ㎡, including souvenir stores and coffee shops. You can take souvenir photos there. Since various exhibitions and activities are held there, it has become the famous landmark of artistic and cultural fashion trend at Lujiazui.
Admission Fee: RMB 120 yuan (94F), RMB 180 yuan (94, 97, 100F)
2. Park Hyatt Shanghai
Located at 79-93F, Park Hyatt Shanghai is an international boutique hotel in Shanghai with 174 guest rooms (including 14 suites). With exquisite interior decoration of modern artistic style, Shanghai Park Hyatt has spacious and comfortable oversized guestrooms, advanced recreational facilities and abundant dining places, presenting a unique and amazing urban landscape from skyscraper. It has become a symbolic Chinese-style residence hotel.
3. Office Facilities
Office facilities are located at 7-77F. Such high-standard and quality office space basically accommodates companies of Global 500.
4. Shopping Malls & Restaurants
Shopping malls and restaurants are located at B2-3F. Targeted at business people in multinational enterprises, they are for business and leisure occasions.