Transformed from the unique Shikumen architectural complex, Tian Zi Fang is not only a landmark of the cluster of creative industries, but also a creative work base for artists. It is dubbed as SOHO in Shanghai and the "Silicon Valley" of vision industry. In Tian Zi Fang, there are more than 240 shops and companies operated by foreigners and overseas Chinese from 23 countries and regions. With streams of tourists from home and abroad pouring in, Tian Zi Fang is hustling and bustling all day long.
Quick Facts
Chinese name: 田子坊 Tián Zǐ Fǎng
Duration: 2-3 hours
Entrance fee: Free
Opening hours: 24 hours
Best time to visit: All year round
How to get there:
Bus: Take Bus No. 17, 41, 146 or 786
Subway: Take Line 9, get off at Dapu Road Station, and get out at Exit 1.
7 Distinctive Shops in Tian Zi Fang
Chen Yifei Studio
Chen Yifei studio is the former site of a carpenter's store of Shanghai Food Industry Machinery Factory. The TV in the corner of the hall repeatedly plays views of the lifetime of the Chen. Chen Yifei (1946.4.14-2005.4.10) was born in Ningbo. He is a famous painter and director. He has made creative achievements in films, costumes and environmental design with the concept of "general fine art" and has become a cultural celebrity. He is a renowned Chinese artist at home and abroad.
Address: A No. 2, Alley 210, Taikang Road, Luwan District
Opening hours: 9: 30-17: 00
TYAKASHA Earth Store
The shop sign of TYAKASHA featuring a circle of blue and red, is so distinctive that it is very noticeable at night. There are numerous funny articles in the store, with their prices ranging from a few bucks to a few hundred bucks.
Address: No.2 Alley 274, Taikang Road, Luwan District
Teddy's Kitchen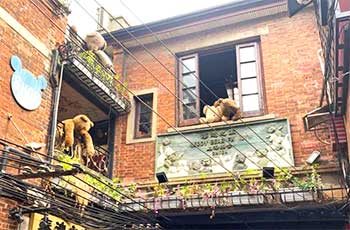 Teddy's Kitchen
In the Teddy Bear exhibition room on the first floor, there are teddy bears in various postures. Walking around the room, you'll have a feeling that you are in a fairy tale world.
In the workshop on the second floor, materials for making teddy bears are prepared here for visitors to experience the pleasure of making a DIY teddy bear. Paying a visit there will be a good choice. You can also choose to buy teddy bears from them directly.
The third floor is where the restaurant serves their dishes, with Thailand cuisine as their specialty. Per capita consumption is around RMB 120.
Address: No. 23, Alley 248, Taikang Road, Luwan District
Mirror Studio
In the Mirror Studio you can have your selected favorite photos made into oil paintings. Many young people take their parents' photos or family photos to the studio for processing and beautification. The studio not only is equipped with the technology to transform photos into oil paintings but it also provides services like photographing and repairing old photos. The photos to be transformed into oil paintings need to have a minimum pixel of 2 million.
Address: No. 14, Alley 274, Taikang Road, Luwan District
Chou-Chou Chic
The clothes at Chou-Chou Chic customarily use simple but elegant cotton materials, and are particular about small details. According to the shop assistant, the brand is a self-created children's wear line by a French designer. The design of its clothes is characterized by simplicity and elegance, and the designer tries their best to combine original French design with exquisite Chinese materials.
Normally, the shop does not discount. Generally, a dress is about RMB 150-200 and a small cashmere sweater, RMB 400-500.
Address: No. 47, Alley 248, Taikang Road, Luwan District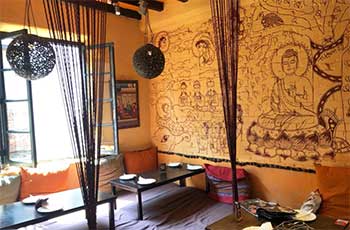 Lotus Land South Asian
Lotus Land South Asian
Chefs in Lotus Land South Asian come from India, so the cuisine is definitely the authentic South Asian flavor, and customer's needs are satisfied immediately at the restaurant. The consumption per person there is about RMB 100 to 120.
Address: No. 12, Alley 274, Taikang Road, Luwan District
Basel Art Center
The exhibition room of the Basel Art Center covers an area of 700㎡, providing a venue for exhibition, research, collection and academic exchange. The center also established the first artwork investment management company in Shanghai to make collection strategies and help manage collections for important collectors.
Address: No. 200, Taikang Road, Luwan District